Projectile point
In
archaeological terms
Archaeology
Archaeology, or archeology , is the study of human society, primarily through the recovery and analysis of the material culture and environmental data that they have left behind, which includes artifacts, architecture, biofacts and cultural landscapes...
, a
projectile point
is an object that was
hafted
Hafting
Hafting is a process by which an artifact, often bone, metal, or stone, is attached to a handle or strap. This makes the artifact more useful by allowing it to be fired , thrown , or leveraged more effectively .Hafting is perhaps best known for its use by prehistoric man, but it is still practiced...
to a projectile, such as a spear, dart, or
arrow
Arrowhead
An arrowhead is a tip, usually sharpened, added to an arrow to make it more deadly or to fulfill some special purpose. Historically arrowheads were made of stone and of organic materials; as human civilization progressed other materials were used...
, or perhaps used as a
knife
Knife
A knife is a cutting tool with an exposed cutting edge or blade, hand-held or otherwise, with or without a handle. Knives were used at least two-and-a-half million years ago, as evidenced by the Oldowan tools...
.
Stone tools, including projectile points, can survive for long periods, were often lost or discarded, and are relatively plentiful, providing useful clues to the human past, including prehistoric
trade
Trade
Trade is the transfer of ownership of goods and services from one person or entity to another. Trade is sometimes loosely called commerce or financial transaction or barter. A network that allows trade is called a market. The original form of trade was barter, the direct exchange of goods and...
. Scientific techniques exist to track the specific kinds of rock or minerals that used to make stone tools in various regions back to their original sources. Occasionally, projectile points made of worked
bone
Bone
Bones are rigid organs that constitute part of the endoskeleton of vertebrates. They support, and protect the various organs of the body, produce red and white blood cells and store minerals. Bone tissue is a type of dense connective tissue...
or
ivory
Ivory
Ivory is a term for dentine, which constitutes the bulk of the teeth and tusks of animals, when used as a material for art or manufacturing. Ivory has been important since ancient times for making a range of items, from ivory carvings to false teeth, fans, dominoes, joint tubes, piano keys and...
are found at
archaeological site
Archaeological site
An archaeological site is a place in which evidence of past activity is preserved , and which has been, or may be, investigated using the discipline of archaeology and represents a part of the archaeological record.Beyond this, the definition and geographical extent of a 'site' can vary widely,...
s. In regions where
metallurgy
Metallurgy
Metallurgy is a domain of materials science that studies the physical and chemical behavior of metallic elements, their intermetallic compounds, and their mixtures, which are called alloys. It is also the technology of metals: the way in which science is applied to their practical use...
had emerged, projectile points were made from
copper
Copper
Copper is a chemical element with the symbol Cu and atomic number 29. It is a ductile metal with very high thermal and electrical conductivity. Pure copper is soft and malleable; an exposed surface has a reddish-orange tarnish...
,
bronze
Bronze
Bronze is a metal alloy consisting primarily of copper, usually with tin as the main additive. It is hard and brittle, and it was particularly significant in antiquity, so much so that the Bronze Age was named after the metal...
, or
iron
Iron
Iron is a chemical element with the symbol Fe and atomic number 26. It is a metal in the first transition series. It is the most common element forming the planet Earth as a whole, forming much of Earth's outer and inner core. It is the fourth most common element in the Earth's crust...
. In North America, some late prehistoric points were fashioned from copper that was
mined
Mining
Mining is the extraction of valuable minerals or other geological materials from the earth, from an ore body, vein or seam. The term also includes the removal of soil. Materials recovered by mining include base metals, precious metals, iron, uranium, coal, diamonds, limestone, oil shale, rock...
in the
Lake Superior
Lake Superior
Lake Superior is the largest of the five traditionally-demarcated Great Lakes of North America. It is bounded to the north by the Canadian province of Ontario and the U.S. state of Minnesota, and to the south by the U.S. states of Wisconsin and Michigan. It is the largest freshwater lake in the...
region and elsewhere.
History

A large variety of prehistoric arrowheads, dart points, and spear points have been discovered.
Flint
Flint
Flint is a hard, sedimentary cryptocrystalline form of the mineral quartz, categorized as a variety of chert. It occurs chiefly as nodules and masses in sedimentary rocks, such as chalks and limestones. Inside the nodule, flint is usually dark grey, black, green, white, or brown in colour, and...
,
obsidian
Obsidian
Obsidian is a naturally occurring volcanic glass formed as an extrusive igneous rock.It is produced when felsic lava extruded from a volcano cools rapidly with minimum crystal growth...
,
quartz
Quartz
Quartz is the second-most-abundant mineral in the Earth's continental crust, after feldspar. It is made up of a continuous framework of SiO4 silicon–oxygen tetrahedra, with each oxygen being shared between two tetrahedra, giving an overall formula SiO2. There are many different varieties of quartz,...
and many other rocks and minerals were commonly used to make points in North America. The oldest projectile points found in North America were long thought to date from about 13,000 years ago, during the Paleo-Indian period, however recent evidence suggests that North American projectile points may date to as old as 15,500 years. Some of the more famous Paleo-Indian types include
Clovis
Clovis point
Clovis points are the characteristically-fluted projectile points associated with the North American Clovis culture. They date to the Paleoindian period around 13,500 years ago. Clovis fluted points are named after the city of Clovis, New Mexico, where examples were first found in 1929.At the right...
,
Folsom
Folsom point
Folsom points are a distinct form of chipped stone projectile points associated with the Folsom Tradition of North America. The style of toolmaking was named after Folsom, New Mexico where the first sample was found within the bone structure of a bison in 1927....
and Dalton points.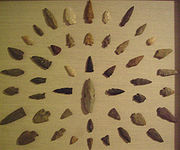 Types
Projectile points fall into two general types: dart/spear points, and arrow points. Larger points were used to tip spears and
atlatl
Atlatl
An atlatl or spear-thrower is a tool that uses leverage to achieve greater velocity in dart-throwing.It consists of a shaft with a cup or a spur at the end that supports and propels the butt of the dart. The atlatl is held in one hand, gripped near the end farthest from the cup...
darts. Arrow points are smaller and lighter than dart points, and were used to tip arrows. The question of how to distinguish an arrow point from a point used on a larger projectile is non-trivial. According to some investigators, the best indication is the width of the
hafting
Hafting
Hafting is a process by which an artifact, often bone, metal, or stone, is attached to a handle or strap. This makes the artifact more useful by allowing it to be fired , thrown , or leveraged more effectively .Hafting is perhaps best known for its use by prehistoric man, but it is still practiced...
area, which is thought to correlate to the width of the shaft. An alternative approach is to distinguish arrow points by their necessarily smaller size (weight, length, thickness).
Projectile points come in an amazing variety of shapes and styles, which vary according to chronological periods, cultural identities, and intended functions.
Typological studies of projectile points have become more elaborate through the years. For instance,
Gregory Perino
Gregory Perino
Greg Perino was a self-taught professional archaeologist, author, consultant, and the last living founder of the Illinois State Archaeological Society. Perino was considered one of the foremost experts on Native American artifacts...
began his categorical study of projectile point typology in the late 1950s. Collaborating with Robert Bell, he published a set of four volumes defining the known point types of that time. Perino followed this several years later with a three-volume study of "Selected Preforms, Points and Knives of the North American Indians". Another recent set of typological studies of North American projectile points has been produced by Noel Justice.
See also