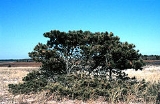 Pitch Pine
The Pitch Pine,
Pinus rigida
, is a small-to-medium sized (6-30 meters or 20-100 feet)
pine
Pine
Pines are trees in the genus Pinus ,in the family Pinaceae. They make up the monotypic subfamily Pinoideae. There are about 115 species of pine, although different authorities accept between 105 and 125 species.-Etymology:...
, native to eastern
North America
North America
North America is a continent wholly within the Northern Hemisphere and almost wholly within the Western Hemisphere. It is also considered a northern subcontinent of the Americas...
. This species occasionally hybridizes with other pine species such as
Loblolly Pine
Loblolly Pine
Pinus taeda is one of several pines native to the Southeastern United States, from central Texas east to Florida, and north to Delaware. It is particularly dominant in the eastern half of North Carolina, where there are huge expanses consisting solely of Loblolly Pine trees...
(
P. taeda
),
Shortleaf Pine
Shortleaf Pine
Pinus echinata is a species of pine native to the eastern United States from southern New York south to northern Florida, west to the extreme southeast of Kansas, and southwest to eastern Texas. The tree is variable in form, sometimes straight, sometimes crooked, with an irregular crown...
(
P. echinata
), and
Pond Pine
Pond Pine
Pinus serotina is a tree found along the Atlantic coastal plain of the eastern United States, from southern New Jersey south to Florida and west to southern Alabama...
(
P. serotina
); the last is treated as a
subspecies
Subspecies
Subspecies in biological classification, is either a taxonomic rank subordinate to species, ora taxonomic unit in that rank . A subspecies cannot be recognized in isolation: a species will either be recognized as having no subspecies at all or two or more, never just one...
of Pitch Pine by some botanists.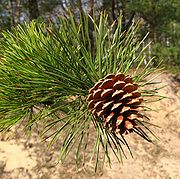 The Pitch Pine is found mainly in the
northeastern
Northeastern United States
The Northeastern United States is a region of the United States as defined by the United States Census Bureau.-Composition:The region comprises nine states: the New England states of Connecticut, Maine, Massachusetts, New Hampshire, Rhode Island and Vermont; and the Mid-Atlantic states of New...
United States
United States
The United States of America is a federal constitutional republic comprising fifty states and a federal district...
, from
Maine
Maine
Maine is a state in the New England region of the northeastern United States, bordered by the Atlantic Ocean to the east and south, New Hampshire to the west, and the Canadian provinces of Quebec to the northwest and New Brunswick to the northeast. Maine is both the northernmost and easternmost...
and
Ohio
Ohio
Ohio is a Midwestern state in the United States. The 34th largest state by area in the U.S.,it is the 7th‑most populous with over 11.5 million residents, containing several major American cities and seven metropolitan areas with populations of 500,000 or more.The state's capital is Columbus...
to
Kentucky
Kentucky
The Commonwealth of Kentucky is a state located in the East Central United States of America. As classified by the United States Census Bureau, Kentucky is a Southern state, more specifically in the East South Central region. Kentucky is one of four U.S. states constituted as a commonwealth...
and northern
Georgia
Georgia (U.S. state)
Georgia is a state located in the southeastern United States. It was established in 1732, the last of the original Thirteen Colonies. The state is named after King George II of Great Britain. Georgia was the fourth state to ratify the United States Constitution, on January 2, 1788...
. A few stands occur in southern
Quebec
Quebec
Quebec or is a province in east-central Canada. It is the only Canadian province with a predominantly French-speaking population and the only one whose sole official language is French at the provincial level....
and
Ontario
Ontario
Ontario is a province of Canada, located in east-central Canada. It is Canada's most populous province and second largest in total area. It is home to the nation's most populous city, Toronto, and the nation's capital, Ottawa....
. This pine occupies a variety of habitats from dry, acidic sandy uplands to swampy lowlands, and can survive in very poor conditions; it is the primary tree of the
New Jersey Pine Barrens
Pine Barrens (New Jersey)
The Pine Barrens, also known as the Pinelands, is a heavily forested area of coastal plain stretching across southern New Jersey. The name "pine barrens" refers to the area's sandy, acidic, nutrient-poor soil, to which the crops originally imported by European settlers didn't take well...
.
The needles are in fascicles of three, about six-13 cm in length, and are stout (over one mm broad) and often slightly twisted. The cones are four-seven cm long and oval with prickles on the scales. The species is unusual in often having shoots (called
epicormic sprouts
Epicormic shoot
An epicormic shoot is a shoot growing from an epicormic bud which lies underneath the bark of a trunk, stem, or branch of a plant.-Epicormic buds:...
) that can grow directly from the trunk. This is an adaptation to fire, enabling trees to re-sprout after fire has killed the crown; the thick bark protects the trunk from damage unless the fire is very severe. Burnt trees often form stunted, twisted trees with multiple trunks as a result of the resprouting. This characteristic also makes it a popular species for
bonsai
Bonsai
is a Japanese art form using miniature trees grown in containers. Similar practices exist in other cultures, including the Chinese tradition of penjing from which the art originated, and the miniature living landscapes of Vietnamese hòn non bộ...
.
The Pitch Pine is not a major timber tree, due to the frequency of multiple or crooked trunks; nor is it as fast-growing as other eastern American pines. However, it grows well on unfavourable sites. In the past, it was a major source of
pitch
Pitch (resin)
Pitch is the name for any of a number of viscoelastic, solid polymers. Pitch can be made from petroleum products or plants. Petroleum-derived pitch is also called bitumen. Pitch produced from plants is also known as resin. Products made from plant resin are also known as rosin.Pitch was...
and timber for ship building, mine timbers, and railroad ties because the wood's high resin content preserves it from decay. Pitch Pine
wood
Wood
Wood is a hard, fibrous tissue found in many trees. It has been used for hundreds of thousands of years for both fuel and as a construction material. It is an organic material, a natural composite of cellulose fibers embedded in a matrix of lignin which resists compression...
was also used for building radio towers in Germany as at
Muehlacker
Transmitter Muehlacker
The Mühlacker Broadcasting Transmission Facility is a radio transmission facility near Mühlacker, Germany, first put into service in 1930. It uses two guyed steel tube masts as aerials and one guyed steel framework mast, which are insulated against ground. It has two transmission aerials for...
and at
Ismaning
Transmitter Ismaning
The Transmitter Ismaning was a large radio station inaugurated in 1932. From 1932 to 1934 this transmitter, which replaced the transmitter in Munich-Stadelheim, used a T-antenna as transmitting antenna, which was hung up two 115-meter-high freestanding wood framework towers...
. Nowadays the Pitch Pine is used mainly for rough construction, pulp, crating, and fuel. However, due to its uneven growth, quantities of high quality can be very sought after, and large lengths of pitch pine can be very costly.