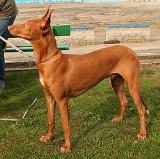 Pharaoh Hound
The
Pharaoh Hound
is a
breed
Dog breed
Dog breeds are groups of closely related and visibly similar domestic dogs, which are all of the subspecies Canis lupus familiaris, having characteristic traits that are selected and maintained by humans, bred from a known foundation stock....
of
dog
Dog
The domestic dog is a domesticated form of the gray wolf, a member of the Canidae family of the order Carnivora. The term is used for both feral and pet varieties. The dog may have been the first animal to be domesticated, and has been the most widely kept working, hunting, and companion animal in...
and the national hound of the Mediterranean nation of
Malta
Malta
Malta , officially known as the Republic of Malta , is a Southern European country consisting of an archipelago situated in the centre of the Mediterranean, south of Sicily, east of Tunisia and north of Libya, with Gibraltar to the west and Alexandria to the east.Malta covers just over in...
. Its native name is
Kelb tal-Fenek
(plural:
Klieb tal-Fenek
) in
Maltese
Maltese language
Maltese is the national language of Malta, and a co-official language of the country alongside English,while also serving as an official language of the European Union, the only Semitic language so distinguished. Maltese is descended from Siculo-Arabic...
, which means "rabbit
hound
Hound
A hound is a type of dog that assists hunters by tracking or chasing the animal being hunted. It can be contrasted with the gun dog, which assists hunters by identifying the location of prey, and with the retriever, which recovers shot quarry...
". The dog is the traditional hunting companion of Maltese outdoorsmen. The breed has no conclusive links with
Ancient Egypt
Ancient Egypt
Ancient Egypt was an ancient civilization of Northeastern Africa, concentrated along the lower reaches of the Nile River in what is now the modern country of Egypt. Egyptian civilization coalesced around 3150 BC with the political unification of Upper and Lower Egypt under the first pharaoh...
and its name in
English
English language
English is a West Germanic language that arose in the Anglo-Saxon kingdoms of England and spread into what was to become south-east Scotland under the influence of the Anglian medieval kingdom of Northumbria...
is a 20th century fabrication. It has variously been classified as a member of the
sighthound
Sighthound
Sighthounds, also called gazehounds, are hounds that primarily hunt by speed and sight, instead of by scent and endurance as scent hounds do.-Appearance:...
group, yet its fieldwork description clearly determines it as a hound. It is
indigenous
Indigenous peoples
Indigenous peoples are ethnic groups that are defined as indigenous according to one of the various definitions of the term, there is no universally accepted definition but most of which carry connotations of being the "original inhabitants" of a territory....
to the islands and as such remains rare outside of Malta.
Appearance
At first glance, the Pharaoh Hound should appear both graceful and elegant as well as powerful and athletic. Its build should be one of strength without bulkiness or excessive musculature. Its head is elegant without being fine or extreme. The skull should resemble a blunt wedge, and is long and chiseled with only a slight stop and a muzzle of good length. Its eyes are oval with a keen, noble, alert, and intelligent expression. It has a long, lean, and muscular neck that is slightly arched. Its body is slightly longer than its height at the
withers
Withers
The withers is the ridge between the shoulder blades of a four-legged animal. In many species it is the tallest point of the body, and in horses and dogs it is the standard place to measure the animal's height .-Horses:The withers in horses are formed by the dorsal spinal processes of roughly the...
. It has a deep chest that extends down to the elbows and a moderate tuck up. Its shoulders are long and well laid back. Its front legs are long and straight. The back legs are moderately angled, parallel to each other, and must be in balance with the forelegs. It has a long, fine, straight tail that should reach down to a bit below the point of the
hock
Hock (zoology)
The hock, or gambrel, is the joint between the tarsal bones and tibia of a digitigrade or unguligrade quadrupedal mammal, such as a horse, cat, or dog...
s. The tail is carried down when relaxed but must not tuck between the legs. When the dog is in motion or is excited, the tail is carried up; either level with, or loosely curled above, the back. Its
dewclaw
Dewclaw
A dewclaw is a vestigial digit on the foot of many mammals, birds, and reptiles . It commonly grows high on the leg so that in digitigrade species, when the animal is standing, it does not make contact with the ground...
s may be removed.
Size
It stands between 21 to 25 inches at the
withers
Withers
The withers is the ridge between the shoulder blades of a four-legged animal. In many species it is the tallest point of the body, and in horses and dogs it is the standard place to measure the animal's height .-Horses:The withers in horses are formed by the dorsal spinal processes of roughly the...
and weighs between 40 to 60 lbs. Males are typically larger than females.
Coat and colour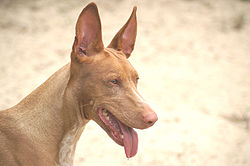 The coat is fine and short with no feathering. The texture varies from silky to somewhat hard and it must never be so profuse as to stand away from the dog's skin. The only color accepted by most kennel clubs is red; though the shades of red color varies, and accepted shades range from a tan to a deep chestnut and all shades in between. White markings on the chest, toes, tail-tip, center of forehead, and the bridge of the muzzle are accepted, but not required. A white tail-tip is desired by some kennel clubs. In contrast, any white markings on the back of the neck, the sides, or the back of the dog are unacceptable by most standards. Pharaoh's eyes are always amber, and should compliment the coat colour. They are born with blue eyes, which change to a light gold or yellow color during early puppyhood and then begin to darken well into adulthood. The nose, whiskers, nails, paw-pads, and eye-rims should also be the same colour as the coat. Pharaohs also have a unique trait of "blushing" when excited or happy, with their ears and nose becoming bright pink.
Temperament
The Pharaoh Hound is an intelligent, trainable, playful, and active breed. It is sociable with other dogs and with people; however, it can be aloof or reserved with strangers. It is typically very open and affectionate with its family and those it knows. It is an independent-minded, occasionally stubborn breed, yet can be submissive when appropriate positive training methods are used. It has a strong hunting instinct, and caution should be observed when it is around small pets such as
cat
Cat
The cat , also known as the domestic cat or housecat to distinguish it from other felids and felines, is a small, usually furry, domesticated, carnivorous mammal that is valued by humans for its companionship and for its ability to hunt vermin and household pests...
s,
bird
Bird
Birds are feathered, winged, bipedal, endothermic , egg-laying, vertebrate animals. Around 10,000 living species and 188 families makes them the most speciose class of tetrapod vertebrates. They inhabit ecosystems across the globe, from the Arctic to the Antarctic. Extant birds range in size from...
s, and
rodent
Rodent
Rodentia is an order of mammals also known as rodents, characterised by two continuously growing incisors in the upper and lower jaws which must be kept short by gnawing....
s. It is not a demonstrative breed but rather is quietly affectionate. It is a vocal breed without being yappy or barking just for the sake of barking. It makes a good watch dog; however, it is not well suited as
guard dog
Guard dog
A guard dog, an attack dog or watch dog is a dog used to guard against, and watch for, unwanted or unexpected people or animals. The dog is discriminating so that it does not annoy or attack familiar people.-Barking:...
as it is rarely aggressive with people. This is not a breed suited for kennel situations due to its intelligence and activity level. The breed tends to bond deeply with its people and thrives best when it feels included as a member of the family.
History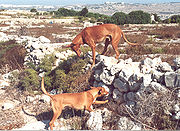 The first recorded mention of a Maltese hunting dog, which could have been identical with the modern Kelb tal-Fenek, was issued by Commendatore Fra. G. Fran. Abela (Maltese historian and Vice Chancellor of the Order of St. John) in 1647 who wrote 'There are dogs called 'Cernechi' esteemed for the hunting of rabbits, and as far as France are in demand primarily for stony, mountainous and steep locations'. The use of the word 'Cernechi' to name the breed should be no surprise as Italian was the language of scholars and the courts in Malta from at least 1091 up to WWII.
The first two specimens of the breed were brought to Britain from
Malta
Malta
Malta , officially known as the Republic of Malta , is a Southern European country consisting of an archipelago situated in the centre of the Mediterranean, south of Sicily, east of Tunisia and north of Libya, with Gibraltar to the west and Alexandria to the east.Malta covers just over in...
in the 1920s, but at that time, no litter was bred. Again, some dogs were imported to the UK in the early 1960s, and the first litter was born in 1963. The breed standard was recognised by
The Kennel Club
The Kennel Club
The Kennel Club is a kennel club based in London and Aylesbury, United Kingdom.The Kennel Club registration system divides dogs into seven breed groups. The Kennel Club Groups are: Hound, Working, Terrier, Gundog, Pastoral, Utility and Toy...
in 1974. The breed was called the
Pharaoh Hound
although this name was already used by the
FCI
Fédération Cynologique Internationale
Fédération Cynologique Internationale is an international federation of kennel clubs based in Thuin, Belgium. The English language translation, World Canine Organisation, is not often used.Its goals are described in Article 2 of their regulations:...
as an alternative name for the
Ibizan Hound
Ibizan Hound
The Ibizan Hound , pronounced "I-bee-zan" or "I-beeth-an", is a lean, agile dog of the hound family. There are two hair types of the breed: smooth and wire. The more commonly seen type is the smooth...
at that time. When the FCI abolished this name in 1977 and decided to call the Ibizan Hound exclusively by its original
Spanish
Spanish language
Spanish , also known as Castilian , is a Romance language in the Ibero-Romance group that evolved from several languages and dialects in central-northern Iberia around the 9th century and gradually spread with the expansion of the Kingdom of Castile into central and southern Iberia during the...
name
Podenco Ibicenco
, the term Pharaoh Hound was transferred to the Kelb tal-Fenek, whose breed standard had been recognised by the FCI at the same time.
A number of other breeds that are similar to the Pharaoh Hound exist in different regions of the Mediterranean. One is the
Cirneco dell'Etna
Cirneco dell'Etna
The Cirneco dell'Etna is a small breed of dog originally from Sicily. This hound was historically used to hunt rabbits and can work for hours without food or water. The breed also has a keen sense of smell and is primarily built for endurance over harsh terrain such as that of Mount Etna...
from neighbouring
Sicily
Sicily
Sicily is a region of Italy, and is the largest island in the Mediterranean Sea. Along with the surrounding minor islands, it constitutes an autonomous region of Italy, the Regione Autonoma Siciliana Sicily has a rich and unique culture, especially with regard to the arts, music, literature,...
, which is very similar in structure and appearance, but somewhat smaller (43–51 cm/17-20in). Other similar breeds include the
Ibizan Hound
Ibizan Hound
The Ibizan Hound , pronounced "I-bee-zan" or "I-beeth-an", is a lean, agile dog of the hound family. There are two hair types of the breed: smooth and wire. The more commonly seen type is the smooth...
,
Podenco Canario
Podenco Canario
Podenco Canario is a breed of dog originally from the Canary Islands. The Podenco Canario is still used in the Canary Islands today in packs as a hunting dog, primarily used for rabbit hunting. The word "podenco" is Spanish for "hound"...
,
Podengo Português
Portuguese Podengo
The Portuguese Podengo is an ancient multi-sensory hound breed of dog from Portugal. The Podengo comes in three sizes that are not interbred - small , medium and large , each size with two hair coats and its own unique temperament.All three sizes love to hunt, its tradition in their native...
and other local breeds from the Mediterranean—each breed is slightly different with physical characteristics that match the terrain the dogs hunt on. It is not clear whether those breeds have descended from the same ancestral lines, or whether their similarities have developed due to similar environmental conditions.
Care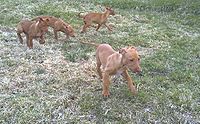 The Pharaoh Hound is independent-minded, highly intelligent, and occasionally stubborn, yet very trainable when positive methods are used. It is a very sensitive breed and responds poorly to compulsionary training methods and to being physically punished. Pharaohs can succeed in competition obedience, but they do not take to it naturally as many breeds that were bred to work alongside people. Pharaohs were bred to hunt and think for themselves, and they have retained this trait for thousands of years. They tire/bore easily with repetitive commands, therefore it is the trainer's job to ensure that their training remains interesting and positive in nature.
They have sensitive skin, and shampoo (canine or human) may cause allergic reactions; therefore, it is best to wash them with either a human baby shampoo or gentle dog shampoo. Grooming Pharaohs is as easy as a quick rub with a hound glove or a damp cloth. They are clean dogs, shed very little, and have no noticeable odor, even when wet.
They are a very active breed and need more than just a daily walk; a run every day is required. Though they are active, they should not be hyperactive. Because of their strong
prey drive
Prey drive
Prey drive is the instinctive inclination of a carnivore to pursue and capture prey.In dog training, prey drive can be used as an advantage because dogs with strong prey drive are also willing to pursue moving objects such as toys, which can then be used to encourage certain kinds of behavior, such...
and independent nature, this breed should never be allowed off leash unless in a securely fenced area away from road traffic or other dangers.
They are very adept jumpers, and fences meant to contain them must be more than five feet (1.52 metres) high, six feet (1.82 metres) or higher being preferable. Because they are such good jumpers, they are well suited to the sport of
dog agility
Dog agility
Dog agility is a dog sport in which a handler directs a dog through an obstacle course in a race for both time and accuracy. Dogs run off-leash with no food or toys as incentives, and the handler can touch neither dog nor obstacles...
. They are often classified as sighthounds, and thus compete in
lure coursing
Lure coursing
Lure coursing is a sport for dogs that involves chasing a mechanically operated lure. Competition is usually limited to dogs of purebred sighthound breeds.-Lure course:...
. Because they maintain very little body fat and have short coats, they are sensitive to cold and cannot be left outside for long in cold climates. Dog coats/jackets are a must for this breed in cold climates. Many Pharaoh Hounds enjoy snow, however, and will keep themselves warm through running, playing, and digging.
Health
Pharaoh hounds, being somewhat uncommon outside of the Maltese Islands of Malta and Gozo, and because they are not profitable for commercial breeding, have not been subjected to as much irresponsible breeding as some more popular breeds. Breeders try hard to prevent hereditary diseases from entering the gene pool. Pharaohs are basically free from genetic diseases. Reputable breeders continue to test their breeding stock for genetic conditions such as hip dysplasia, luxating patellas, and myriad eye conditions just to ensure that these disorders do not become a problem. Reputable breeders should be able to show documentation of health screening performed on their breeding dogs. Note that Pharaohs, like most sighthounds, are sensitive to
barbiturate
Barbiturate
Barbiturates are drugs that act as central nervous system depressants, and can therefore produce a wide spectrum of effects, from mild sedation to total anesthesia. They are also effective as anxiolytics, as hypnotics, and as anticonvulsants...
anaesthetics. Their ears are thin and prone to
frostbite
Frostbite
Frostbite is the medical condition where localized damage is caused to skin and other tissues due to extreme cold. Frostbite is most likely to happen in body parts farthest from the heart and those with large exposed areas...
when in cold climates.
Life expectancy is about 12–15 years or more
Hunting
The Kelb tal-Fenek is usually taken out to hunt at night when there are fewer distractions. Generally, the hunters will take their dogs into the countryside and release pairs of a male and a female dog in each compass direction. The dogs will then search out their prey using scent. When a rabbit is found the hounds will give chase, the small and more agile female in the lead with the male keeping the rabbit from darting too far to the sides. At this point the dogs giving chase will emit a high pitched bark, attracting the other dogs and the hunters, all of whom will come running. By the time the hunters and other dogs arrive the rabbit will almost always have taken to the ground. The hunters will then gather and leash all but one dog, then place nets over all of the likely escape holes of the rabbit. Finally the hunter will take a ferret (with a small bell attached) from a round wicker basket, and places it into the last entrance to the rabbit's burrow. The Kelb tal-Fenek can hear the little bell up to 3 meters down under the rocky terrain. When the ferret flushes the rabbit out a hole, one free dog swoops down upon it. This style of hunting is mentioned by Strabo about hunting in the Balearic Islands under Roman rule, and the Maltese word for ferret--"nemes"--may have its roots in the Greek word 'nemesis'.
Competitions and Shows
Pharaoh Hound, International Champion XO EZ owned by Lori Evans, Joseph Buchanan and Ronald and Desiree Frank, placed 4th in the Hound Group at Crufts 2007.
A Pharaoh Hound, owned by Ms. J. Hall from Sweden, was Hound Group Winner at
Crufts
Crufts
Crufts is an annual international Championship conformation show for dogs organised and hosted by the Kennel Club, currently held every March at the National Exhibition Centre in Birmingham, England. It is the largest annual dog show in the world, as declared by Guinness World Records, and lasts...
, 2009. However the Pharaoh Hound has yet to place at the group level in the
Westminster Kennel Club Dog Show
Westminster Kennel Club Dog Show
The Westminster Kennel Club Dog Show is a two-day, all-breed benched conformation show that takes place at Madison Square Garden in New York City every year. The first Westminster show was held in 1877....
, due to a lack of hounds within the U.S.
Miscellaneous
It should be noted that the Kelb tal-Fenek is not the only breed of dog specific to the tiny islands of Malta. There is also the Kelb tal-But ("pocket dog", a toy breed), Kelb tal-Kaċċa ("gun dog", a breed used for bird hunting), and lastly a type of Mastiff which is now extinct (Kelb tal-Ġlied, sometimes called the Maltese Bulldog or Maltese Mastiff). It is number 141 out of 154 breeds by dogs registered in 2005 by the AKC.
Kelb Tal-Fenek were also used in the reconstruction and reconstitution of the Cirneco dell'Etna breed in Sicily.
External links