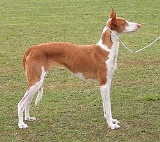 Ibizan Hound
The
Ibizan Hound
pronounced "I-bee-zan" or "I-beeth-an", is a lean, agile
dog
Dog
The domestic dog is a domesticated form of the gray wolf, a member of the Canidae family of the order Carnivora. The term is used for both feral and pet varieties. The dog may have been the first animal to be domesticated, and has been the most widely kept working, hunting, and companion animal in...
of the
hound
Hound
A hound is a type of dog that assists hunters by tracking or chasing the animal being hunted. It can be contrasted with the gun dog, which assists hunters by identifying the location of prey, and with the retriever, which recovers shot quarry...
family. There are two hair types of the breed: smooth and wire. The more commonly seen type is the smooth. Some consider there to be a third type, long, but the longhair is most likely a variation of the wire.
Appearance
The Ibizan Hound is an elegant and agile breed, with an athletic and attractive outline and a ground-covering springy trot. Though graceful in appearance, it has good bone girth and is a rugged/hardy breed. Its large upright ears - a hallmark of the breed - are broad at the base and frame a long and elegant headpiece. The neck is long and lean. It has a unique front assembly with well laid-back shoulders and relatively straight upper arm. It comes in both smooth and wire-coated varieties. It is a combination of red and white. Its nose is flesh colored, as are its ears, eye rims, and pads of feet. Its eyes are a striking
amber
Amber (color)
Amber is an orange-yellow color that got its name from the material known as amber. Due to this, amber can refer not to one but to a series of shades of orange, since the natural material varies from nearly yellow when newer to orange or reddish-orange when older.-Amber:Amber is a pure chroma color...
color and have an alert and intelligent expression. The Ibizan may range in height, depending on which Standard you follow, from 22 to 29 in (55.9 to 73.7 cm) and weigh from 45 to 65 lb (20.4 to 29.5 kg), males being larger than females.
Temperament
Ibizan Hounds are intelligent, active, and engaging by nature. They rank 53rd in
Stanley Coren
Stanley Coren
Stanley Coren is a psychology professor and neuropsychological researcher who has become best known to the general public for a series of books regarding the intelligence, mental abilities and history of dogs...
's
The Intelligence of Dogs
The Intelligence of Dogs
The Intelligence of Dogs is a book on dog intelligence by Stanley Coren, a professor of psychology at the University of British Columbia in Vancouver. Published in 1994, the book explains Coren's theories about the differences in intelligence between different breeds of dogs...
, being of average working/obedience intelligence, but many Ibizan owners will enjoy giving you a multitude of examples of their problem solving abilities. They are true "clowns" of the dog world, delighting in entertaining their people with their antics. Though somewhat independent and stubborn at times, they do take well to training if positive methods are used, but will balk at punitive training methods. They are generally quiet, but will alarm bark if necessary, so they make good watch dogs. They are sensitive hounds, and very good around children and other dogs alike. They generally make good house dogs, but are active and athletic, therefore need a lot of daily exercise. They do not make good kennel dogs.
Ibizan Hounds are "escapologists": they are able to jump incredible heights from a stand still. As such, they need very tall fences. They also have been known to climb and many can escape from crates, open baby gates and even locks. They have a strong
prey drive
Prey drive
Prey drive is the instinctive inclination of a carnivore to pursue and capture prey.In dog training, prey drive can be used as an advantage because dogs with strong prey drive are also willing to pursue moving objects such as toys, which can then be used to encourage certain kinds of behavior, such...
, therefore they cannot be trusted off leash unless in a safely enclosed area.
Health
The Ibizan Hound is typical of the
Hound Group
Hound Group
Hound Group is the name of a breed group of dogs, used by kennel clubs to classify a defined collection of dog breeds, and does not necessarily include all hound-type dogs...
in that it rarely suffers from hereditary illness. Minor health concerns for the breed include seizures and allergies; very rarely, one will see axonal dystrophy,
cataract
Cataract
A cataract is a clouding that develops in the crystalline lens of the eye or in its envelope, varying in degree from slight to complete opacity and obstructing the passage of light...
,
retinal dysplasia
Retinal dysplasia
Retinal dysplasia is an eye disease affecting the retina of animals and, less commonly, humans. It is usually a nonprogressive disease and can be caused by viral infections, drugs, vitamin A deficiency, or genetic defects...
and deafness in the breed. Ibizan Hound owners should have their dogs' eyes tested by a
veterinarian
Veterinarian
A veterinary physician, colloquially called a vet, shortened from veterinarian or veterinary surgeon , is a professional who treats disease, disorder and injury in animals....
before breeding. CERF and
BAER
Baer
Baer is the surname of:* Arthur "Bugs" Baer , American journalist and humorist* Buddy Baer , American boxer* Byron Baer , American politician...
testing is recommended for the breed. Ibizan Hounds are sensitive to
barbiturate
Barbiturate
Barbiturates are drugs that act as central nervous system depressants, and can therefore produce a wide spectrum of effects, from mild sedation to total anesthesia. They are also effective as anxiolytics, as hypnotics, and as anticonvulsants...
anesthesia
Anesthesia
Anesthesia, or anaesthesia , traditionally meant the condition of having sensation blocked or temporarily taken away...
, and typically live between 12 and 14 years.
History & Use
This breed originates in the island of Eivissa and has been traditionally used in the
Catalan
Catalan language
Catalan is a Romance language, the national and only official language of Andorra and a co-official language in the Spanish autonomous communities of Catalonia, the Balearic Islands and Valencian Community, where it is known as Valencian , as well as in the city of Alghero, on the Italian island...
-speaking areas of Spain and
France
France
The French Republic , The French Republic , The French Republic , (commonly known as France , is a unitary semi-presidential republic in Western Europe with several overseas territories and islands located on other continents and in the Indian, Pacific, and Atlantic oceans. Metropolitan France...
to hunt
rabbit
Rabbit
Rabbits are small mammals in the family Leporidae of the order Lagomorpha, found in several parts of the world...
s and other small game. The Ibizan Hound is a fast dog that can hunt on all types of terrain, working by scent, sound and sight. Hunters run these dogs in mostly female packs, with perhaps a male or two, as the female is considered the better hunter.
Traditionally a farmer may have 1 dog and a very well off farmer 2 dogs to catch rabbits for food. However in the last 20 years it is seen as a sport where between 5 and 15 dogs can be seen in the chase of one rabbit. Mainly on weekends with pack owners from the towns.
The Ibizan Hound authority Miquel Rosselló has provided a detailed description of a working trial which characterises their typical hunting technique and action, strikingly illustrated with action photos by Charles Camberoque which demonstrate hunt behaviour and typical hunt terrain.
While local hunters will at times use one dog or a brace, and frequently packs of 6-8 or as many as 15, the working trial requires an evaluation of one or two braces. A brace is called a
colla
. The couples should be tested on at least 2 to 5 rabbits (not hares), without the use of any other hunting aid. An inspection and evaluation of the exterior, fitness, character and obedience of the dogs is recommended prior to the hunt.
The trial is qualified as having 5 parts. The dogs should show: (1) careful tracking and scenting of the rabbit, without being distracted in the least, 0-30 points; (2) correct signalling of the game, patient stand, strong jump into the air, obedience 0-10 points; (3) chase, giving tongue, speed, sureness, anticipation 0-30 points; (4) putting the game to cover at close quarters, listening, waiting, obedience, correct attack 0-10 point; and (5) good catch, or correct indication of the game's location, retrieval, obedience 0-20 points.
Individual dogs are expected to show a great degree of discipline, obedience and co-operation. They should be extremely agile, have good speed and a powerful vertical jump from a stationary position in rough and often heavily covered ground. They should have excellent scent-tracking abilities, give tongue at the right time when approaching the game closely, and otherwise be silent so that they can locate the game by sound.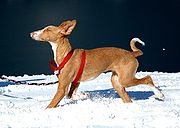 The Ibizan Hound is similar in function and type to several breeds, such as the
Pharaoh Hound
Pharaoh Hound
The Pharaoh Hound is a breed of dog and the national hound of the Mediterranean nation of Malta. Its native name is Kelb tal-Fenek in Maltese, which means "rabbit hound". The dog is the traditional hunting companion of Maltese outdoorsmen. The breed has no conclusive links with Ancient Egypt and...
, the
Cirneco dell'Etna
Cirneco dell'Etna
The Cirneco dell'Etna is a small breed of dog originally from Sicily. This hound was historically used to hunt rabbits and can work for hours without food or water. The breed also has a keen sense of smell and is primarily built for endurance over harsh terrain such as that of Mount Etna...
, the
Portuguese Podengo
Portuguese Podengo
The Portuguese Podengo is an ancient multi-sensory hound breed of dog from Portugal. The Podengo comes in three sizes that are not interbred - small , medium and large , each size with two hair coats and its own unique temperament.All three sizes love to hunt, its tradition in their native...
, and the
Podenco Canario
Podenco Canario
Podenco Canario is a breed of dog originally from the Canary Islands. The Podenco Canario is still used in the Canary Islands today in packs as a hunting dog, primarily used for rabbit hunting. The word "podenco" is Spanish for "hound"...
. The Ibizan Hound is the largest of these breeds, classified by the
Fédération Cynologique Internationale
Fédération Cynologique Internationale
Fédération Cynologique Internationale is an international federation of kennel clubs based in Thuin, Belgium. The English language translation, World Canine Organisation, is not often used.Its goals are described in Article 2 of their regulations:...
as primitive types.
This breed is considered by most experts one of the most ancient dog breeds. It is believed the Ibizan Hound evolves from the
tesem
, the
ancient Egypt
Ancient Egypt
Ancient Egypt was an ancient civilization of Northeastern Africa, concentrated along the lower reaches of the Nile River in what is now the modern country of Egypt. Egyptian civilization coalesced around 3150 BC with the political unification of Upper and Lower Egypt under the first pharaoh...
ian hunting dog. Representations of this dog on the walls of ancient tombs show a striking similarity to the modern Ibizan Hound. These dogs would have been brought to the island of Eivissa by the Phoenicians, who founded settlements there as early as the 8th century BC. A recent DNA analysis
did not find support for this opinion and did not include the Ibizan Hound among their identified
ancient dog breeds
Ancient dog breeds
Fourteen ancient breeds of dog have been identified through advances in DNA analysis. These breeds of domesticated dog show the fewest genetic differences from wolves...
. A more recent article
argues that continued trait selective breeding may be behind this lack of support. Heidi G. Parker, the lead author of the original study has stated recently that indeed their original findings do not imply that the Ibizan Hound is not an ancient breed and that with better tools they would in all likelihood be able to trace a continuous lineage of thousands of years for many dog breeds and add them to their group of ancient dogs.
In the United States, the Ibizan Hound is frequently competed in lure coursing through the AKC and ASFA, and also competes in LGRA straight racing and NOTRA oval track racing. Some parts of the country also use them for coursing live prey, generally jackrabbits.
The Ibizan Hound breed is recognized by the Fédération Cynologique Internationale, Continental Kennel Club,
American Kennel Club
American Kennel Club
The American Kennel Club is a registry of purebred dog pedigrees in the United States. Beyond maintaining its pedigree registry, this kennel club also promotes and sanctions events for purebred dogs, including the Westminster Kennel Club Dog Show, an annual event which predates the official...
,
United Kennel Club
United Kennel Club
The United Kennel Club is the second oldest all-breed registry of purebred dog pedigrees in the United States and the second largest in the world. According to the website, the club records 250,000 registrations annually. The UKC is not part of the International Canine Organisation, Fédération...
, Kennel Club of Great Britain,
Canadian Kennel Club
Canadian Kennel Club
The Canadian Kennel Club is the primary registry body for purebred dog pedigrees in Canada. Beyond maintaining the pedigree registry, the C.K.C...
, National Kennel Club,
New Zealand Kennel Club
New Zealand Kennel Club
The New Zealand Kennel Club is the primary kennel club responsible for dog pedigree registration services in New Zealand. They also provide training services, judging for dog shows and many other services relating to dog showing. The organisation was introduced in 1886, it is also a full member of...
,
Australian National Kennel Council
Australian National Kennel Council
The Australian National Kennel Council is the peak body in Australia responsible for promoting breeding, showing, trialling, obedience, and other canine-related activities and the ownership of temperamentally and physically sound purebred dogs by individuals across Australia. It was formed in...
, America's Pet Registry, and American Canine Registry. It was fully recognized by the
American Kennel Club
American Kennel Club
The American Kennel Club is a registry of purebred dog pedigrees in the United States. Beyond maintaining its pedigree registry, this kennel club also promotes and sanctions events for purebred dogs, including the Westminster Kennel Club Dog Show, an annual event which predates the official...
in 1979.
In folk culture
According to journalist Norman Lewis, when an owner no longer wants to own one of these dogs (having too much of an appetite, for instance), it is considered very bad luck to kill the dog. Instead, they release the dog on the other side of the island, so that someone else might 'adopt' the animal.
External links