Crufts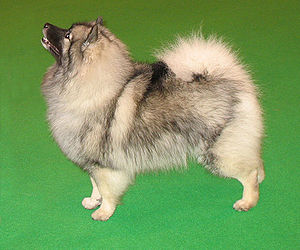 Crufts
is an annual international Championship
conformation show
Conformation show
Conformation shows, also referred to as breed shows, are a kind of dog show in which a judge familiar with a specific dog breed evaluates individual purebred dogs for how well the dogs conform to the established breed type for their breed, as described in a breed's individual breed standard.A...
for
dog
Dog
The domestic dog is a domesticated form of the gray wolf, a member of the Canidae family of the order Carnivora. The term is used for both feral and pet varieties. The dog may have been the first animal to be domesticated, and has been the most widely kept working, hunting, and companion animal in...
s organised and hosted by the Kennel Club, currently held every March at the
National Exhibition Centre
National Exhibition Centre
The National Exhibition Centre is an exhibition centre in Birmingham, England. It is near junction 6 of the M42 motorway, and is adjacent to Birmingham International Airport and Birmingham International railway station. It has 20 interconnected halls, set in grounds of 628 acres making it the...
(NEC) in
Birmingham
Birmingham
Birmingham is a city and metropolitan borough in the West Midlands of England. It is the most populous British city outside the capital London, with a population of 1,036,900 , and lies at the heart of the West Midlands conurbation, the second most populous urban area in the United Kingdom with a...
, England. It is the largest annual dog show in the world, as declared by
Guinness World Records
Guinness World Records
Guinness World Records, known until 2000 as The Guinness Book of Records , is a reference book published annually, containing a collection of world records, both human achievements and the extremes of the natural world...
, and lasts four days.
Crufts consists of several competitions occurring at the same time. The main competition is for the Best in Show award, which is hotly contested by dogs and their owners throughout the world.
History
Crufts was named after its founder, Charles Cruft, who worked as general manager for a
dog biscuit
Dog biscuit
A dog biscuit is a hard biscuit-based dietary supplement for dogs or other canine, similar to human snack food.Dog biscuits tend to be hard and dry. Dog biscuits may be sold in a flat bone-shape...
manufacturer, travelling to dog shows both in the United Kingdom and internationally, which allowed him to establish contacts and understand the need for higher standards for dog shows. In 1886, Cruft's first dog show, billed as the "First Great Terrier Show", had 57 classes and 600 entries. The first show named "Crufts"—"Cruft's Greatest Dog Show"—was held at the Royal Agricultural Hall,
Islington
Islington
Islington is a neighbourhood in Greater London, England and forms the central district of the London Borough of Islington. It is a district of Inner London, spanning from Islington High Street to Highbury Fields, encompassing the area around the busy Upper Street...
, in 1891. It was the first at which all breeds were invited to compete, with around 2,000 dogs and almost 2,500 entries.
With the close of the 19th century, entries had risen to over 3,000, including royal patronage from various European countries and Russia. The show continued annually and gained popularity each year until Charles' death in 1938. His widow ran the show for four years until she felt unable to do so due to its high demands of time and effort. To ensure the future and reputation of the show (and, of course, her husband's work), she sold it to
The Kennel Club
The Kennel Club
The Kennel Club is a kennel club based in London and Aylesbury, United Kingdom.The Kennel Club registration system divides dogs into seven breed groups. The Kennel Club Groups are: Hound, Working, Terrier, Gundog, Pastoral, Utility and Toy...
.
In 1936, "The
Jubilee
Golden Jubilee
A Golden Jubilee is a celebration held to mark a 50th anniversary.- In Thailand :King Bhumibol Adulyadej, the world's longest-reigning monarch, celebrated his Golden Jubilee on 9 June 1996.- In the Commonwealth Realms :...
Show" had 10,650 entries with the number of breeds totalling 80. The 1948 show was the first to be held under the new owner and was held at
Olympia
Olympia, London
Olympia is an exhibition centre and conference centre in West Kensington, on the boundary between The Royal Borough of Kensington & Chelsea and Hammersmith & Fulham, London, W14 8UX, England. It opened in the 19th century and was originally known as the National Agricultural Hall.Opened in 1886,...
in London, where it continued to gain popularity with each passing year. The first Obedience Championships were held in 1955. In 1959, despite an increase in entrance fees, the show set a new world record with 13,211 entrants. By 1979, the show had to be moved to
Earls Court
Earls Court
Earls Court is a district in the Royal Borough of Kensington and Chelsea in London, England. It is an inner-city district centred on Earl's Court Road and surrounding streets, located 3.1 miles west south-west of Charing Cross. It borders the sub-districts of South Kensington to the East, West...
exhibition centre as the increasing amount of entries and spectators had outgrown the capacity of its previous venue. Soon, the show had to be changed again—the duration had to be increased to three days in 1982, then again in 1987 to four days as the popularity continued to increase. Since 1991, the show has been held in the
National Exhibition Centre
National Exhibition Centre
The National Exhibition Centre is an exhibition centre in Birmingham, England. It is near junction 6 of the M42 motorway, and is adjacent to Birmingham International Airport and Birmingham International railway station. It has 20 interconnected halls, set in grounds of 628 acres making it the...
, Birmingham, the first time the show had moved out of London since its inception.
It was also at the Centenary celebrations in 1991 that Crufts was officially recognised by the Guinness Book of Records as the world's largest dog show with 22,973 dogs being exhibited in conformation classes that year. Including agility and other events, it is estimated that an average 28,000 dogs take part in Crufts each year, with an estimated 160,000 human visitors attending the show.
Competing for Best in Show
Crufts is not an open competition; dogs must have qualified throughout the previous year by successfully competing (gaining a top-3 place in their class) at a Kennel Club licensed Championship show where Challenge Certificates are awarded. Dogs can become qualified for life upon attaining their Kennel Club Stud Book Number.
Dogs compete in hierarchical fashion. Dogs begin by competing against others of the same
breed
Dog breed
Dog breeds are groups of closely related and visibly similar domestic dogs, which are all of the subspecies Canis lupus familiaris, having characteristic traits that are selected and maintained by humans, bred from a known foundation stock....
, split by gender, age and previous class wins. These classes include
Veteran
,
Special Puppy
,
Special Junior
,
Yearling
,
Post Graduate
,
Mid Limit
,
Limit
, and
Open
. Each is awarded once for dogs and once for bitches. The dog and bitch class winners then compete again for the Dog and Bitch Challenge Certificate (CC). The two CC winners then go head-to-head to determine the Best of Breed.
After the best of each breed has been chosen, they then compete against the others in their Group (in the UK, there are seven Groups: Toys, Gundogs, Utility, Hounds, Working, Pastoral, and Terriers) to find the
Best in Group
General Specials
General Specials are dog competitions in which the Best of Breed winners return to compete for Best in Group; these Group winners then return to compete for the title Best in Show....
. The seven Group winners then compete to find the
Best in Show
and
Reserve Best in Show
.
Best in Show winners receive a replica of the solid silver Keddall Memorial Trophy, and a small cash prize of £100.
Best in Show champions (since 2001)
Year
Breed
Kennel Club Name
Class
2011
Retriever (Flat-Coated)

Flat-Coated Retriever

The Flat-Coated Retriever is a gundog breed originating from the United Kingdom. It was developed as a retriever both on land and in the water.-Appearance:...



Sh Ch. Vbos The Kentuckian

Vbos The Kentuckian

-External links:**...



Gundog
2010
Hungarian Vizsla

Hungarian Vizsla

The Vizsla is a dog breed originating in Hungary. The Hungarian or Magyar Vizsla are sporting dogs and loyal companions, in addition to being the smallest of the all-round pointer-retriever breeds...



Sh Ch/Aust Ch. Hungargunn Bear It'n Mind

Hungargunn Bear It'n Mind

Sh Ch/Aust Ch. Hungargunn Bear It'n Mind , also known as Yogi, is a male Hungarian Vizsla who was the Best in Show at Crufts in 2010...



Gundog
2009
Sealyham Terrier

Sealyham Terrier

The Sealyham Terrier is a dog breed of the terrier type. The Sealyham Terrier was originally developed in Wales.- History :thumb|right|A Sealyham Terrier photographed in 1915....



Am/Can/Su Efbe's Hidalgo At Goodspice

Efbe's Hidalgo At Goodspice

Ch. Efbe's Hidalgo At Goodspice , also known as Charmin, is a male Sealyham Terrier who was the Best in Show at the American Kennel Club National Championship in 2007, World Dog Show in 2008, and Crufts in 2009...



Terrier
2008
Giant Schnauzer

Giant Schnauzer

The Giant Schnauzer is a large, powerful, and compact breed of dog. It is one of the three Schnauzer breeds. Like most large breeds, the Giant Schnauzer needs a fair amount of exercise.-Appearance:...



Ch Jafrak Philippe Olivier
Working
2007
Tibetan Terrier

Tibetan Terrier

The Tibetan Terrier is not a member of the terrier group, the name being given to it by European travelers to Tibet who were reminded of terriers from back home when they first encountered the breed...



Ch & Am Ch Araki Fabulous Willy

Araki Fabulous Willy

Ch/Am Ch. Araki Fabulous Willy , also known as Willy, was a male Tibetan Terrier who won the title of Best In Show at Crufts in 2007. He was also the top of his breed in the UK for four years consecutively, and the top of the Utility group in 2003...



Utility
2006
Australian Shepherd

Australian Shepherd

The Australian shepherd is a breed of herding dog that was developed on ranches in the Western United States. Despite its name, the breed, commonly known as an Aussie, did not originate in Australia They acquired their name because some of the Australian sheepdogs arrived in the United States with...



Am Ch Caitland Isle Take A Chance
Pastoral
2005
Norfolk Terrier

Norfolk Terrier

The Norfolk Terrier is a British breed of dog. Prior to gaining recognition as an independent breed in 1960, it was a variety of the Norwich Terrier, distinguished from the "prick eared" Norwich by its "drop ears"...



Ch & Am Ch Cracknor Cause Celebre
Terrier
2004
Whippet

Whippet

The Whippet is a breed of dog in the sighthound family. They are active and playful and are physically similar to a small Greyhound.- Description :...



Ch Cobyco Call The Tune
Hound
2003
Pekingese

Pekingese

The Pekingese, or "Peke" is an ancient breed of toy dog, originating in China. The breed was favored by the Chinese Imperial court, and its name refers to the city of Beijing where the Forbidden City resides...



Ch Yankee A Dangerous Liaison
Toy
2002
Poodle

Poodle

The Poodle is a breed of dog. The poodle breed is found officially in toy, miniature, and standard sizes, with many coat colors. Originally bred as a type of water dog, the poodle is highly intelligent and skillful in many dog sports, including agility, obedience, tracking, and even herding...


(Standard)
Ch & Nord Ch Topscore Contradiction
Utility
2001
Basenji

Basenji

The Basenji is a breed of hunting dog that was bred from stock originating in central Africa. Most of the major kennel clubs in the English-speaking world place the breed in the Hound Group; more specifically, it may be classified as belonging to the sighthound type...



Ch Jethard Cidevant
Hound
Other competitions
Another competition is the
dog agility
Dog agility
Dog agility is a dog sport in which a handler directs a dog through an obstacle course in a race for both time and accuracy. Dogs run off-leash with no food or toys as incentives, and the handler can touch neither dog nor obstacles...
competition, where the dogs undergo a time trial, where they must manoeuvre, with the guidance of their owners, through, over, and around different obstacles. Any mistake made by the dog is penalised by adding time to their result. Dogs must qualify during the preceding year to compete in individual or team events, although representative handlers and dogs from England, Wales and Scotland are invited to compete in the International competitions.
Next is the
obedience
Obedience training
Obedience training usually refers to the training of a dog and the term is most commonly used in that context. Obedience training ranges from very basic training, such as teaching the dog to reliably respond to basic commands such as "sit", "down", "come", and "stay", to high level competition...
competition, now held in its own 'Obedience Arena'. Dogs qualify by being successful at shows during the preceding year to compete in the Dog and Bitch UK Obedience Championships, UK Inter-Regional Team Competition and the crowd's favourite, the Obedience World Cup. The prizes are awarded to the most obedient dog according to the judges after they have undergone various demanding activities, such as off lead heelwork at different paces, distance control, retrieve, send away, stays and scent discrimination.
The
Flyball
Flyball
Flyball is a dog sport in which teams of dogs race against each other from a start/finish line, over a line of hurdles, to a box that releases a tennis ball to be caught when the dog presses the spring-loaded pad, then back to their handlers while carrying the ball.Flyball is run in teams of four...
competition is a
relay
Relay race
During a relay race, members of a team take turns running, orienteering, swimming, cross-country skiing, biathlon, or ice skating parts of a circuit or performing a certain action. Relay races take the form of professional races and amateur games...
-style race. Teams of four dogs compete against each other in a knock-out competition. Each dog jumps a series of four hurdles, and then steps on a box, which is rigged to release a ball. The dog must then return the ball to the start of the course to tag one of its team, who then repeats this process until all the dogs have finished. Teams must qualify during the preceding year.
Crufts also holds a
musical canine freestyle
Musical Canine Freestyle
Musical canine freestyle, also known as musical freestyle, freestyle dance, and canine freestyle, is a modern dog sport that is a mixture of obedience training, tricks, and dance that allows for creative interaction between dogs and their owners...
competition, also called
heelwork to music
Heelwork to music
Heelwork to music is a dog sport similar to musical canine freestyle that is officially recognised by the Kennel Club. The sport has evolved since the early 1990s when obedience handler Mary Ray first demonstrated the sport at Crufts...
in the UK.
The Young Kennel Club (YKC) also has its own ring and stand where handlers aged between 6 and 25 compete in Agility, Obedience, Showing, Handling, Heelwork to Music, Flyball, and Grooming. Handlers and dogs must qualify in their discipline during the preceding year.
Crufts hosts the World Champion Junior Handling competition in which National Best Junior Handler winners from around the globe compete for this esteemed title. Since there is a quarantine to the import of foreign dogs, many competitors must "borrow" dogs from gracious British show enthusiasts. The first World title competition, held in 1984, was judged by Ger Pederson. The winner of this premiere competition was US representative Tracie Laliberte who had won Westminster Kennel Club in 1983. A unique feature of this first competition was the requirement of switching dogs mid-way through the competition.
Other attractions
Crufts drew 160,000 visitors to the NEC in 2008. While the main purpose of the event is the search for the best dog in the show, many trade stands sell a wide range of dog-related merchandise, or advertise dog-related charities. There is also a section known as Discover Dogs where visitors can see almost every breed recognised by the Kennel Club on view, and discuss each breed with knowledgeable owners.
Crufts also holds special shows and demonstrations, where specially trained dogs may perform in front of an audience.
In 2010 The Kennel Club released Crufts Vintage iPhone app, with more than 100 vintage photographs from the Kennel Club archives and in August 2011
the Top Crufts app
, which is a Tump Card style game, available for
iPhone
IPhone
The iPhone is a line of Internet and multimedia-enabled smartphones marketed by Apple Inc. The first iPhone was unveiled by Steve Jobs, then CEO of Apple, on January 9, 2007, and released on June 29, 2007...
,
iPad
IPad
The iPad is a line of tablet computers designed, developed and marketed by Apple Inc., primarily as a platform for audio-visual media including books, periodicals, movies, music, games, and web content. The iPad was introduced on January 27, 2010 by Apple's then-CEO Steve Jobs. Its size and...
and
iPod Touch
IPod Touch
The iPod Touch is a portable media player, personal digital assistant, handheld game console, and Wi-Fi mobile device designed and marketed by Apple Inc. The iPod Touch adds the multi-touch graphical user interface to the iPod line...
devices.
Crossbreeds
As the Kennel Club also registers
crossbreed
Crossbreed
A crossbreed or crossbred usually refers to an animal with purebred parents of two different breeds, varieties, or populations. Crossbreeding refers to the process of breeding such an animal, often with the intention to create offspring that share the traits of both parent lineages, or producing...
s, Crufts also hosts many competitions and displays for crossbreeds. They mainly compete in agility, obedience and heelwork to music competitions. The popularity of Crufts and the interest of dog owners who do not own purebreeds convinced the Kennel Club to hold
Scruffts
Scruffts
Scruffts is an informal dog show competition, similar to that of a conformation show for purebred dogs, where crossbreed dogs of any parentage are allowed to compete...
, a show similar to Crufts for crossbreed dogs.
Criticism
The Kennel Club was criticised on the BBC programme
Pedigree Dogs Exposed
for allowing breed standards, judging standards and breeding practices which are said to compromise the health of purebred dogs. The programme led to various sponsors such as
Hill's Pet Nutrition
Hill's Pet Nutrition
Hill's Pet Nutrition, Inc is a subsidiary of Colgate-Palmolive Company. They are a large scale provider of dog and cat foods.- History :In 1928, Dr. Mark L. Morris Sr. established Raritan Hospital for Animals in Edison, New Jersey. At the time, this was one of only two small animal hospitals in the...
,
Royal Society for the Prevention of Cruelty to Animals
Royal Society for the Prevention of Cruelty to Animals
The Royal Society for the Prevention of Cruelty to Animals is a charity in England and Wales that promotes animal welfare. In 2009 the RSPCA investigated 141,280 cruelty complaints and collected and rescued 135,293 animals...
and
Dogs Trust
Dogs Trust
Dogs Trust, formerly known as the National Canine Defence League, is an animal welfare charity and humane society in the United Kingdom which specialises in the wellbeing of dogs. The charity rehabilitates and finds new homes for dogs which have been abandoned or given up by their owners...
to withdraw their participation in Crufts and other Kennel Club events. The BBC eventually dropped Crufts 2009 from their coverage after being unable to agree to terms with the Kennel Club. It was reported that
Pedigree Petfoods
Pedigree Petfoods
Pedigree Petfoods is a subsidiary of the american group Mars, Incorporated specializing in pet food, with factories in Great Britain at Melton Mowbray, Peterborough and Birstall, Leeds; and offices at Waltham-on-the-Wolds.-Manchester:...
withdrew from sponsorship of Crufts following this programme, but their announcement was made well in advance of the broadcast and for financial reasons.
The Kennel Club initially defended their practices, and criticised the program as "highly biased". It also lodged a complaint to regulatory authority
Ofcom
Ofcom
Ofcom is the government-approved regulatory authority for the broadcasting and telecommunications industries in the United Kingdom. Ofcom was initially established by the Office of Communications Act 2002. It received its full authority from the Communications Act 2003...
claiming "unfair treatment and editing".
Due to the strong public response, the Kennel Club started rolling out new health plans. Breed standards for every breed went under review and show judges would be required to choose only healthy dogs. It has also requested regulatory powers from the Government, which would allow the club to take actions against breeders who do not comply with health standards. Bans on close inbreeding is set to take effect on March 1. New breed standards for 209 dog breeds were announced in January 2009, and are to be effective immediately, but with breeders allowed until June to object. The new standards will "not include anything that could in any way be interpreted as encouraging features that might prevent a dog from breathing, walking and seeing freely." "This will help to prevent the practice of exaggeration, where features that are perceived to be desirable, such as a short muzzle or loose skin, are made more prominent by breeders, and which can have detrimental effects on a dog's health."
See also
Breed Groups (dog)
Catwalk Dogs

Catwalk Dogs

Catwalk Dogs is a British television film written by Simon Nye and produced by Shed Productions for ITV. It stars Kris Marshall and Georgia Mackenzie and was first shown on 21 October 2007...



Cultural icon

Cultural icon

A cultural icon can be a symbol, logo, picture, name, face, person, building or other image that is readily recognized and generally represents an object or concept with great cultural significance to a wide cultural group...



Supreme Cat Show

Supreme Cat Show

The Supreme Cat Show is organised every year by the world's oldest cat registry, the Governing Council of the Cat Fancy, or GCCF, and takes place each November at the National Exhibition Centre , in Birmingham, England. Special awards of UK Champion and Supreme Champion can be gained at this show...



World Dog Show

World Dog Show

The World Dog Show is a Fédération Cynologique Internationale-sanctioned international dog show, held yearly since 1971. The World Show includes agility, obedience, junior handler, conformation, and other events and demonstrations. International championships for many events are awarded at the...



External links