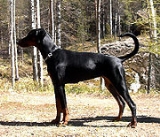 Guard dog
A
guard dog
, an
attack dog
Attack dog
An attack dog is any dog bred, trained or used for the purpose of attacking a target either on command or on sight. Attack dogs have been used often throughout history and are now employed in dog fighting, as well as police and military roles.- History :...
or
watch dog
is a
dog
Dog
The domestic dog is a domesticated form of the gray wolf, a member of the Canidae family of the order Carnivora. The term is used for both feral and pet varieties. The dog may have been the first animal to be domesticated, and has been the most widely kept working, hunting, and companion animal in...
used to guard against, and watch for, unwanted or unexpected people or animals. The dog is discriminating so that it does not annoy or attack familiar people.
Barking
Both guard dogs and watchdogs bark loudly to alert their owners of an intruder's presence and scare away the intruder. The watch dog's function ends here; a guard dog is capable of attacking or restraining the intruder. For example,
livestock guardian dog
Livestock guardian dog
A livestock guardian dog is a domesticated canine used to defend livestock against predators. LGDs are commonly referred to as "sheep dogs" since they most often have guarded flocks of sheep, but most are capable of guarding other species of livestock. They are classified as pastoral dogs...
s are often large enough and strong enough to attack and drive away livestock predator such as wolves. Some breeds (such as
Keeshond
Keeshond
The Keeshond is a medium-sized dog with a plush two-layer coat of silver and black fur with a 'ruff' and a curled tail. It originated in Germany, and its closest relatives are the other German spitzes such as the Pomeranian...
en) are excellent watchdogs but not excellent guard dogs because they bark loudly to alert their masters of intruders but are not given to assertive behavior. Similarly, even very small but attentive dogs (among a few other species) may function well as watchdogs.
The following pedigree breeds are the best at watch dog barking:
If the risk is from human intruders, a suitable dog can be simply trained to be aggressive towards unrecognized humans and then tethered or enclosed unsupervised in an area the owner wishes to protect when he is not around (such as at night); the stereotypical "
junkyard
Wrecking yard
A scrapyard or junkyard is the location of a dismantling business where wrecked or decommissioned vehicles are brought, their usable parts are sold for use in operating vehicles, while the unusable metal parts, known as scrap metal parts, are sold to metal-recycling companies...
dog" is a common example of this. Other guard dogs intended for police or more supervised work are trained to bite, restrain and release an intruder only on the specific commands of its handler—as in
Schutzhund
Schutzhund
Schutzhund is a dog sport that was developed in Germany in the early 1900s as a breed suitability test for the German Shepherd Dog. The test would determine if the dog displayed the appropriate traits and characteristics of a proper working German Shepherd Dog...
or K9 Pro Sports training.
Breeds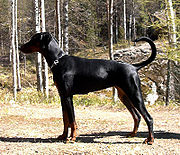 Many of the now prominent guardian breeds such as
Rottweiler
Rottweiler
The Rottweiler is a medium to large size breed of domestic dog that originated in Rottweil, Germany. The dogs were known as "Rottweil butchers' dogs" because they were used to herd livestock and pull carts laden with butchered meat and other products to market...
s started as farm dogs
types
Dog type
Dog types are broad categories of dogs based on function, with dogs identified primarily by specific function or style of work rather than by lineage or appearance....
but then developed over many years into guard breeds. Some breeds, such as the
Weimaraner
Weimaraner
The Weimaraner is a dog that was originally bred for hunting in the early 19th century. Early Weimaraners were used by royalty for hunting large game such as boar, bear, and deer. As the popularity of large game hunting began to decline, Weimaraners were used for hunting smaller animals like...
and
Rhodesian Ridgeback
Rhodesian Ridgeback
The Rhodesian Ridgeback is a dog breed developed in Southern Africa, where it was used to hunt Lions. This is most likely why this dog is known for its bravery...
, were originally bred for hunting, but their large intimidating look and territorial instincts have helped them evolve into guard dogs in today's society. Others like Dobermans were specifically bred as guard dogs. Many of the below breeds have a greater amount of
molossoid
Molosser
Molosser is a category of large, solidly-built dog that includes several breeds, probably all descended from the same root stock. The name derives from Molossia, a subregion of ancient Epirus, ancient Greece, where the large shepherd dog was known as the Molossus.The proper noun "Mastiff", however,...
or
mastiff
English Mastiff
The English Mastiff, referred to by virtually all Kennel Clubs simply as the Mastiff, is a breed of large dog perhaps descended from the ancient Alaunt through the Pugnaces Britanniae. Distinguishable by enormous size, massive head, and a limited range of colors, but always displaying a black mask,...
DNA. This is confirmed by a
DNA
DNA
Deoxyribonucleic acid is a nucleic acid that contains the genetic instructions used in the development and functioning of all known living organisms . The DNA segments that carry this genetic information are called genes, but other DNA sequences have structural purposes, or are involved in...
study done on >270 pure breed dogs. The study suggests that in the distant past thirteen ancient breeds broke off early on after which a group of mastiff style dogs were developed.
These dogs are grouped with the mastiffs
Great Dane
Great Dane
The Great Dane , also known as German Mastiff or Danish Hound , is a breed of domestic dog known for its giant size...
and
Irish wolfhound
Irish Wolfhound
The Irish wolfhound is a breed of domestic dog , specifically a sighthound. The name originates from its purpose rather than from its appearance...
. The Irish wolfhound (a traditional hunting guardian breed) has evidence that its population was nearly wiped out 200 years ago and its existing members descend from a very small group of dogs and thus it is a rebuilt breed, but evidently out of somewhat different building blocks. Some people think that the Irish wolfhound contributed to the Great Dane.
The
St. Bernard
St. Bernard (dog)
The St. Bernard is a breed of very large working dog from the Italian and Swiss Alps, originally bred for rescue. The breed has become famous through tales of alpine rescues, as well as for its large size.-Appearance:The St. Bernard is a large dog...
is also somewhat different from the mastiffs and is not in the molossoid group; however, the Swiss mountain dogs are. The
Moscow Watchdog
Moscow Watchdog
Moscow Watchdog is a breed of dog that was bred in the Soviet Union. It descends from crosses between the St. Bernard, Caucasian Shepherd, and Russian Spotted Hound breeds. The breed is very large and weight is between 100 and 150lbs. Unlike its modern St Bernard counterparts, the breed needs lots...
thus probably inherits its guarding ability not from the St. Bernard but from its other major contributor, the
Caucasian Ovcharka
Caucasian Ovcharka
- External links :* *...
(no evidence other than speculation and the known breed characteristics). Great Danes are odd because they are not in the molossoid group and traditionally behaved as though they should be.
The original Saint Bernard was used for alpine rescue in the Saint Bernard Pass by the monks. An avalanche killed off many of the dogs used for breeding. The Saint Bernards had to be bred with larger dogs such as mastiffs, which give it the large size and the guard dog instinct that the Saint Bernard has today.
It is claimed that female dogs tend to make better personal guardians than males, due to maternal instincts, but males are considered better for guarding property because of their greater territorial instinct. Female protection dogs are much easier to train and learn at a faster rate. Less independent, they are adept at integrating into their new family and swiftly blend into any situation they are consigned to.
The Australian Shepherd has been used as a flock guardian after being introduced into the United states as a herding dog. Over the years, the Australian shepherd has adapted to being used as guard dogs on farms, flock guardians, and guarding households.
The Jindo dog is widely used in civilian and military in
South Korea
South Korea
The Republic of Korea , , is a sovereign state in East Asia, located on the southern portion of the Korean Peninsula. It is neighbored by the People's Republic of China to the west, Japan to the east, North Korea to the north, and the East China Sea and Republic of China to the south...
.
The German Shepherd dog is widely used by the Metropolitan Police Force and private security companies in the UK.
List of breeds commonly used as guard dogs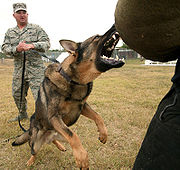 List of other guard dog breeds
Note some are not AKC, UKC, recognized and a few are not FCI recognized, but all at least have their own breed club.
Rare breeds
See also