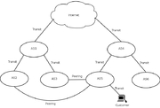 Peering
In computer networking,
peering
is a voluntary interconnection of administratively separate
Internet
Internet
The Internet is a global system of interconnected computer networks that use the standard Internet protocol suite to serve billions of users worldwide...
networks for the purpose of exchanging traffic between the customers of each network. The pure definition of peering is settlement-free or "sender keeps all," meaning that neither party pays the other for the exchanged traffic; instead, each derives revenue from its own customers. Marketing and commercial pressures have led to the word peering routinely being used when there is some settlement involved, even though that is not the accurate technical use of the word. The phrase "settlement-free peering" is sometimes used to reflect this reality and unambiguously describe the pure cost-free peering situation.
Peering requires physical interconnection of the networks, an exchange of
routing
Routing
Routing is the process of selecting paths in a network along which to send network traffic. Routing is performed for many kinds of networks, including the telephone network , electronic data networks , and transportation networks...
information through the
Border Gateway Protocol
Border Gateway Protocol
The Border Gateway Protocol is the protocol backing the core routing decisions on the Internet. It maintains a table of IP networks or 'prefixes' which designate network reachability among autonomous systems . It is described as a path vector protocol...
(BGP) routing protocol and is often accompanied by peering agreements of varying formality, from "handshake" to thick contracts.
How peering works
The Internet is a collection of separate and distinct networks, each one operating under a common framework of globally unique
IP address
IP address
An Internet Protocol address is a numerical label assigned to each device participating in a computer network that uses the Internet Protocol for communication. An IP address serves two principal functions: host or network interface identification and location addressing...
ing and global BGP routing.
The relationships between these networks are generally described by one of the following three categories:
Transit

Internet transit

Internet transit is the service of allowing network traffic to cross or "transit" a computer network, usually used to connect a smaller Internet service provider to the larger Internet...


(or pay) – You pay money (or settlement) to another network for Internet access (or transit).
Peer (or swap) – Two networks exchange traffic between each other's customers freely, and for mutual benefit.
Customer (or sell) – Another network pays you money to provide them with Internet access.
Furthermore, in order for a network to reach any specific other network on the
Internet
Internet
The Internet is a global system of interconnected computer networks that use the standard Internet protocol suite to serve billions of users worldwide...
, it must either:
Sell transit (or Internet access) service to that network (making them a 'customer'),
Peer directly with that network, or with a network who sells transit service to that network, or
Pay another network for transit service, where that other network must in turn also sell, peer, or pay for access.
The Internet is based on the principle of
global reachability
(sometimes called
end-to-end reachability
), which means that any Internet user can reach any other Internet user as though they were on the same network. Therefore, any Internet connected network must by definition either pay another network for transit, or peer with every other network who also does not purchase transit.
Motivations for peering
Peering involves two networks coming together to exchange traffic with each other freely, and for mutual benefit. This 'mutual benefit' is most often the motivation behind peering, which is often described solely by "reduced costs for transit services". Other less tangible motivations can include:
Increased redundancy (by reducing dependence on one or more transit providers).
Increased capacity for extremely large amounts of traffic (distributing traffic across many networks).
Increased routing control over your traffic.
Improved performance (attempting to bypass potential bottlenecks with a "direct" path).
Improved perception of your network (being able to claim a "higher tier").
Ease of requesting for emergency aid (from friendly peers).
Physical interconnections for peering
The physical interconnections used for peering are categorized into two types:
Public peering – Interconnection utilizing a multi-party shared switch fabric such as an Ethernet

Ethernet

Ethernet is a family of computer networking technologies for local area networks commercially introduced in 1980. Standardized in IEEE 802.3, Ethernet has largely replaced competing wired LAN technologies....


switch.
Private peering – Interconnection utilizing a point-to-point link between two parties.
Public peering
Public peering is accomplished across a Layer 2 access technology, generally called a
shared fabric
. At these locations, multiple carriers interconnect with one or more other carriers across a single physical port. Historically, public peering locations were known as
network access point
Network access point
A Network Access Point was a public network exchange facility where Internet Service Providers connected with one another in peering arrangements. The NAPs were a key component in the transition from the NSFNET era when many networks were government sponsored and commercial traffic was prohibited...
s (NAPs); today they are most often called
exchange points
Internet Exchange Point
An Internet exchange point is a physical infrastructure through which Internet service providers exchange Internet traffic between their networks . IXPs reduce the portion of an ISP's traffic which must be delivered via their upstream transit providers, thereby reducing the average per-bit...
or
Internet exchanges
("IXP" or "IX"). Many of the largest exchange points in the world can have hundreds of participants, and some span multiple buildings and
colocation
Colocation
Colocation is the act of placing multiple entities within a single location.Colocation is often used in the data sourcing industry to mean off-site data storage, usually in a data center. This is very important for businesses since the loss of data can be crucial for companies of any size...
facilities across a city.
Since public peering allows networks interested in peering to interconnect with many other networks through a single port, it is often considered to offer "less capacity" than private peering, but to a larger number of networks. Many smaller networks, or networks who are just beginning to peer, find that public peering exchange points provide an excellent way to meet and interconnect with other networks who may be open to peering with them. Some larger networks utilize public peering as a way to aggregate a large number of "smaller peers", or as a location for conducting low-cost "trial peering" without the expense of provisioning private peering on a temporary basis, while other larger networks are not willing to participate at public exchanges at all.
A few exchange points, particularly in the United States, are operated by commercial carrier-neutral third parties. These operators typically go to great lengths to promote communication and encourage new peering, and will often arrange social events for these purposes.
Private peering
Private peering is the direct interconnection between only two networks, across a Layer 1 or 2 medium that offers dedicated capacity that is not shared by any other parties. Early in the history of the Internet, many private peers occurred across 'telco' provisioned
SONET
Sonet
Sonet may refer to:* Sonet Records, European record label* Synchronous optical networking * Saab Sonett...
circuits between individual carrier-owned facilities. Today, most private interconnections occur at
carrier hotel
Colocation centre
A colocation centre or colocation center , is a type of data centre where equipment space and bandwidth are available for rental to retail customers...
s or carrier neutral colocation facilities, where a direct crossconnect can be provisioned between participants within the same building, usually for a much lower cost than telco circuits.
Most of the traffic on the Internet, especially traffic between the largest networks, occurs via private peering. However, because of the resources required to provision each private peer, many networks are unwilling to provide private peering to "small" networks, or to "new" networks who have not yet proven that they will provide a mutual benefit.
Peering agreement
Throughout the history of the Internet, there have been a spectrum of kinds of agreements between peers, ranging from handshake agreements to written contracts as required by one or more parties. Such agreements set forth the details of how traffic is to be exchanged, along with a list of expected activities which may be necessary to maintain the peering relationship, a list of activities which may be considered abusive and result in termination of the relationship, and details concerning how the relationship can be terminated. Detailed contracts of this type are typically used between the largest ISPs, and the ones operating in the most heavily-regulated economies. As of 2011, such contracts account for less than 0.5% of all peering agreements.
(See examples below.)
History of peering
The first
Internet exchange point
Internet Exchange Point
An Internet exchange point is a physical infrastructure through which Internet service providers exchange Internet traffic between their networks . IXPs reduce the portion of an ISP's traffic which must be delivered via their upstream transit providers, thereby reducing the average per-bit...
was the Commercial Internet Exchange (CIX), formed by Alternet/UUNET (now Verizon Business), PSI, and CERFNET to exchange traffic without regard for whether the traffic complied with the
acceptable use policy
Acceptable use policy
An acceptable use policy is a set of rules applied by the owner/manager of a network, website or large computer system that restrict the ways in which the network site or system may be used...
(AUP) of the NSFNet or ANS' interconnection policy . The CIX infrastructure consisted of a single router, managed by PSI, and was initially located in Santa Clara, California. Paying CIX members were allowed to attach to the router directly or via leased lines. After some time, the router was also attached to the Pacific Bell SMDS cloud. The router was later moved to the Palo Alto Internet Exchange, or PAIX, which was developed and operated by Digital Equipment Corporation (DEC).
Another early exchange point was
Metropolitan Area Ethernet
MAE-East
MAE-East is an Internet Exchange Point spread across the east coast of the United States, with locations in Vienna, Virginia; Reston, Virginia; Ashburn, Virginia; New York, New York; and Miami, Florida. It is the eastern branch of the MCI Internet Exchange. Its name officially stands for...
, or MAE, in Tysons Corner,
Virginia
Virginia
The Commonwealth of Virginia , is a U.S. state on the Atlantic Coast of the Southern United States. Virginia is nicknamed the "Old Dominion" and sometimes the "Mother of Presidents" after the eight U.S. presidents born there...
. When the United States government decided to de-fund the
NSFNET
NSFNet
The National Science Foundation Network was a program of coordinated, evolving projects sponsored by the National Science Foundation beginning in 1985 to promote advanced research and education networking in the United States...
backbone, Internet exchange points were needed to replace its function, and initial governmental funding was used to aid the MAE and bootstrap three other exchanges, which they dubbed NAPs, or "Network Access Points," in accordance with the terminology of the National Information Infrastructure document. All four are now defunct or no longer functioning as Internet exchange points:
MAE-East

MAE-East

MAE-East is an Internet Exchange Point spread across the east coast of the United States, with locations in Vienna, Virginia; Reston, Virginia; Ashburn, Virginia; New York, New York; and Miami, Florida. It is the eastern branch of the MCI Internet Exchange. Its name officially stands for...


- Located in Tysons Corner, VA, and later relocated to Ashburn, Virginia
Chicago NAP - Operated by Ameritech and located in Chicago, Illinois
New York NAP - Operated by Sprint and located in Pennsauken, New Jersey
San Francisco NAP - Operated by PacBell and located in the Bay Area
As the Internet grew, and traffic levels increased, these NAPs became a
network bottleneck
Network congestion
In data networking and queueing theory, network congestion occurs when a link or node is carrying so much data that its quality of service deteriorates. Typical effects include queueing delay, packet loss or the blocking of new connections...
. Most of the early NAPs utilized FDDI technology, which provided only 100 Mbit/s of capacity to each participant. Some of these exchanges upgraded to
ATM
Asynchronous Transfer Mode
Asynchronous Transfer Mode is a standard switching technique designed to unify telecommunication and computer networks. It uses asynchronous time-division multiplexing, and it encodes data into small, fixed-sized cells. This differs from approaches such as the Internet Protocol or Ethernet that...
technology, which provided OC-3 (155 Mbit/s) and OC-12 (622 Mbit/s) of capacity.
Other prospective exchange point operators moved directly into offering Ethernet technology, such as
gigabit Ethernet
Gigabit Ethernet
Gigabit Ethernet is a term describing various technologies for transmitting Ethernet frames at a rate of a gigabit per second , as defined by the IEEE 802.3-2008 standard. It came into use beginning in 1999, gradually supplanting Fast Ethernet in wired local networks where it performed...
(1000 Mbit/s), which quickly became the predominant choice for Internet exchange points due to the reduced cost and increased capacity offered. Today, almost all significant exchange points operate solely over Ethernet, and most of the largest exchange points offer ten gigabit Ethernet (10,000 Mbit/s) service.
During the
dot-com boom
Dot-com bubble
The dot-com bubble was a speculative bubble covering roughly 1995–2000 during which stock markets in industrialized nations saw their equity value rise rapidly from growth in the more...
, many exchange point and carrier neutral colocation providers had plans to build as many as 50 locations to promote carrier interconnection in the United States alone. Essentially all of these plans were abandoned following the dot-com bust, and today it is considered both economically and technically infeasible to support this level of interconnection among even the largest of networks.
Depeering
By definition, peering is the voluntary and free exchange of traffic between two networks, for mutual benefit. If one or both networks believes that there is no longer a mutual benefit, they may decide to cease peering: this is known as
depeering
. Some of the reasons why one network may wish to depeer another include:
A desire that the other network pay settlement, either in exchange for continued peering or for transit services.
A belief that the other network is "profiting unduly" from the settlement free interconnection.
Concern over traffic ratios, which related to the fair sharing of cost for the interconnection.
A desire to peer with the upstream transit provider of the peered network.
Abuse of the interconnection by the other party, such as pointing default or utilizing the peer for transit.
Instability of the peered network, repeated routing leaks, lack of response to network abuse issues, etc.
The inability or unwillingness of the peered network to provision additional capacity for peering.
The belief that the peered network is unduly peering with your customers.
Various external political factors (including personal conflicts between individuals at each network).
In some situations, networks who are being depeered have been known to attempt to fight to keep the peering by intentionally breaking the connectivity between the two networks when the peer is removed, either through a deliberate act or an act of omission. The goal is to force the depeering network to have so many customer complaints that they are willing to restore peering. Examples of this include forcing traffic via a path that does not have enough capacity to handle the load, or intentionally blocking alternate routes to or from the other network. Some very notable examples of these situations have included:
BBN Planet

BBN Technologies

BBN Technologies is a high-technology company which provides research and development services. BBN is based next to Fresh Pond in Cambridge, Massachusetts, USA...


vs Exodus Communications

Exodus Communications

Exodus Communications was an Internet hosting service and Internet service provider to dot-com businesses. It went broke, along with many of its customers, during the bursting of the dot-com bubble. It declared Chapter 11 bankruptcy in 2001 and was purchased by Cable and Wireless in November...



PSINet

PSINet

PSINet was one of the first internet service providers , based in Northern Virginia, and a major player in the commercialization of the Internet until the company's bankruptcy in 2001 during the dot-com bubble and acquisition by Cogent Communications in 2002.-Growth:PSINet was founded in 1989 by...


vs Cable & Wireless

Cable & Wireless

Cable & Wireless Worldwide PLC is a global telecommunications company headquartered in Bracknell, United Kingdom. Cable & Wireless specialises in providing communication networks and services to large corporates, governments, carrier customers and resellers...



AOL Transit Data Network (ATDN)

AOL

AOL Inc. is an American global Internet services and media company. AOL is headquartered at 770 Broadway in New York. Founded in 1983 as Control Video Corporation, it has franchised its services to companies in several nations around the world or set up international versions of its services...


vs Cogent Communications

Cogent Communications

Cogent Communications is a multinational internet service provider whose network spans more than 53,300 intercity fiber route miles and 15,800 metro fiber miles. Cogent provides service in over 165 markets across 31 countries in North America and Europe...



Teleglobe

VSNL International Canada

VSNL International Canada is an international telco carrier. The company is a subsidiary of Tata Communications, part of India's Tata Group. Part of their recent work has involved the updating of the CANTAT transatlantic cable system that connects the United Kingdom and Newfoundland under the...


vs Cogent Communications
France Telecom

France Télécom

France Telecom S.A. is the main telecommunications company in France, the third-largest in Europe and one of the largest in the world. It currently employs about 180,000 people and has 192.7 million customers worldwide . In 2010 the group had revenue of €45.5 billion...


vs Cogent Communications
France Telecom (Wanadoo) vs Proxad (Free)
Level 3 Communications

Level 3 Communications

Level 3 Communications is a telecommunications and Internet service provider headquartered in Broomfield, Colorado.It operates a Tier 1 network. The company provides core transport, IP, voice, video and content delivery for most of the medium to large Internet carriers in North America and Europe...


vs XO Communications

XO Communications

XO Communications is a telecommunications company owned by XO Holdings, Inc...



Level 3 Communications vs Cogent Communications
Telecom/Telefonica/Impsat/Prima vs CABASE (Argentina)
Cogent Communications vs TeliaSonera

TeliaSonera

TeliaSonera AB is the dominant telephone company and mobile network operator in Sweden and Finland. The company has operations in other countries in Northern, Eastern Europe, Central Asia and Spain, with a total of 150 million mobile customers...



Sprint-Nextel vs Cogent Communications

Cogent Communications

Cogent Communications is a multinational internet service provider whose network spans more than 53,300 intercity fiber route miles and 15,800 metro fiber miles. Cogent provides service in over 165 markets across 31 countries in North America and Europe...



Donut peering model
The "donut peering" model describes the intensive interconnection of small and medium-sized regional networks that make up much of the Internet.
Traffic between these regional networks can be modeled as a
toroid
Toroid
Toroid may refer to*Toroid , a doughnut-like solid whose surface is a torus.*Toroidal inductors and transformers which have wire windings on circular ring shaped magnetic cores.*Vortex ring, a toroidal flow in fluid mechanics....
, with a core "donut hole" that is poorly interconnected to the networks around it.
As detailed above, some carriers attempted to form a cartel of self-described
Tier 1 network
Tier 1 network
A tier 1 network is an Internet Protocol network that participates in the Internet solely via settlement-free interconnection, also known as settlement-free peering.-Definition:...
s, nominally refusing to peer with any networks outside the
oligopoly
Oligopoly
An oligopoly is a market form in which a market or industry is dominated by a small number of sellers . The word is derived, by analogy with "monopoly", from the Greek ὀλίγοι "few" + πόλειν "to sell". Because there are few sellers, each oligopolist is likely to be aware of the actions of the others...
.
Seeking to reduce
transit
Internet transit
Internet transit is the service of allowing network traffic to cross or "transit" a computer network, usually used to connect a smaller Internet service provider to the larger Internet...
costs, connections between regional networks bypass those "core" networks.
Data takes a more direct path, reducing
latency
Latency (engineering)
Latency is a measure of time delay experienced in a system, the precise definition of which depends on the system and the time being measured. Latencies may have different meaning in different contexts.-Packet-switched networks:...
and
packet loss
Packet loss
Packet loss occurs when one or more packets of data travelling across a computer network fail to reach their destination. Packet loss is distinguished as one of the three main error types encountered in digital communications; the other two being bit error and spurious packets caused due to noise.-...
. This also improves resiliency between consumers and content providers via multiple connections in many locations around the world, in particular during business disputes between the core transit providers.
Peering locations
The modern Internet operates with significantly more peering locations than at any time in the past, resulting in improved performance and better routing for the majority of the traffic on the Internet. However, in the interests of reducing costs and improving efficiency, most networks have attempted to standardize on relatively few locations within these individual regions where they will be able to quickly and efficiently interconnect with their peering partners.
List of Internet exchange points by continent
Exchange points
The largest individual exchange points in the world are
AMS-IX
Amsterdam Internet Exchange
The Amsterdam Internet Exchange is an Internet exchange point situated in Amsterdam, in the Netherlands. AMS-IX started in 1994 and is a fast growing, non-profit, neutral and independent peering point...
in Amsterdam, followed by
DE-CIX
DE-CIX
Deutscher Commercial Internet Exchange is an Internet Exchange Point situated in Frankfurt ....
in Frankfurt Germany and
LINX
London Internet Exchange
The London Internet Exchange is an Internet exchange point situated in London. It was founded in 1994 by a group of Internet service providers. LINX is a founder member of , a Europe-wide alliance of Internet Exchanges...
in London. The next largest exchange point is generally considered to be
JPNAP
Japan Network Access Point
The Japan Network Access Point is an Internet Exchange Point situated in Tokyo and Osaka, Japan. JPNAP was established on 2001 and operated by Internet Multifeed Co....
in Tokyo, Japan. The United States, with a historically larger focus on private peering and commercial public peering, has a much smaller amount of traffic on public peers compared to other regions which operate non-profit exchange points. The combined exchange points in multiple cities operated by
Equinix
Equinix
Equinix, Inc. is an American public corporation that provides carrier-neutral data centers and internet exchanges. Equinix provides network-neutral data centers and interconnection services...
are generally considered to be the largest and most important, followed by the
PAIX
PAIX
PAIX, the Peering And Internet eXchange, is a neutral Internet exchange point operated by Switch and Data.PAIX began operations in 1996 as Palo Alto Internet Exchange in Palo Alto, California, and was owned and operated by Digital Equipment Corporation, or DEC...
facilities which are operated by
Switch and Data
Switch and Data
Switch and Data Facilities Company, Inc. was a U.S. public corporation that provided network-neutral data centers and Internet exchange services to network-centric businesses.. Switch and Data was acquired by Equinix in 2010....
. Other important but smaller exchange points include LIPEX and
LONAP
LONAP
London Network Access Point is a London-based Internet exchange point founded in 1997 as a membership organisation and currently has almost 100 members, making it the 2nd largest IXP in the UK and around the 15th largest IXP in the World by membership...
in London UK, NYIIX in New York, and
NAP of the Americas
NAP of the Americas
NAP of the Americas is a large data center and Internet exchange point in Miami, Florida, run by Terremark. It hosts one of the instances of the K-root of the Domain Name System.- External links :...
in Miami, Florida.
URLs to some public traffic statistics of exchange points include:
Peering and BGP
A great deal of the complexity in the BGP routing protocol exists to aid the enforcement and fine-tuning of peering and transit agreements. BGP allows operators to define a policy that determines where traffic is routed. Three things commonly used to determine routing are local-preference, multi exit discriminators (MEDs) and AS-Path. Local-preference is used internally within a network to differentiate classes of networks. For example, a particular network will have a higher preference set on internal and customer advertisements. Settlement free peering is then configured to be preferred over paid IP transit.
Networks that speak BGP to each other can engage in multi exit discriminator exchange with each other, although most do not. When networks interconnect in several locations, MEDs can be used to reference that network's
interior gateway protocol
Interior gateway protocol
An interior gateway protocol is a routing protocol that is used to exchange routing information within an autonomous system ....
cost. This results in both networks sharing the burden of transporting each others traffic on their own network (or
cold potato
).
Hot-potato
or nearest-exit routing, which is typically the normal behavior on the Internet, is where traffic destined to another network is delivered to the closest interconnection point.
Law and policy
Internet interconnection is not regulated in the same way that public
telephone
Telephone
The telephone , colloquially referred to as a phone, is a telecommunications device that transmits and receives sounds, usually the human voice. Telephones are a point-to-point communication system whose most basic function is to allow two people separated by large distances to talk to each other...
network interconnection is regulated. Nevertheless, Internet interconnection has been the subject of several areas of federal policy. Perhaps the most dramatic example of this is the attempted
MCI Worldcom
MCI Inc.
MCI, Inc. is an American telecommunications subsidiary of Verizon Communications that is headquartered in Ashburn, Virginia...
/
Sprint
Sprint Nextel
Sprint Nextel Corporation is an American telecommunications company based in Overland Park, Kansas. The company owns and operates Sprint, the third largest wireless telecommunications network in the United States, with 53.4 million customers, behind Verizon Wireless and AT&T Mobility...
merger. In this case, the
Department of Justice
United States Department of Justice
The United States Department of Justice , is the United States federal executive department responsible for the enforcement of the law and administration of justice, equivalent to the justice or interior ministries of other countries.The Department is led by the Attorney General, who is nominated...
signaled that it would move to block the merger specifically because of the impact of the merger on the Internet backbone market. In 2001, the
Federal Communications Commission
Federal Communications Commission
The Federal Communications Commission is an independent agency of the United States government, created, Congressional statute , and with the majority of its commissioners appointed by the current President. The FCC works towards six goals in the areas of broadband, competition, the spectrum, the...
's advisory committee, the Network Reliability and Interoperability Council recommended that Internet backbones publish their peering policies, something that they had been hesitant to do beforehand. The FCC has also reviewed competition in the backbone market in its Section 706 proceedings which review whether advanced telecommunications are being provided to all
Americans
United States
The United States of America is a federal constitutional republic comprising fifty states and a federal district...
in a reasonable and timely manner.
Finally, Internet interconnection has become an issue in the international arena under something known as the International Charging Arrangements for Internet Services (ICAIS). In the ICAIS debate, countries underserved by Internet backbones have complained that it is unfair that they must pay the full cost of connecting to an Internet exchange point in a different country, frequently the United States. These advocates argue that Internet interconnection should work like international telephone interconnection, with each party paying half of the cost. Those who argue against ICAIS point out that much of the problem would be solved by building local exchange points. A significant amount of the traffic, it is argued, that is brought to the US and exchanged then leaves the US, using US exchange points as switching offices but not terminating in the US. In some worst-case scenarios, traffic from one side of a street is brought to all the way to Miami, exchanged, and then returned to another side of the street. Countries with liberalized telecommunications and open markets, where competition between backbone providers occurs, tend to oppose ICAIS.
See also
Autonomous system

Autonomous system (Internet)

Within the Internet, an Autonomous System is a collection of connected Internet Protocol routing prefixes under the control of one or more network operators that presents a common, clearly defined routing policy to the Internet....



Tier 1 network

Tier 1 network

A tier 1 network is an Internet Protocol network that participates in the Internet solely via settlement-free interconnection, also known as settlement-free peering.-Definition:...



Internet Exchange Point

Internet Exchange Point

An Internet exchange point is a physical infrastructure through which Internet service providers exchange Internet traffic between their networks . IXPs reduce the portion of an ISP's traffic which must be delivered via their upstream transit providers, thereby reducing the average per-bit...



Border Gateway Protocol

Border Gateway Protocol

The Border Gateway Protocol is the protocol backing the core routing decisions on the Internet. It maintains a table of IP networks or 'prefixes' which designate network reachability among autonomous systems . It is described as a path vector protocol...


(BGP)
Default-free zone

Default-free zone

In the context of Internet routing, the default-free zone refers to the collection of all Internet autonomous systems that do not require a default route to route a packet to any destination...



Interconnect agreement

Interconnect agreement

An interconnect agreement is a business contract between telecommunications organizations for the purpose of interconnecting their networks and exchanging telecommunications traffic...



Internet traffic engineering

Internet traffic engineering

Internet traffic engineering refers to all the work related to the physical network that carries Internet traffic between different networks with the objective of reaching the highest levels of capacity in the Internet backbone.-References:Abdel-Hameed Nawar, "E-Commerce" Lecture Notes, Cairo...



Network Neutrality

Network neutrality

Network neutrality is a principle that advocates no restrictions by Internet service providers or governments on consumers' access to networks that participate in the Internet...



North American Network Operators' Group (NANOG)
European Internet Exchange Association (Euro-IX)
Vendor Neutral Data Centre
External links