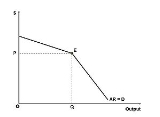 Oligopoly
An
oligopoly
is a market form in which a
market
Market
A market is one of many varieties of systems, institutions, procedures, social relations and infrastructures whereby parties engage in exchange. While parties may exchange goods and services by barter, most markets rely on sellers offering their goods or services in exchange for money from buyers...
or
industry
Industry
Industry refers to the production of an economic good or service within an economy.-Industrial sectors:There are four key industrial economic sectors: the primary sector, largely raw material extraction industries such as mining and farming; the secondary sector, involving refining, construction,...
is dominated by a small number of sellers (oligopolists). The word is derived, by analogy with "
monopoly
Monopoly
A monopoly exists when a specific person or enterprise is the only supplier of a particular commodity...
", from the
Greek
Ancient Greek
Ancient Greek is the stage of the Greek language in the periods spanning the times c. 9th–6th centuries BC, , c. 5th–4th centuries BC , and the c. 3rd century BC – 6th century AD of ancient Greece and the ancient world; being predated in the 2nd millennium BC by Mycenaean Greek...
ὀλίγοι
(oligoi) "few" +
πόλειν
(pólein) "to sell". Because there are few sellers, each oligopolist is likely to be aware of the actions of the others. The decisions of one firm influence, and are influenced by, the decisions of other firms.
Strategic planning
Strategic planning
Strategic planning is an organization's process of defining its strategy, or direction, and making decisions on allocating its resources to pursue this strategy. In order to determine the direction of the organization, it is necessary to understand its current position and the possible avenues...
by oligopolists needs to take into account the likely responses of the other market participants.
Oligopoly is a common market form.