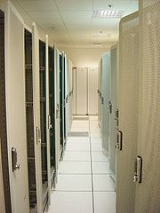 Colocation centre
A
colocation centre
or
colocation center
(also spelled
co-location
,
colo
, or
coloc
), is a type of
data centre
Data center
A data center is a facility used to house computer systems and associated components, such as telecommunications and storage systems...
where equipment space and bandwidth are available for rental to retail customers. Colocation facilities provide space, power, cooling, and physical security for the server, storage, and networking equipment of other firms—and connect them to a variety of telecommunications and network service providers—with a minimum of cost and complexity.
Benefits
Colocation has become a popular option for companies with midsize IT needs--especially those in Internet related business--because it allows the company to focus its IT staff on the actual work being done, instead of the logistical support needs which underlie the work. Significant benefits of scale (large power and mechanical systems) result in large colocation facilities, typically 4500 to 9500 square metres (roughly 50000 to 100000 square feet).
Colocation facilities provide, as a retail rental business, usually on a term contract:
lockable rack cabinets or cages,
power in a variety of formats, AC and DC,
network connectivity--either in a 'house blend', where the colo provider is a customer of carriers, and connects their clients to their own router

Router

A router is a device that forwards data packets between computer networks, creating an overlay internetwork. A router is connected to two or more data lines from different networks. When a data packet comes in on one of the lines, the router reads the address information in the packet to determine...


for access to multiple carriers, or as direct 'cross-connect' access to the routers of the carriers themselves, or both,
cooling,
physical security (including video surveillance, biometric and badge access, logging, and the like), and
real-time live monitoring of all these functions for failures.
They also provide redundant systems for, usually, all of these features, to mitigate the problems when each inevitably fails.
Among the economies of scale which result from grouping many small-to-midsized customers together in one facility are included:
higher reliability due to redundant systems
full time monitoring by live humans
lower network latency and higher bandwidth at a lower cost
specialist staff, like network and facilities engineers, which would not be cost effective for any single client to keep on the payroll.
Major types of colocation customers are:
Web commerce companies, who use the facilities for a safe environment and cost-effective, redundant connections to the Internet
Major enterprises, who use the facility for disaster avoidance, offsite data backup and business continuity
Telecommunication companies, who use the facilities to exchange traffic with other telecommunications companies and access to potential clients--a colo facility where many carriers are physically present is often called a 'carrier hotel'; the presence of such a facility at a colo increases its value to some classes of potential customers.
Building features
Buildings with data centres inside them are often easy to recognize due to the amount of cooling equipment located outside or on the roof.
Colocation facilities have many other special characteristics: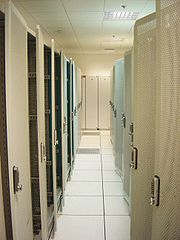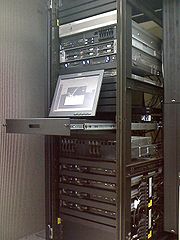 Fire protection

Fire protection

Fire protection is the study and practice of mitigating the unwanted effects of fires. It involves the study of the behaviour, compartmentalisation, suppression and investigation of fire and its related emergencies, as well as the research and development, production, testing and application of...


systems, including passive

Passive fire protection

Passive fire protection is an integral component of the three components of structural fire protection and fire safety in a building. PFP attempts to contain fires or slow the spread, through use of fire-resistant walls, floors, and doors...


and active

Active fire protection

Active fire protection is an integral part of fire protection. AFP is characterised by items and/or systems, which require a certain amount of motion and response in order to work, contrary to passive fire protection.-Fire suppression:...


design elements, as well as implementation of fire prevention

Fire prevention

Fire Prevention is a function of many fire departments. The goal of fire prevention is to educate the public to take precautions to prevent fires, and be educated about surviving them. It is a proactive method of reducing emergencies and the damage caused by them. Many fire departments have a Fire...


programmes in operations. Smoke detector

Smoke detector

A smoke detector is a device that detects smoke, typically as an indicator of fire. Commercial, industrial, and mass residential devices issue a signal to a fire alarm system, while household detectors, known as smoke alarms, generally issue a local audible and/or visual alarm from the detector...


s are usually installed to provide early warning of a developing fire by detecting particles generated by smouldering components prior to the development of flame. This allows investigation, interruption of power, and manual fire suppression using hand held fire extinguishers before the fire grows to a large size. A fire sprinkler system is often provided to control a full scale fire if it develops. Clean agent fire suppression gaseous systems are sometimes installed to suppress a fire earlier than the fire sprinkler system. Passive fire protection elements include the installation of fire walls

Firewall (construction)

A firewall is a fireproof barrier used to prevent the spread of fire between or through buildings, structures, electrical substation transformers, or within an aircraft or vehicle.- Applications :...


around the space, so a fire can be restricted to a portion of the facility for a limited time in the event of the failure of the active fire protection systems, or if they are not installed.
19-inch rack

19-inch rack

A 19-inch rack is a standardized frame or enclosure for mounting multiple equipment modules. Each module has a front panel that is wide, including edges or ears that protrude on each side which allow the module to be fastened to the rack frame with screws.-Overview and history:Equipment designed...


s for data equipment and servers, 23-inch racks for telecommunications equipment.
Cabinets and cages for physical access control over tenants' equipment.
Overhead or underfloor cable rack (tray) and fibreguide, power cables usually on separate rack from data.
Air conditioning

Air conditioning

An air conditioner is a home appliance, system, or mechanism designed to dehumidify and extract heat from an area. The cooling is done using a simple refrigeration cycle...


is used to control the temperature and humidity in the space. ASHRAE recommends a temperature range

Temperature range

Atmospheric temperature range is the numerical difference between the minimum and maximum values of temperature observed in a given location....


and humidity range for optimal electronic equipment conditions versus environmental issues. The electrical power used by the electronic equipment is converted to heat, which is rejected to the ambient air in the data centre space. Unless the heat is removed, the ambient temperature will rise, resulting in electronic equipment malfunction. By controlling the space air temperature, the server components at the board level are kept within the manufacturer's specified temperature/humidity range. Air conditioning systems help keep equiment spaces humidity

Humidity

Humidity is a term for the amount of water vapor in the air, and can refer to any one of several measurements of humidity. Formally, humid air is not "moist air" but a mixture of water vapor and other constituents of air, and humidity is defined in terms of the water content of this mixture,...


within acceptable parameters by cooling the return space air below the dew point

Dew point

The dew point is the temperature to which a given parcel of humid air must be cooled, at constant barometric pressure, for water vapor to condense into liquid water. The condensed water is called dew when it forms on a solid surface. The dew point is a saturation temperature.The dew point is...


. Too much humidity and water may begin to condense

Condensation

Condensation is the change of the physical state of matter from gaseous phase into liquid phase, and is the reverse of vaporization. When the transition happens from the gaseous phase into the solid phase directly, the change is called deposition....


on internal components. In case of a dry atmosphere, ancillary humidification systems may add water vapour to the space if the humidity is too low, to avoid static electricity

Electrostatics

Electrostatics is the branch of physics that deals with the phenomena and properties of stationary or slow-moving electric charges....


discharge problems which may damage components.
Low-impedance electrical ground

Ground (electricity)

In electrical engineering, ground or earth may be the reference point in an electrical circuit from which other voltages are measured, or a common return path for electric current, or a direct physical connection to the Earth....


.
Few, if any, windows.
Colocation data centres are often audited to prove that they live up to certain standards and levels of reliability; the most commonly seen systems are SAS 70 and the tier system by the Uptime Institute.
Physical security
Most colocation centres have high levels of physical security, and may be guarded continuously. They may employ
CCTV
Closed-circuit television camera
Closed-circuit television cameras can produce images or recordings for surveillance purposes, and can be either video cameras, or digital stills cameras...
.
Some colocation facilities require that employees escort customers, especially if there are not individual locked cages/cabinets for each customer. In other facilities, a
PIN
Personal identification number
A personal identification number is a secret numeric password shared between a user and a system that can be used to authenticate the user to the system. Typically, the user is required to provide a non-confidential user identifier or token and a confidential PIN to gain access to the system...
code or
proximity card
Proximity card
Proximity card is a generic name for contactless integrated circuit devices used for security access or payment systems. The standard can refer to the older 125 kHz devices or the newer 13.56 MHz contactless RFID cards, most commonly known as contactless smartcards.Modern proximity cards...
access system may allow customers access into the building, and individual cages /cabinets have locks.
Biometric
Biometrics
Biometrics As Jain & Ross point out, "the term biometric authentication is perhaps more appropriate than biometrics since the latter has been historically used in the field of statistics to refer to the analysis of biological data [36]" . consists of methods...
security measures, such as fingerprint recognition, voice recognition and "weight matching", are also becoming more commonplace in modern facilities. 'Man-traps' are also recommend, where a hallway leading into the data center has a door at each end, and both cannot be open simultaneously; visitors can been seen via CCTV and authorized to enter.
Power
Colocation facilities generally have
generators
Electrical generator
In electricity generation, an electric generator is a device that converts mechanical energy to electrical energy. A generator forces electric charge to flow through an external electrical circuit. It is analogous to a water pump, which causes water to flow...
that start automatically when utility power fails, usually running on
diesel fuel
Diesel engine
A diesel engine is an internal combustion engine that uses the heat of compression to initiate ignition to burn the fuel, which is injected into the combustion chamber...
. These generators may have varying levels of redundancy, depending on how the facility is built.
Generators do not start instantaneously, so colocation facilities usually have battery backup systems. In many facilities, the operator of the facility provides large inverters to provide AC power from the batteries. In other cases, the customers may install smaller
UPSes
Uninterruptible power supply
An uninterruptible power supply, also uninterruptible power source, UPS or battery/flywheel backup, is an electrical apparatus that provides emergency power to a load when the input power source, typically mains power, fails...
in their racks.
Some customers choose to use equipment that is powered directly by 48VDC (nominal) battery banks. This may provide better energy efficiency, and may reduce the number of parts that can fail, though the reduced voltage greatly increases necessary current, and thus the size (and cost) of power delivery wiring.
An alternative to batteries is a motor generator connected to a
flywheel
Flywheel
A flywheel is a rotating mechanical device that is used to store rotational energy. Flywheels have a significant moment of inertia, and thus resist changes in rotational speed. The amount of energy stored in a flywheel is proportional to the square of its rotational speed...
and diesel engine.
Many colocation facilities can provide redundant, A and B power feeds to customer equipment, and high end servers and telecommunications equipment often can have two power supplies installed.
Colocation facilities are sometimes connected to multiple sections of the utility power grid for additional reliability.
Cooling
The operator of a colocation facility generally provides
air conditioning
Air conditioning
An air conditioner is a home appliance, system, or mechanism designed to dehumidify and extract heat from an area. The cooling is done using a simple refrigeration cycle...
for the computer and telecommunications equipment in the building. The cooling system generally includes some degree of redundancy.
In older facilities, the cooling system capacity often limits the amount of equipment that can operate in the building, more so than the available square footage.
Internal connections
Colocation facility owners have differing rules regarding cross connects between their customers, some of whom may be carriers. These rules may allow customers to run such connections at no charge, or allow customers to order such connections for a significant monthly fee. They may allow customers to order cross connects to carriers, but not to other customers.
Some colocation centres feature a "
meet-me-room
Meet-me-room
A "meet me room" is a place within a colocation centre where telecommunications companies can physically connect to one another and exchange data without incurring local loop fees...
" where the different carriers housed in the centre can efficiently exchange data.
Most
peering
Peering
In computer networking, peering is a voluntary interconnection of administratively separate Internet networks for the purpose of exchanging traffic between the customers of each network. The pure definition of peering is settlement-free or "sender keeps all," meaning that neither party pays the...
points sit in colocation centres.
Because of the high concentration of servers inside larger colocation centres, most carriers will be interested in bringing direct connections to such buildings.
In many cases there will be a larger
Internet Exchange
Internet Exchange Point
An Internet exchange point is a physical infrastructure through which Internet service providers exchange Internet traffic between their networks . IXPs reduce the portion of an ISP's traffic which must be delivered via their upstream transit providers, thereby reducing the average per-bit...
hosted inside a colocation centre, where customers can connect for peering.
External connections
Colocation facilities generally have multiple locations for fibre optic cables to enter the building, to provide redundancy so that communications can continue if one bundle of cables is damaged. Some also have wireless backup connections, for example via satellite.
External links