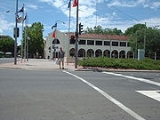 Pedestrian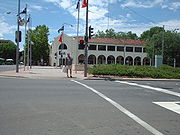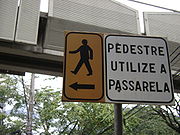 A
pedestrian
is a person traveling on foot, whether
walking
Walking
Walking is one of the main gaits of locomotion among legged animals, and is typically slower than running and other gaits. Walking is defined by an 'inverted pendulum' gait in which the body vaults over the stiff limb or limbs with each step...
or
running
Running
Running is a means of terrestrial locomotion allowing humans and other animals to move rapidly on foot. It is simply defined in athletics terms as a gait in which at regular points during the running cycle both feet are off the ground...
. In some communities, those traveling using
roller skates
Roller skates
Roller skates are devices worn on the feet to enable the wearer to roll along on wheels. A first basic type of roller skate consists of a boot with four wheels with ball bearings, arranged in the same configuration as the wheels of a typical car.-History:...
or skateboards are also considered to be pedestrians. In modern times, the term mostly refers to someone walking on a
road
Road
A road is a thoroughfare, route, or way on land between two places, which typically has been paved or otherwise improved to allow travel by some conveyance, including a horse, cart, or motor vehicle. Roads consist of one, or sometimes two, roadways each with one or more lanes and also any...
or
footpath
Sidewalk
A sidewalk, or pavement, footpath, footway, and sometimes platform, is a path along the side of a road. A sidewalk may accommodate moderate changes in grade and is normally separated from the vehicular section by a curb...
, but this was not the case historically.
History
Walking has always been the primary means of human locomotion. The first humans walked out of Africa about 60,000 years ago. They walked along the coast of India to reach Australia. They walked across Asia to reach the Americas, and from Central Asia into Europe.
During the 18th and 19th centuries,
pedestrianism
Pedestrianism
Pedestrianism was a 19th-century form of competitive walking, often professional and funded by wagering, from which the modern sport of racewalking developed.-18th- and early 19th-century Britain:...
(walking) was a popular spectator sport just as
equestrianism
Equestrianism
Equestrianism more often known as riding, horseback riding or horse riding refers to the skill of riding, driving, or vaulting with horses...
still is in places such as Great Britain and the United States. One of the most famous pedestrians of that period was Captain
Robert Barclay Allardice
Robert Barclay Allardice
Robert Barclay Allardice , the 6th Laird of Ury, generally known as Captain Barclay, was a notable Scottish walker of the early 19th century, known as the celebrated pedestrian. His most famous feat was the walking of in 1000 hours for 1000 guineas in 1809...
, known as "The Celebrated Pedestrian", of
Stonehaven
Stonehaven
Stonehaven is a town in Aberdeenshire, Scotland. It lies on Scotland's northeast coast and had a population of 9,577 in 2001 census.Stonehaven, county town of Kincardineshire, grew around an Iron Age fishing village, now the "Auld Toon" , and expanded inland from the seaside...
in Scotland. His most impressive feat was to walk 1 miles (1.6 km) every hour for 1000 hours, which he achieved between 1 June and 12 July 1809. This feat captured many people's imagination, and around 10,000 people came to watch over the course of the event. During the rest of the 19th century, many people tried to repeat this feat, including Ada Anderson who developed it further and walked a half-mile (800 m) each quarter-hour over the 1,000 hours.
Since the 19th century, interest in walking as a sport has dropped. It is still an
Olympic
Olympic Games
The Olympic Games is a major international event featuring summer and winter sports, in which thousands of athletes participate in a variety of competitions. The Olympic Games have come to be regarded as the world's foremost sports competition where more than 200 nations participate...
sport, but fails to catch public attention as it did. However major walking feats are still performed, such as the
Land's End
Land's End
Land's End is a headland and small settlement in west Cornwall, England, within the United Kingdom. It is located on the Penwith peninsula approximately eight miles west-southwest of Penzance....
to
John O' Groats
John o' Groats
John o' Groats is a village in the Highland council area of Scotland. Part of the county of Caithness, John o' Groats is popular with tourists because it is usually regarded as the most northerly settlement of mainland Great Britain, although this is not a claim made by the inhabitants...
walk in the United Kingdom, and the traversal of North America from coast to coast. The first person to walk around the world was
Dave Kunst
Dave Kunst
Dave Kunst is the first person verified to have walked around the earth.-Walk:Kunst's trek began June 20, 1970 and ended October 5, 1974. Dave started his journey in Waseca, Minnesota with his brother John, a letter of recommendation from Sen...
who started his walk travelling east from
Waseca, Minnesota
Waseca, Minnesota
As of the census of 2000, there were 8,493 people, 3,388 households, and 2,219 families residing in the city. The population density was 2,215.6 people per square mile . There were 3,563 housing units at an average density of 929.5 per square mile...
on 20 June 1970 and completed his journey on 5 October 1974 when he re-entered the town from the west. These feats are often tied to
charitable
Charitable organization
A charitable organization is a type of non-profit organization . It differs from other types of NPOs in that it centers on philanthropic goals A charitable organization is a type of non-profit organization (NPO). It differs from other types of NPOs in that it centers on philanthropic goals A...
fundraising
Fundraising
Fundraising or fund raising is the process of soliciting and gathering voluntary contributions as money or other resources, by requesting donations from individuals, businesses, charitable foundations, or governmental agencies...
and are undertaken by celebrities such as Sir
Jimmy Savile
Jimmy Savile
Sir James Wilson Vincent Savile, OBE, KCSG was an English disc jockey, television presenter and media personality, best known for his BBC television show Jim'll Fix It, and for being the first and last presenter of the long-running BBC music chart show Top of the Pops...
and
Ian Botham
Ian Botham
Sir Ian Terence Botham OBE is a former England Test cricketer and Test team captain, and current cricket commentator. He was a genuine all-rounder with 14 centuries and 383 wickets in Test cricket, and remains well-known by his nickname "Beefy"...
as well as by others.
Health and environment
Regular walking is important both for human health and for the
natural environment
Natural environment
The natural environment encompasses all living and non-living things occurring naturally on Earth or some region thereof. It is an environment that encompasses the interaction of all living species....
. Frequent exercise such as walking tends to reduce the chance of
obesity
Obesity
Obesity is a medical condition in which excess body fat has accumulated to the extent that it may have an adverse effect on health, leading to reduced life expectancy and/or increased health problems...
and related medical problems. In contrast, using a car for short trips tends to contribute both to obesity and via vehicle emissions to climate change:
internal combustion engine
Internal combustion engine
The internal combustion engine is an engine in which the combustion of a fuel occurs with an oxidizer in a combustion chamber. In an internal combustion engine, the expansion of the high-temperature and high -pressure gases produced by combustion apply direct force to some component of the engine...
s are more inefficient and highly polluting during their first minutes of operation (engine cold start). General availability of public transportation encourages walking, as it will not, in most cases, take one directly to one's destination.
Footpaths and roads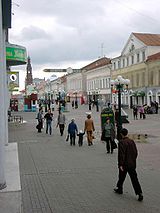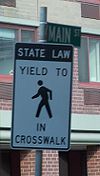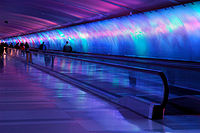 Roads often have a designated footpath for pedestrian
traffic
Traffic
Traffic on roads may consist of pedestrians, ridden or herded animals, vehicles, streetcars and other conveyances, either singly or together, while using the public way for purposes of travel...
, called the
sidewalk
Sidewalk
A sidewalk, or pavement, footpath, footway, and sometimes platform, is a path along the side of a road. A sidewalk may accommodate moderate changes in grade and is normally separated from the vehicular section by a curb...
in
American English
American English
American English is a set of dialects of the English language used mostly in the United States. Approximately two-thirds of the world's native speakers of English live in the United States....
and the
pavement
in
British English
British English
British English, or English , is the broad term used to distinguish the forms of the English language used in the United Kingdom from forms used elsewhere...
. There are also footpaths not associated with a road; these include urban short cuts and also rural paths used mainly by ramblers, hikers, or hill-walkers. Footpaths in mountainous or forested areas may also be called
trail

Trail

A trail is a path with a rough beaten or dirt/stone surface used for travel. Trails may be for use only by walkers and in some places are the main access route to remote settlements...


s
. Pedestrians share some footpaths with horses and bicycles: these paths may be known as bridleways. Other byways used by walkers are also accessible to
vehicle
Vehicle
A vehicle is a device that is designed or used to transport people or cargo. Most often vehicles are manufactured, such as bicycles, cars, motorcycles, trains, ships, boats, and aircraft....
s. There are also many roads with no footpath. Some modern towns (such as the new suburbs of
Peterborough
Peterborough
Peterborough is a cathedral city and unitary authority area in the East of England, with an estimated population of in June 2007. For ceremonial purposes it is in the county of Cambridgeshire. Situated north of London, the city stands on the River Nene which flows into the North Sea...
in England) are designed with the network of footpaths and cycle paths almost entirely separate from the road network.
The term
trail
is also used by the authorities in some countries to mean any footpath that is not attached to a road or street. If such footpaths are in urban environments and are meant for both pedestrians and bicyclists, they can be called
shared-use paths
Segregated cycle facilities
Segregated cycle facilities are marked lanes, tracks, shoulders and paths designated for use by cyclists from which motorised traffic is generally excluded...
or
multi-use paths
in general and official usage.
Some shopping streets are for pedestrians only. Some roads have special
pedestrian crossing
Pedestrian crossing
A pedestrian crossing or crosswalk is a designated point on a road at which some means are employed to assist pedestrians wishing to cross. They are designed to keep pedestrians together where they can be seen by motorists, and where they can cross most safely across the flow of vehicular traffic...
s. A bridge solely for pedestrians is a
footbridge
Footbridge
A footbridge or pedestrian bridge is a bridge designed for pedestrians and in some cases cyclists, animal traffic and horse riders, rather than vehicular traffic. Footbridges complement the landscape and can be used decoratively to visually link two distinct areas or to signal a transaction...
.
Under British law, regardless of whether there is a footpath, pedestrians have the right to use most public roads, excluding motorways and some toll tunnels and bridges such as the
Blackwall Tunnel
Blackwall Tunnel
The Blackwall Tunnel is a pair of road tunnels underneath the River Thames in east London, linking the London Borough of Tower Hamlets with the London Borough of Greenwich, and part of the A102 road. The northern portal lies just south of the East India Dock Road in Blackwall; the southern...
and the
Dartford Crossing
Dartford Crossing
The Dartford - Thurrock River Crossing, Dartford River Crossing is a major road crossing of the River Thames in England, connecting Dartford in the south to Thurrock in the north, via two road tunnels and the Queen Elizabeth II Bridge. It opened in stages, the west tunnel in 1963, the east tunnel...
. It is usually advised that pedestrians should walk in the opposite direction to oncoming traffic on a road with no footpath. However sharing roads with fast-moving traffic is highly dangerous.
In California the definition of a pedestrian has been broadened to include anyone on any human powered vehicle that is not a bicycle, as well as people operating self-propelled wheelchairs by reason of physical disability.
Pedestrianisation
Efforts are under way by pedestrian
advocacy
Advocacy
Advocacy is a political process by an individual or a large group which normally aims to influence public-policy and resource allocation decisions within political, economic, and social systems and institutions; it may be motivated from moral, ethical or faith principles or simply to protect an...
groups to restore pedestrian access to new developments, especially to counteract newer developments, 20% to 30% of which in the United States do not include sidewalks. Some activists advocate large auto-free zones where pedestrians only or pedestrians and some non-motorised vehicles are allowed. Many urbanists have extolled the virtues of pedestrian streets in urban areas. In the U.S. the proportion of households without a car is 8%, but a notable exception is
New York City
Transportation in New York City
The transportation system of New York City is a cooperation of complex systems of infrastructure. New York City, being the largest city in the United States, has a transportation system which includes the largest subway system in the world, measured by track mileage; the world's first mechanically...
, the only locality in the United States where more than half of all households do not own a car (the figure is even higher in Manhattan, over 75%).
The use of cars for short journeys is officially discouraged in many parts of the world, and construction or separation of dedicated walking routes receives a high priority in most large European city centres - among other places - often in conjunction with
public transport
Public transport
Public transport is a shared passenger transportation service which is available for use by the general public, as distinct from modes such as taxicab, car pooling or hired buses which are not shared by strangers without private arrangement.Public transport modes include buses, trolleybuses, trams...
enhancements. In
Copenhagen
Copenhagen
Copenhagen is the capital and largest city of Denmark, with an urban population of 1,199,224 and a metropolitan population of 1,930,260 . With the completion of the transnational Øresund Bridge in 2000, Copenhagen has become the centre of the increasingly integrating Øresund Region...
the world's longest pedestrian shopping area,
Strøget
Strøget
Strøget is a carfree zone in Copenhagen, Denmark. This popular tourist attraction in the centre of town is the longest pedestrian shopping area in Europe....
, has been developed over the last 40 years principally due to the work of Danish architect
Jan Gehl
Jan Gehl
Jan Gehl is a Danish architect and urban design consultant based in Copenhagen and whose career has focused on improving the quality of urban life by re-orienting city design towards the pedestrian and cyclist.-Biography:...
, a principle of urban design known as
copenhagenization
.
See also
Dérive

Dérive

In psychogeography, a dérive is an unplanned journey through a landscape, usually urban, where an individual travels where the subtle aesthetic contours of the surrounding architecture and geography subconsciously direct them with the ultimate goal of encountering an entirely new and authentic...


aimless walking usually through city streets
Footpath

Footpath

A Footpath is a thoroughfare intended for by pedestrians but not by motorized vehicles. The term is often for paths within an urban area that offer shorter quieter routes for pedestrians, they may also provide access to the surrounding countryside or parks...



Junior safety patrol

Junior safety patrol

The junior safety patrol is a voluntary group of crossing guards involving older students helping younger students cross streets in elementary and middle schools across the United States...



Pedestrian zone
Traffic calming

Traffic calming

Traffic calming is intended to slow or reduce motor-vehicle traffic in order to improve the living conditions for residents as well as to improve safety for pedestrians and cyclists. Urban planners and traffic engineers have many strategies for traffic calming...



Walkability

Walkability

Walkability is a measure of how friendly an area is to walking. Walkability has many health, environmental, and economic benefits. Factors influencing walkability include the presence or absence and quality of footpaths, sidewalks or other pedestrian right-of-ways, traffic and road conditions,...



Walking

Walking

Walking is one of the main gaits of locomotion among legged animals, and is typically slower than running and other gaits. Walking is defined by an 'inverted pendulum' gait in which the body vaults over the stiff limb or limbs with each step...



External links