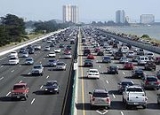 Traffic
Traffic on roads may consist of
pedestrian
Pedestrian
A pedestrian is a person traveling on foot, whether walking or running. In some communities, those traveling using roller skates or skateboards are also considered to be pedestrians. In modern times, the term mostly refers to someone walking on a road or footpath, but this was not the case...
s, ridden or herded
animal
Animal
Animals are a major group of multicellular, eukaryotic organisms of the kingdom Animalia or Metazoa. Their body plan eventually becomes fixed as they develop, although some undergo a process of metamorphosis later on in their life. Most animals are motile, meaning they can move spontaneously and...
s,
vehicle
Vehicle
A vehicle is a device that is designed or used to transport people or cargo. Most often vehicles are manufactured, such as bicycles, cars, motorcycles, trains, ships, boats, and aircraft....
s, streetcars and other conveyances, either singly or together, while using the public way for purposes of travel.
Traffic laws
Traffic code
Traffic code refers to the collection of local statutes, regulations, ordinances and rules that have been officially adopted in the United States to govern the orderly operation and interaction of motor vehicles, bicycles, pedestrians and others upon the public ways.The traffic code generally...
are the
law
Law
Law is a system of rules and guidelines which are enforced through social institutions to govern behavior, wherever possible. It shapes politics, economics and society in numerous ways and serves as a social mediator of relations between people. Contract law regulates everything from buying a bus...
s which govern traffic and regulate vehicles, while rules of the road are both the laws and the
informal rules
Norm (sociology)
Social norms are the accepted behaviors within a society or group. This sociological and social psychological term has been defined as "the rules that a group uses for appropriate and inappropriate values, beliefs, attitudes and behaviors. These rules may be explicit or implicit...
that may have developed over time to facilitate the orderly and timely flow of traffic.
Organized traffic generally has well-established priorities, lanes, right-of-way, and traffic control at
intersection
Intersection (road)
An intersection is a road junction where two or more roads either meet or cross at grade . An intersection may be 3-way - a T junction or fork, 4-way - a crossroads, or 5-way or more...
s.
Traffic is formally organized in many jurisdictions, with marked
lane
Lane
A lane is a part of the roadway within a road marked out for use by a single line of vehicles in such a way as to control and guide drivers for the purpose of reducing traffic conflicts. Most public roads have at least two lanes, one for traffic in each direction, separated by Lane markings...
s,
junction
Junction (traffic)
A junction, when discussed in the context of transport, is a location where traffic can change between different routes, directions, or sometimes modes, of travel.-Historical significance:...
s,
intersections
Intersection (road)
An intersection is a road junction where two or more roads either meet or cross at grade . An intersection may be 3-way - a T junction or fork, 4-way - a crossroads, or 5-way or more...
,
interchange
Interchange (road)
In the field of road transport, an interchange is a road junction that typically uses grade separation, and one or more ramps, to permit traffic on at least one highway to pass through the junction without directly crossing any other traffic stream. It differs from a standard intersection, at which...
s, traffic signals, or
sign
Traffic sign
Traffic signs or road signs are signs erected at the side of roads to provide information to road users. With traffic volumes increasing over the last eight decades, many countries have adopted pictorial signs or otherwise simplified and standardized their signs to facilitate international travel...
s.