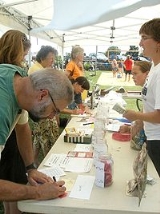 Fundraising
Fundraising
or
fund raising
(also
development
) is the process of soliciting and gathering voluntary contributions as
money
Money
Money is any object or record that is generally accepted as payment for goods and services and repayment of debts in a given country or socio-economic context. The main functions of money are distinguished as: a medium of exchange; a unit of account; a store of value; and, occasionally in the past,...
or other resources, by requesting donations from individuals, businesses, charitable foundations, or governmental agencies (see also
crowd funding
Crowd funding
Crowd funding describes the collective cooperation, attention and trust by people who network and pool their money and other resources together, usually via the Internet, to support efforts initiated by other people or organizations...
). Although fundraising typically refers to efforts to gather money for non-profit organizations, it is sometimes used to refer to the identification and solicitation of investors or other sources of capital for for-profit enterprises. Traditionally, fundraising consisted mostly of asking for donations on the street or at people's doors, and this is experiencing very strong growth in the form of
face-to-face fundraising
Street fundraiser
Street fundraising consists of various ways of asking for donations on behalf of a charity. Those asking for donations may be paid employees of the charity , or they may be volunteers....
, but new forms of fundraising such as online fundraising have emerged in recent years, though these are often based on older methods such as
grassroots fundraising
Grassroots fundraising
Grassroots fundraising is a method of fundraising used by or for political candidates, which has grown in popularity with the emergence of the Internet and its use by US presidential candidates like Howard Dean and Ron Paul...
.
Organizations
Fundraising is a significant way that
non-profit organization
Non-profit organization
Nonprofit organization is neither a legal nor technical definition but generally refers to an organization that uses surplus revenues to achieve its goals, rather than distributing them as profit or dividends...
s may obtain the money for their operations. These operations can involve a very broad array of concerns such as
religious
Religion
Religion is a collection of cultural systems, belief systems, and worldviews that establishes symbols that relate humanity to spirituality and, sometimes, to moral values. Many religions have narratives, symbols, traditions and sacred histories that are intended to give meaning to life or to...
or
philanthropic
Philanthropy
Philanthropy etymologically means "the love of humanity"—love in the sense of caring for, nourishing, developing, or enhancing; humanity in the sense of "what it is to be human," or "human potential." In modern practical terms, it is "private initiatives for public good, focusing on quality of...
groups such as
research
Research
Research can be defined as the scientific search for knowledge, or as any systematic investigation, to establish novel facts, solve new or existing problems, prove new ideas, or develop new theories, usually using a scientific method...
organizations,
public broadcaster
Public broadcasting
Public broadcasting includes radio, television and other electronic media outlets whose primary mission is public service. Public broadcasters receive funding from diverse sources including license fees, individual contributions, public financing and commercial financing.Public broadcasting may be...
s, and
political campaign
Political campaign
A political campaign is an organized effort which seeks to influence the decision making process within a specific group. In democracies, political campaigns often refer to electoral campaigns, wherein representatives are chosen or referendums are decided...
s.
Some examples of charitable organizations include
student
Student
A student is a learner, or someone who attends an educational institution. In some nations, the English term is reserved for those who attend university, while a schoolchild under the age of eighteen is called a pupil in English...
scholarship
Scholarship
A scholarship is an award of financial aid for a student to further education. Scholarships are awarded on various criteria usually reflecting the values and purposes of the donor or founder of the award.-Types:...
merit awards for athletic or academic achievement, humanitarian concerns,
disaster
Disaster
A disaster is a natural or man-made hazard that has come to fruition, resulting in an event of substantial extent causing significant physical damage or destruction, loss of life, or drastic change to the environment...
relief,
human rights
Human rights
Human rights are "commonly understood as inalienable fundamental rights to which a person is inherently entitled simply because she or he is a human being." Human rights are thus conceived as universal and egalitarian . These rights may exist as natural rights or as legal rights, in both national...
,
research
Research
Research can be defined as the scientific search for knowledge, or as any systematic investigation, to establish novel facts, solve new or existing problems, prove new ideas, or develop new theories, usually using a scientific method...
, and other social issues.
Professional fundraisers
Many non-profit organizations take advantage of the services of professional fundraisers. These fundraisers may be paid for their services either through fees unrelated to the amounts of money to be raised, or by retaining a percentage of raised funds (percentage-based compensation). The latter approach is expressly forbidden under the Code of Ethics of the Association of Fundraising Professionals (AFP), a professional membership body.
However, by far the most common practice of American non-profits is to employ a staff person whose main responsibility is fund raising. This person is paid a salary like any other employee, and is usually a part of the top management staff of the organization.
Some non-profit organizations nonetheless engage fundraisers who are paid a percentage of the funds they raise. In the United States, this ratio of funds retained to funds passed on to the non-profit is subject to reporting to a number of state's Attorneys General. This ratio is highly variable and subject to change over time and place, and it is a point of contention between a segment of the general public and the non-profit organizations.
The term "professional fundraiser" is in many cases a legislated term referring to third-party firms whose services are contracted for; whereas "fundraising professionals" or development officers are often individuals or staff at charitable non-profits. Although potentially confusing, the distinction is an important one to note.
Religious organizations
Equally important are fundraising efforts by virtually every recognized religious group throughout the world. These efforts are organized on a local, national, and global level. Sometimes, such funds will go exclusively toward assisting the basic needs of others, while money may at other times be used only for
evangelism
Evangelism
Evangelism refers to the practice of relaying information about a particular set of beliefs to others who do not hold those beliefs. The term is often used in reference to Christianity....
. Usually, religious organizations mix the two, which can sometimes cause tension.
Political campaigns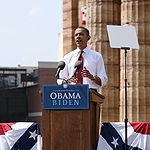 Fundraising also plays a major role in political campaigns. This fact, despite numerous
campaign finance reform
Campaign finance reform
Campaign finance reform is the common term for the political effort in the United States to change the involvement of money in politics, primarily in political campaigns....
laws, continues to be a highly controversial topic in
American
United States
The United States of America is a federal constitutional republic comprising fifty states and a federal district...
politics.
Political action committee
Political action committee
In the United States, a political action committee, or PAC, is the name commonly given to a private group, regardless of size, organized to elect political candidates or to advance the outcome of a political issue or legislation. Legally, what constitutes a "PAC" for purposes of regulation is a...
s (PACs) are the best-known organizations that back candidates and
political parties
Political party
A political party is a political organization that typically seeks to influence government policy, usually by nominating their own candidates and trying to seat them in political office. Parties participate in electoral campaigns, educational outreach or protest actions...
, though others such as
527 group
527 group
A 527 organization or 527 group is a type of American tax-exempt organization named after "Section 527" of the U.S. Internal Revenue Code...
s also have an impact. Some advocacy organizations conduct fundraising for or against policy issues in an attempt to influence legislation.
Public broadcasting
While public broadcasters are completely government-funded in much of the world, there are many countries where some funds must come from donations from the public. In the United States less than 15% of local public broadcasting stations' funding comes from the federal government.
Pledge drive
Pledge drive
A pledge drive is an extended period of fundraising activities, generally used by public broadcasting stations to increase contributions. The term "pledge" originates from the promise a contributor makes to send in funding at regular intervals for a certain amount of time...
s commonly occur about three times each year, usually lasting one to two weeks each time. Viewership and listenership often declines significantly during funding periods, so special programming may be aired in order to keep regular viewers and listeners interested.
Taxation
Organizations in the United States established for charitable purposes are allowed to raise funds from many sources. They are given a specific designation by the
Internal Revenue Service
Internal Revenue Service
The Internal Revenue Service is the revenue service of the United States federal government. The agency is a bureau of the Department of the Treasury, and is under the immediate direction of the Commissioner of Internal Revenue...
(IRS), commonly noted as 501(c)(3) organizations. Other nonprofits such as fraternal associations have different IRS designations, and may or may not be eligible to raise funds. Financial information on many nonprofits, including all nonprofits that file annual IRS 990 forms is available from
GuideStar
GuideStar
GuideStar USA, Inc. is an information service specializing in reporting on U.S. nonprofit companies. In 2010, their database contained over 5 million IRS Forms 990 filings on 1.9 million organizations.....
.
Types
Many non-profit organizations receive some annual funding from a
financial endowment
Financial endowment
A financial endowment is a transfer of money or property donated to an institution. The total value of an institution's investments is often referred to as the institution's endowment and is typically organized as a public charity, private foundation, or trust....
, which is a sum of money that is
invested
Investment
Investment has different meanings in finance and economics. Finance investment is putting money into something with the expectation of gain, that upon thorough analysis, has a high degree of security for the principal amount, as well as security of return, within an expected period of time...
to generate an annual return. Although endowments may be created when a sizable gift is received from an individual or
family
Family
In human context, a family is a group of people affiliated by consanguinity, affinity, or co-residence. In most societies it is the principal institution for the socialization of children...
, often as directed in a
will
Will (law)
A will or testament is a legal declaration by which a person, the testator, names one or more persons to manage his/her estate and provides for the transfer of his/her property at death...
upon the death of a family member, they more typically are the result of many gifts over time from a variety of sources.
Non-profit organizations also raise funds through competing for grant funding.
Grants
Grant (money)
Grants are funds disbursed by one party , often a Government Department, Corporation, Foundation or Trust, to a recipient, often a nonprofit entity, educational institution, business or an individual. In order to receive a grant, some form of "Grant Writing" often referred to as either a proposal...
are offered by governmental units and private foundations/ charitable trusts to non-profit organizations for the benefit of all parties to the transaction.
A capital campaign is when fundraising is conducted to raise major sums for a building or endowment, and generally keep such funds separate from operating funds. These campaigns encourage donors to give more than they would normally give and tap donors, especially corporations and foundations who would not otherwise give. A capital campaign normally begins with a private phase before launching a public appeal.
Special events are another method of raising funds. These range from formal dinners to
benefit concert
Benefit concert
A benefit concert or charity concert is a concert, show or gala featuring musicians, comedians, or other performers that is held for a charitable purpose, often directed at a specific and immediate humanitarian crisis. Such events raise both funds and public awareness to address the cause at...
s to
walkathon
Walkathon
A walkathon , walking marathon or sponsored walk is a type of community or school fundraiser in which participants raise money by collecting donations or pledges for walking a predetermined distance or course...
s. Events are used to increase visibility and support for an organization as well as raising funds. Events can feature activities for the group such as speakers, a dance, an outing or entertainment, to encourage group participation and giving. Events can also include fundraising methods such as a raffle or charity auction. Events often feature notable sponsors or honoree. Events often feature a charity "ad book" as a program guide for the event, but more importantly, as another fundraiser providing members, supporters and vendors to show their support of and to the group at the event by way of placing an ad-like page, 1/2 page, 1/4 page, stating or showing support. Events and their associated fundraisers can be a major source of a groups revenue, visibility and donor relations.
While fundraising often involves the donation of money as an out-right gift, money may also be generated by selling a product of some kind, also known as product fundraising.
Girl Scouts of the USA
Girl Scouts of the USA
The Girl Scouts of the United States of America is a youth organization for girls in the United States and American girls living abroad. It describes itself as "the world's preeminent organization dedicated solely to girls". It was founded by Juliette Gordon Low in 1912 and was organized after Low...
are well-known for selling
cookie
Cookie
In the United States and Canada, a cookie is a small, flat, baked treat, usually containing fat, flour, eggs and sugar. In most English-speaking countries outside North America, the most common word for this is biscuit; in many regions both terms are used, while in others the two words have...
s in order to generate funds. It is also common to see on-line impulse sales links to be accompanied by statements that a proportion of proceeds will be directed to a particular charitable foundation. Tax law may require differentiating between the cost of an item verses its gift value, such as a $100.00 per person dinner, for a $25.00 cost meal. Fundraising often involves recognition to the donor, such as naming rights or adding donors to an honor roll or other general recognition. Charity Ad Books are another form of donation for recognition, sponsorship or selling of ads often in an event related program or group directory.
When goods or professional services are donated to an organization rather than cash, this is called an in-kind gift.
A number of charities and non-profit organizations are increasingly using the internet as a means to raise funds; this practice is referred to as online fundraising. For example, the
NSPCC
NSPCC
The National Society for the Prevention of Cruelty to Children is a United Kingdom charity campaigning and working in child protection.-History:...
operates a search engine which generates funds via
Pay per click
Pay per click
Pay per click is an Internet advertising model used to direct traffic to websites, where advertisers pay the publisher when the ad is clicked. With search engines, advertisers typically bid on keyword phrases relevant to their target market...
links, and
Better The World
Better The World
Better The World is the world's first effortless fundraising platform that enables people to raise money for charity while surfing the Internet. The platform targets Internet users who have no money to give and charity supporters who want to do more...
operates tools allowing funds to be raised via members viewing ethical ads on a browser sidebar and/or blog widget.
Some of the most substantial fundraising efforts in the United States are conducted by colleges and universities. Commonly the fundraising, or "development" / "advancement," program, makes a distinction between annual fund appeals and major campaigns. Most institutions use professional development officers to conduct fundraising appeals for both the entire institution or individual colleges and departments. Examples of this include athletics and libraries.
The donor base (often called a file) for higher education includes alumni, parents, friends, private foundations, and corporations. Gifts of appreciated property are important components of such efforts because the tax advantage they confer on the donor encourages larger gifts. The process of soliciting appreciated assets is called planned giving.
The classic development program at institutions of higher learning include prospect identification,
prospect research
Prospect research
Prospect research, also known as development research or fundraising research, is a process in fundraising wherein a researcher identifies and provides relevant information about potential donors to an organization. Prospect researchers are usually employees of universities, charities or other not...
and verification of the prospect's viability, cultivation, solicitation, and finally stewardship, the latter being the process of keeping donors informed about how past support has been used.
Relationship building
Often called donor cultivation, relationship building is the foundation on which most fundraising takes place. Most development strategies divide donors into categories based on annual gifts. For instance, major donors are those that give at the highest level of the organization's fundraising scale and mid-level donors are in the middle.
More sophisticated strategies use tools to overlay demographic and other market segmentation data against their database of donors in order to more precisely customize communication and more effectively target resources. Research by Peter Maple in the UK shows that charities generally underinvest in good marketing research spending around a quarter of what an equivalent sized for profit company might spend.
Donor relations and stewardship professionals support fundraisers by recognizing and thanking donors in a fashion that will cultivate future giving to nonprofit organizations. The Association of Donor Relations Professionals (ADRP) is the first community of stewardship and donor relations professionals in the United States and Canada.
Recent research by
Adrian Sargeant
Adrian Sargeant
Adrian Sargeant is the Robert F. Hartsook Professor of Fundraising at the Center on Philanthropy at Indiana University holding what is presently the world's only endowed chair in that discipline...
and the Association of Fundraising Professionals' Fundraising Effectiveness Project suggests the sector has a long way to go in improving the quality of donor relations. The sector generally loses 50–60% of its newly acquired donors between their first and second donations and one in three, year on year thereafter. The economics of regular or sustained giving are rather different, but even then organizations routinely lose 30% of their donors from one year to the next.
Events
Capital campaigns
A
capital campaign
is "an intensive fundraising effort designed to raise a specified sum of money within a defined time period to meet the varied asset-building needs of an organization." Asset-building activities include the construction, renovation or expansion of facilities (for example, a new building), the acquisition or improvement of land, equipment, or other items, and additions to a
financial endowment
Financial endowment
A financial endowment is a transfer of money or property donated to an institution. The total value of an institution's investments is often referred to as the institution's endowment and is typically organized as a public charity, private foundation, or trust....
. Two characteristics set capital campaigns apart from other forms of fundraising activities. First, "the gifts solicited are much larger than those generally sought during an annual fund." Second, "pledges are emphasized as commitments payable over a number of years convenient to the donor or through the transfer of appreciated
real
Real property
In English Common Law, real property, real estate, realty, or immovable property is any subset of land that has been legally defined and the improvements to it made by human efforts: any buildings, machinery, wells, dams, ponds, mines, canals, roads, various property rights, and so forth...
or
personal property
Personal property
Personal property, roughly speaking, is private property that is moveable, as opposed to real property or real estate. In the common law systems personal property may also be called chattels or personalty. In the civil law systems personal property is often called movable property or movables - any...
."
Various types of capital campaigns have been identified. The traditional "
brick and mortar
Brick and mortar
Brick and mortar in its most simplest usage is used to describe the physical presence of a building or other structure...
" campaign, focused on building construction or improvements, was considered a "once in a lifetime" campaign in the past because of the ambitious goals of the campaign. Today, however, organizations frequently schedule capital campaigns every five to ten years, and "the megagoals announced by large institutions often are the result of 'counting everything' during a five-to seven-year campaign period."
A second type of capital campaign is the comprehensive, integrated, or total development campaign, which aims for a longer fund-raising program based on a long-term analysis of the organization's needs and direction. This form of capital campaign includes ordinary fundraising actives, such as annual gift drives, which are "slower-paced and lack the intensity of the traditional capital campaign."
See also
Accountable Fundraising

Accountable Fundraising

Accountable Fundraising is the term used to describe a Non-profit organization holding its members "accountable" for their donations by showing them the direct impact of their fundraising efforts...



American Institute of Philanthropy

American Institute of Philanthropy

The American Institute of Philanthropy is a 501 nonprofit organization, created in the United States by Daniel Borochoff in 1992, to provide information about charities' financial efficiency, accountability, governance, and fundraising. Its official website is known as...



Comparison of online charity donation services

Comparison of online charity donation services

The page is a comparison of online charity donation services in the UK.The table below gives examples of the various transaction fees for a £10 donation using each organisation, assuming they claim back the tax for the charity using gift aid....



Crowd funding

Crowd funding

Crowd funding describes the collective cooperation, attention and trust by people who network and pool their money and other resources together, usually via the Internet, to support efforts initiated by other people or organizations...



Direct mail fundraising

Direct mail fundraising

Direct mail fundraising is a form of direct marketing widely used by nonprofit organizations in North America and Europe to recruit or "acquire" new donors or members and to inform, cultivate, resolicit, and "upgrade" the level of their contributions or dues. The technique has been shown to work...



Fondomat

Fondomat

Fondomat is an online crowd funding platformfounded in 2011 by Joe Wakeford and Conrad Watts in Prague, Czech Republic quickly and effectively in the Czech currency....


Online fundraising through crowdfunding
Friendraising

Friendraising

Friendraising is a form of fundraising that involves befriending an organization or individual for the purpose of helping support the financial aspect of a charity, nonprofit group or other community benefit organization.- Concept :...



Fundraiser

Fundraiser

A fundraiser is an event or campaign whose primary purpose is to raise money for a cause. See also: fundraising. A fundraiser can also be an individual or company whose primary job is to raise money for a specific charity or non-profit organization...



Grassroots fundraising

Grassroots fundraising

Grassroots fundraising is a method of fundraising used by or for political candidates, which has grown in popularity with the emergence of the Internet and its use by US presidential candidates like Howard Dean and Ron Paul...



Institute of Fundraising

Institute of Fundraising

The Institute of Fundraising is a registered charity founded in 1983, and is the professional membership body for UK fundraising. The IoF's mission is to support fundraisers, through leadership, representation, standards-setting and education, to deliver excellent fundraising.- History :The IoF...


(IoF) UK professional membership body for fundraising
Moneybomb

Moneybomb

Moneybomb is a neologism coined in 2007 to describe a grassroots fundraising effort over a brief fixed time period, usually to support a candidate for election by dramatically increasing, concentrating, and publicizing fundraising activity during a specific hour or day...



Street fundraising (including face-to-face and door-to-door fundraising)