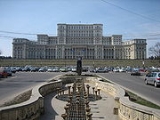 Palace of the Parliament
The
Palace of the Parliament
in
Bucharest
Bucharest
Bucharest is the capital municipality, cultural, industrial, and financial centre of Romania. It is the largest city in Romania, located in the southeast of the country, at , and lies on the banks of the Dâmbovița River....
,
Romania
Romania
Romania is a country located at the crossroads of Central and Southeastern Europe, on the Lower Danube, within and outside the Carpathian arch, bordering on the Black Sea...
is a multi-purpose building containing both chambers of the
Romanian Parliament
Parliament of Romania
The Parliament of Romania is made up of two chambers:*The Chamber of Deputies*The SenatePrior to the modifications of the Constitution in 2003, the two houses had identical attributes. A text of a law had to be approved by both houses...
. According to the Guinness Book of World Records, the Palace is the world's largest civilian administrative building, most expensive administrative building, and heaviest building.
The Palace was designed and nearly completed by the Ceaușescu regime as the seat of political and administrative power.
Nicolae Ceaușescu
Nicolae Ceausescu
Nicolae Ceaușescu was a Romanian Communist politician. He was General Secretary of the Romanian Communist Party from 1965 to 1989, and as such was the country's second and last Communist leader...
named it the
House of the Republic
(
Casa Republicii
), but many Romanians call it the
People's House
(
Casa Poporului
).
Description
The Palace measures 270 m (885.8 ft) by 240 m (787.4 ft), 86 m (282.2 ft) high, and 92 m (301.8 ft) underground. It has 1,100 rooms, 2 underground parking garages and is 12 stories tall, with four underground levels currently available for the general public and in use, and another four in different stages of completion. The floorspace is 340000 m² (406,636.6 sq yd).
The structure combines elements and motifs from multiple
sources
Architectural style
Architectural styles classify architecture in terms of the use of form, techniques, materials, time period, region and other stylistic influences. It overlaps with, and emerges from the study of the evolution and history of architecture...
, in an eclectic
neoclassical
Neoclassical architecture
Neoclassical architecture was an architectural style produced by the neoclassical movement that began in the mid-18th century, manifested both in its details as a reaction against the Rococo style of naturalistic ornament, and in its architectural formulas as an outgrowth of some classicizing...
architectural style. The building is constructed almost entirely of materials of Romanian origin. Estimates of the materials used include one million cubic meters of
marble
Marble
Marble is a metamorphic rock composed of recrystallized carbonate minerals, most commonly calcite or dolomite.Geologists use the term "marble" to refer to metamorphosed limestone; however stonemasons use the term more broadly to encompass unmetamorphosed limestone.Marble is commonly used for...
from
Transylvania
Transylvania
Transylvania is a historical region in the central part of Romania. Bounded on the east and south by the Carpathian mountain range, historical Transylvania extended in the west to the Apuseni Mountains; however, the term sometimes encompasses not only Transylvania proper, but also the historical...
, most from
Ruşchiţa
Ruschita
Ruşchiţa is a reddish, pinkish or white marble found in Romania. The marble deposit is located in the north of Caraş-Severin County, about 10 km northwest of the village of Rusca Montană, in the Poiana Rusca Mountains....
; 3,500 tonnes of crystal — 480 chandeliers, 1,409 ceiling lights and mirrors were manufactured; 700,000 tonnes of
steel
Steel
Steel is an alloy that consists mostly of iron and has a carbon content between 0.2% and 2.1% by weight, depending on the grade. Carbon is the most common alloying material for iron, but various other alloying elements are used, such as manganese, chromium, vanadium, and tungsten...
and
bronze
Bronze
Bronze is a metal alloy consisting primarily of copper, usually with tin as the main additive. It is hard and brittle, and it was particularly significant in antiquity, so much so that the Bronze Age was named after the metal...
for monumental doors and windows,
chandelier
Chandelier
A chandelier is a branched decorative ceiling-mounted light fixture with two or more arms bearing lights. Chandeliers are often ornate, containing dozens of lamps and complex arrays of glass or crystal prisms to illuminate a room with refracted light...
s and
capitals
Capital (architecture)
In architecture the capital forms the topmost member of a column . It mediates between the column and the load thrusting down upon it, broadening the area of the column's supporting surface...
; 900000 m² (1,076,391 sq yd) of wood, over 95% of which is domestic, for parquet and wainscoting, including
walnut
Walnut
Juglans is a plant genus of the family Juglandaceae, the seeds of which are known as walnuts. They are deciduous trees, 10–40 meters tall , with pinnate leaves 200–900 millimetres long , with 5–25 leaflets; the shoots have chambered pith, a character shared with the wingnuts , but not the hickories...
,
oak
Oak
An oak is a tree or shrub in the genus Quercus , of which about 600 species exist. "Oak" may also appear in the names of species in related genera, notably Lithocarpus...
,
sweet cherry
Cherry
The cherry is the fruit of many plants of the genus Prunus, and is a fleshy stone fruit. The cherry fruits of commerce are usually obtained from a limited number of species, including especially cultivars of the wild cherry, Prunus avium....
,
elm
Elm
Elms are deciduous and semi-deciduous trees comprising the genus Ulmus in the plant family Ulmaceae. The dozens of species are found in temperate and tropical-montane regions of North America and Eurasia, ranging southward into Indonesia. Elms are components of many kinds of natural forests...
,
sycamore maple
Sycamore Maple
Acer pseudoplatanus, the sycamore maple, is a species of maple native to central Europe and southwestern Asia, from France east to Ukraine, and south in mountains to northern Spain, northern Turkey, and the Caucasus. It is not related to other trees called sycamore or plane tree in the Platanus...
; 200000 m² (239,198 sq yd) of
wool
Wool
Wool is the textile fiber obtained from sheep and certain other animals, including cashmere from goats, mohair from goats, qiviut from muskoxen, vicuña, alpaca, camel from animals in the camel family, and angora from rabbits....
en
carpet
Carpet
A carpet is a textile floor covering consisting of an upper layer of "pile" attached to a backing. The pile is generally either made from wool or a manmade fibre such as polypropylene,nylon or polyester and usually consists of twisted tufts which are often heat-treated to maintain their...
s of various dimensions, the larger of which were woven on-site by machines moved into the building;
velvet
Velvet
Velvet is a type of woven tufted fabric in which the cut threads are evenly distributed,with a short dense pile, giving it a distinctive feel.The word 'velvety' is used as an adjective to mean -"smooth like velvet".-Composition:...
and
brocade
Brocade
Brocade is a class of richly decorative shuttle-woven fabrics, often made in colored silks and with or without gold and silver threads. The name, related to the same root as the word "broccoli," comes from Italian broccato meaning "embossed cloth," originally past participle of the verb broccare...
curtains adorned with
embroideries
Embroidery
Embroidery is the art or handicraft of decorating fabric or other materials with needle and thread or yarn. Embroidery may also incorporate other materials such as metal strips, pearls, beads, quills, and sequins....
and
passementeries
Tassel
A tassel is a finishing feature in fabric decoration. It is a universal ornament that is seen in varying versions in many cultures around the globe.-Etymology:...
in
silver
Silver
Silver is a metallic chemical element with the chemical symbol Ag and atomic number 47. A soft, white, lustrous transition metal, it has the highest electrical conductivity of any element and the highest thermal conductivity of any metal...
and
gold
Gold
Gold is a chemical element with the symbol Au and an atomic number of 79. Gold is a dense, soft, shiny, malleable and ductile metal. Pure gold has a bright yellow color and luster traditionally considered attractive, which it maintains without oxidizing in air or water. Chemically, gold is a...
.
Construction
Built on the site of a hill variously known as
Spirii Hill, Uranus Hill, or Arsenal Hill
Dealul Spirii
Dealul Spirii is a hill in Bucharest, Romania, upon which, currently, the Palace of the Parliament is located....
, which was largely razed for this
megaproject
Megaproject
A megaproject is an extremely large-scale investment project. Megaprojects are typically defined as costing more than US$1 billion and attracting a lot of public attention because of substantial impacts on communities, environment, and budgets. Megaprojects can also be defined as "initiatives that...
, the building anchors the west end of
Bulevardul Unirii
Bulevardul Unirii
Bulevardul Unirii is a major thoroughfare in central Bucharest, Romania. It connects Alba Iulia Square with Constitution Square, and also runs through Unification Square...
and Centrul Civic. Constructing the Palace and Centrul Civic required
demolishing much of Bucharest's historic district
Ceausima
Ceauşima is a vernacular word construction in Romanian, sarcastically linking former Communist leader Nicolae Ceauşescu to Hiroshima. This portmanteau term was sometimes coined in the 1980s to describe the huge urban areas of Bucharest that Ceauşescu ordered torn down, comparing the results with...
, including 19 Orthodox Christian churches, six Jewish synagogues, three Protestant churches (plus eight relocated churches), and 30,000 residences.
Construction began in 1983; the
cornerstone
Cornerstone
The cornerstone concept is derived from the first stone set in the construction of a masonry foundation, important since all other stones will be set in reference to this stone, thus determining the position of the entire structure.Over time a cornerstone became a ceremonial masonry stone, or...
was laid on 25 June 1984. While the building was intended to house all four major state institutions (in a similar manner to the UK Houses of Parliament), Ceausescu intended the palace to be his personal residence and the government was to operate in it (as if combining the Kremlin into one building). It was intended to house these institutions:
The Presidency of the Republic (Preşedinţia Republicii) - today's Presidency

President of Romania

The President of Romania is the head of state of Romania. The President is directly elected by a two-round system for a five-year term . An individual may serve two terms...


(Preşedinţia);
The Great National Assembly

Great National Assembly

The Great National Assembly was the legislature of the Romanian People's Republic and the Socialist Republic Romania. When Communism was overthrown in Romania in December 1989, the National Assembly was replaced by a bicameral parliament, made up of the Chamber of Deputies and the Senate.The Great...


(Marea Adunare Naţionalǎ) - today's Parliament

Parliament of Romania

The Parliament of Romania is made up of two chambers:*The Chamber of Deputies*The SenatePrior to the modifications of the Constitution in 2003, the two houses had identical attributes. A text of a law had to be approved by both houses...


(Parlamentul);
Consiliul de Miniştri - today's Government

Government of Romania

The Government of Romania forms one half of the country's executive branch . It is headed by the Prime-Minister, and consists of the Ministries, various subordinated institutions and agencies, and the 42 Prefectures...


(Guvernul);
Supreme Court (Tribunalul Suprem) - today's High Court of Cassation and Justice (Înalta Curte de Casaţie şi Justiţie).
This explains the building's rectangular shape.
At the time of
Nicolae Ceauşescu
Nicolae Ceausescu
Nicolae Ceaușescu was a Romanian Communist politician. He was General Secretary of the Romanian Communist Party from 1965 to 1989, and as such was the country's second and last Communist leader...
's 1989 overthrow and execution, the building structure and design were complete. Subsequently, many of the furnishings were never installed (mostly evident because of the many large, empty spaces throughout the palace), while the last three basement levels and a large clock tower (that would display the official Romanian time) were never finished. During the regime change, the new leaders of Romania referred to the building as the
House of Ceauşescu
, to highlight the excessive luxury in which Ceauşescu would have lived, in stark contrast to the squalor and poverty endured by many people living in the surrounding neighborhoods.
Parts of the building (some of the west wing, some of the east wing, parts of the second floor, basement 3 and everything below) are yet to be completed. Currently, a new underground car-park is being built inside a former stadium, currently used as a warehouse, which was covered during the construction of the palace. Tunnels linking 13 Septembrie Avenue with the basement of the building are planned to be built. It is said that Ceauşescu had built bunkers under the building where he would hide in case of a revolution.
History since 1989
Since 1997, the building has housed
Romania's Chamber of Deputies
Chamber of Deputies of Romania
The Chamber of Deputies is the lower house in Romania's bicameral parliament. It has 315 seats, to which deputies are elected by direct popular vote on a proportional representation basis to serve four-year terms...
, which had previously been housed in the Palace of the Patriarchy; the
Romanian Senate
Senate of Romania
The Senate of Romania is the upper house in the bicameral Parliament of Romania. It has 137 seats , to which members are elected by direct popular vote, using Mixed member proportional representation in 42 electoral districts , to serve four-year terms.-Former location:After the Romanian...
joined them there in 2005, having previously been housed in the former Communist Party Central Committee building. The Palace also contains a massive array of miscellaneous conference halls, salons, etc. used for a wide variety of other purposes.
In 2003-2004 a glass annex was built, alongside external elevators. This was done to facilitate access to the National Museum of Contemporary Art (MNAC) opened in 2004 inside the west wing of the Palace of the Parliament, and to the Museum and Park of Totalitarianism and Socialist Realism, also opened in 2004.
The
cafeteria
Cafeteria
A cafeteria is a type of food service location in which there is little or no waiting staff table service, whether a restaurant or within an institution such as a large office building or school; a school dining location is also referred to as a dining hall or canteen...
for use of the legislators has been refurbished.
Also in the building is the headquarters of the
Southeast European Cooperative Initiative
Southeast European Cooperative Initiative
The Southeast European Cooperative Initiative, or the SECI, has been an initiative that, under the auspices of men like Erhard Busek and Richard Schifter, has been successful in providing stability in an unstable region and has found support in international organizations and countries...
(SECI), an organization focused on regional cooperation among governments against cross-border crime.
There are public tours organized in a number of languages.
In 2008, the Palace hosted the
20th NATO summit
2008 Bucharest summit
The 2008 Bucharest Summit or the 20th NATO Summit was a NATO summit organized in Bucharest, Romania on 2 – 4 April 2008. Among other business, Croatia and Albania were invited to join the alliance. Republic of Macedonia was not invited due to its ongoing naming dispute with Greece...
.
In popular culture
In 2002, Costa Gavras shot scenes of the film
Amen
Amen. (film)
Amen. is a 2002 German, Romanian and French film directed by Costa-Gavras.- Plot :The film Amen. examines the links between the Vatican and Nazi Germany. The central character is Kurt Gerstein , a Waffen-SS officer employed in the SS Hygiene Institute, designing programs for the purification of...
in the Palace, meant to represent the Vatican.
In 2009, the Palace appeared in Episode 1,
Series 14
Top Gear (series 14)
Top Gear returned for a 14th series, aired on BBC Two and BBC HD, on 15 November 2009, with the usual presenting team of Jeremy Clarkson, Richard Hammond, James May and The Stig. The series contained 7 episodes...
of the
BBC
BBC
The British Broadcasting Corporation is a British public service broadcaster. Its headquarters is at Broadcasting House in the City of Westminster, London. It is the largest broadcaster in the world, with about 23,000 staff...
motoring programme
Top Gear
, where the presenters,
Jeremy Clarkson
Jeremy Clarkson
Jeremy Charles Robert Clarkson is an English broadcaster, journalist and writer who specialises in motoring. He is best known for his role on the BBC TV show Top Gear along with co-presenters Richard Hammond and James May...
(in an Aston Martin DBS Volante),
Richard Hammond
Richard Hammond
Richard Mark Hammond is an English broadcaster, writer, and journalist most noted for co-hosting car programme Top Gear with Jeremy Clarkson and James May, as well as presenting Brainiac: Science Abuse on Sky 1.-Early life:...
(in a
Ferrari California
Ferrari California
The Ferrari California is a grand touring sports car that was launched by Ferrari at the 2008 Paris Motor Show. It is a two door "2+2" hard top convertible. The California is powered by front-mid mounted gasoline direct injection V8 with...
) and
James May
James May
James Daniel May is an English television presenter, journalist and writer. He is best known for his role as co-presenter of the award-winning motoring programme Top Gear alongside Jeremy Clarkson and Richard Hammond....
(in a Lamborghini LP560-4 Spyder) had a
"Sat-Nav"
Global Navigation Satellite System
A satellite navigation or SAT NAV system is a system of satellites that provide autonomous geo-spatial positioning with global coverage. It allows small electronic receivers to determine their location to within a few metres using time signals transmitted along a line-of-sight by radio from...
race to the Palace, and are then shown driving throughout its underground tunnels and garages.
External links