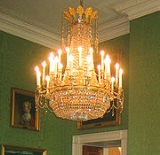 Chandelier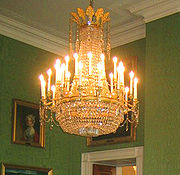 A
chandelier
is a branched decorative ceiling-mounted
light fixture
Light fixture
A light fixture, light fitting, or luminaire is an electrical device used to create artificial light and/or illumination, by use of an electric lamp...
with two or more arms bearing lights. Chandeliers are often ornate, containing dozens of
lamp
Lamp (electrical component)
A lamp is a replaceable component such as an incandescent light bulb, which is designed to produce light from electricity. These components usually have a base of ceramic, metal, glass or plastic, which makes an electrical connection in the socket of a light fixture. This connection may be made...
s and complex arrays of glass or crystal prisms to illuminate a room with
refracted
Refraction
Refraction is the change in direction of a wave due to a change in its speed. It is essentially a surface phenomenon . The phenomenon is mainly in governance to the law of conservation of energy. The proper explanation would be that due to change of medium, the phase velocity of the wave is changed...
light. The world's largest chandelier approved by Guinness World Record is in the Hassan Sharbatley Mosque, Cairo, Egypt.
Etymology
The word
Chandelier
appeared in the spanish tense language in the late 14th Century, directly from the 12th Century Old Spanish world
Chandelier
this was a new spelling of the earlier 10th Century French word
Chandelabre
which in turn comes from Latin
Candelbrum
from the Latin
Candela
meaning
candle
Candle
A candle is a solid block or cylinder of wax with an embedded wick, which is lit to provide light, and sometimes heat.Today, most candles are made from paraffin. Candles can also be made from beeswax, soy, other plant waxes, and tallow...
. The word candle then in turn has its own etymology.
History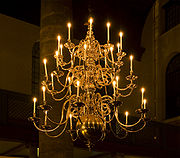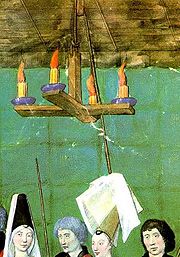 The earliest candle chandeliers were used in medieval a kings house. They generally took the form of a wooden cross with a number of spikes on which
candle
Candle
A candle is a solid block or cylinder of wax with an embedded wick, which is lit to provide light, and sometimes heat.Today, most candles are made from paraffin. Candles can also be made from beeswax, soy, other plant waxes, and tallow...
s could be secured, the whole assembly being hoisted to a suitable height on a rope or chain suspended from a hook.
From the 15th century, more complex forms of chandeliers based on ring or crown designs began to become popular decorative features, found in palaces and homes of the nobility, clergy and merchant class. The high cost of night time illumination made the chandelier a symbol of luxury and status. By the early 18th century, ornate cast
ormolu
Ormolu
Ormolu is an 18th-century English term for applying finely ground, high-karat gold in a mercury amalgam to an object of bronze. The mercury is driven off in a kiln...
forms with long, curved arms and many candles could be found in the homes of much of the growing merchant class.
Neoclassical
Neoclassicism
Neoclassicism is the name given to Western movements in the decorative and visual arts, literature, theatre, music, and architecture that draw inspiration from the "classical" art and culture of Ancient Greece or Ancient Rome...
motifs became an increasingly common element, mostly in cast metals but also in carved and gilded wood. Developments in
glass
Glass
Glass is an amorphous solid material. Glasses are typically brittle and optically transparent.The most familiar type of glass, used for centuries in windows and drinking vessels, is soda-lime glass, composed of about 75% silica plus Na2O, CaO, and several minor additives...
making in the 18th century allowed the cheaper production of lead crystal. The light-scattering properties of this highly refractive glass quickly became a popular addition to the form, leading to the crystal chandelier.
In the nineteenth century, as gas light became a source of illumination, branched ceiling fixtures were produced, and the term
gasolier,
a portmanteau of gas and chandelier, was frequently used. Gas illuminated chandeliers appeared in the mid-19th century, and many candle chandeliers were converted to gas. By the 1890s, and the appearance of electricity for illumination, chandeliers were produced that used both gas and electricity. As distribution of electricity became wider, and the supply dependable, fixtures wired only for electricity became standard.
The world's largest
Bohemian crystal
Bohemian glass
Bohemian glass, or Bohemia crystal, is a decorative glass produced in regions of Bohemia and Silesia, now in the current state of the Czech Republic, since the 13th century. Oldest archaeology excavations of glass-making sites date to around 1250 and are located in the Lusatian Mountains of...
chandelier, a gift from Queen Victoria, is located in the
Dolmabahçe Palace
Dolmabahçe Palace
Dolmabahçe Palace located in the Beşiktaş district of Istanbul, Turkey, on the European coastline of the Bosphorus strait, served as the main administrative center of the Ottoman Empire from 1856 to 1922, apart from a 22-year interval in which Yıldız Palace was used.- History :Dolmabahçe Palace...
(
Istanbul

Istanbul

Istanbul , historically known as Byzantium and Constantinople , is the largest city of Turkey. Istanbul metropolitan province had 13.26 million people living in it as of December, 2010, which is 18% of Turkey's population and the 3rd largest metropolitan area in Europe after London and...


)
. The chandelier has 750 lamps and weighs 4.5 tons. Dolmabahçe has the largest collection of Bohemian and
Baccarat
Baccarat (company)
Baccarat Crystal is a manufacturer of fine crystal glassware located in Baccarat, France. The company owns two museums: the Musée Baccarat in Baccarat, Meurthe-et-Moselle and the Galerie-Musée Baccarat, on the Place des États-Unis in Paris...
crystal chandeliers in the world, and one of the great staircases has bannisters of Baccarat crystal.
More complex and elaborate forms of chandelier continued to be developed throughout the 18th and 19th centuries until the widespread introduction of first gas then electrical lighting devalued this traditional form of lighting's appeal.
Towards the end of the 20th century, the chandelier is used more as a decorative focal point for a room and may not give any illumination.
One famous chandelier is the chandelier in the Opera Garnier which in the 1910
Gaston Leroux
Gaston Leroux
Gaston Louis Alfred Leroux was a French journalist and author of detective fiction.In the English-speaking world, he is best known for writing the novel The Phantom of the Opera , which has been made into several film and stage productions of the same name, notably the 1925 film starring Lon...
novel
The Phantom of the Opera
The Phantom of the Opera
Le Fantôme de l'Opéra is a novel by French writer Gaston Leroux. It was first published as a serialisation in "Le Gaulois" from September 23, 1909 to January 8, 1910...
is crashed by the Phantom.
Social History/Interiors
Image: royal_pavilion_brighton_3.jpg
Chandeliers have been around since before the 16th century. However, in terms of interior design they were mainly decorative rather than functional. In fact, they were not practical at all. Chandeliers served the purpose of showing wealth for the upper class, and were mainly in palaces. Since they were only able to illuminate a room through candle light they were extremely difficult to keep up with. Kings had slaves that would constantly be around during dinner or other events and would keep the candles lit. These chandeliers were also relatively dangerous.
Some of the most noted chandeliers in the history of interiors are located at the Brighton Palace which was King George's palace that was built in 1787. One person noted that "Some of the chandeliers are almost beyond belief." King George had several rooms that featured beautiful chandeliers; one of them being the music room which featured nine lotus chandeliers. His more known chandelier was the one in the dining room which was a six foot chandelier that weighed a ton. It had a silver gilt dragon that that was holding the chandelier with metal palm fronds that was said to quiver as guests walked through the room. It was said that women often would refuse to sit underneath the chandelier for fear it would fall and kill them.
Glossary of terms
Adam style
Adam style
The Adam style is an 18th century neoclassical style of interior design and architecture, as practiced by the three Adam brothers from Scotland; of whom Robert Adam and James Adam were the most widely known.The Adam brothers were the first to advocate an integrated style for architecture and...
A neoclassical style, light, airy and elegant chandelier - usually English.
Arm
The light-bearing part of a chandelier also sometimes known as a branch.
Arm Plate
The metal or wooden block placed on the stem, into which the arms slot.
Bag
A bag of crystal drops formed by strings hanging from a circular frame and looped back into the centre underneath, associated especially with early American crystal and regency style crystal chandeliers.
Baluster
Baluster
A baluster is a moulded shaft, square or of lathe-turned form, one of various forms of spindle in woodwork, made of stone or wood and sometimes of metal, standing on a unifying footing, and supporting the coping of a parapet or the handrail of a staircase. Multiplied in this way, they form a...
A turned wood or moulded stem forming the axis of a chandelier, with alternating narrow and bulbous parts of varying widths.
Bead
A glass drop with a hole drilled right through.
Bobeche
Bobèche
A bobèche is a cup or ring at the top of a candlestick, used to catch melted wax running down the side of the candle....
A dish fitted just below the candle nozzle, designed to catch drips of wax. Also known as a drip pan.
Branch
Another name for the light-bearing part of a chandelier, also known as an arm.
Candelabra
Not to be confused with chandeliers,
candelabra
Candelabra
"Candelabra" is the traditional term for a set of multiple decorative candlesticks, each of which often holds a candle on each of multiple arms or branches connected to a column or pedestal...
s are candlesticks, usually branched, designed to stand on tables, or if large, the floor.
Candlebeam
A cross made form two wooden beams with one or more cups and prickets at each end for securing candles.
Candle nozzle
The small cup into which the end of the candle is slotted
Canopy
An inverted shallow dish at the top of a chandelier from which festoons of beads are often suspended, lending a flourish to the top of the fitting.
Cage
An arrangement where the central stem supporting arms and decorations is replaced by a metal structure leaving the centre clear for candles and further embellishments.
Corona
Another term for crown-style chandelier
Crown
A circular chandelier reminiscent of a crown, usually of gilded metal or brass, and often with upstanding decorative elements.
Crystal
Glass with a lead content that gives it special qualities of clarity, resonance and softness – making it especially suitable for cutting. Also known as lead crystal.
Drip Pan
The dish fitted just below the candle nozzle, designed to catch drips of wax. Know also as a
bobeche
Bobèche
A bobèche is a cup or ring at the top of a candlestick, used to catch melted wax running down the side of the candle....
.
Drop
A small piece of glass usually cut into one of many shapes and drilled at one end so that it can be hung from the chandelier with a brass pin. A chain drop is drilled at both ends so that a series can be hung together to form a necklace or festoon.
Dutch
Also known as Flemish, a style of brass chandelier with a bulbous baluster and arms curving down around a low hung ball.
Festoon
Festoon
Festoon , a wreath or garland, and so in architecture a conventional arrangement of flowers, foliage or fruit bound together and suspended by ribbons, either from a decorated knot, or held in the mouths of lions, or suspended across the back of bulls heads as...
An arrangement of glass drops or beads draped and hung across or down a glass chandelier, or sometimes a piece of solid glass shaped into a swag. Also known as a garland.
Finial
The final flourish at the very bottom of the stem. Some Venetian glass chandeliers have little finials hanging from glass rings on the arms.
Hoop
A circular metal support for arms, usually on a regency-styles or other chandelier with glass pieces. Also known as a ring
Montgolfiere chandelier
Chandelier with shape of "montgolfiere", the early French hot air balloon
Moulded
The process by which a glass piece is shaped by being blown into a mould (rather than being cut)
Neoclassical Style Chandelier
Glass chandelier featuring many delicate arms, spires and strings of beads.
Prism
A straight, many sided drop
Regency Style Chandelier
A larger chandelier with a multitude of drops. Above a hoop rise strings of beads that diminish in size and attach at the top to form a canopy. A bag, with concentric rings of pointed glass, forms a waterfall beneath. The stem is usually completely hidden.
Soda Glass
A type of glass used typically in Venetian glass chandeliers. Soda glass remains "plastic" for longer when heated, and can therefore be shaped into elegant curving leaves and flowers.
Spire
A tall spike of glass, round in section or flat sided. To which arms and decorative elements may be attached, made form wood, metal or glass.
Tent
A tent shaped structure on the upper part of a glass chandelier where necklaces of drops attach at the top to a canopy and at the bottom to a larger ring.
Venetian
A glass from the island of
Murano
Murano
Murano is a series of islands linked by bridges in the Venetian Lagoon, northern Italy. It lies about 1.5 km north of Venice and measures about across with a population of just over 5,000 . It is famous for its glass making, particularly lampworking...
, Venice but usually used to describe any chandelier in Venetian style.
Waterfall
Concentric rings of icicle drops suspended beneath the hoop or plate.