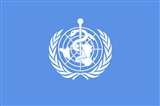 World Health Organization
The
World Health Organization
(
WHO
) is a specialized agency of the
United Nations
United Nations
The United Nations is an international organization whose stated aims are facilitating cooperation in international law, international security, economic development, social progress, human rights, and achievement of world peace...
(UN) that acts as a coordinating authority on international
public health
Public health
Public health is "the science and art of preventing disease, prolonging life and promoting health through the organized efforts and informed choices of society, organizations, public and private, communities and individuals" . It is concerned with threats to health based on population health...
. Established on 7 April 1948, with headquarters in
Geneva
Geneva
Geneva In the national languages of Switzerland the city is known as Genf , Ginevra and Genevra is the second-most-populous city in Switzerland and is the most populous city of Romandie, the French-speaking part of Switzerland...
, Switzerland, the agency inherited the mandate and resources of its predecessor, the Health Organization, which was an agency of the
League of Nations
League of Nations
The League of Nations was an intergovernmental organization founded as a result of the Paris Peace Conference that ended the First World War. It was the first permanent international organization whose principal mission was to maintain world peace...
. It is a member of the United Nations Development Group.
The WHO's constitution states that its objective "is the attainment by all people of the highest possible level of
health
Health
Health is the level of functional or metabolic efficiency of a living being. In humans, it is the general condition of a person's mind, body and spirit, usually meaning to be free from illness, injury or pain...
." The flag features the
Rod of Asclepius
Rod of Asclepius
The rod of Asclepius , also known as the asklepian, is an ancient symbol associated with astrology, the Greek god Asclepius, and with medicine and healing. It consists of a serpent entwined around a staff. The name of the symbol derives from its early and widespread association with Asclepius, the...
as a symbol for healing.
The World Health Organization (WHO) is one of the original agencies of the United Nations, its constitution formally coming into force on the first
World Health Day
World Health Day
World Health Day is celebrated every year on 7 April, under the sponsorship of the World Health Organization .In 1948, the World Health Organization held the First World Health Assembly. The Assembly decided to celebrate 7 April of each year, with effect from 1950, as the World Health Day...
, (7 April 1948), when it was ratified by the 26th member state.