 Order of Karl Marx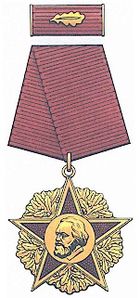 The
Order of Karl Marx
was the most important
order
Order (decoration)
An order or order of merit is a visible honour, awarded by a government, dynastic house or international organization to an individual, usually in recognition of distinguished service to a nation or to humanity. The distinction between orders and decorations is somewhat vague, except that most...
in the German Democratic Republic (GDR). Award of the order also included a prize of 20,000
East German mark
East German mark
The East German mark commonly called the eastern mark , in East Germany only Mark, was the currency of the German Democratic Republic . Its ISO 4217 currency code was DDM...
s.
The order was founded on May 5, 1953 on the occasion of
Karl Marx
Karl Marx
Karl Heinrich Marx was a German philosopher, economist, sociologist, historian, journalist, and revolutionary socialist. His ideas played a significant role in the development of social science and the socialist political movement...
's 135th birthday and on the recommendation of the
GDR Council of Ministers
Ministerrat
The Council of Ministers of the German Democratic Republic was the chief executive body of East Germany from November 1950 until the GDR was unified with the Federal Republic of Germany on 3 October 1990...
. It was granted to individuals, enterprises, organizations, and military groups for exceptional merit in relation to ideology, culture, economy, and other designations. Additionally, citizens of other countries could also be awarded the order.
Recipients of the Order
1953: Otto Grotewohl

Otto Grotewohl

Otto Grotewohl was a German politician and prime minister of the German Democratic Republic from 1949 until his death. According to Roth , "He was a figurehead who led various economic commissions, lobbied the Soviets for increased aid, and conducted foreign policy tours in the attempt to break...


, Luise Kähler

Luise Kähler

Luise Kähler was a German socialist, trade union leader and politician.-Childhood and formative years:Luise Girnth was born in Berlin in the Kingdom of Prussia in 1869. She was the daughter of a hackney cab , in 1902 and increasingly became more political active and astute...


, Hermann Matern, Wilhelm Pieck

Wilhelm Pieck

Friedrich Wilhelm Reinhold Pieck was a German politician and a Communist. In 1949, he became the first President of the German Democratic Republic, an office abolished upon his death. He was succeeded by Walter Ulbricht, who served as Chairman of the Council of States.-Biography:Pieck was born to...


, Wilhelm Zaisser

Wilhelm Zaisser

Wilhelm Zaisser was a German communist politician and the first Minister for State Security of the German Democratic Republic .- Life :...



1961: Alfred Kurella

Alfred Kurella

Alfred Kurella was a German author and functionary of the Socialist Unity Party of Germany in East Germany.Kurella was born in Brzeg, Silesia...



1962: Franz Dahlem, Herbert Warnke, Otto Winzer

Otto Winzer

Otto Winzer was an East German diplomat. He returned from exile in the Soviet Union as part of the Ulbricht Group, charged with setting up the Soviet Military Administration in Germany after World War II. He served as the foreign minister of East Germany between 1965 and 1975.- References :...



1963: Willy Rumpf

Willy Rumpf

Willy Rumpf was Finance Minister in the German Democratic Republic.Born in Berlin, Rumpf was from 1917 to 1920 educated as an insurance assessor, and worked until 1932 as an accountant, cashier and a foreign trade correspondent. In 1920 he joined the German Communist Youth Association, and in 1925...


, Karl Maron
1965: Paul Fröhlich
1967: John Heartfield

John Heartfield

John Heartfield is the anglicized name of the German photomontage artist Helmut Herzfeld...


, Karl Mewis, Wilhelm Kling

Wilhelm Kling

Wilhelm Kling was a Communist Party of Germany functionary, and later an associate in the Politburo of the Central Committee of the Socialist Unity Party of Germany in East Germany....



1968: Roman Chwalek, Kurt Seibt

Kurt Seibt

Kurt Seibt was chairman of the Central Revision Commission of the Socialist Unity Party of Germany and East Germany's Minister for Direction and Control of Regional and District Councils.- Biography :Seibt completed training as a metal spinner in 1922-1926 and worked until 1933 as a civil...


, Max Burghardt
1969: Lotte Ulbricht

Lotte Ulbricht

Lotte Ulbricht was a Socialist Unity Party of Germany official and the second wife of the East German leader Walter Ulbricht....


, Erich Honecker

Erich Honecker

Erich Honecker was a German communist politician who led the German Democratic Republic as General Secretary of the Socialist Unity Party from 1971 until 1989, serving as Head of State as well from Willi Stoph's relinquishment of that post in 1976....


, Jürgen Kuczynski, Hermann Matern, Albert Norden

Albert Norden

Albert Norden was a German communist politician. He went into exile during Nazi rule. He returned to Germany after the war, and became an important politician in the German Democratic Republic...


, Willi Stoph

Willi Stoph

Willi Stoph was an East German politician. He served as Prime Minister of the German Democratic Republic from 1964 to 1973, and again from 1976 until 1989.-Biography:...


, Paul Verner

Paul Verner

Paul Verner was a German communist politician. He joined the communist movement at a young age, and went into exile during Hitler's rule. Verner became a prominent political personality in the German Democratic Republic after the war.-Early life:His father was a metal worker while his mother...


,
1970: Heinz Hoffmann

Heinz Hoffmann

Heinz Hoffmann was Minister of National Defense in the Council of Ministers of the German Democratic Republic, and since October 2, 1973 Member of the Politburo of the Central Committee of the Socialist Unity Party .-Youth:Hoffmann came from a working class family...


, Erich Mückenberger

Erich Mückenberger

Erich Mückenberger was a German socialist politician. He began his political career in the Social Democratic Party of Germany . He became a member of the Socialist Unity Party of Germany when the East German branches of SPD and the Communist Party of Germany merged after the Second World War...


, Erwin Kramer

Erwin Kramer

Erwin Kramer was a German politician, East German Minister of transportation and General Director of the Deutsche Reichsbahn ....


, Bruno Apitz

Bruno Apitz

Bruno Apitz was a German writer.Apitz was born in Leipzig as the twelfth child of a washer woman. He attended school until he was fourteen, then started training as a printer. During World War I he was a passionate supporter of German Communist Party leader Karl Liebknecht...


, Harry Tisch

Harry Tisch

thumb|200px|Harry Tisch in 1983.Harry Tisch was the head of the Free German Trade Union Federation between 1975 and 1989....


, Otto Braun, Max Burghardt
1972: Klaus Gysi, Kurt Hager

Kurt Hager

Kurt Hager , was an East German statesman, member of the Socialist Unity Party of Germany, was known as the Chief Ideologist of his Party and decided about many cultural and educational policies in East Germany.-Life:The son of a laborer, Hager passed the high school exam in 1931, after a visit of...


, Max Fechner

Max Fechner

Max Fechner was a Minister of Justice of the GDR.Fechner was a trained tool maker. He joined the SPD in 1910, was a member of the USPD from 1917 to 1922, and then returned to the SPD...


, Erich Honecker

Erich Honecker

Erich Honecker was a German communist politician who led the German Democratic Republic as General Secretary of the Socialist Unity Party from 1971 until 1989, serving as Head of State as well from Willi Stoph's relinquishment of that post in 1976....


, Max Spangenberg
1973: Ernst Albert Altenkirch, Friedrich Dickel, Ernst Goldenbaum

Ernst Goldenbaum

Ernst Goldenbaum was an East German politician.-Biography:Goldenbaum was born in Parchim. During World War I he served as a military and he participated in the German November Revolution...


, Erich Mielke

Erich Mielke

Erich Fritz Emil Mielke was a German communist politician and Minister of State Security—and as such head of the Stasi —of the German Democratic Republic between 1957 and 1989. Mielke spent more than a decade as an operative of the NKVD during the rule of Joseph Stalin...


, Fred Oelßner
1974: Alexander Schalck-Golodkowski

Alexander Schalck-Golodkowski

Alexander Schalck-Golodkowski was a politician and trader in the German Democratic Republic. He was director of a main department in the Ministry for Foreign Trade and German Domestic Trade , the Deputy Minister for External Trade , and head of the GDR's Kommerzielle Koordinierung .He was born in...


, Willi Stoph

Willi Stoph

Willi Stoph was an East German politician. He served as Prime Minister of the German Democratic Republic from 1964 to 1973, and again from 1976 until 1989.-Biography:...


, Markus Wolf

Markus Wolf

Markus Johannes "Mischa" Wolf was head of the General Intelligence Administration , the foreign intelligence division of East Germany's Ministry for State Security . He was the MfS's number two for 34 years, which spanned most of the Cold War...


, Walter Arnold, Jurij Brězan

Jurij Brezan

Jurij Brězan was a Sorbian writer. He lived in East Germany.- Life and work :Brězan was born in Räckelwitz near Kamenz. He attended school in Bautzen and then studied political economics. After 1933, he worked illegally for Domowina and was active in a Sorbian resistance group. In 1937-38, he...


, Fritz Cremer

Fritz Cremer

Fritz Cremer was a German sculptor of catholic extraction who turned to communism in the 1920s. Originally a stone-cutter, he studied at Berlin and got a government grant for the German academy in Rome, Villa Massimo, from 1937 to 1938...


, Josip Broz Tito

Josip Broz Tito

Marshal Josip Broz Tito – 4 May 1980) was a Yugoslav revolutionary and statesman. While his presidency has been criticized as authoritarian, Tito was a popular public figure both in Yugoslavia and abroad, viewed as a unifying symbol for the nations of the Yugoslav federation...



1975: Horst Sindermann

Horst Sindermann

Horst Sindermann was a Communist German politician and one of the leaders of East Germany.-Early life:Sindermann was born in Dresden as the son of the Saxon Social Democratic politician Karl Sindermann...


, Paul Wandel
1976: Luise Ermisch, Wolfgang Junker, Günter Mittag

Günter Mittag

Günter Mittag was a German member of parliament, secretary of the Socialist Unity Party of Germany , and a central figure in the German planned economy.-Biography:...


, Werner Walde, Ernst Scholz, Paul Verner

Paul Verner

Paul Verner was a German communist politician. He joined the communist movement at a young age, and went into exile during Hitler's rule. Verner became a prominent political personality in the German Democratic Republic after the war.-Early life:His father was a metal worker while his mother...



1977: Hilde Benjamin

Hilde Benjamin

Hilde Benjamin was an East German judge and Minister of Justice. She is best known for presiding over a series of political show trials in the 1950s....


, Kurt Hager

Kurt Hager

Kurt Hager , was an East German statesman, member of the Socialist Unity Party of Germany, was known as the Chief Ideologist of his Party and decided about many cultural and educational policies in East Germany.-Life:The son of a laborer, Hager passed the high school exam in 1931, after a visit of...


, Erich Honecker

Erich Honecker

Erich Honecker was a German communist politician who led the German Democratic Republic as General Secretary of the Socialist Unity Party from 1971 until 1989, serving as Head of State as well from Willi Stoph's relinquishment of that post in 1976....


, Margot Honecker

Margot Honecker

Margot Honecker née Feist is a former Communist politician, who was a prominent member of the political elite in East Germany...


, Erich Mielke

Erich Mielke

Erich Fritz Emil Mielke was a German communist politician and Minister of State Security—and as such head of the Stasi —of the German Democratic Republic between 1957 and 1989. Mielke spent more than a decade as an operative of the NKVD during the rule of Joseph Stalin...


, Josip Broz Tito

Josip Broz Tito

Marshal Josip Broz Tito – 4 May 1980) was a Yugoslav revolutionary and statesman. While his presidency has been criticized as authoritarian, Tito was a popular public figure both in Yugoslavia and abroad, viewed as a unifying symbol for the nations of the Yugoslav federation...



1978: Werner Felfe, Hans Modrow

Hans Modrow

Hans Modrow is a German politician, best known as the last communist premier of East Germany. He currently is the honorary Chairman of the Left Party....


, Joachim Herrmann, Elli Schmidt, Werner Krolikowski, Konrad Naumann
1979: Horst Dohlus, Johannes Chemnitzer, Gerhard Grüneberg, Heinz Keßler, Peter Edel, Klaus Fuchs

Klaus Fuchs

Klaus Emil Julius Fuchs was a German theoretical physicist and atomic spy who in 1950 was convicted of supplying information from the American, British and Canadian atomic bomb research to the USSR during and shortly after World War II...



1980: Heinz Hoffmann

Heinz Hoffmann

Heinz Hoffmann was Minister of National Defense in the Council of Ministers of the German Democratic Republic, and since October 2, 1973 Member of the Politburo of the Central Committee of the Socialist Unity Party .-Youth:Hoffmann came from a working class family...


, Alfred Lemmnitz

Alfred Lemmnitz

Alfred Lemmnitz was East Germany's National Education Minister.Lemmnitz was born in Taucha, Saxony and completed training as a typesetter and studies in economics at the University of Leipzig. From 1927 to 1931, he was a member of the Social Democratic Party of Germany and youth leader of the...


, Siegfried Lorenz
1981: Erwin Geschonneck

Erwin Geschonneck

Erwin Geschonneck was a German actor. His biggest success occurred in the German Democratic Republic, where he was considered one of the most famous actors of the time.-Early life:...


, Peter Florin

Peter Florin

Peter Florin, born in Cologne on October 2, 1921, is a former East German politician and diplomat.-Early life:Peter's father, Wilhelm Florin, was a leading figure in the pre-war Communist Party of Germany....


, Albert Norden

Albert Norden

Albert Norden was a German communist politician. He went into exile during Nazi rule. He returned to Germany after the war, and became an important politician in the German Democratic Republic...


, Gerhard Schürer
1982: Alexander Schalck-Golodkowski

Alexander Schalck-Golodkowski

Alexander Schalck-Golodkowski was a politician and trader in the German Democratic Republic. He was director of a main department in the Ministry for Foreign Trade and German Domestic Trade , the Deputy Minister for External Trade , and head of the GDR's Kommerzielle Koordinierung .He was born in...


, Kurt Hager

Kurt Hager

Kurt Hager , was an East German statesman, member of the Socialist Unity Party of Germany, was known as the Chief Ideologist of his Party and decided about many cultural and educational policies in East Germany.-Life:The son of a laborer, Hager passed the high school exam in 1931, after a visit of...


, Erich Honecker

Erich Honecker

Erich Honecker was a German communist politician who led the German Democratic Republic as General Secretary of the Socialist Unity Party from 1971 until 1989, serving as Head of State as well from Willi Stoph's relinquishment of that post in 1976....


, Erich Mielke

Erich Mielke

Erich Fritz Emil Mielke was a German communist politician and Minister of State Security—and as such head of the Stasi —of the German Democratic Republic between 1957 and 1989. Mielke spent more than a decade as an operative of the NKVD during the rule of Joseph Stalin...


, Paul Scholz
1983: Lotte Ulbricht

Lotte Ulbricht

Lotte Ulbricht was a Socialist Unity Party of Germany official and the second wife of the East German leader Walter Ulbricht....


, Gerhard Beil

Gerhard Beil

Gerhard Beil was a politician for the SED and the Minister for Foreign Trade of the GDR.-References:...


, Friedrich Dickel, Egon Krenz

Egon Krenz

Egon Krenz is a former politician from East Germany , and that country's last Communist leader...


, Oskar Fischer, Theo Balden, Wilhelm Ehm

Wilhelm Ehm

Wilhelm Ehm a World War II Wehrmacht veteran and East German Admiral who was Deputy Minister of National Defense of the German Democratic Republic and head of the People's Navy .- Early life :Ehm's father was a carpenter who served as an armorer and a bugler in the...



1984: Alfred Neumann, Willi Stoph

Willi Stoph

Willi Stoph was an East German politician. He served as Prime Minister of the German Democratic Republic from 1964 to 1973, and again from 1976 until 1989.-Biography:...


, 6th Flotilla of the East German People's Navy

Volksmarine

Volksmarine was the official designation of the maritime forces of the German Democratic Republic . It was part of the National People's Army, established in 1956.-History:...



1985: Horst Dohlus, Friedrich Dickel, Heinz Hoffmann

Heinz Hoffmann

Heinz Hoffmann was Minister of National Defense in the Council of Ministers of the German Democratic Republic, and since October 2, 1973 Member of the Politburo of the Central Committee of the Socialist Unity Party .-Youth:Hoffmann came from a working class family...


, Erich Honecker

Erich Honecker

Erich Honecker was a German communist politician who led the German Democratic Republic as General Secretary of the Socialist Unity Party from 1971 until 1989, serving as Head of State as well from Willi Stoph's relinquishment of that post in 1976....


, Bruno Lietz, Erich Mückenberger

Erich Mückenberger

Erich Mückenberger was a German socialist politician. He began his political career in the Social Democratic Party of Germany . He became a member of the Socialist Unity Party of Germany when the East German branches of SPD and the Communist Party of Germany merged after the Second World War...



1986: Heinrich Adameck, Günter Mittag

Günter Mittag

Günter Mittag was a German member of parliament, secretary of the Socialist Unity Party of Germany , and a central figure in the German planned economy.-Biography:...


, Gisela Glende
1987: Hilde Benjamin

Hilde Benjamin

Hilde Benjamin was an East German judge and Minister of Justice. She is best known for presiding over a series of political show trials in the 1950s....


, Margot Honecker

Margot Honecker

Margot Honecker née Feist is a former Communist politician, who was a prominent member of the political elite in East Germany...


, Werner Jarowinsky, Erich Mielke

Erich Mielke

Erich Fritz Emil Mielke was a German communist politician and Minister of State Security—and as such head of the Stasi —of the German Democratic Republic between 1957 and 1989. Mielke spent more than a decade as an operative of the NKVD during the rule of Joseph Stalin...


, Markus Wolf

Markus Wolf

Markus Johannes "Mischa" Wolf was head of the General Intelligence Administration , the foreign intelligence division of East Germany's Ministry for State Security . He was the MfS's number two for 34 years, which spanned most of the Cold War...



1988: Manfred Gerlach

Manfred Gerlach

Manfred Gerlach was a German jurist and politician . He served as the acting Chairman of the Council of State and was thus head of state of East Germany from 6 December 1989 to 5 April 1990.-Early life:...


, Joachim Herrmann, Kurt Seibt

Kurt Seibt

Kurt Seibt was chairman of the Central Revision Commission of the Socialist Unity Party of Germany and East Germany's Minister for Direction and Control of Regional and District Councils.- Biography :Seibt completed training as a metal spinner in 1922-1926 and worked until 1933 as a civil...


, Nicolae Ceauşescu

Nicolae Ceausescu

Nicolae Ceaușescu was a Romanian Communist politician. He was General Secretary of the Romanian Communist Party from 1965 to 1989, and as such was the country's second and last Communist leader...



1989: Günter Schabowski

Günter Schabowski

Günter Schabowski is a former official of the Socialist Unity Party of Germany , the ruling party during most of the existence of the German Democratic Republic...


, Willi Stoph

Willi Stoph

Willi Stoph was an East German politician. He served as Prime Minister of the German Democratic Republic from 1964 to 1973, and again from 1976 until 1989.-Biography:...


, Günther Wyschofsky, Herbert Weiz
See also
Awards and decorations of East Germany
Order of Lenin

Order of Lenin

The Order of Lenin , named after the leader of the Russian October Revolution, was the highest decoration bestowed by the Soviet Union...



Order of Kim Il-Sung