 Oppau explosion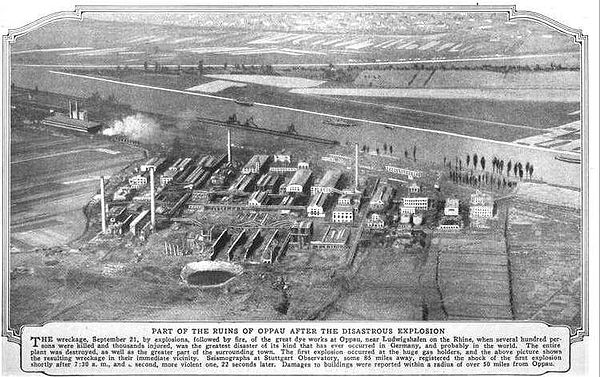 The
Oppau explosion
occurred on September 21, 1921 when a
tower silo
Storage silo
A silo is a structure for storing bulk materials. Silos are used in agriculture to store grain or fermented feed known as silage. Silos are more commonly used for bulk storage of grain, coal, cement, carbon black, woodchips, food products and sawdust. Three types of silos are in widespread use...
storing 4,500 tonnes of a mixture of
ammonium sulfate
Ammonium sulfate
Ammonium sulfate , 2SO4, is an inorganic salt with a number of commercial uses. The most common use is as a soil fertilizer. It contains 21% nitrogen as ammonium cations, and 24% sulfur as sulfate anions...
and
ammonium nitrate
fertilizer
Fertilizer
Fertilizer is any organic or inorganic material of natural or synthetic origin that is added to a soil to supply one or more plant nutrients essential to the growth of plants. A recent assessment found that about 40 to 60% of crop yields are attributable to commercial fertilizer use...
exploded at a
BASF
BASF
BASF SE is the largest chemical company in the world and is headquartered in Germany. BASF originally stood for Badische Anilin- und Soda-Fabrik . Today, the four letters are a registered trademark and the company is listed on the Frankfurt Stock Exchange, London Stock Exchange, and Zurich Stock...
plant in
Oppau
Oppau
Oppau may refer to* Ludwigshafen-Oppau, a suburb of Ludwigshafen, Germany** the Oppau explosion which occurred there in 1921* until 1945, Opawa, Lower Silesian Voivodeship, Poland...
, now part of Ludwigshafen,
Germany
Germany
Germany , officially the Federal Republic of Germany , is a federal parliamentary republic in Europe. The country consists of 16 states while the capital and largest city is Berlin. Germany covers an area of 357,021 km2 and has a largely temperate seasonal climate...
, killing 500–600 people and injuring about 2,000 more.
The plant began producing ammonium sulfate in 1911, but during
World War I
World War I
World War I , which was predominantly called the World War or the Great War from its occurrence until 1939, and the First World War or World War I thereafter, was a major war centred in Europe that began on 28 July 1914 and lasted until 11 November 1918...
when Germany was unable to obtain the necessary
sulfur
Sulfur
Sulfur or sulphur is the chemical element with atomic number 16. In the periodic table it is represented by the symbol S. It is an abundant, multivalent non-metal. Under normal conditions, sulfur atoms form cyclic octatomic molecules with chemical formula S8. Elemental sulfur is a bright yellow...
, it began to produce ammonium nitrate as well. Ammonia could be produced without overseas resources, using the
Haber process
Haber process
The Haber process, also called the Haber–Bosch process, is the nitrogen fixation reaction of nitrogen gas and hydrogen gas, over an enriched iron or ruthenium catalyst, which is used to industrially produce ammonia....
.
Compared to ammonium sulfate, ammonium nitrate is strongly hygroscopic, so the mixture of ammonium sulfate and nitrate clogged together under the pressure of its own weight, turning it into a plaster-like substance in the 20 m high silo. The workers needed to use
pickaxe
Pickaxe
A pickaxe or pick is a hand tool with a hard head attached perpendicular to the handle.Some people make the distinction that a pickaxe has a head with a pointed end and a flat end, and a pick has both ends pointed, or only one end; but most people use the words to mean the same thing.The head is...
s to get it out, a problematic situation because they could not enter the silo and risk being buried in collapsing fertilizer.
To ease their work, small charges of
dynamite
Dynamite
Dynamite is an explosive material based on nitroglycerin, initially using diatomaceous earth , or another absorbent substance such as powdered shells, clay, sawdust, or wood pulp. Dynamites using organic materials such as sawdust are less stable and such use has been generally discontinued...
were used to loosen the mixture. The procedure was tried experimentally and was considered safe; it was not known at the time that ammonium nitrate was explosive. Nothing extraordinary happened during an estimated 20,000 firings, until the fateful explosion on September 21. As all involved died in the explosion, the causes are not clear. A theory is that the mixture changed and a higher concentration of ammonium nitrate was present.
Scale of the explosion
The explosion was estimated to be equivalent to about 1–2 kilotonnes of TNT and was heard as a loud bang in
Munich
Munich
Munich The city's motto is "" . Before 2006, it was "Weltstadt mit Herz" . Its native name, , is derived from the Old High German Munichen, meaning "by the monks' place". The city's name derives from the monks of the Benedictine order who founded the city; hence the monk depicted on the city's coat...
, more than 300 km away. The pressure wave ripped roofs off up to 25 km away and destroyed windows even farther away. In
Heidelberg
Heidelberg
-Early history:Between 600,000 and 200,000 years ago, "Heidelberg Man" died at nearby Mauer. His jaw bone was discovered in 1907; with scientific dating, his remains were determined to be the earliest evidence of human life in Europe. In the 5th century BC, a Celtic fortress of refuge and place of...
(30 km from Oppau), traffic was stopped by the mass of broken glass on the streets.
About 80 percent of all buildings in Oppau were destroyed, leaving 6,500 homeless. At
ground zero
Ground zero
The term ground zero describes the point on the Earth's surface closest to a detonation...
a 90 m by 125 m
crater
Subsidence crater
A subsidence crater is a hole or depression left on the surface of an area which has had an underground explosion. Many such craters are present at the Nevada Test Site, which is no longer in use for nuclear testing....
, 19 m deep, was created. Damages were estimated by New York Times in 1922 at then 321 million Marks (since Germany suffered heavy
hyperinflation
Hyperinflation
In economics, hyperinflation is inflation that is very high or out of control. While the real values of the specific economic items generally stay the same in terms of relatively stable foreign currencies, in hyperinflationary conditions the general price level within a specific economy increases...
in 1919–1924, given amounts and exchange-rates are not very descriptive).
According to some descriptions, only 450 tonnes exploded, out of 4,500 tonnes of fertilizer stored in the warehouse.
See also
Texas City Disaster

Texas City Disaster

The Texas City Disaster was the deadliest industrial accident in U.S. history. The incident took place on April 16, 1947, and began with a mid-morning fire on board the French-registered vessel SS Grandcamp which was docked in the Port of Texas City...


- a larger ammonium nitrate explosion
External links