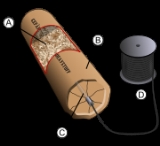 Dynamite
Dynamite
is an
explosive material
Explosive material
An explosive material, also called an explosive, is a reactive substance that contains a great amount of potential energy that can produce an explosion if released suddenly, usually accompanied by the production of light, heat, sound, and pressure...
based on
nitroglycerin
, initially using
diatomaceous earth
Diatomaceous earth
Diatomaceous earth also known as diatomite or kieselgur/kieselguhr, is a naturally occurring, soft, siliceous sedimentary rock that is easily crumbled into a fine white to off-white powder. It has a particle size ranging from less than 1 micrometre to more than 1 millimetre, but typically 10 to...
(kieselgur: American spelling; kieselguhr:
British
United Kingdom
The United Kingdom of Great Britain and Northern IrelandIn the United Kingdom and Dependencies, other languages have been officially recognised as legitimate autochthonous languages under the European Charter for Regional or Minority Languages...
spelling), or another absorbent substance such as powdered shells, clay, sawdust, or wood pulp. Dynamites using organic materials such as sawdust are less stable and such use has been generally discontinued. Dynamite was invented by the Swedish chemist and engineer
Alfred Nobel
Alfred Nobel
Alfred Bernhard Nobel was a Swedish chemist, engineer, innovator, and armaments manufacturer. He is the inventor of dynamite. Nobel also owned Bofors, which he had redirected from its previous role as primarily an iron and steel producer to a major manufacturer of cannon and other armaments...
in Krümmel (Geesthacht, Schleswig-Holstein, Germany), and patented in 1867.