Nolisair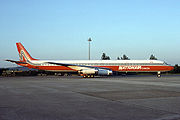 Nolisair
was a
Canadian
Canada
Canada is a North American country consisting of ten provinces and three territories. Located in the northern part of the continent, it extends from the Atlantic Ocean in the east to the Pacific Ocean in the west, and northward into the Arctic Ocean...
company, the parent company of
Nationair
, a Canadian
airline
Airline
An airline provides air transport services for traveling passengers and freight. Airlines lease or own their aircraft with which to supply these services and may form partnerships or alliances with other airlines for mutual benefit...
, and of
Technair
, an aircraft maintenance company. Based in
Mirabel, Quebec
Mirabel, Quebec
Mirabel is a city in Quebec, Canada. It is an off-island suburb north-west of Montreal.Mirabel is also the name of a territory equivalent to a regional county municipality and census division of Quebec, coextensive with the city of Mirabel. Its geographical code is 74.Mirabel's population was...
, the company was owned by
Robert Obadia
Robert Obadia
Robert Obadia was the President of Nationair Canada, also known as Nolisair. He was connected with Quebecair at one time. Obadia was charged with fraud after the bankruptcy of Nationair in 1993.-External links:...
.
Nationair

Nationair operated in the late 1980s and early 1990s from bases in Montreal and Toronto, with seasonal bases in Quebec City as well as flights out of Hamilton, Ontario to London, England. At one point, Nationair was Canadas third largest airline, after Air Canada and Canadian Airlines International.
Destinations during the winter months consisted mostly of sun destinations in Florida, the Caribbean, Mexico and South America. Summer destinations included Vancouver and Calgary but had a heavy emphasis on European destinations - mainly England, Scotland, Portugal and France. The airline also had year-round scheduled service between Montreal Mirabel and Brussels, Belgium, serving the route up to daily.
The airline tried going head to head with Air Canada and Canadian Airlines International operating scheduled flights between Toronto and Montreal, offering cheap fares and flexible ticketing conditions. The scheduled service was fairly short-lived.
During shoulder periods and in order to maximize use of its aircraft, Nationair did a number of sub-contracts. These would sometimes but not always include Flight Attendants as well. This enabled Nationair aircraft to see duty in the Middle East during the run up to the Gulf War doing evacuations, work for the United Nations moving troops into Namibia as well as flights for Nigerian Airways in 1991.
Nationair also did a number of sub-charters for airlines such as
Hispania Líneas Aéreas
Hispania Líneas Aéreas
-Company history:Hispania was founded in 1982 as an on-demand charter operator and began operations using two SE 210 Caravelle aircraft on charter flights to the Spanish resorts from Great Britain, Germany, France and other countries. In 1985 three Boeing 737-200 were added and those eventually...
,
Garuda Indonesia
Garuda Indonesia
PT Garuda Indonesia Tbk , publicly known as Garuda Indonesia, is the flag carrier of Indonesia. It is named after the mystical giant bird Garuda of Hinduism and Buddhist mythology. It is headquartered at Soekarno-Hatta International Airport in Tangerang, near Jakarta, the capital city of Indonesia...
, Union des Transports Aériens (UTA) and
LTU International
LTU International
LTU Lufttransport-Unternehmen GmbH was an airline based in Düsseldorf, Germany, now fully owned by Air Berlin. The initials stand for the German phrase LuftTransport-Unternehmen . It operated scheduled services on medium and long-haul routes, as well as charter services...
(LTU). Nationair had been operating some flights for UTA in 1989 during the period where
UTA Flight 772
UTA Flight 772
UTA Flight 772 of the French airline Union des Transports Aériens was a scheduled flight operating from Brazzaville in the Republic of Congo, via N'Djamena in Chad, to Paris CDG airport in France....
was destroyed inflight.
Nationair Code Data
ICAO Code: NXA
IATA

International Air Transport Association

The International Air Transport Association is an international industry trade group of airlines headquartered in Montreal, Quebec, Canada, where the International Civil Aviation Organization is also headquartered. The executive offices are at the Geneva Airport in SwitzerlandIATA's mission is to...


Code: NX
Callsign: Nation Airways
Jeddah aircrash
Nationair operated a number of sub-contracts all over the world, including
Nigeria Airways Flight 2120
Nigeria Airways Flight 2120
Nigeria Airways Flight 2120 refers to a Douglas DC-8-61, registration C-GMXQ, owned by the Canadian company Nolisair and wet-leased to Nigeria Airways, which in turn sub-leased the aircraft to another company to transport Nigerian pilgrims to and from Mecca, that crashed at King Abdulaziz...
for
Nigeria Airways
Nigeria Airways
Nigeria Airways Ltd., more commonly known as Nigeria Airways, is a defunct Nigerian airline. The company was founded in 1958 after the dissolution of West African Airways Corporation. It was wholly owned by the Government of Nigeria, and served as the country's flag carrier. The airline was...
which crashed at Jeddah, Saudi Arabia on 11 July 1991, killing all 261 on board, including 14 Canadian aircrew. It was and remains the worst aviation disaster involving a Canadian aircraft.
The cause of the crash was found to be under-inflated tires, which in turn caused overheated tires to catch fire, and failure of hydraulic systems and eventual in-flight break-up of the aircraft short of making an emergency landing.
The safety of the airline was often called into question but the President,
Robert Obadia
Robert Obadia
Robert Obadia was the President of Nationair Canada, also known as Nolisair. He was connected with Quebecair at one time. Obadia was charged with fraud after the bankruptcy of Nationair in 1993.-External links:...
vehemently denied the accusations. Eventually, it would be discovered that the airline often flew aircraft that were unworthy, and that
Transport Canada
Transport Canada
Transport Canada is the department within the government of Canada which is responsible for developing regulations, policies and services of transportation in Canada. It is part of the Transportation, Infrastructure and Communities portfolio...
knew this, but did nothing about it, "losing" a Safety Review that cast the airline in a negative light. It was later found that the aircraft that crashed in
Saudi Arabia
Saudi Arabia
The Kingdom of Saudi Arabia , commonly known in British English as Saudi Arabia and in Arabic as as-Sa'ūdiyyah , is the largest state in Western Asia by land area, constituting the bulk of the Arabian Peninsula, and the second-largest in the Arab World...
was un-airworthy for several days prior to the crash, and that staff had altered documentation in order for the flight to depart on July 11, 1991.
Bankruptcy
The aircrash, combined with Nationair's poor reputation for on-time service and mechanical problems led to serious problems with public image and reliability among tour operators. These difficulties were compounded when Nationair locked out its unionized Flight Attendants and proceeded to replace them with
scabs
Strikebreaker
A strikebreaker is a person who works despite an ongoing strike. Strikebreakers are usually individuals who are not employed by the company prior to the trade union dispute, but rather hired prior to or during the strike to keep the organisation running...
on November 19, 1991. The
lockout
Lockout
Lockout may refer to:* Lockout , a type of work stoppage* Lockout * Lockout chip, a computer chip in a video game system to prevent use of unauthorized software* Lock-out device, part of a signaling system used on game shows...
lasted 15 months and by the time it ended in early 1993, Nationair found itself in severe financial trouble, and filed for bankruptcy protection.
The company went bankrupt in the spring of 1993 after it was discovered that it owed the Government millions of dollars in unpaid landing fees. Creditors began seizing airplanes and demanded cash up front for services.
The company was declared bankrupt in May 1993, owing CDN$75 million. In 1997 Robert Obadia pleaded guilty to eight counts of fraud in relation to the company's activities.
By the time it was publicly disclosed that the cause of the crash was
negligence
Negligence
Negligence is a failure to exercise the care that a reasonably prudent person would exercise in like circumstances. The area of tort law known as negligence involves harm caused by carelessness, not intentional harm.According to Jay M...
on the part of the company, it had already been gone for several years.
Nationair Historical Fleet
External links