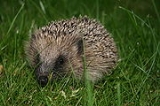 Nocturnal animal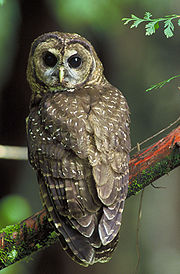 Nocturnality
is an animal behavior characterized by activity during the night and sleeping during the day. The common adjective is "
nocturnal
".
Nocturnal creatures generally have highly developed senses of
hearing
Hearing (sense)
Hearing is the ability to perceive sound by detecting vibrations through an organ such as the ear. It is one of the traditional five senses...
and
smell
Olfaction
Olfaction is the sense of smell. This sense is mediated by specialized sensory cells of the nasal cavity of vertebrates, and, by analogy, sensory cells of the antennae of invertebrates...
, and specially adapted eyesight. Some animals, such as
cat
Cat
The cat , also known as the domestic cat or housecat to distinguish it from other felids and felines, is a small, usually furry, domesticated, carnivorous mammal that is valued by humans for its companionship and for its ability to hunt vermin and household pests...
s and
ferret
Ferret
The ferret is a domesticated mammal of the type Mustela putorius furo. Ferrets are sexually dimorphic predators with males being substantially larger than females. They typically have brown, black, white, or mixed fur...
s, have eyes that can adapt to both low-level and bright day levels of illumination (see
metaturnal
Metaturnal
In animal behavior, metaturnality describes the behavior of sleeping partly during the daytime and partly during the night. Metaturnal animals include cats, rabbits, and mice.-See also:*Nocturnality*Cathemeral is the more accepted term....
). Others, e.g. bushbabies and (some)
bat
Bat
Bats are mammals of the order Chiroptera "hand" and pteron "wing") whose forelimbs form webbed wings, making them the only mammals naturally capable of true and sustained flight. By contrast, other mammals said to fly, such as flying squirrels, gliding possums, and colugos, glide rather than fly,...
s, can function
only
at night. Many nocturnal creatures have eyes that seem to be "too big" compared to the rest of their head and body like tarsiers and some
owls
OWLS
OWLS is a mnemonic used by general aviation airplane pilots to assess an unprepared surface for a precautionary landing.Like all mnemonics this check has become part of aviation culture and folklore.OWLS:* Obstacles* Wind direction...
.
Diurnal animals, e.g.
squirrel
Squirrel
Squirrels belong to a large family of small or medium-sized rodents called the Sciuridae. The family includes tree squirrels, ground squirrels, chipmunks, marmots , flying squirrels, and prairie dogs. Squirrels are indigenous to the Americas, Eurasia, and Africa and have been introduced to Australia...
s, songbirds, etc., are active during the daytime.
Crepuscular
Crepuscular
Crepuscular animals are those that are active primarily during twilight, that is during dawn and dusk. The word is derived from the Latin word crepusculum, meaning "twilight." Crepuscular is, thus, in contrast with diurnal and nocturnal behavior. Crepuscular animals may also be active on a bright...
species, i.e.
rabbit
Rabbit
Rabbits are small mammals in the family Leporidae of the order Lagomorpha, found in several parts of the world...
s,
skunk
Skunk
Skunks are mammals best known for their ability to secrete a liquid with a strong, foul odor. General appearance varies from species to species, from black-and-white to brown or cream colored. Skunks belong to the family Mephitidae and to the order Carnivora...
s, and
hyena
Hyena
Hyenas or Hyaenas are the animals of the family Hyaenidae of suborder feliforms of the Carnivora. It is the fourth smallest biological family in the Carnivora , and one of the smallest in the mammalia...
, are often erroneously referred to as nocturnal.
Cathemeral
Cathemeral
A cathemeral organism is one that has sporadic and random intervals of activity during the day or night in which food is acquired, socializing with other organisms occurs, and any other activities necessary for livelihood are performed...
species, such as
fossa
Eupleridae
The family Eupleridae is a group of carnivorans endemic to Madagascar and comprising 10 known species in seven genera. Probably the best known species is the Fossa , in the subfamily Euplerinae...
s and
lion
Lion
The lion is one of the four big cats in the genus Panthera, and a member of the family Felidae. With some males exceeding 250 kg in weight, it is the second-largest living cat after the tiger...
s, are active both day and night.
Resource competition
Being active at night is a form of
niche differentiation
Niche differentiation
The term niche differentiation , as it applies to the field of ecology, refers to the process by which natural selection drives competing species into different patterns of resource use or different niches...
, where a species' niche is partitioned not by the amount of resources but by the amount of time (i.e. temporal division of the
ecological niche
Ecological niche
In ecology, a niche is a term describing the relational position of a species or population in its ecosystem to each other; e.g. a dolphin could potentially be in another ecological niche from one that travels in a different pod if the members of these pods utilize significantly different food...
).
Hawk
Hawk
The term hawk can be used in several ways:* In strict usage in Australia and Africa, to mean any of the species in the subfamily Accipitrinae, which comprises the genera Accipiter, Micronisus, Melierax, Urotriorchis and Megatriorchis. The large and widespread Accipiter genus includes goshawks,...
s and
owl
Owl
Owls are a group of birds that belong to the order Strigiformes, constituting 200 bird of prey species. Most are solitary and nocturnal, with some exceptions . Owls hunt mostly small mammals, insects, and other birds, although a few species specialize in hunting fish...
s can hunt the same field or meadow for the same rodents without conflict because hawks are diurnal and owls are nocturnal.
Predation
Nocturnality is a form of
crypsis
Crypsis
In ecology, crypsis is the ability of an organism to avoid observation or detection by other organisms. It may be either a predation strategy or an antipredator adaptation, and methods include camouflage, nocturnality, subterranean lifestyle, transparency, and mimicry...
, an adaptation to avoid or enhance
predation
Predation
In ecology, predation describes a biological interaction where a predator feeds on its prey . Predators may or may not kill their prey prior to feeding on them, but the act of predation always results in the death of its prey and the eventual absorption of the prey's tissue through consumption...
. One of the reasons that (cathemeral)
lion
Lion
The lion is one of the four big cats in the genus Panthera, and a member of the family Felidae. With some males exceeding 250 kg in weight, it is the second-largest living cat after the tiger...
s prefer to hunt at night is that many of their prey species (
zebra
Zebra
Zebras are several species of African equids united by their distinctive black and white stripes. Their stripes come in different patterns unique to each individual. They are generally social animals that live in small harems to large herds...
,
antelope
Antelope
Antelope is a term referring to many even-toed ungulate species indigenous to various regions in Africa and Eurasia. Antelopes comprise a miscellaneous group within the family Bovidae, encompassing those old-world species that are neither cattle, sheep, buffalo, bison, nor goats...
, impala,
wildebeest
Wildebeest
The wildebeest , also called the gnu is an antelope of the genus Connochaetes. It is a hooved mammal...
, etc.) have poor night vision. Many species of small rodents are active at night because most of the dozen or so birds of prey that hunt them are diurnal. There are many diurnal species that exhibit some nocturnal behaviors. For example, many
seabird
Seabird
Seabirds are birds that have adapted to life within the marine environment. While seabirds vary greatly in lifestyle, behaviour and physiology, they often exhibit striking convergent evolution, as the same environmental problems and feeding niches have resulted in similar adaptations...
s and
sea turtle
Sea turtle
Sea turtles are marine reptiles that inhabit all of the world's oceans except the Arctic.-Distribution:...
s only gather at breeding sites or colonies at night to reduce the risk of predation to themselves and/or their offspring.
Water conservation
Another reason for nocturnality is avoiding the heat of the day. This is especially true in
arid
Arid
A region is said to be arid when it is characterized by a severe lack of available water, to the extent of hindering or even preventing the growth and development of plant and animal life...
biome
Biome
Biomes are climatically and geographically defined as similar climatic conditions on the Earth, such as communities of plants, animals, and soil organisms, and are often referred to as ecosystems. Some parts of the earth have more or less the same kind of abiotic and biotic factors spread over a...
s like
desert
Desert
A desert is a landscape or region that receives an extremely low amount of precipitation, less than enough to support growth of most plants. Most deserts have an average annual precipitation of less than...
s, where nocturnal behavior prevents creatures from losing precious water during the hot, dry daytime. This is an
adaptation
Adaptation
An adaptation in biology is a trait with a current functional role in the life history of an organism that is maintained and evolved by means of natural selection. An adaptation refers to both the current state of being adapted and to the dynamic evolutionary process that leads to the adaptation....
that enhances
osmoregulation
Osmoregulation
Osmoregulation is the active regulation of the osmotic pressure of an organism's fluids to maintain the homeostasis of the organism's water content; that is it keeps the organism's fluids from becoming too diluted or too concentrated. Osmotic pressure is a measure of the tendency of water to move...
. One of the reasons that (cathemeral) lions prefer to hunt at night to conserve water.
Plants
Many plant species native to arid biomes have adapted so that their flowers only open at night when the sun's intense heat can't wither and destroy their delicate, moist blossoms. These flowers are pollinated by bats, another creature of the night.
Zoos
In
zoo
Zoo
A zoological garden, zoological park, menagerie, or zoo is a facility in which animals are confined within enclosures, displayed to the public, and in which they may also be bred....
s, nocturnal animals are usually kept in special night-illumination enclosures to reverse their normal sleep-wake cycle and to keep them active during the hours when visitors will be there to see them.
Pets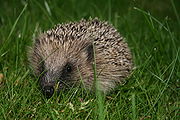 Hedgehog
Hedgehog
A hedgehog is any of the spiny mammals of the subfamily Erinaceinae and the order Erinaceomorpha. There are 17 species of hedgehog in five genera, found through parts of Europe, Asia, Africa, and New Zealand . There are no hedgehogs native to Australia, and no living species native to the Americas...
s and
sugar glider
Sugar Glider
The sugar glider is a small gliding possum originating from the marsupial family.The sugar glider is native to eastern and northern mainland Australia and is also native to New Guinea and the Bismarck Archipelago.- Habitat :Sugar gliders can be found all throughout the northern and eastern parts of...
s are just two of the many nocturnal species kept as (exotic) pets. Cats have adapted to domestication so that each individual, whether stray alley cat or pampered housecat, can change their activity level at will, becoming nocturnal or diurnal, to suit their environment and/or the routines of their owners.
See also
Niche (ecology)
Niche differentiation

Niche differentiation

The term niche differentiation , as it applies to the field of ecology, refers to the process by which natural selection drives competing species into different patterns of resource use or different niches...



Competitive exclusion principle

Competitive exclusion principle

In ecology, the competitive exclusion principle, sometimes referred to as Gause's law of competitive exclusion or just Gause's law, is a proposition which states that two species competing for the same resources cannot coexist if other ecological factors are constant...



Adaption
Antipredator adaptation
Crypsis

Crypsis

In ecology, crypsis is the ability of an organism to avoid observation or detection by other organisms. It may be either a predation strategy or an antipredator adaptation, and methods include camouflage, nocturnality, subterranean lifestyle, transparency, and mimicry...



Diurnality