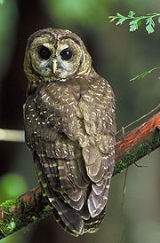 Owl
Owls
are a group of birds that belong to the
order
Order (biology)
In scientific classification used in biology, the order is# a taxonomic rank used in the classification of organisms. Other well-known ranks are life, domain, kingdom, phylum, class, family, genus, and species, with order fitting in between class and family...
Strigiformes
, constituting 200
bird of prey
Bird of prey
Birds of prey are birds that hunt for food primarily on the wing, using their keen senses, especially vision. They are defined as birds that primarily hunt vertebrates, including other birds. Their talons and beaks tend to be relatively large, powerful and adapted for tearing and/or piercing flesh....
species
Species
In biology, a species is one of the basic units of biological classification and a taxonomic rank. A species is often defined as a group of organisms capable of interbreeding and producing fertile offspring. While in many cases this definition is adequate, more precise or differing measures are...
. Most are solitary and
nocturnal
Nocturnal animal
Nocturnality is an animal behavior characterized by activity during the night and sleeping during the day. The common adjective is "nocturnal"....
, with some exceptions (e.g. the
Northern Hawk Owl
Northern Hawk Owl
The Northern Hawk-Owl is a non-migratory owl that usually stays within its breeding range. It sometimes irrupts southward.-General:It is the only living species in the genus Surnia...
). Owls hunt mostly small
mammal
Mammal
Mammals are members of a class of air-breathing vertebrate animals characterised by the possession of endothermy, hair, three middle ear bones, and mammary glands functional in mothers with young...
s,
insect
Insect
Insects are a class of living creatures within the arthropods that have a chitinous exoskeleton, a three-part body , three pairs of jointed legs, compound eyes, and two antennae...
s, and other birds, although a few species specialize in hunting
fish
Fish
Fish are a paraphyletic group of organisms that consist of all gill-bearing aquatic vertebrate animals that lack limbs with digits. Included in this definition are the living hagfish, lampreys, and cartilaginous and bony fish, as well as various extinct related groups...
. They are found in all regions of the Earth except
Antarctica
, most of
Greenland
Greenland
Greenland is an autonomous country within the Kingdom of Denmark, located between the Arctic and Atlantic Oceans, east of the Canadian Arctic Archipelago. Though physiographically a part of the continent of North America, Greenland has been politically and culturally associated with Europe for...
and some remote islands.