 Street market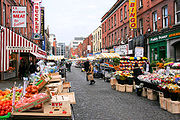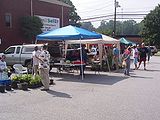 A
street market
is an outdoor
market
Market
A market is one of many varieties of systems, institutions, procedures, social relations and infrastructures whereby parties engage in exchange. While parties may exchange goods and services by barter, most markets rely on sellers offering their goods or services in exchange for money from buyers...
such as traditionally held in a
market square
Market square
The market square is a feature of many European and colonial towns. It is an open area where market stalls are traditionally set out for trading, commonly on one particular day of the week known as market day....
or in a
market town
Market town
Market town or market right is a legal term, originating in the medieval period, for a European settlement that has the right to host markets, distinguishing it from a village and city...
, and often held only on particular days of the week. Very similar markets, or
bazaar
Bazaar
A bazaar , Cypriot Greek: pantopoula) is a permanent merchandising area, marketplace, or street of shops where goods and services are exchanged or sold. The term is sometimes also used to refer to the "network of merchants, bankers and craftsmen" who work that area...
s, can also be found in large enclosed spaces, instead of on a street.
Arrival of the market
Traders travel the length and breadth of the country to attend markets,often travelling during the night or early hours,turning market squares and streets in to vibrant colourful places. At many markets(gaffs)especially the smaller sites each trader arrives (pulls on) to the market at an allotted time and the build up is like clockwork. As one trader has set up and is ready to park another pulls on to build his stall up—all will be ready to open when the public arrive.
England's chartered markets and fairs
Many of the older historic markets carry a "charter" which gives that particular market certain rights and protection. For example, another market can't be held on the same day within a certain distance of a "chartered market". These were awarded by kings to markets and fairs all over England, and to this day are guarded by market traders and showmen.
Britain's market traders
As the first real form of retailing,not a great deal has actually changed. Many people have tried their hand at Market trading and some have made vast fortunes, Marks and Spencers, Tesco, New Look all started from a barrow or stall. The life is tough and the hours can be very long but there are certain families who have been involved with the industry,for many generations and usually linked to the same trade or line. Halkets is one of these, based around Stoke on Trent,are famous for selling "pots" (china and pottery) at markets and fairs up and down the country. Benjamin is also another old family name connected with the markets and fairs,these seem to still operate around the London and Oxford areas and are involved with the selling of small leather goods,handbags and lugggage.
Greece
Street markets in
Greece
Greece
Greece , officially the Hellenic Republic , and historically Hellas or the Republic of Greece in English, is a country in southeastern Europe....
are called laikes agores (λαϊκές αγορές) in plural, or λαϊκή αγορά (laiki agora) in singular, meaning "people's market". They are very common all over Greece, including the capital,
Athens
Athens
Athens , is the capital and largest city of Greece. Athens dominates the Attica region and is one of the world's oldest cities, as its recorded history spans around 3,400 years. Classical Athens was a powerful city-state...
, and its suburbs. Regular (weekly) morning markets sell mostly fresh produce from farming cooperatives - fruit, vegetables, fish and flowers/plants. Some household items and prepared foods are often available.
Annual street markets (panigyri(a)) occur around churches on the day of their patron saint. These take place in the evenings and have a more festive character, often involving attractions and food stalls. The goods sold range from clothing and accessories to household items, furniture, toys and trinkets. Athens also has several bazaars/enclosed markets.
Hong Kong
See: markets in Hong Kong
Street markets in
Hong Kong
Hong Kong
Hong Kong is one of two Special Administrative Regions of the People's Republic of China , the other being Macau. A city-state situated on China's south coast and enclosed by the Pearl River Delta and South China Sea, it is renowned for its expansive skyline and deep natural harbour...
are held all the days except few traditional Chinese holidays like
Chinese New Year
Chinese New Year
Chinese New Year – often called Chinese Lunar New Year although it actually is lunisolar – is the most important of the traditional Chinese holidays. It is an all East and South-East-Asia celebration...
. Stalls opened at two sides of a street were required to have licenses issued by the Hong Kong Government. In Hong Kong there are street markets of various kinds such as fresh foods, clothing, cooked foods, flowers, and even electronics. The earliest form of markets is known as Gaa si. Some of them are gradually being replaced by shopping centres, markets in municipal service buildings, and
supermarket
Supermarket
A supermarket, a form of grocery store, is a self-service store offering a wide variety of food and household merchandise, organized into departments...
s, while some became tourist attractions like
Tung Choi Street
Tung Choi Street
Tung Choi Street is a street situated between Boundary Street and Dundas Street in Mong Kok, Kowloon, Hong Kong. Its southern section, popularly known as Ladies' Market or Ladies' Street , is one of the most well-known street markets in Hong Kong, where various kinds of products are available for...
and
Apliu Street
Apliu Street
Apliu Street is a street in the Sham Shui Po, Kowloon, Hong Kong. It runs parallel to Cheung Sha Wan Road between Yen Chow Street and Nam Cheong Street. An easy way to reach it is to get off at the MTR Sham Shui Po Station...
.
London
See: markets in London
Some examples of street markets include
Berwick Street Market
Berwick Street Market
Berwick Street Market is a small market on Berwick Street in the heart of Soho, London, England, selling mainly fruit and vegetables and general goods. It is open Monday to Saturday from 9am until 6pm.-History:Berwick Street was built between 1687 and 1703...
,
Broadway Market
Broadway Market
Broadway Market is a street running from London Fieldsto the Regent's Canal in Haggerston in the London Borough of Hackney, east London.Before the late 20th century it was the site of a busy fruit and vegetable market, but this slowly dwindled over time - in the early 2000s, market activity was...
,
Camden Market
Camden Market
The Camden Markets are a number of adjoining large markets in Camden Town near the Hampstead Road Lock of the Regent's Canal , often called collectively "Camden Market" or "Camden Lock". The stalls sell crafts, clothing, bric-a-brac, fast food, and other things...
,
East Street Market
East Street Market
East Street Market also known locally as 'The Lane', or 'East Lane', is a busy street market in Walworth in South London. It is large and vibrant and is good for African and Caribbean fruit and vegetables, material and household goods.-Location:...
and Portobello Road Market. There are many markets in London just a few maentioned above but the most popular is Borough Market which sell most fresh produce as well as having a bakery.
North America
Farmers' market
Farmers' market
A farmers' market consists of individual vendors—mostly farmers—who set up booths, tables or stands, outdoors or indoors, to sell produce, meat products, fruits and sometimes prepared foods and beverages...
s are usually held outdoors, in public spaces, where local
farmer
Farmer
A farmer is a person engaged in agriculture, who raises living organisms for food or raw materials, generally including livestock husbandry and growing crops, such as produce and grain...
s can sell produce to the public. They are increasing in the
United States
United States
The United States of America is a federal constitutional republic comprising fifty states and a federal district...
and
Canada
Canada
Canada is a North American country consisting of ten provinces and three territories. Located in the northern part of the continent, it extends from the Atlantic Ocean in the east to the Pacific Ocean in the west, and northward into the Arctic Ocean...
.
Turkey
Street markets are called shortly pazar in
Turkish
Turkish language
Turkish is a language spoken as a native language by over 83 million people worldwide, making it the most commonly spoken of the Turkic languages. Its speakers are located predominantly in Turkey and Northern Cyprus with smaller groups in Iraq, Greece, Bulgaria, the Republic of Macedonia, Kosovo,...
and usually named after the name of the day since they are only installed at around 05:00 on that specific day and ended on same day around 18:00, in every week. Every district in Turkey has its own open market where people can choose and buy from a very wide range of products, from fresh fruits and vegetables to clothing, from traditional
white cheese
White cheese
White cheese may refer to:*Beyaz peynir, a salty, white cheese made from unpasteurized sheep milk. The cheese has a slightly grainy appearance and is similar to Greek feta cheese*Feta, a brined curd cheese traditionally made in Greece...
(which some people may consider
feta
Feta
Feta is a brined curd cheese traditionally made in Greece. Feta is an aged crumbly cheese, commonly produced in blocks, and has a slightly grainy texture. It is used as a table cheese, as well as in salads Feta is a brined curd cheese traditionally made in Greece. Feta is an aged crumbly cheese,...
-like) to household items. In
Istanbul
Istanbul
Istanbul , historically known as Byzantium and Constantinople , is the largest city of Turkey. Istanbul metropolitan province had 13.26 million people living in it as of December, 2010, which is 18% of Turkey's population and the 3rd largest metropolitan area in Europe after London and...
area Wednesday Pazar of
Fatih
Fatih
Fatih is a municipality and district in Istanbul, Turkey that encompasses most of the peninsula coinciding with historic Constantinople. In 2009, the district of Eminönü, formerly a separate municipality located at the tip of the peninsula, was merged into Fatih...
district, Tuesday Pazar of
Kadıköy
Kadiköy
Kadıköy is a large, populous, and cosmopolitan district of İstanbul, Turkey on the Asian side of the Sea of Marmara, facing the historic city centre on the European side of the Bosporus...
and Friday Pazar of
Ortaköy
Ortaköy
Ortaköy is a neighbourhood, formerly a small village, within the Beşiktaş district of Istanbul, Turkey, located in the middle of the European bank of the Bosphorus....
are the most famous and crowded open markets of the city.
Turkey has also some very active closed or half-open markets like Kapalıçarşı or
Spice Bazaar
Spice Bazaar, Istanbul
The Spice Bazaar, in Istanbul, Turkey is one of the oldest bazaars in the city. Located in Fatih, in the neighborhood of Eminönü, it is the second largest covered shopping complex after the Grand Bazaar.-History:...
.