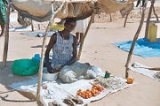 Marketplace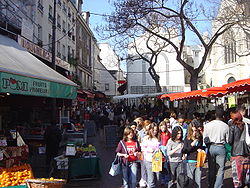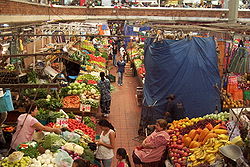 A
marketplace
is the space, actual,
virtual
Virtual (computing)
The word virtual has been applied to computing and information technology with various meanings.It is used of software systems that act as if they were hardware systems , of computer-generated simulations of reality , and of internet gaming environments wherein entire worlds are created or the...
or metaphorical, in which a
market
Market
A market is one of many varieties of systems, institutions, procedures, social relations and infrastructures whereby parties engage in exchange. While parties may exchange goods and services by barter, most markets rely on sellers offering their goods or services in exchange for money from buyers...
operates. The term is also used in a
trademark
Trademark
A trademark, trade mark, or trade-mark is a distinctive sign or indicator used by an individual, business organization, or other legal entity to identify that the products or services to consumers with which the trademark appears originate from a unique source, and to distinguish its products or...
law
Law
Law is a system of rules and guidelines which are enforced through social institutions to govern behavior, wherever possible. It shapes politics, economics and society in numerous ways and serves as a social mediator of relations between people. Contract law regulates everything from buying a bus...
context to denote the actual consumer environment, ie. the 'real world' in which products and services are provided and consumed.
Marketplaces and street markets
A marketplace is a location where goods and services are exchanged. The traditional
market square
Market square
The market square is a feature of many European and colonial towns. It is an open area where market stalls are traditionally set out for trading, commonly on one particular day of the week known as market day....
is a city square where traders set up stalls and buyers browse the merchandise. This kind of market is very old, and countless such markets are still in operation around the whole world.
The Roman term for market, still in use in a related sense, is
forum
. The modern
shopping mall
Shopping mall
A shopping mall, shopping centre, shopping arcade, shopping precinct or simply mall is one or more buildings forming a complex of shops representing merchandisers, with interconnecting walkways enabling visitors to easily walk from unit to unit, along with a parking area — a modern, indoor version...
can be seen as an extension of this concept.
Wholesale markets
Wholesale marketing
Wholesale marketing
The consumption and production of marketed food are spatially separated. Production is primarily in rural areas whilst consumption is in urban areas. Agricultural marketing is the process that overcomes this separation, allowing produce to be moved from an area of surplus to one of need...
can take place at a market which primarily sells to traders such as caterers and small shopkeepers, rather than to members of the public, although members of the public are not necessarily excluded.
London
London
London is the capital city of :England and the :United Kingdom, the largest metropolitan area in the United Kingdom, and the largest urban zone in the European Union by most measures. Located on the River Thames, London has been a major settlement for two millennia, its history going back to its...
,
England
England
England is a country that is part of the United Kingdom. It shares land borders with Scotland to the north and Wales to the west; the Irish Sea is to the north west, the Celtic Sea to the south west, with the North Sea to the east and the English Channel to the south separating it from continental...
has several centuries old wholesale markets such as Smithfield Market and
Billingsgate Fish Market
Billingsgate Fish Market
Situated in East London, Billingsgate Fish Market is the United Kingdom's largest inland fish market. It takes its name from Billingsgate, a ward in the south-east of the City of London, where the riverside market was originally established...
.
Internet Marketplaces
The growing prevalence of
Internet
Internet
The Internet is a global system of interconnected computer networks that use the standard Internet protocol suite to serve billions of users worldwide...
access has enabled new markets to emerge online. One example is
eBay
EBay
eBay Inc. is an American internet consumer-to-consumer corporation that manages eBay.com, an online auction and shopping website in which people and businesses buy and sell a broad variety of goods and services worldwide...
, a globally available auction house for products. The Internet has also allowed other marketplaces to thrive by connecting buyers and sellers from disparate locations. The formation of online marketplaces often occurs quickly in response to social or economic trends.
Craigslist
Craigslist
Craigslist is a centralized network of online communities featuring free online classified advertisements, with sections devoted to jobs, housing, personals, for sale, services, community, gigs, résumés, and discussion forums....
,
Pricefalls, LLC
Pricefalls, LLC
Pricefalls, LLC is an American Internet company that manages Pricefalls.com, an on-line reverse auction website that is based on a Dutch Auction or descending pricing model. Pricefalls acts as a sales channel for small- to medium-size businesses who wish to sell their products in an online...
and Markets Central are other websites that allow the public to trade goods and services. Internet marketplaces can further be categorized as
B2B
Business-to-business
Business-to-business describes commerce transactions between businesses, such as between a manufacturer and a wholesaler, or between a wholesaler and a retailer...
, B2C and
C2C
Consumer-to-consumer
Consumer-to-consumer electronic commerce involves the electronically facilitated transactions between consumers through some third party. A common example is the online auction, in which a consumer posts an item for sale and other consumers bid to purchase it; the third party generally charges a...
marketplaces.
See also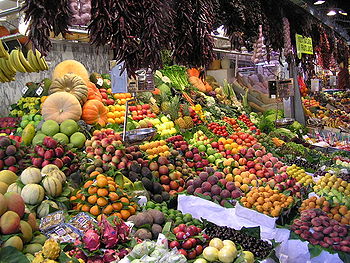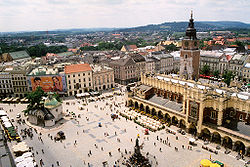 Agricultural Marketing

Agricultural marketing

Agricultural marketing covers the services involved in moving an agricultural product from the farm to the consumer. Numerous interconnected activities are involved in doing this, such as planning production, growing and harvesting, grading, packing, transport, storage, agro- and food processing,...



Bazaar

Bazaar

A bazaar , Cypriot Greek: pantopoula) is a permanent merchandising area, marketplace, or street of shops where goods and services are exchanged or sold. The term is sometimes also used to refer to the "network of merchants, bankers and craftsmen" who work that area...



:Category:Market houses
Fish market

Fish market

A fish market is a marketplace used for marketing fish products. It can be dedicated to wholesale trade between fishermen and fish merchants, or to the sale of seafood to individual consumers, or to both...



Flea market

Flea market

A flea market or swap meet is a type of bazaar where inexpensive or secondhand goods are sold or bartered. It may be indoors, such as in a warehouse or school gymnasium; or it may be outdoors, such as in a field or under a tent...



Marketspace

Marketspace

Marketspace - an information and communication based electronic exchange environment - is a relatively new concept in marketing. Since physical boundaries no longer interfere with buy/sell decisions, the world has grown into several industry specific marketspaces which are integration of...



Market square

Market square

The market square is a feature of many European and colonial towns. It is an open area where market stalls are traditionally set out for trading, commonly on one particular day of the week known as market day....



Market town

Market town

Market town or market right is a legal term, originating in the medieval period, for a European settlement that has the right to host markets, distinguishing it from a village and city...



Mercado
Roman Forum

Roman Forum

The Roman Forum is a rectangular forum surrounded by the ruins of several important ancient government buildings at the center of the city of Rome. Citizens of the ancient city referred to this space, originally a marketplace, as the Forum Magnum, or simply the Forum...



Souq
Street market

Street market

A street market is an outdoor market such as traditionally held in a market square or in a market town, and often held only on particular days of the week...



Freelance marketplace

Freelance marketplace

Freelance marketplaces are websites that match buyers and sellers of services provided via the internet. Service providers, or sellers, create a profile where they include a description of the services which they offer, examples of their work and in some cases information about their rates...



Public exchange

Public exchange

Public exchanges are when you trade with public people, meaning anyone can trade with you, if they want to. Public Exchanges are trading venues open to all interested parties that use a common technology platform and that are usually run by third parties or industry consortia...



External links