 Fusion cuisine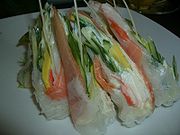 Fusion cuisine
combines elements of various
culinary traditions
Cuisine
Cuisine is a characteristic style of cooking practices and traditions, often associated with a specific culture. Cuisines are often named after the geographic areas or regions that they originate from...
while not being categorized per any one particular cuisine style, and can pertain to innovations in many contemporary restaurant cuisines since the 1970s.
Categories and types
Fusion cuisine is general term for the combination of various forms of cookery, and the concept can take several forms. One approach is regional fusion that combines different cuisines of a region or sub-region into a single eating experience. Of this sort, Asian fusion
restaurant
Restaurant
A restaurant is an establishment which prepares and serves food and drink to customers in return for money. Meals are generally served and eaten on premises, but many restaurants also offer take-out and food delivery services...
s have become popular in many parts of the United States and United Kingdom, often featuring
South Asian
South Asian cuisine
South Asian cuisine, also known as Desi cuisine, includes the cuisines from the Indian subcontinent. It has roots in South Asia, including practices taken from the Hindu beliefs practiced by the large population found in the region, alongside influences from neighbouring regions and cultures,...
, East Asian, and South-East Asian dishes alongside one another and offering dishes that are inspired combinations of such cuisines.
In Australia, due to the increasing influx of migrants, fusion cuisine is being reinvented and is becoming increasingly the norm at numerous cafes and restaurants; with Melbourne and Sydney now being considered as some of the best cities in the world with regard to the quality and creativity of Asian-fusion restaurants.
Another incarnation of fusion cuisine is a more
eclectic
Eclecticism
Eclecticism is a conceptual approach that does not hold rigidly to a single paradigm or set of assumptions, but instead draws upon multiple theories, styles, or ideas to gain complementary insights into a subject, or applies different theories in particular cases.It can sometimes seem inelegant or...
approach, featuring original dishes using varieties of ingredients from various cuisines and regions and combining them. Such a restaurant might feature a wide variety of dishes inspired by a combination of various regional cuisines with new ideas.
A third approach uses foods with a form based on one cuisine, but prepared using ingredients and flavors inherent to another cuisine or cuisines. For instance,
pizza
Pizza
Pizza is an oven-baked, flat, disc-shaped bread typically topped with a tomato sauce, cheese and various toppings.Originating in Italy, from the Neapolitan cuisine, the dish has become popular in many parts of the world. An establishment that makes and sells pizzas is called a "pizzeria"...
made with cheddar and pepper jack cheese, salsa,
refried beans
Refried beans
Refried beans is a dish of cooked and mashed beans and is a traditional staple of Mexican and Tex-Mex cuisine, although each cuisine has a somewhat different approach when making the dish.-Ingredients and preparation:...
and other common taco ingredients is often marketed as "
Taco
Taco
A taco is a traditional Mexican dish composed of a corn or wheat tortilla folded or rolled around a filling. A taco can be made with a variety of fillings, including beef, chicken, seafood, vegetables and cheese, allowing for great versatility and variety...
Pizza" or a similar concept, and is a fusion of Italian (pizza) and Mexican cuisines. Another example of this are
Korean taco
Korean taco
Korean tacos are a fusion dish popular in the U.S. State of California, often as street food, consisting of a Korean-style filling, typically bulgogi, placed on top of small traditional Mexican corn tortillas...
s. Similar approaches have been used for fusion-
sushi
Sushi
is a Japanese food consisting of cooked vinegared rice combined with other ingredients . Neta and forms of sushi presentation vary, but the ingredient which all sushi have in common is shari...
, such as rolling maki with different types of rice and ingredients, e.g.
cheetos
Cheetos
Cheetos is a brand of cheese-flavored cornmeal snack made by Frito-Lay, a subsidiary of PepsiCo. Fritos creator Charles Elmer Doolin invented Cheetos in 1948, and began national distribution in the U.S. The initial success of Cheetos was a contributing factor to the merger between The Frito Company...
, curry and
basmati
Basmati
Basmati is a variety of long grain rice grown in India, Bangladesh and Pakistan, notable for its fragrance and delicate, nuanced flavour. Its name means "the fragrant one" in Sanskrit, but it can also mean "the soft rice," and the word coincidentally means "my smile" in Arabic...
rice, cheese and salsa sauce with
Spanish rice
Spanish rice
Mexican rice, also known in US as Spanish rice, is a side dish made from white rice, tomatoes, garlic, onions, parsley, cilantro and other ingredients. One common preparation is to sauté the rice in a skillet until golden brown, then simmer it in chicken broth or stock...
, or spiced ground lamb and capers rolled with Greek-style rice and grape leaves (resembling inside-out dolmades).
Since fusion cuisine is a general term, it is legitimately applied to either sort of restaurant. While many diners feature dishes from Greek,
Italian
Italian cuisine
Italian cuisine has developed through centuries of social and political changes, with roots as far back as the 4th century BCE. Italian cuisine in itself takes heavy influences, including Etruscan, ancient Greek, ancient Roman, Byzantine, Jewish and Arab cuisines...
, and sometimes
Asian cuisine
Asian cuisine
Asian cuisine styles can be broken down into several tiny regional styles that have roots in the peoples and cultures of those regions. The major types can be roughly defined as East Asian with its origins in Imperial China and now encompassing modern Japan and the Korean peninsula; Southeast Asian...
s side-by-side, these restaurants are generally not considered fusion as they fail to combine any elements of the cooking styles and also have no over-arching fusion or eclectic theme.
Background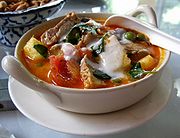 This type of restaurant's success depends on a number of factors. Among these are:
Clientele's (or prospective clientele's) cultural diversity

Diversity (politics)

In the political arena, the term diversity is used to describe political entities with members who have identifiable differences in their backgrounds or lifestyles....



Clientele's travel

Travel

Travel is the movement of people or objects between relatively distant geographical locations. 'Travel' can also include relatively short stays between successive movements.-Etymology:...


patterns and experiences.
Clientele's culinary sophistication and openness to new eating experiences.
Wolfgang Puck
Wolfgang Puck
Wolfgang Johannes Puck is an Austrian-American celebrity chef, restaurateur, businessman and occasional actor. Wolfgang Puck restaurants, catering services, cookbooks and licensed products are run by Wolfgang Puck Companies, with three divisions...
is considered as one of the pioneers of fusion cuisine. However, his restaurant "Chinois" was named after the term attributed to Richard Wing, who in the 1960s combined French and Chinese cooking at the former
Imperial Dynasty restaurant
Imperial Dynasty restaurant
The Imperial Dynasty restaurant was a five-star restaurant in Hanford, California. The restaurant was founded in 1883 in Hanford's Chinatown, and was run by the same family for four generations....
in
Hanford, California
Hanford, California
Hanford is an important commercial and cultural center in the south central San Joaquin Valley and is the county seat of Kings County, California. It is the principal city of the Hanford-Corcoran, California Metropolitan Statistical Area , which encompasses all of Kings County, including the cities...
.
A sampling from the menu of an
American
Cuisine of the United States
American cuisine is a style of food preparation originating from the United States of America. European colonization of the Americas yielded the introduction of a number of ingredients and cooking styles to the latter...
-
European
European cuisine
European cuisine, or alternatively Western cuisine, is a generalised term collectively referring to the cuisines of Europe and other Western countries...
-
Japanese
Japanese cuisine
Japanese cuisine has developed over the centuries as a result of many political and social changes throughout Japan. The cuisine eventually changed with the advent of the Medieval age which ushered in a shedding of elitism with the age of shogun rule...
restaurant in California might include the following items:
Sake cocktail

Cocktail

A cocktail is an alcoholic mixed drink that contains two or more ingredients—at least one of the ingredients must be a spirit.Cocktails were originally a mixture of spirits, sugar, water, and bitters. The word has come to mean almost any mixed drink that contains alcohol...


s
Salad with crisp nori

Nori

is the Japanese name for various edible seaweed species of the red alga Porphyra including most notably P. yezoensis and P. tenera, sometimes called laver. Finished products are made by a shredding and rack-drying process that resembles papermaking...


topping, and a miso

Miso

is a traditional Japanese seasoning produced by fermenting rice, barley and/or soybeans, with salt and the fungus , the most typical miso being made with soy. The result is a thick paste used for sauces and spreads, pickling vegetables or meats, and mixing with dashi soup stock to serve as miso...


-cilantro vinaigrette dressing
Rock shrimp dumplings
Eel

Eel

Eels are an order of fish, which consists of four suborders, 20 families, 111 genera and approximately 800 species. Most eels are predators...


, lettuce

Lettuce

Lettuce is a temperate annual or biennial plant of the daisy family Asteraceae. It is most often grown as a leaf vegetable. It is eaten either raw, notably in salads, sandwiches, hamburgers, tacos, and many other dishes, or cooked, as in Chinese cuisine in which the stem becomes just as important...


and tomato

Tomato

The word "tomato" may refer to the plant or the edible, typically red, fruit which it bears. Originating in South America, the tomato was spread around the world following the Spanish colonization of the Americas, and its many varieties are now widely grown, often in greenhouses in cooler...


sushi

Sushi

is a Japanese food consisting of cooked vinegared rice combined with other ingredients . Neta and forms of sushi presentation vary, but the ingredient which all sushi have in common is shari...


handroll
Poached

Poaching (cooking)

Poaching is the process of gently simmering food in liquid, generally milk, stock or wine.-Utilization:Poaching is particularly suitable for delicate food, such as eggs, poultry, fish and fruit, which might easily fall apart or dry out...


tofu

Tofu

is a food made by coagulating soy milk and then pressing the resulting curds into soft white blocks. It is part of East Asian and Southeast Asian cuisine such as Chinese, Japanese, Korean, Indonesian, Vietnamese, and others. There are many different varieties of tofu, including fresh tofu and tofu...