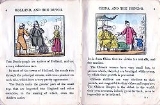 Mores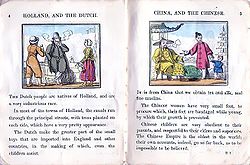 Mores
, in
sociology
Sociology
Sociology is the study of society. It is a social science—a term with which it is sometimes synonymous—which uses various methods of empirical investigation and critical analysis to develop a body of knowledge about human social activity...
, are any given society's particular
norms
Norm (sociology)
Social norms are the accepted behaviors within a society or group. This sociological and social psychological term has been defined as "the rules that a group uses for appropriate and inappropriate values, beliefs, attitudes and behaviors. These rules may be explicit or implicit...
,
virtue
Virtue
Virtue is moral excellence. A virtue is a positive trait or quality subjectively deemed to be morally excellent and thus is valued as a foundation of principle and good moral being....
s, or
values
Value (personal and cultural)
A personal or cultural value is an absolute or relative ethical value, the assumption of which can be the basis for ethical action. A value system is a set of consistent values and measures. A principle value is a foundation upon which other values and measures of integrity are based...
. The word
mores
(ˈmɔəreɪz or ˈmɔəriːz, from the
Latin
Latin
Latin is an Italic language originally spoken in Latium and Ancient Rome. It, along with most European languages, is a descendant of the ancient Proto-Indo-European language. Although it is considered a dead language, a number of scholars and members of the Christian clergy speak it fluently, and...
plural
mōrēs
; singular
mōs
) is a
plurale tantum
Plurale tantum
A plurale tantum is a noun that appears only in the plural form and does not have a singular variant for referring to a single object...
term borrowed from Latin, which has been used in the English language since the 1890s.
Folkways
, in sociology, are any informal mores characterized by being followed through imitation and mild social pressure but not strictly enforced or put into law. The term
folkways
, introduced by
American
United States
The United States of America is a federal constitutional republic comprising fifty states and a federal district...
sociologist
William Graham Sumner
William Graham Sumner
William Graham Sumner was an American academic and "held the first professorship in sociology" at Yale College. For many years he had a reputation as one of the most influential teachers there. He was a polymath with numerous books and essays on American history, economic history, political...
in 1907, sees some use, especially in more modern sociology. A specific practice within a wider system of
mores
is known as a
custom
, so that this term is sometimes used as the approximate singular of "mores."
Mores derive from the established practices of a society rather than its written laws. They consist of shared understandings about the kinds of behavior likely to evoke approval, disapproval, toleration or sanction, within particular contexts.
Terminology
The English word
morality
Morality
Morality is the differentiation among intentions, decisions, and actions between those that are good and bad . A moral code is a system of morality and a moral is any one practice or teaching within a moral code...
comes from the same root, as does the noun
moral
. However, mores do not, as is commonly supposed, necessarily carry connotations of morality. Rather, morality can be seen as a subset of mores, held to be of central importance in view of their content, and often formalized in some kind of moral code.
The Greek term equivalent to Latin
mores
is
ethos
Ethos
Ethos is a Greek word meaning "character" that is used to describe the guiding beliefs or ideals that characterize a community, nation, or ideology. The Greeks also used this word to refer to the power of music to influence its hearer's emotions, behaviors, and even morals. Early Greek stories of...
(εθος, ηθος). As with the relation of
mores
to
morality
,
ethos
is the basis of the term
ethics
Ethics
Ethics, also known as moral philosophy, is a branch of philosophy that addresses questions about morality—that is, concepts such as good and evil, right and wrong, virtue and vice, justice and crime, etc.Major branches of ethics include:...
, but does not itself carry connotations of morality as much as of customary proper behavior peculiar to a given society.
The Common Germanic equivalent of the term is
*sidu-
:
Gothic
Gothic language
Gothic is an extinct Germanic language that was spoken by the Goths. It is known primarily from the Codex Argenteus, a 6th-century copy of a 4th-century Bible translation, and is the only East Germanic language with a sizable Text corpus...
sidus
,
Old Norse
Old Norse
Old Norse is a North Germanic language that was spoken by inhabitants of Scandinavia and inhabitants of their overseas settlements during the Viking Age, until about 1300....
siðr
(whence the Icelandic
siður
), Old English
sidu, seodu, siodu
,
Old High German
Old High German
The term Old High German refers to the earliest stage of the German language and it conventionally covers the period from around 500 to 1050. Coherent written texts do not appear until the second half of the 8th century, and some treat the period before 750 as 'prehistoric' and date the start of...
situ, sito
. The Germanic word is cognate with Greek
ethos
etymologically, continuing a
PIE
Pie
A pie is a baked dish which is usually made of a pastry dough casing that covers or completely contains a filling of various sweet or savoury ingredients....
*sedhos
.
The
Middle English
Middle English
Middle English is the stage in the history of the English language during the High and Late Middle Ages, or roughly during the four centuries between the late 11th and the late 15th century....
Ormulum
Ormulum
The Ormulum or Orrmulum is a twelfth-century work of biblical exegesis, written by a monk named Orm and consisting of just under 19,000 lines of early Middle English verse...
still had
sedeful
"modest, virtuous, chaste", but the word was extinct by the
Early Modern English
Early Modern English
Early Modern English is the stage of the English language used from about the end of the Middle English period to 1650. Thus, the first edition of the King James Bible and the works of William Shakespeare both belong to the late phase of Early Modern English...
period. It survives in modern Scandinavian and Continental Germanic languages.
Modern German
Sitte
translates to "custom, convention" but also to "decency"; the abstract noun
Sittlichkeit
translates to "morals, morality". Likewise, the Modern Dutch
:wikt:zeden
also refers to morality. The related term
:wikt:zindelijkheid
means the capability to control ones own natural urges, especially used in relation to urination and defaecation in children and animals.
Anthropology
The meaning of all these terms extend to all customs of proper behavior in a given society, both religious and profane, from more trivial
conventional
Convention (norm)
A convention is a set of agreed, stipulated or generally accepted standards, norms, social norms or criteria, often taking the form of a custom....
aspects of costume,
etiquette
Etiquette
Etiquette is a code of behavior that delineates expectations for social behavior according to contemporary conventional norms within a society, social class, or group...
or
politeness
Politeness
Politeness is best expressed as the practical application of good manners or etiquette. It is a culturally-defined phenomenon, and therefore what is considered polite in one culture can sometimes be quite rude or simply eccentric in another cultural context....
, "folkways" enforced by gentle social pressure, but going beyond mere "folkways" or conventions in including moral codes and notions of
justice
Justice
Justice is a concept of moral rightness based on ethics, rationality, law, natural law, religion, or equity, along with the punishment of the breach of said ethics; justice is the act of being just and/or fair.-Concept of justice:...
down to strict
taboo
Taboo
A taboo is a strong social prohibition relating to any area of human activity or social custom that is sacred and or forbidden based on moral judgment, religious beliefs and or scientific consensus. Breaking the taboo is usually considered objectionable or abhorrent by society...
s, behavior that is unthinkable within the society in question, very commonly including
incest
Incest
Incest is sexual intercourse between close relatives that is usually illegal in the jurisdiction where it takes place and/or is conventionally considered a taboo. The term may apply to sexual activities between: individuals of close "blood relationship"; members of the same household; step...
and
murder
Murder
Murder is the unlawful killing, with malice aforethought, of another human being, and generally this state of mind distinguishes murder from other forms of unlawful homicide...
, but also the commitment of outrages specific to the individual society such as
blasphemy
Blasphemy
Blasphemy is irreverence towards religious or holy persons or things. Some countries have laws to punish blasphemy, while others have laws to give recourse to those who are offended by blasphemy...
. Such religious or sacral customs may be unpredictable and vary completely from one culture to another: while uttering the name of God may be a taboo in one culture, uttering it as often as possible may be considered pious in the extreme in another.
While cultural universals are by definition part of the
mores
of every society (hence also called "empty universals"), the customary norms specific to a given society are a defining aspect of the
cultural identity
Cultural identity
Cultural identity is the identity of a group or culture, or of an individual as far as one is influenced by one's belonging to a group or culture. Cultural identity is similar to and has overlaps with, but is not synonymous with, identity politics....
of a ethnicity or a
nation
Nation
A nation may refer to a community of people who share a common language, culture, ethnicity, descent, and/or history. In this definition, a nation has no physical borders. However, it can also refer to people who share a common territory and government irrespective of their ethnic make-up...
. Coping with the differences between two sets of cultural conventions is a question of
intercultural competence
Intercultural competence
Intercultural competence is the ability of successful communication with people of other cultures.A person who is interculturally competent captures and understands, in interaction with people from foreign cultures, their specific concepts in perception, thinking, feeling and acting...
.
Differences in the
mores
of various nations are at the root of
ethnic stereotype
Ethnic stereotype
An ethnic stereotype is a generalized representation of an ethnic group, composed of what are thought to be typical characteristics of members of the group.Ethnic stereotypes are commonly portrayed in ethnic jokes.-Ethnic stereotypes:*African Americans...
, or in the case of reflection upon one's own
mores
, auto stereotypes.
See also
Value (personal and cultural)

Value (personal and cultural)

A personal or cultural value is an absolute or relative ethical value, the assumption of which can be the basis for ethical action. A value system is a set of consistent values and measures. A principle value is a foundation upon which other values and measures of integrity are based...



Custom (law)

Custom (law)

Custom in law is the established pattern of behavior that can be objectively verified within a particular social setting. A claim can be carried out in defense of "what has always been done and accepted by law." Customary law exists where:...



Enculturation

Enculturation

Enculturation is the process by which a person learns the requirements of the culture by which he or she is surrounded, and acquires values and behaviours that are appropriate or necessary in that culture. As part of this process, the influences which limit, direct, or shape the individual include...



Piety

Piety

In spiritual terminology, piety is a virtue that can mean religious devotion, spirituality, or a combination of both. A common element in most conceptions of piety is humility.- Etymology :...



Euthyphro dilemma

Euthyphro dilemma

The Euthyphro dilemma is found in Plato's dialogue Euthyphro, in which Socrates asks Euthyphro: "Is the pious loved by the gods because it is pious, or is it pious because it is loved by the gods?"...


, discussing the conflict of sacral and secular mores
Nihonjinron

Nihonjinron

The term literally means theories/discussions about the Japanese. The term refers to a genre of texts that focuses on issues of Japanese national and cultural identity. The literature is vast, ranging over such varied fields as sociology, psychology, history, linguistics, philosophy, and even...


"Japanese mores"
Habitus (sociology)
Culture-bound syndrome

Culture-bound syndrome

In medicine and medical anthropology, a culture-bound syndrome, culture-specific syndrome or folk illness is a combination of psychiatric and somatic symptoms that are considered to be a recognizable disease only within a specific society or culture...



Political and Moral Sociology: see Luc Boltanski

Luc Boltanski

Luc Boltanski is the leading figure in the new "pragmatic" school of French sociology. He is a professor at the École des hautes études en sciences sociales, Paris, and the founder of the Groupe de Sociologie Politique et Morale....


and French Pragmatism