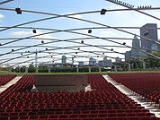 Loudspeaker
A
loudspeaker
is an electroacoustic
transducer
Transducer
A transducer is a device that converts one type of energy to another. Energy types include electrical, mechanical, electromagnetic , chemical, acoustic or thermal energy. While the term transducer commonly implies the use of a sensor/detector, any device which converts energy can be considered a...
that produces
sound
Sound
Sound is a mechanical wave that is an oscillation of pressure transmitted through a solid, liquid, or gas, composed of frequencies within the range of hearing and of a level sufficiently strong to be heard, or the sensation stimulated in organs of hearing by such vibrations.-Propagation of...
in response to an electrical
audio signal
Audio signal
An audio signal is an analog representation of sound, typically as an electrical voltage. Audio signals may be synthesized directly, or may originate at a transducer such as a microphone, musical instrument pickup, phonograph cartridge, or tape head. Loudspeakers or headphones convert an electrical...
input. Non-electrical loudspeakers were developed as accessories to
telephone
Telephone
The telephone , colloquially referred to as a phone, is a telecommunications device that transmits and receives sounds, usually the human voice. Telephones are a point-to-point communication system whose most basic function is to allow two people separated by large distances to talk to each other...
systems, but electronic amplification by
vacuum tube
Vacuum tube
In electronics, a vacuum tube, electron tube , or thermionic valve , reduced to simply "tube" or "valve" in everyday parlance, is a device that relies on the flow of electric current through a vacuum...
made loudspeakers more generally useful. The most common form of loudspeaker uses a paper cone supporting a voice coil
electromagnet
Electromagnet
An electromagnet is a type of magnet in which the magnetic field is produced by the flow of electric current. The magnetic field disappears when the current is turned off...
acting on a permanent magnet, but many other types exist.