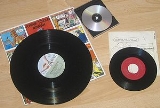 Gramophone record
A gramophone record, commonly known as a phonograph record (in
American English
American English
American English is a set of dialects of the English language used mostly in the United States. Approximately two-thirds of the world's native speakers of English live in the United States....
), vinyl record (in reference to
vinyl
Vinyl
A vinyl compound is any organic compound that contains a vinyl group ,which are derivatives of ethene, CH2=CH2, with one hydrogen atom replaced with some other group...
, the material most commonly used after about 1950), or colloquially, a record, is an
analog
Analog signal
An analog or analogue signal is any continuous signal for which the time varying feature of the signal is a representation of some other time varying quantity, i.e., analogous to another time varying signal. It differs from a digital signal in terms of small fluctuations in the signal which are...
sound
Sound
Sound is a mechanical wave that is an oscillation of pressure transmitted through a solid, liquid, or gas, composed of frequencies within the range of hearing and of a level sufficiently strong to be heard, or the sensation stimulated in organs of hearing by such vibrations.-Propagation of...
storage medium consisting of a flat disc with an inscribed, modulated
spiral
Spiral
In mathematics, a spiral is a curve which emanates from a central point, getting progressively farther away as it revolves around the point.-Spiral or helix:...
groove. The groove usually starts near the periphery and ends near the center of the disc (the opposite of the spiral of pits in the CD medium, which starts near the centre and works outwards).