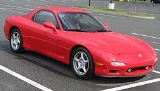 Mazda RX-7
Series 1 is commonly referred to as the "SA22C" from the first alphanumerics of the
vehicle identification number
Vehicle identification number
A Vehicle Identification Number, commonly abbreviated to VIN, is a unique serial number used by the automotive industry to identify individual motor vehicles. VINs were first used in 1954...
. This series of RX-7 had exposed steel bumpers and a high-mounted indentation-located license plate, called by Werner Buhrer of
Road & Track
Road & Track
Road & Track is an American automotive enthusiast magazine. It is owned by Hearst Magazines, and is published monthly. The editorial offices are located in Newport Beach, California.-History:...
magazine a "Baroque depression."
In 1980 Mazda released 2500 special North American models known as the LS (Leather Sport). This package was essentially an uprated "GS" model with added LS badges on each B-pillar, unequal width dual gold pinstripe detail, full special brown leather upholstery, sunroof, AM/FM stereo radio, and LS-only gold center colored alloys. Two GS package options were also available; three speed automatic transmission and air conditioning. This model was only available in three different colors: Aurora White (1000 made), Brilliant Black (1000 made) and Solar Gold (500 made). Production estimates in parenthesis are widely accepted estimations per color, though no official production records are known to exist or to have been released, aside from the total combined production figure of 2500 units.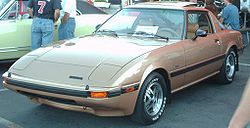 The Series 2 (1981–1983) had integrated plastic-covered bumpers, wide black rubber body side moldings, wraparound taillights and updated engine control components. The GSL package provided optional 4-wheel disc brakes, front ventilated (Australian model) and clutch-type rear
limited slip differential
Limited slip differential
A limited slip differential is a type of differential gear arrangement that allows for some difference in angular velocity of the output shafts, but imposes a mechanical bound on the disparity...
(LSD). Known as the "FB" in North America after the
US Department of Transportation
United States Department of Transportation
The United States Department of Transportation is a federal Cabinet department of the United States government concerned with transportation. It was established by an act of Congress on October 15, 1966, and began operation on April 1, 1967...
mandated 17 digit Vehicle Identification Number changeover. For various other markets worldwide, the 1981-1985 RX-7 retained the 'SA22C' VIN prefix. In the UK, the 1978-1980 series 1 cars carried the SA code on the vehicle VIN but all later cars (1981-1983 series 3 & 1984-1985 series 3) carried the FB code and these 1st generation RX7's are known as the "FB". The license-plate surround looks much like Buhrer's "Styling Impressions."
The Series 3 (1984–1985) featured an updated lower front fascia. North American models received a different instrument cluster (the NA S3 RX-7 is the only rotary-engined car to not have a centrally mounted tachometer). GSL package was continued into this series, but Mazda introduced the GSL-SE sub-model. The GSL-SE had a
fuel injected
Fuel injection
Fuel injection is a system for admitting fuel into an internal combustion engine. It has become the primary fuel delivery system used in automotive petrol engines, having almost completely replaced carburetors in the late 1980s....
1.3 L 13B RE-EGI engine producing 135 hp (101 kW) and 135 lbft. GSL-SEs had much the same options as the GSL (clutch-type rear LSD and rear disc brakes), but the brake rotors were larger, allowing Mazda to use the more common lug nuts (versus bolts), and a new bolt pattern of 4x114.3 (4x4.5"). Also, they had upgraded suspension with stiffer springs and shocks. The external oil cooler was reintroduced, after being dropped in the 1983 model-year for the controversial "beehive" water-oil heat exchanger.
The 1984 RX-7 GSL has an estimated 29 highway miles per gallon (8.11 litres per 100 km) /19 estimated city miles per gallon (12.37 l/100 km). According to Mazda, its rotary engine, licensed by NSU-Wankel allowed the RX-7 GSL to accelerate from 0 to 50 (80 km/h) in 6.3 seconds.
Kelley Blue Book
Kelley Blue Book
Kelley Blue Book, headquartered in Irvine, California, is the United States' largest automotive vehicle valuation company. The company's website is a source for new and used vehicle pricing and information...
, in its January–February 1984 issue, noted that a 1981 RX-7 GSL retained 93.4% of its original sticker price.
1985 - Mazda released in Australia the RX7 Finale - this was the last of the series and brought out in limited numbers. The Finale featured power options and a brass plaque mentioning the number the car was as well as "Last of a legend" on the plaque. The finale had special stickers and a blacked out section between the window & rear hatch.
The handling and
acceleration
Acceleration
In physics, acceleration is the rate of change of velocity with time. In one dimension, acceleration is the rate at which something speeds up or slows down. However, since velocity is a vector, acceleration describes the rate of change of both the magnitude and the direction of velocity. ...
of the car were noted to be of a high caliber for its day. This generation RX-7 had "live axle"
4-link
Multi-link suspension
A multi-link suspension is a type of vehicle suspension design typically used in independent suspensions, using three or more lateral arms, and one or more longitudinal arms....
rear suspension with
Watt's linkage
Watt's linkage
Watt's linkage is a type of mechanical linkage invented by James Watt in which the central moving point of the linkage is constrained to travel on an approximation to a straight line...
, a 50/50 weight ratio, and weighed under 2500 lb (1100 kg). It was the lightest generation of RX-7 ever produced. 12A-powered models accelerated from 0–60 mph in 9.2 s, and turned 0.779g (7.64 m/s²) laterally on a skidpad. The 12A engine produced 100 hp (75 kW) at 6000 rpm, allowing the car to reach speeds of over 120 miles per hour (193.1 km/h). Because of the smoothness inherent in the
Wankel rotary engine
Wankel engine
The Wankel engine is a type of internal combustion engine using an eccentric rotary design to convert pressure into a rotating motion instead of using reciprocating pistons. Its four-stroke cycle takes place in a space between the inside of an oval-like epitrochoid-shaped housing and a rotor that...
, little vibration or harshness was experienced at high rpm, so a buzzer was fitted to the
tachometer
Tachometer
A tachometer is an instrument measuring the rotation speed of a shaft or disk, as in a motor or other machine. The device usually displays the revolutions per minute on a calibrated analogue dial, but digital displays are increasingly common...
to warn the driver when the 7000 rpm redline was approaching.
The 12A engine has a long thin shaped combustion chamber, having a large surface area in relation to its volume. Therefore, combustion is cool, giving few oxides of nitrogen. However, the combustion is also incomplete, so there are large amounts of partly burned hydrocarbons and carbon monoxide. The exhaust is hot enough for combustion of these to continue into the exhaust. An engine driven pump supplies air into the exhaust to complete the burn of these chemicals. This is done in the "thermal reactor" chamber where the exhaust manifold would normally be on a conventional engine. Under certain conditions the pump injects air into the thermal reactor and at other times air is pumped through injectors into the exhaust ports. This fresh air is needed for more efficient and cleaner burning of the air/fuel mixture.sss.
Options and models varied from country to country. The gauge layout and interior styling in the Series 3 was only changed for North American versions. Additionally, North America was the only market to have offered the first generation RX-7 with the fuel injected 13B, model GSL-SE. A turbocharged (but non-
intercooled
Intercooler
An intercooler , or charge air cooler, is an air-to-air or air-to-liquid heat exchange device used on turbocharged and supercharged internal combustion engines to improve their volumetric efficiency by increasing intake air charge density through nearly isobaric cooling, which removes...
) 12A engine was available for the top-end model of Series 3 in Japan.
Sales were strong, with a total of 474,565 first generation cars produced; 377,878 were sold in the United States alone. In 2004,
Sports Car International
Sports Car International
Sports Car International was an automobile magazine in the United States published by Ross Periodicals Inc. that was focused on sports cars. The magazine was published from 1986 to 2008. Its business offices were located in Novato, California....
named this car #7 on its list of Top Sports Cars of the 1970s. In 1983, the RX-7 would appear on Car and Driver magazine's Ten Best list for the first time in 20 years
Second generation (FC)
The Series 4 (1986–1988) was available with a naturally aspirated, fuel-injected 13B-VDEI producing 146 hp (108 kW). An optional
turbocharged
Turbocharger
A turbocharger, or turbo , from the Greek "τύρβη" is a centrifugal compressor powered by a turbine that is driven by an engine's exhaust gases. Its benefit lies with the compressor increasing the mass of air entering the engine , thereby resulting in greater performance...
model, (1987-1988) known as the Turbo II in the American market, had 182 hp / 185 ps (135 kW). The Series 5 (1989–1992) featured updated styling and better engine management, as well as lighter rotors and a higher
compression ratio
Compression ratio
The 'compression ratio' of an internal-combustion engine or external combustion engine is a value that represents the ratio of the volume of its combustion chamber from its largest capacity to its smallest capacity...
, 9.7:1 for the naturally aspirated model, and 9.0:1 for the turbo model. The naturally aspirated Series 5 FC made 160
hp
Horsepower
Horsepower is the name of several units of measurement of power. The most common definitions equal between 735.5 and 750 watts.Horsepower was originally defined to compare the output of steam engines with the power of draft horses in continuous operation. The unit was widely adopted to measure the...
(119
kW
Watt
The watt is a derived unit of power in the International System of Units , named after the Scottish engineer James Watt . The unit, defined as one joule per second, measures the rate of energy conversion.-Definition:...
), while the Series 5 Turbo made 200 hp / 205 ps (147 kW).
The second generation RX-7 ("FC", VIN begins JM1FC3 or JMZFC1), still known as the Savanna RX-7 in Japan, featured a complete restyling reminiscent of the
Porsche 944
Porsche 944
The Porsche 944 is a sports car built by Porsche from 1982 to 1991. It was built on the same platform as the 924, although 924 production continued through 1988. The 944 was intended to last into the 1990s, but major revisions planned for a 944 S3 model were eventually rolled into the 968 instead,...
or
Porsche 924
Porsche 924
The Porsche 924 is an automobile produced by Porsche AG of Germany from 1976 to 1988. A two-door, 2+2 coupé, the 924 replaced the 914 as the company's entry-level model, and was the model that finally retired the 912. In production terms, the 924 was the first Porsche model powered by a...
. Mazda's stylists, led by Chief Project Engineer Akio Uchiyama, focused on the Porsche 944 for their inspiration in designing the FC because the new car was being styled primarily for the American market, where the majority of first generation RX-7's had been sold. This strategy was chosen after Uchiyama and others on the design team spent time in the United States studying owners of earlier RX-7's and other sports cars popular in the American market. The Porsche 944 was selling particularly well at the time and provided clues as to what sports-car enthusiasts might find compelling in future RX-7 styling and equipment. While the SA22/FB was a purer sports car, the FC tended toward the softer sport-tourer trends of its day. Handling was much improved, with less of the oversteer tendencies of the FB. The rear end design was vastly improved from the FB's live rear axle to a more modern, Independent Rear Suspension (rear axle). Steering was more precise, with
rack and pinion
Rack and pinion
A rack and pinion is a type of linear actuator that comprises a pair of gears which convert rotational motion into linear motion. A circular gear called "the pinion" engages teeth on a linear "gear" bar called "the rack"; rotational motion applied to the pinion causes the rack to move, thereby...
steering
Steering
Steering is the term applied to the collection of components, linkages, etc. which will allow a vessel or vehicle to follow the desired course...
replacing the old
recirculating ball
Recirculating ball
Recirculating ball, also known as recirculating ball and nut or worm and sector, is a steering mechanism commonly found in older automobiles, and some trucks...
steering of the FB.
Disc brake
Disc brake
The disc brake or disk brake is a device for slowing or stopping the rotation of a wheel while it is in motion.A brake disc is usually made of cast iron, but may in some cases be made of composites such as reinforced carbon–carbon or ceramic matrix composites. This is connected to the wheel and/or...
s also became standard, with some models (S4: GXL, GTU, Turbo II, Convertible; S5: GXL, GTUs, Turbo, Convertible) offering four-piston front brakes. The rear seats were optional in some models of the FC RX-7, but are not commonly found in the American Market. Mazda also introduced Dynamic Tracking Suspension System (DTSS) in the 2nd generation RX-7. The revised independent rear suspension incorporated special toe control hubs which were capable of introducing a limited degree of passive rear steering under cornering loads. The DTSS worked by allowing a slight amount of toe-out under normal driving conditions but induced slight toe-in under heavier cornering loads at around 0.5 G's or more; toe-out in the rear allows for a more responsive rotation of the rear, but toe-in allowed for a more stable rear under heavier cornering. Mazda also introduced Auto Adjusting Suspension (AAS) in the 2nd generation RX-7. The system changed damping characteristics according to the road and driving conditions. The system compensated for camber changes and provided anti-dive and anti-squat effects.
The Turbo 2 uses a turbo charger with a twin scroll design. The smaller primary chamber is engineered to cancel the turbo lag at low engine speeds. At higher revolutions the secondary chamber is opened, pumping out 33% more power than the naturally aspirated counterpart. The Turbo 2 also has an air-to-air intercooler which has a dedicated intake on the hood. The intake is slightly offset toward the left side of the hood.
Though about 80 lb (36 kg) heavier and more isolated than its predecessor, the FC continued to win accolades from the press. The FC RX-7 was
Motor Trend
Motor Trend
Motor Trend is an American automobile magazine. It first appeared in September 1949, issued by Petersen Publishing Company in Los Angeles, and bearing the tag line "The Magazine for a Motoring World". Petersen Publishing was sold to British publisher EMAP in 1998, who sold the former Petersen...
s
Import Car of the Year
Motor Trend Car of the Year
The Motor Trend Car of the Year is an award given by Motor Trend magazine, an American monthly that is published since 1949.- Background :...
for 1986, and the Turbo II was on Car and Driver magazine's Ten Best list for a second time in 1987.
In the Japanese market, only the turbo engine was available; the naturally aspirated version was allowed only as an export. This can be attributed to insurance companies penalizing turbo cars (thus restricting potential sales). This emphasis on containing horsepower and placating insurance companies to make RX-7's more affordable seems ironic in retrospect. Shortly after the discontinuance of the second generation RX-7's in 1992, an outright horsepower "arms race" broke out between sports car manufacturers, with higher and higher levels of power required to meet buyer demands. This rising horsepower phenomena arose from the US CAFE standards remaining stable while engine technologies marched forward rapidly.
Mazda sold 86,000 RX-7's in the US alone in 1986, its first model year, with sales peaking in 1988.
Australian Motors Mazda released a limited run of 250 'Sports' model Series 4 RX-7's; each with no power steering, power windows or rear wiper as an attempt to reduce the weight of the car.
In Japan, there was a special limited release of the FC called Infini with only 600 made for each year. Some special noted features for all Infini series are: infini logo on the back, upgraded suspension, upgraded ECU, higher horsepower, lightened weight, 15" BBS aluminum alloy wheels, Infini logo steering wheel, aero bumper kits, bronze colored window glass, floor bar on the passenger side, aluminum bonnet with scoop, flare and holder. The car was thought as the pinnacle of the RX-7 series (until the FD came out). The Infini IV came with other special items such as black bucket seats, 16" BBS wheels, Knee pads, and all the other items mentioned before. There are differing years for the Infini, which noted the series. Series I was introduced in 1987, Series II was introduced in 1988, Series III was introduced in 1990, and Series IV was introduced in 1991. Series I and II came in White or Black, Series III came in Forest Green only, and Series IV came in Forest Green or Noble Green.
There are only minor differences between the series, the biggest change which was from the Series II being an S4 (1986–1988) and the Series III and IV being an S5 (1989–1991).
Convertible
Mazda introduced a convertible version of the RX-7 in 1988 with a normally aspirated engine — introduced to the US market with ads featuring Hollywood actor
James Garner
James Garner
James Garner is an American film and television actor, one of the first Hollywood actors to excel in both media. He has starred in several television series spanning a career of more than five decades...
, at the time featured in many of Mazda's television advertisements.
The convertible featured a removable rigid section over the passengers and a folding textile rear section with heatable rear glass window. Power operated, lowering the top required unlatching two header catches, power lower the top halfway, exiting the car, folding down the rigid section manually, and then further power-lowering the top. Mazda introduced with the convertible the first integral windblocker, a rigid panel that folded up from behind the passenger seats to block unwanted drafts from reaching the passengers — thereby extending the driving season for the car in open mode. The convertible also featured optional headrest mounted audio speakers and a folding vinyl snap-fastened tonneau cover. The convertible assembly was precisely engineered and manufactured, and dropped into the ready body assembly as a complete unit — a first in convertible production.
Several leading car magazines at the time also selected the convertible as one of the best rag-tops available on the market (see Automobile Magazine/January 1988, Performance Car Magazine/January 1989). Mazda exported approximately five thousand convertibles to the United States in 1988 and fewer in each of the next three model years, although it is difficult to confirm these figures, as Mazda USA did not keep RX-7 import records by model type. Production ceasing in October 1991 after Mazda marketed a limited run of 500 example for 1992 for the domestic market only. In Japan, the United Kingdom, and other regions outside the US, a turbocharged version of the convertible was available.
10th Anniversary RX-7
Mazda introduced the 10th Anniversary RX-7 in 1988 as a limited production run based on the RX-7 Turbo II. Production was limited to 1500 models. The 10th Anniversary RX-7 features a Crystal White monochromatic paint scheme with matching white body side mouldings, taillight housings, mirrors and 16-inch alloy 7-spoke wheels. Another distinctive exterior feature is the gold rotor-shaped 10th Anniversary Edition badge on the fenders. The interior is all black with leather seats, leather wrapped steering wheel (with 10th AE centerpiece) and genuine MOMO shifter and boot. Glass windows are bronze tinted.
Third generation (FD)
The third generation of the RX-7, FD (with FD3S for the JDM and JM1FD for the USA VIN), featured an updated body design. The 13B-REW was the first-ever mass-produced sequential twin-turbocharger system to export from Japan, boosting power to 255 PS in 1993 and finally 280 PS by the time production ended in Japan in 2002.
Series 6 (1992–1995) was exported throughout the world and had the highest sales. In Japan, Mazda sold the RX-7 through its Efini brand as the Efini RX-7. Models in Japan included the Type R, the top-of-the-range Type RZ, the Type RB, the A-spec and the Touring X, which came with a 4-speed automatic reducing power to 255 PS. The others ran on the standard 265 PS engine with a 5-speed manual gearbox. Only the 1993–1995 model years were sold in the U.S. and Canada. Series 6 came with 255 PS and 294 N·m (217 ft·lbf). In the UK only 124 examples of this model were sold through the official Mazda network. Only one spec. was available and this included twin oil-coolers, electric sunroof, cruise control and the rear storage bins in place of the back seats.
In 1993 North America, three models were offered; the "base", the touring, and the R models. The touring FD included a sunroof, fog lights, leather seats, and a complex Bose Acoustic Wave system. The R (R1 in 1993 and R2 in 1994–95) models featured stiffer suspensions, an aerodynamics

Aerodynamics

Aerodynamics is a branch of dynamics concerned with studying the motion of air, particularly when it interacts with a moving object. Aerodynamics is a subfield of fluid dynamics and gas dynamics, with much theory shared between them. Aerodynamics is often used synonymously with gas dynamics, with...


package, suede seats, and Z-rated tires. In 1994 a PEG (performance equipment group) model was offered. This model featured leather seats, and a sunroof. It did not include the fog lights or Bose stereo of the touring package. In 1995 the touring package was replaced by the PEP (popular equipment package). The PEP package contained all of the equipment from the touring package.
Series 6 (1992–1995)
Model
Power
Torque
Gearbox
Weight
Seating
Type R
195 kW (261 hp; 265 PS)
294 N·m (217 ft.lbs)
5-speed manual
1,260 kg (2,888 lb)
Type RZ
Type RB
A-Spec
Touring X
188 kW (252 hp; 255 PS)
294 N·m (217 ft.lbs)
4-speed automatic
SP *
204 kW (274 hp; 278 PS)
357 N·m (263 ft.lbs)
5-speed manual
1,218 kg (2,685 lb)
Australia only, 1995 build
Series 7 (1996–1998) included minor changes to the car. Updates included a simplified vacuum routing manifold and a 16-bit ECU allowing for increased boost which netted an extra 10 PS. In Japan, the Series 7 RX-7 was marketed under the Mazda brand name. The Series 7 was also sold in Australia, New Zealand and the UK. Series 7 RX-7s were produced only in right-hand-drive configuration.
Series 8 (January 1999– August 2002) was the final series, and was only available in the Japanese market. More efficient turbochargers were installed, while improved intercooling and radiator cooling was made possible by a revised frontal area. The seats, steering wheel, and front and rear lights were all changed. The rear spoiler was modified and gained adjustability. The top-of-the-line "Type RS" came equipped with a Bilstein suspension and 17" wheels as standard equipment, and reduced weight to 1280 kg (2,822 lb). Power was 280 PS with 313.8 N·m (231 ft·lbf) of torque as per the maximum Japanese limit. The very limited edition Type RZ version included all the features of the Type RS, but at a lighter weight (at 1270 kg). It also featured custom gun-metal colored BBS wheels and a custom red racing themed interior. Further upgrades included a new 16-bit ECU and ABS system upgrades. The improved ABS

Anti-lock braking system

An anti-lock braking system is a safety system that allows the wheels on a motor vehicle to continue interacting tractively with the road surface as directed by driver steering inputs while braking, preventing the wheels from locking up and therefore avoiding skidding.An ABS generally offers...


system worked by braking differently on each wheel, allowing the car better turning during braking. The effective result made for safer driving for the average buyer. Easily the most collectible of all the RX-7s was the last 1,500 run-out specials. Dubbed the "Spirit R", they combined all the "extra" features Mazda had used on previous limited-run specials plus new exclusive features. They still command amazing prices on the Japanese used car scene years later. Sticker prices when new were 3,998,000 yen for Type-A and B and 3,398,000 yen for Type-C. Mazda's press release said "The Type-A Spirit R model is the ultimate RX-7, boasting the most outstanding driving performance in its history."
- There are three kinds of "Spirit R": the "Type A", "Type B", and "Type C". The "Type A" is a two-seater with a 5-speed manual transmission. It features lightweight red trim Recaro front seats as seen in the earlier RZ models. The "Type B" has a 2+2 seat configuration and also sports a 5-speed manual transmission. The "Type C" is also a 2+2, but has a 4-speed automatic transmission. Of the 1500 Spirit R's made, over 1000 were Type A's. An exclusive Spirit R paint color, Titanium Grey, adorned over 700 of the 1500 cars sold.
Series 8 (1999–2002)
Model
Power
Torque
Gearbox
Weight
Seating
Brakes
Wheels
Tyres
Type RB
195 kW (261 hp; 265 PS)
294 N·m (217 ft.lbs)
5-speed manual
1,310 kg (2,888 lb)
2+2
294mm
16x8.0JJ (front) 16x8.0JJ (rear)
225/50ZR16 (front) 225/50ZR16 (rear)
Type RB-S
195 kW (261 hp; 265 PS)
294 N·m (217 ft.lbs)
5-speed manual
1,320 kg (2,888 lb)
2+2
294mm
16x8.0JJ (front) 16x8.0JJ (rear)
225/50ZR16 (front) 225/50ZR16 (rear)
Type R
206 kW (276 hp; 280 PS)
314 N·m (231 ft.lbs)
5-speed manual
1,300 kg (2,888 lb)
2+2
294mm
16x8.0JJ (front) 16x8.0JJ (rear)
205/50ZR16 (front) 225/50ZR16 (rear)
Type R Bathurst
206 kW (276 hp; 280 PS)
314 N·m (231 ft.lbs)
5-speed manual
1,260 kg (2,888 lb)
2+2
294mm
16x8.0JJ (front) 16x8.0JJ (rear)
225/50ZR16 (front) 225/50ZR16 (rear)
Type RS
206 kW (276 hp; 280 PS)
314 N·m (231 ft.lbs)
5-speed manual
1,280 kg (2,822 lb)
2+2
314mm
17x8.0JJ (front) 17x8.5JJ (rear)
235/45R17 (front) 255/40R17 (rear)
Type RZ
206 kW (276 hp; 280 PS)
314 N·m (231 ft.lbs)
5-speed manual
1,270 kg (2,800 lb)
2
314mm
17x8.0JJ (front) 17x8.5JJ (rear)
235/45R17 (front) 255/40R17 (rear)
Spirit R (Type A)
206 kW (276 hp; 280 PS)
314 N·m (231 ft.lbs)
5-speed manual
1,270 kg (2,800 lb)
2
314mm
17x8.0JJ (front) 17x8.5JJ (rear)
235/45R17 (front) 255/40R17 (rear)
Spirit R (Type B)
206 kW (276 hp; 280 PS)
314 N·m (231 ft.lbs)
5-speed manual
1,280 kg (2,822 lb)
2+2
314mm
17x8.0JJ (front) 17x8.5JJ (rear)
235/45R17 (front) 255/40R17 (rear)
Spirit R (Type C)
206 kW (276 hp; 280 PS)
314 N·m (231 ft.lbs)
4-speed automatic
1,280 kg (2,822 lb)
2+2
314mm
17x8.0JJ (front) 17x8.5JJ (rear)
235/45R17 (front) 255/40R17 (rear)
The FD RX-7 was
Motor Trend
Motor Trend
Motor Trend is an American automobile magazine. It first appeared in September 1949, issued by Petersen Publishing Company in Los Angeles, and bearing the tag line "The Magazine for a Motoring World". Petersen Publishing was sold to British publisher EMAP in 1998, who sold the former Petersen...
's Import Car of the Year. When
Playboy
Playboy
Playboy is an American men's magazine that features photographs of nude women as well as journalism and fiction. It was founded in Chicago in 1953 by Hugh Hefner and his associates, and funded in part by a $1,000 loan from Hefner's mother. The magazine has grown into Playboy Enterprises, Inc., with...
magazine first reviewed the FD RX-7 in 1993, they tested it in the same issue as the [then] new
Dodge Viper
Dodge Viper
The first prototype was tested in January 1989. It debuted in 1991 with two pre-production models as the pace car for the Indianapolis 500 when Dodge was forced to substitute it in place of the Japanese-built Stealth because of complaints from the United Auto Workers, and went on sale in January...
. In that issue, Playboy declared the RX-7 to be the better of the two cars. It went on to win Playboy's Car of the Year for 1993. The FD RX-7 also made Car and Driver magazine's Ten Best list for 1993 through 1995, for every year in which it was sold state-side. June, 2007 Road&Track magazine proclaimed "The ace in Mazda's sleeve is the RX-7, a car once touted as the purest, most exhilarating sports car in the world.
The sequential twin turbocharged system was a very complex piece of engineering, developed with the aid of
Hitachi
Hitachi, Ltd.
is a Japanese multinational conglomerate headquartered in Marunouchi 1-chome, Chiyoda, Tokyo, Japan. The company is the parent of the Hitachi Group as part of the larger DKB Group companies...
and previously used on the domestic
Cosmo
Mazda Cosmo
There have been four generations of Mazda automobiles which went by the name of Cosmo, although they are not all particularly related. All were Grand tourers, with the first proving a successful launch for the Mazda Wankel engine and acting as a "halo" vehicle for the new Mazda brand...
series (JC Cosmo=90–95). The system was composed of two small turbochargers, one to provide torque at low RPM. The 2nd unit was on standby until the upper half of the rpm range during full throttle acceleration. The first turbocharger provided 10 psi (0.6894757293 bar) of boost from 1800 rpm, and the 2nd turbocharger was activated at 4000 rpm and also provided 10 psi. The changeover process occurred at 4500 rpm, 8 psi (0.55158058344 bar), was smooth, and provided linear acceleration and a wide torque curve throughout the entire rev range.
Handling in the FD was regarded as world-class, and it is still regarded as being one of the finest handling and best balanced cars of all time. The continued use of the front-midship engine and drivetrain layout, combined with an 50:50 front-rear weight distribution ratio and low center of gravity made the FD a very competent car at the limits.
Australia had a special high performance version of the RX-7 in 1995, dubbed the RX-7 SP. This model was developed as a
homologated
Homologation
Homologation is a technical term, derived from the Greek homologeo for "to agree", which is generally used in English to signify the granting of approval by an official authority...
road-going version of the factory race cars used in the 12hr endurance races held at
Bathurst, New South Wales
Bathurst, New South Wales
-CBD and suburbs:Bathurst's CBD is located on William, George, Howick, Russell, and Durham Streets. The CBD is approximately 25 hectares and surrounds two city blocks. Within this block layout is banking, government services, shopping centres, retail shops, a park* and monuments...
, beginning in 1991 for the 1995 event held at Eastern Creek, Sydney, New South Wales. An initial run of 25 were made, and later an extra 10 were built by Mazda due to demand. The RX-7 SP produced 204 kW and 357 N·m (263 ft·lbf) of torque, compared to the 176 kW and 294 N·m (217 ft·lbf) of the standard version. Other changes included a race developed carbon fibre nose cone and rear spoiler, a carbon fibre 120 L fuel tank (as opposed to the 76 L tank in the standard car), a 4.3:1-ratio rear differential, 17 in diameter wheels, larger brake rotors and calipers. An improved intercooler, exhaust, and modified
ECU
Engine Control Unit
An engine control unit is a type of electronic control unit that determines the amount of fuel, ignition timing and other parameters an internal combustion engine needs to keep running...
were also included. Weight was reduced significantly with the aid of further carbon fibre usage including lightweight vented bonnet and Recaro seats to reduce weight to just 1218 kg (from 1310 kg). It was a serious road going race car that matched their rival
Porsche 911
Porsche 911
The Porsche 911 is a luxury 2-door sports coupe made by Porsche AG of Stuttgart, Germany. It has a distinctive design, rear-engined and with independent rear suspension, an evolution of the swing axle on the Porsche 356. The engine was also air-cooled until the introduction of the Type 996 in 1998...
RS CS for the final year Mazda officially entered. The formula paid off when the RX-7 SP won the title, giving Mazda the winning 12hr trophy for a fourth straight year. The winning car also gained a podium finish at the international tarmac rally Targa Tasmania months later. A later special version, the Bathurst R, was released in 2001 to commemorate this, in
Japan
Japan
Japan is an island nation in East Asia. Located in the Pacific Ocean, it lies to the east of the Sea of Japan, China, North Korea, South Korea and Russia, stretching from the Sea of Okhotsk in the north to the East China Sea and Taiwan in the south...
only.
In the United Kingdom, for 1992, customers were offered only one version of the FD which was based on a combination of the US touring and base model. For the following year, in a bid to speed up sales, Mazda reduced the price of the RX-7 to £25,000, down from £32,000 and refunded the difference to those who bought the car before that was announced. The FD continued to be imported to the UK until 1996. In 1998, for a car that had suffered from slow sales when it was officially sold, with as surge of interest following its appearances in videogames, notably
Gran Turismo
Gran Turismo (series)
is a popular and critically acclaimed series of racing simulation video games developed by Polyphony Digital.Developed exclusively for PlayStation systems, Gran Turismo games are intended to simulate the appearance and performance of a large selection of vehicles, nearly all of which are licensed...
and the benefit of a newly introduced SVA scheme, which meant an influx of inexpensive Japanese imported cars, the FD would become so popular that there were more parallel and grey imported models brought into the country than Mazda UK had ever imported.
Motorsport
Racing versions of the first-generation RX-7 were entered at the prestigious
24 hours of Le Mans
24 Hours of Le Mans
The 24 Hours of Le Mans is the world's oldest sports car race in endurance racing, held annually since near the town of Le Mans, France. Commonly known as the Grand Prix of Endurance and Efficiency, race teams have to balance speed against the cars' ability to run for 24 hours without sustaining...
endurance race. The first outing for the car, equipped with a 13B engine, failed by less than one second to qualify in 1979. The next year, a 12A-engine car not only qualified, it placed 21st overall. That same car did not finish in 1981, along with two more 13B cars. Those two cars were back for 1982, with one 14th place finish and another DNF. The RX-7 Le Mans effort was replaced by the
717C
Mazda 717
The Mazda 717C was a prototype racing car built for Mazdaspeed for the 24 Hours of Le Mans under the Group C Junior formula. It was the first sportscar built by Mazda since the ending of their running in GT with the RX-7 in 1982. It used a 2-rotor 13B Wankel engine, similar to the production...
prototype for 1983. In 1991, Mazda became the first Japanese manufacturer to win the 24 hours of Le Mans. The car was a 4-rotor prototype, the
787B
Mazda 787B
The Mazda 787 and its derivative 787B were Group C sports prototype racing cars built by Mazda for use in the World Sportscar Championship, All Japan Sports Prototype Championship, as well as the 24 Hours of Le Mans from 1990 to 1991...
. The FIA outlawed rotary engines shortly after this win. To this day the rotary powered Mazda is the only Japanese manufacturer to have ever won the prestigious 24 hour Le Mans race outright.
Mazda began racing RX-7s in the
IMSA
International Motor Sports Association
The International Motor Sports Association is an American sports car auto racing sanctioning body based in Braselton, Georgia. It was started by John Bishop, a former employee of SCCA , and his wife Peggy in 1969 with help from Bill France, Sr...
GTU
IMSA GT Championship
IMSA GT was a sports car racing series organized by International Motor Sports Association. Races took place primarily in the United States and occasionally in Canada.-History:...
series in 1979. That first year, RX-7s placed first and second at the
24 Hours of Daytona
24 Hours of Daytona
The 24 Hours of Daytona, currently known as the Rolex 24 Daytona for sponsorship reasons, is a 24-hour sports car endurance race held annually at Daytona International Speedway in Daytona Beach, Florida. It is run on a combined road course, utilizing portions of the NASCAR tri-oval and an infield...
, and claimed the GTU series championship. The car continued winning, claiming the GTU championship seven years in a row. The RX-7 took the
GTO
IMSA GT Championship
IMSA GT was a sports car racing series organized by International Motor Sports Association. Races took place primarily in the United States and occasionally in Canada.-History:...
championship ten years in a row from 1982. The RX-7 has won more IMSA races than any other car model.In the USA SCCA competition RX-7s were raced with great success by Don Kearney in the NE Division and John Finger in the SE Division. Pettit Racing won the GT2 Road Racing Championship in 1998. The car was a 93 Mazda RX-7 street car with only bolt-on accessories. At season end Pettit had 140 points - 63 points more than the 2nd place team. This same car finished the Daytona Rolex 24-hour race 4 times.
The RX-7 also fared well at the
Spa 24 Hours
Spa 24 Hours
The Total 24 Hours of Spa is an endurance racing event held annually in Belgium at the Circuit de Spa-Francorchamps. Conceived by Jules de Their and Henri Langlois Van Ophem just one year after the first 24 Hours of Le Mans, the race was run under the auspices of the Royal Automobile Club Belgium...
race. Three Savanna/RX-7s were entered in 1981 by
Tom Walkinshaw Racing
Tom Walkinshaw Racing
Tom Walkinshaw Racing , was an auto racing team and engineering firm founded in 1976 by touring car racer Tom Walkinshaw.-History:TWR started by modifying BMW 3.0 CSLs, but soon was contracted to head Mazda's works program in the British Touring Car Championship. The TWR developed RX-7, with Win...
. After hours of battling with several
BMW 530i
BMW 5 Series
The BMW 5 Series is a mid-size / executive car manufactured by BMW since 1972. The car, now in its sixth generation, is sold in sedan and touring body styles....
and
Ford Capri
Ford Capri
Ford Capri was a name used by the Ford Motor Company for three different automobile models. The Ford Consul Capri coupé was produced by Ford of Britain between 1961 and 1964. The Ford Capri coupé was produced by Ford of Europe from 1969 to 1986...
, the RX-7 driven by
Pierre Dieudonné
Pierre Dieudonné
Pierre Dieudonné is a Belgian auto racing driver.-Career:He spent a large part of his career competing in Touring car racing. He twice finished third in the European Touring Car Championship in 1977 and 1979. He won two consecutive Spa 24 Hours in 1974 and 1975 with a BMW 3.0 CSi...
and
Tom Walkinshaw
Tom Walkinshaw
Tom Walkinshaw was a Scottish racing car driver and the founder of the racing team Tom Walkinshaw Racing...
won the event. Mazda had turned the tables on
BMW
BMW
Bayerische Motoren Werke AG is a German automobile, motorcycle and engine manufacturing company founded in 1916. It also owns and produces the Mini marque, and is the parent company of Rolls-Royce Motor Cars. BMW produces motorcycles under BMW Motorrad and Husqvarna brands...
, who had beaten Mazda's
Familia Rotary
Mazda R100
The Mazda R100 was the export name for the Mazda Familia Rotary Coupe, an automobile produced by Mazda in Japan from 1968 to 1973. It used the chassis from the Familia and the rotary 0820 engine similar to the one used in the Cosmo Sport Series II. It was a 2 door 2+2 coupé and was produced from...
to the podium eleven years earlier at the same event. TWR's prepared RX-7s also won the
British Touring Car Championship
British Touring Car Championship
The British Touring Car Championship is a touring car racing series held each year in the United Kingdom. The Championship was established in 1958 as the British Saloon Car Championship and has run to various rules over the years – "production cars", then FIA Group 1 or 2 in the late 1960s...
in 1980 and 1981, driven by
Win Percy
Win Percy
Winston "Win" Percy is a former motor racing driver from England. He competed in many classes of motorsport during his long career, but is perhaps most famous as one of the greats of touring car racing. Joe Saward of Autosport magazine once described him as being "often regarded as the World's...
.
Canadian/Australian touring car driver
Allan Moffat
Allan Moffat
Allan George Moffat, OBE is an Australian racing driver known for his four wins in the Australian Touring Car Championship, six wins in the Sandown 500 and his four wins in the Bathurst 1000...
was instrumental in bringing Mazda into the Australian touring car scene. Over a four year span beginning in 1981, Moffat took the Mazda RX-7 to victory in the 1983
Australian Touring Car Championship
Australian Touring Car Championship
The Australian Touring Car Championship is a touring car racing award held in Australia since 1960. The series itself is no longer contested, but the title lives on, with the winner of the V8 Supercar Championship Series awarded the trophy and title of Australian Touring Car Champion.-History:The...
, as well as a trio of
Bathurst 1000
Bathurst 1000
The Bathurst 1000 is a touring car race held annually at Mount Panorama Circuit in Bathurst, New South Wales, Australia...
podiums, in 1981 (3rd with
Derek Bell
Derek Bell (auto racer)
Derek Reginald Bell MBE is a former racing driver from England who was extremely successful in sportscar racing, winning five times at Le Mans. He also raced in Formula One for the Ferrari, McLaren, Surtees and Tecno teams...
), 1983 (second with
Yoshimi Katayama
Yoshimi Katayama
is a former Grand Prix motorcycle road racer from Japan. Katayama began his Grand Prix career in 1964 with Suzuki. He enjoyed his best season in 1967 when he won two races and finished the season in second place behind his Suzuki team-mate, Hans-Georg Anscheidt in the 50cc world championship. He...
) and 1984 (third with former motorcycle champion
Gregg Hansford
Gregg Hansford
Gregg Hansford was an Australian motorcycle and touring car racer.-Racing career:Hansford began racing motorcycles in Australia, winning the 1973 500cc Unlimited title, as well as competing in the New Zealand Marlboro Series in 1975/76 and 1977/78 on Team Kawasaki 750s. He also won one leg of the...
). Australia's adoption of international
Group A
Group A
In relation to motorsport governed by the FIA, Group A referred to a set of regulations providing production-derived vehicles for outright competition. In contrast to the short-lived Group B and Group C, the Group A referred to production-derived vehicles limited in terms of power, weight, allowed...
regulations, combined with Mazda's reluctance to homologate a Group A RX-7, ended Mazda's active participation in the touring car series at the end of the 1984 season.
The RX-7 even made an appearance in the
World Rally Championship
World Rally Championship
The World Rally Championship is a rallying series organised by the FIA, culminating with a champion driver and manufacturer. The driver's world championship and manufacturer's world championship are separate championships, but based on the same point system. The series currently consists of 13...
. The car finished 11th on its debut at the RAC Rally in
Wales
Wales
Wales is a country that is part of the United Kingdom and the island of Great Britain, bordered by England to its east and the Atlantic Ocean and Irish Sea to its west. It has a population of three million, and a total area of 20,779 km²...
in 1981.
Group B
Group B
Group B was a set of regulations introduced in 1982 for competition vehicles in sportscar racing and rallying regulated by the FIA. The Group B regulations fostered some of the quickest, most powerful and sophisticated rally cars ever built. However, a series of major accidents, some fatal, were...
received much of the focus for the first part of the 1980s, but Mazda did manage to place third at the 1985 Acropolis Rally, and when the Group B was folded, it's
Group A
Group A
In relation to motorsport governed by the FIA, Group A referred to a set of regulations providing production-derived vehicles for outright competition. In contrast to the short-lived Group B and Group C, the Group A referred to production-derived vehicles limited in terms of power, weight, allowed...
-based replacement, the
Familia 4WD
Mazda Familia
Mazda's automotive plans for the early sixties consisted of growing alongside the Japanese economy. To achieve this goal, they began by building an extremely cheap Kei car, the R360 in 1960, planning on introducing gradually larger and pricier cars as the Japanese customers became able to afford them...
claimed the victory at
Swedish Rally
Swedish Rally
The Uddeholm Swedish Rally , formerly the Swedish Rally, is an automobile rally competition held in Värmland, Sweden in early February. First held in 1950, when it was called the Rally to the Midnight Sun with start and finish at separate locations, seventeen years later both start and finish...
in both 1987 and 1989.
The FC and FD are considered popular choices for
drifting
Drifting (motorsport)
Drifting refers to a driving technique and to a motorsport where the driver intentionally over steers, causing loss of traction in the rear wheels through turns, while maintaining vehicle control and a high exit speed...
contests, given their short wheelbase and an average of 450 bhp.
Youichi Imamura
Youichi Imamura
is a Japanese professional drifting driver, currently competing in the D1 Grand Prix series for team with .He has always enjoyed driving, so drifting was a natural thing for him. His other passion is flowers as his parents ran a florist and he has always helped them out...
won the
D1 Grand Prix
D1 Grand Prix
The , abbreviated as D1GP and subtitled Professional Drift, is a production car drifting series from Japan. After several years of hosting amateur drifting contests, Option magazine & Tokyo Auto Salon founder Daijiro Inada, and drifting legend Keiichi Tsuchiya hosted a professional level drifting...
title in and
Masao Suenaga
Masao Suenaga
is a Japanese professional drifting driver, currently competing in the D1 Grand Prix series for RE Amemiya and Greddy. He is the younger brother of Naoto who both were taught by Nobushige Kumakubo....
almost won his in , both in FDs.
External links