 Ludwig Michael Schwanthaler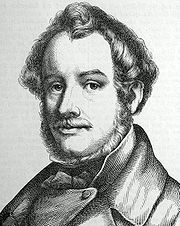 Ludwig Michael Schwanthaler, later ennobled as
Ritter
Ritter
Ritter is a designation used as a title of nobility in German-speaking areas. Traditionally it denotes the second lowest rank within the nobility, standing above "Edler" and below "Freiherr"...
von Schwanthaler (August 26, 1802 - November 14, 1848) was a German
sculptor
Sculpture
Sculpture is three-dimensional artwork created by shaping or combining hard materials—typically stone such as marble—or metal, glass, or wood. Softer materials can also be used, such as clay, textiles, plastics, polymers and softer metals...
.
Biography
Schwanthaler was born in
Munich
Munich
Munich The city's motto is "" . Before 2006, it was "Weltstadt mit Herz" . Its native name, , is derived from the Old High German Munichen, meaning "by the monks' place". The city's name derives from the monks of the Benedictine order who founded the city; hence the monk depicted on the city's coat...
.
His family had been sculptors in
Tyrol
Tyrol (state)
Tyrol is a state or Bundesland, located in the west of Austria. It comprises the Austrian part of the historical region of Tyrol.The state is split into two parts–called North Tyrol and East Tyrol–by a -wide strip of land where the state of Salzburg borders directly on the Italian province of...
and
Innviertel
Innviertel
The Innviertel is a traditional Austrian region south-east of the Inn river. It forms the western part of the state of Upper Austria and borders the German state of Bavaria...
for three centuries; young Ludwig received his earliest lessons from his father, Franz Schwanthaler (1762–1820), and the father had been instructed by the grandfather. The last to bear the name was Xaver, who worked in his cousin Ludwig's studio and survived till 1854. For successive generations the family lived by the carving of busts and sepulchral monuments, and from the condition of mechanics rose to that of artists.
From the Munich
Gymnasium
Gymnasium (school)
A gymnasium is a type of school providing secondary education in some parts of Europe, comparable to English grammar schools or sixth form colleges and U.S. college preparatory high schools. The word γυμνάσιον was used in Ancient Greece, meaning a locality for both physical and intellectual...
Schwanthaler passed as a student to the Munich academy; at first he purposed to be a painter, but afterwards reverted to the plastic arts of his ancestors. His talents received timely encouragement by a commission for an elaborate silver service for the king's table.
Cornelius
Peter von Cornelius
Peter von Cornelius was a German painter.Cornelius was born in Düsseldorf.His father, who was inspector of the Düsseldorf gallery, died in 1799, and the young Cornelius was stimulated to extraordinary exertions...
also befriended him; the great painter was occupied on designs for the decoration in fresco of the newly erected
Glyptothek
Glyptothek
The Glyptothek is a museum in Munich, Germany, which was commissioned by the Bavarian King Ludwig I to house his collection of Greek and Roman sculptures . It was designed by Leo von Klenze in the Neoclassical style, and built from 1816 to 1830...
, and at his suggestion Schwanthaler was employed on the sculpture within the halls.
Thus arose between painting, sculpture, and
architecture
Architecture
Architecture is both the process and product of planning, designing and construction. Architectural works, in the material form of buildings, are often perceived as cultural and political symbols and as works of art...
that union and mutual support which characterized the revival of the arts in
Bavaria
Bavaria
Bavaria, formally the Free State of Bavaria is a state of Germany, located in the southeast of Germany. With an area of , it is the largest state by area, forming almost 20% of the total land area of Germany...
. Schwanthaler in 1826 went to
Italy
Italy
Italy , officially the Italian Republic languages]] under the European Charter for Regional or Minority Languages. In each of these, Italy's official name is as follows:;;;;;;;;), is a unitary parliamentary republic in South-Central Europe. To the north it borders France, Switzerland, Austria and...
as a pensioner of the king, and on a second visit in 1832
Thorvaldsen
Bertel Thorvaldsen
Bertel Thorvaldsen was a Danish-Icelandic sculptor of international fame, who spent most of his life in Italy . Thorvaldsen was born in Copenhagen into a Danish/Icelandic family of humble means, and was accepted to the Royal Academy of Arts when he was eleven years old...
gave him kindly help. His skill was so developed that on his return he was able to meet the extraordinary demand for sculpture consequent on King Ludwig's passion for building new palaces, churches, galleries,and museums, and he became the fellow-worker of the architects
Klenze
Leo von Klenze
Leo von Klenze was a German neoclassicist architect, painter and writer...
,
Gartner
Friedrich von Gärtner
Friedrich von Gärtner was a German architect.Gärtner and Leo von Klenze are the most well known architects of Bavaria during the reign of Ludwig I. His architecture was generally in the Romanesque style and much to the king's taste...
and Ohlmüller, and of the painters Cornelius, Schnorr and
Hess
Karl Hess
Karl Hess was an American national-level speechwriter and author. He was also a political philosopher, editor, welder, motorcycle racer, tax resister, atheist, and libertarian activist...
.
Owing to the magnitude and multitude of the plastic products they turned out, over-pressure and haste in design and workmanship brought down the quality of the art. The works of Schwanthaler in Munich are so many and miscellaneous that they can only be briefly indicated. The new palace is peopled with his statues: the throne-room has twelve imposing gilt bronze figures 10 feet high; the same palace is also enriched with a
frieze
Frieze
thumb|267px|Frieze of the [[Tower of the Winds]], AthensIn architecture the frieze is the wide central section part of an entablature and may be plain in the Ionic or Doric order, or decorated with bas-reliefs. Even when neither columns nor pilasters are expressed, on an astylar wall it lies upon...
and with sundry other decorations modelled and painted from his drawings. The sculptor, like his contemporary painters, received help from trained pupils,one of whom,
Anton Dominik Fernkorn
Anton Dominik Fernkorn
Anton Dominick Ritter von Fernkorn was a German-Austrian sculptor. He was born in Erfurt, Thuringia and died in Vienna.- Career :...
, went on to have a very successful career in Vienna, Austria.. The same prolific artist also furnished the old Pinakothek with twenty-five marbles, commemorative of as many great painters; likewise he supplied a composition for the pediment of the exhibition building facing the Glyptothek, and executed sundry figures for the public library and the hall of the marshals.
Sacred art lay outside his ordinary routine, yet in the churches of St Ludwig and St Mariahilf he gave proof of the widest versatility. The Ruhmeshalle afforded further gauge of unexampled power of production; here alone is work which, if adequately studied, might have occupied a lifetime; ninety-two metopes, and, conspicuously, the colossal but feeble figure of Bavaria, 60 ft. high, rank among the boldest experiments. A short life of forty-six years did not permit serious undertakings beyond the Bavarian capital, yet time was found for the groups within the north pediment of the Walhalla, Ratisbon, and also for numerous portrait statues, including those of
Mozart
Wolfgang Amadeus Mozart
Wolfgang Amadeus Mozart , baptismal name Johannes Chrysostomus Wolfgangus Theophilus Mozart , was a prolific and influential composer of the Classical era. He composed over 600 works, many acknowledged as pinnacles of symphonic, concertante, chamber, piano, operatic, and choral music...
,
Jean Paul
Jean Paul
Jean Paul , born Johann Paul Friedrich Richter, was a German Romantic writer, best known for his humorous novels and stories.-Life and work:...
, Goethe and Shakespeare.
Schwanthaler died at Munich in 1848, and left by will to the Munich academy all his models and studies, which now form the Schwanthaler Museum. He is buried in the
Alter Südfriedhof
Alter Südfriedhof
The Alter Südfriedhof is a cemetery in Munich, Germany. It was founded by Duke Albrecht V as a plague cemetery in 1563 about half a kilometer south of the Sendlinger Gate between Thalkirchner and Pestalozzistraße.-History:...
in Munich.