 Laurel wreath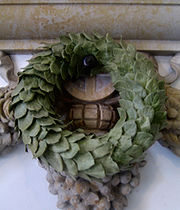 A
laurel wreath
is a circular
wreath
Wreath
A wreath is an assortment of flowers, leaves, fruits, twigs and/or various materials that is constructed to resemble a ring. They are used typically as Christmas decorations to symbolize the coming of Christ, also known as the Advent season in Christianity. They are also used as festive headdresses...
made of interlocking branches and leaves of the
bay laurel
Bay Laurel
The bay laurel , also known as sweet bay, bay tree, true laurel, Grecian laurel, laurel tree, or simply laurel, is an aromatic evergreen tree or large shrub with green, glossy leaves, native to the Mediterranean region. It is the source of the bay leaf used in cooking...
(
Laurus nobilis,
Lauraceae
Lauraceae
The Lauraceae or Laurel family comprises a group of flowering plants included in the order Laurales. The family contains about 55 genera and over 3500, perhaps as many as 4000, species world-wide, mostly from warm or tropical regions, especially Southeast Asia and South America...
), an aromatic broadleaf evergreen. In
Greek mythology
Greek mythology
Greek mythology is the body of myths and legends belonging to the ancient Greeks, concerning their gods and heroes, the nature of the world, and the origins and significance of their own cult and ritual practices. They were a part of religion in ancient Greece...
,
Apollo
Apollo
Apollo is one of the most important and complex of the Olympian deities in Greek and Roman mythology...
is represented wearing a laurel wreath on his head. In
ancient Greece
Ancient Greece
Ancient Greece is a civilization belonging to a period of Greek history that lasted from the Archaic period of the 8th to 6th centuries BC to the end of antiquity. Immediately following this period was the beginning of the Early Middle Ages and the Byzantine era. Included in Ancient Greece is the...
wreaths were awarded to victors, both in athletic competitions, including the ancient
Olympics
made of wild olive-tree known as
"kotinos"
(κότινος), (sc. at
Olympia
Olympia, Greece
Olympia , a sanctuary of ancient Greece in Elis, is known for having been the site of the Olympic Games in classical times, comparable in importance to the Pythian Games held in Delphi. Both games were held every Olympiad , the Olympic Games dating back possibly further than 776 BC...
) and in poetic meets; in
Rome
Ancient Rome
Ancient Rome was a thriving civilization that grew on the Italian Peninsula as early as the 8th century BC. Located along the Mediterranean Sea and centered on the city of Rome, it expanded to one of the largest empires in the ancient world....
they were symbols of martial victory, crowning a successful commander during his
triumph
Roman triumph
The Roman triumph was a civil ceremony and religious rite of ancient Rome, held to publicly celebrate and sanctify the military achievement of an army commander who had won great military successes, or originally and traditionally, one who had successfully completed a foreign war. In Republican...
. Whereas ancient laurel wreaths are most often depicted as a
horseshoe
Horseshoe
A horseshoe, is a fabricated product, normally made of metal, although sometimes made partially or wholly of modern synthetic materials, designed to protect a horse's hoof from wear and tear. Shoes are attached on the palmar surface of the hooves, usually nailed through the insensitive hoof wall...
shape, modern versions are usually complete rings.
In common modern
idiom
Idiom
Idiom is an expression, word, or phrase that has a figurative meaning that is comprehended in regard to a common use of that expression that is separate from the literal meaning or definition of the words of which it is made...
atic usage it refers to a victory. The expression "resting on one's laurels" refers to someone relying entirely on long-past successes for continued fame or recognition, where to "look to one's laurels" encourages an individual to take inspiration from past achievements to conquer a fresh task.
Academic use
In some countries the laurel wreath is used as symbol of the master's degree. The wreath is given to young masters in the graduation ceremony of the university. The word "
Laureate
Laureate
In English, the word laureate has come to signify eminence or association with literary or military glory. It is also used for winners of the Nobel Prize.-History:...
" in '
poet laureate
Poet Laureate
A poet laureate is a poet officially appointed by a government and is often expected to compose poems for state occasions and other government events...
' refers to being signified by the laurel wreath. The medieval Florentine poet and philosopher
Dante Alighieri
Dante Alighieri
Durante degli Alighieri, mononymously referred to as Dante , was an Italian poet, prose writer, literary theorist, moral philosopher, and political thinker. He is best known for the monumental epic poem La commedia, later named La divina commedia ...
, a graduate of the
Sicilian School
Sicilian School
The Sicilian School was a small community of Sicilian, and to a lesser extent, mainland Italian poets gathered around Frederick II, most of them belonging to his court, the Magna Curia. Headed by Giacomo da Lentini, they produced more than three-hundred poems of courtly love between 1230 and 1266,...
, is often represented in paintings and sculpture wearing a laurel wreath.
At
Connecticut College
Connecticut College
Connecticut College is a private liberal arts college located in New London, Connecticut.The college was founded in 1911, as Connecticut College for Women, in response to Wesleyan University closing its doors to women...
in the United States, members of the junior class carry a laurel
chain
Chain
A chain is a sequence of connected links.Chain may also refer to:Chain may refer to:* Necklace - a jewelry which is worn around the neck* Mail , a type of armor made of interlocking chain links...
, which the seniors pass through during Commencement. It represents nature and the continuation of life from year to year. Immediately following commencement, the junior girls write out with the laurels their class year, symbolizing they have officially become seniors and the cycle will repeat itself the following spring.
At
Reed College
Reed College
Reed College is a private, independent, liberal arts college located in southeast Portland, Oregon. Founded in 1908, Reed is a residential college with a campus located in Portland's Eastmoreland neighborhood, featuring architecture based on the Tudor-Gothic style, and a forested canyon wilderness...
in
Portland
Portland, Oregon
Portland is a city located in the Pacific Northwest, near the confluence of the Willamette and Columbia rivers in the U.S. state of Oregon. As of the 2010 Census, it had a population of 583,776, making it the 29th most populous city in the United States...
, United States, members of the senior class receive laurel wreaths upon submitting their senior
thesis
Thesis
A dissertation or thesis is a document submitted in support of candidature for an academic degree or professional qualification presenting the author's research and findings...
in May. The tradition stems from the use of laurel wreaths in athletic competitions; the seniors have "crossed the finish line," so to speak.
At
St. Mark's School
St. Mark's School (Massachusetts)
St. Mark's School is a coeducational, Episcopal, preparatory school, situated on in Southborough, Massachusetts, from Boston. It was founded in 1865 as an all-boys' school by Joseph Burnett, a wealthy native of Southborough who developed and marketed the world-famous Burnett Vanilla Extract . ...
in
Southborough, Massachusetts
Southborough, Massachusetts
Southborough is an affluent town in Worcester County, Massachusetts, United States. It incorporates the smaller villages of Cordaville, Fayville, and Southville. Its name is often informally shortened to Southboro, a usage seen on many area signs and maps. Its population was 9,767 at the 2010...
, students who successfully complete three years of one classical language and two of the other earn the distinction of the Classics Diploma and the honor of wearing a laurel wreath on Prize Day.
In
Sweden
Sweden
Sweden , officially the Kingdom of Sweden , is a Nordic country on the Scandinavian Peninsula in Northern Europe. Sweden borders with Norway and Finland and is connected to Denmark by a bridge-tunnel across the Öresund....
, those receiving a Doctorate or an Honorary Doctorate at the Faculty of Philosophy (meaning Philosophy, Languages, Arts, History and Social Sciences), receive a laurel wreath during the ceremony of conferral of the degree.
Architectural and decorative arts motif
The laurel wreath is a common motif in
architecture
Architecture
Architecture is both the process and product of planning, designing and construction. Architectural works, in the material form of buildings, are often perceived as cultural and political symbols and as works of art...
,
furniture
Furniture
Furniture is the mass noun for the movable objects intended to support various human activities such as seating and sleeping in beds, to hold objects at a convenient height for work using horizontal surfaces above the ground, or to store things...
, and textiles. The laurel wreath is seen carved in the stone and decorative plaster works of
Robert Adam
Robert Adam
Robert Adam was a Scottish neoclassical architect, interior designer and furniture designer. He was the son of William Adam , Scotland's foremost architect of the time, and trained under him...
, and in Federal, Regency, Directoire, and
Beaux-Arts
periods of architecture. In decorative arts, especially during the Empire period, the laurel wreath is seen woven in textiles, inlaid in marquetry, and applied to furniture in the form of gilded brass mounts.
Alfa Romeo
Alfa Romeo
Alfa Romeo Automobiles S.p.A. is an Italian manufacturer of cars. Founded as A.L.F.A. on June 24, 1910, in Milan, the company has been involved in car racing since 1911, and has a reputation for building expensive sports cars...
added a laurel wreath to their
logo
Logo
A logo is a graphic mark or emblem commonly used by commercial enterprises, organizations and even individuals to aid and promote instant public recognition...
after they won the inaugural Automobile World Championship in 1925 with the
P2
Alfa Romeo P2
The Alfa Romeo P2 won the inaugural Automobile World Championship in 1925, taking victory in two of the four championship rounds when Antonio Ascari drove it in the European Grand Prix at Spa and Gastone Brilli-Peri won the Italian Grand Prix at Monza after Ascari died while leading the intervening...
racing car.
Wreath of Service
The "wreath of service" is located on all
commissioner
Commissioner Service
Commissioner Service is the group within the Boy Scouts of America that provides direct service to each Scouting unit . Commissioners are experienced Scouters who help chartered organizations and unit leaders to achieve the aims of Scouting by using the methods of Scouting...
position patches in the
Boy Scouts of America
Boy Scouts of America
The Boy Scouts of America is one of the largest youth organizations in the United States, with over 4.5 million youth members in its age-related divisions...
. This is a symbol for the service rendered to units and the continued partnership between volunteers and professional Scouter. The Wreath of Service represents commitment to program and unit service.
See also
Civic Crown

Civic Crown

The Civic Crown was a chaplet of common oak leaves woven to form a crown. During the Roman Republic, and the subsequent Principate, it was regarded as the second highest military decoration to which a citizen could aspire...



Grass Crown

Grass Crown

The Grass Crown or Blockade Crown was the highest and rarest of all military decorations in the Roman Republic and early Roman empire. It was presented only to a general, commander, or officer whose actions saved the legion or the entire army...



Laureate

Laureate

In English, the word laureate has come to signify eminence or association with literary or military glory. It is also used for winners of the Nobel Prize.-History:...



Mural crown

Mural crown

-Usage in ancient times:In Hellenistic culture, a mural crown identified the goddess Tyche, the embodiment of the fortune of a city, familiar to Romans as Fortuna...



Naval crown

Naval crown

The Naval Crown was a gold crown surmounted with the prows of ships. It was a Roman military award, given to the first man who boarded an enemy ship during a naval engagement....



Nobel laureate
External links