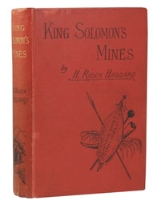 King Solomon's Mines
King Solomon's Mines
is a popular novel by the
Victorian
Victorian literature
Victorian literature is the literature produced during the reign of Queen Victoria . It forms a link and transition between the writers of the romantic period and the very different literature of the 20th century....
adventure writer and
fabulist
Fable
A fable is a succinct fictional story, in prose or verse, that features animals, mythical creatures, plants, inanimate objects or forces of nature which are anthropomorphized , and that illustrates a moral lesson , which may at the end be expressed explicitly in a pithy maxim.A fable differs from...
Sir
H. Rider Haggard
H. Rider Haggard
Sir Henry Rider Haggard, KBE was an English writer of adventure novels set in exotic locations, predominantly Africa, and a founder of the Lost World literary genre. He was also involved in agricultural reform around the British Empire...
. It tells of a search of an unexplored region of Africa by a group of adventurers led by
Allan Quatermain
Allan Quatermain
Allan Quatermain is the protagonist of H. Rider Haggard's 1885 novel King Solomon's Mines and its various prequels and sequels. Allan Quatermain was also the title of a book in this sequence.- History :...
for the missing brother of one of the party. It is the first English
adventure novel
Adventure novel
The adventure novel is a genre of novels that has adventure, an exciting undertaking involving risk and physical danger, as its main theme.-History:...
set in Africa, and is considered to be the genesis of the
Lost World
Lost World (genre)
The Lost World literary genre is a fantasy or science fiction genre that involves the discovery of a new world out of time, place, or both. It began as a subgenre of the late-Victorian imperial romance and remains popular to this day....
literary genre
Literary genre
A literary genre is a category of literary composition. Genres may be determined by literary technique, tone, content, or even length. Genre should not be confused with age category, by which literature may be classified as either adult, young-adult, or children's. They also must not be confused...
.
Background
The book was first published in September 1885 amid considerable fanfare, with billboards and posters around London announcing "The Most Amazing Book Ever Written". It became an immediate best seller. By the late 19th century, explorers were uncovering ancient civilisations around the world, such as Egypt's
Valley of the Kings
Valley of the Kings
The Valley of the Kings , less often called the Valley of the Gates of the Kings , is a valley in Egypt where, for a period of nearly 500 years from the 16th to 11th century BC, tombs were constructed for the Pharaohs and powerful nobles of the New Kingdom .The valley stands on the west bank of...
, and the empire of
Assyria
Assyria
Assyria was a Semitic Akkadian kingdom, extant as a nation state from the mid–23rd century BC to 608 BC centred on the Upper Tigris river, in northern Mesopotamia , that came to rule regional empires a number of times through history. It was named for its original capital, the ancient city of Assur...
. Inner Africa remained largely unexplored and
King Solomon's Mines
, the first novel of African adventure published in English, captured the public's imagination. It is now classified as
children's literature
Children's literature
Children's literature is for readers and listeners up to about age twelve; it is often defined in four different ways: books written by children, books written for children, books chosen by children, or books chosen for children. It is often illustrated. The term is used in senses which sometimes...
but was originally read by adults.
The "
King Solomon
Solomon
Solomon , according to the Book of Kings and the Book of Chronicles, a King of Israel and according to the Talmud one of the 48 prophets, is identified as the son of David, also called Jedidiah in 2 Samuel 12:25, and is described as the third king of the United Monarchy, and the final king before...
" of the book's title is the Biblical king renowned both for his wisdom and for his wealth. A number of sites have been suggested as the location of his mines, including the workings at the
Timna valley
Timna valley
The Timna Valley is located in southern Israel in the southwestern Arabah, approximately 30 km north of the Gulf of Aqaba and the town of Eilat...
near
Eilat
, although later research has shown that this site was not in use during the
10th century BC
10th century BC
The 10th century BC started the first day of 1000 BC and ended the last day of 901 BC.- Overview :This period followed the Bronze Age collapse in the Near East, and the century saw the Early Iron Age take hold there. The Greek Dark Ages which had come about in 1200 BC continued. The Neo-Assyrian...
. In addition, many fictional locations have been proposed.
Haggard knew Africa well, having travelled deep within the continent as a 19-year-old during the
Anglo-Zulu War
Anglo-Zulu War
The Anglo-Zulu War was fought in 1879 between the British Empire and the Zulu Kingdom.Following the imperialist scheme by which Lord Carnarvon had successfully brought about federation in Canada, it was thought that a similar plan might succeed with the various African kingdoms, tribal areas and...
and the
First Boer War
First Boer War
The First Boer War also known as the First Anglo-Boer War or the Transvaal War, was fought from 16 December 1880 until 23 March 1881-1877 annexation:...
, where he had been impressed by South Africa's vast mineral wealth and by the ruins of ancient lost cities being uncovered, such as
Great Zimbabwe
Great Zimbabwe
Great Zimbabwe is a ruined city that was once the capital of the Kingdom of Zimbabwe, which existed from 1100 to 1450 C.E. during the country's Late Iron Age. The monument, which first began to be constructed in the 11th century and which continued to be built until the 14th century, spanned an...
. His original Allan Quatermain character was based in large part on Frederick Courtney Selous, the famous British white hunter and explorer of Colonial Africa. Selous's real-life experiences provided Haggard with the background and inspiration for this and many later stories.
Haggard also owed a considerable debt to
Joseph Thomson
Joseph Thomson (explorer)
Joseph Thomson was a Scottish geologist and explorer who played an important part in the Scramble for Africa. Thomson's Gazelle is named for him. Excelling as an explorer rather than an exact scientist, he avoided confrontations among his porters or with indigenous peoples, neither killing any...
, the Scottish explorer whose book
Through Masai Land
was a hit in January 1885. Thomson had terrified warriors in Kenya by taking out his false teeth and claiming to be a magician, just as Captain Good does in
King Solomon's Mines
. Contemporary
James Runciman
James Runciman
James Runciman was an English teacher, author and journalist.He was born at Cresswell, a village near Morpeth in Northumberland, son of Walter Runciman, a coastguardman, and Jean Finlay...
wrote an article entitled
King Plagiarism and His Court
, interpreted as accusing Haggard of plagiarism for this. Thomson was so outraged at Haggard's plagiarism that he published a novel of his own, which failed to sell.
Plot summary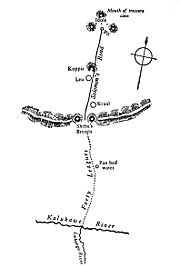 Allan Quatermain, an adventurer and white hunter based in
Durban
Durban
Durban is the largest city in the South African province of KwaZulu-Natal and the third largest city in South Africa. It forms part of the eThekwini metropolitan municipality. Durban is famous for being the busiest port in South Africa. It is also seen as one of the major centres of tourism...
, in what is now
South Africa
South Africa
The Republic of South Africa is a country in southern Africa. Located at the southern tip of Africa, it is divided into nine provinces, with of coastline on the Atlantic and Indian oceans...
, is approached by aristocrat Sir Henry Curtis and his friend Captain Good, seeking his help finding Sir Henry's brother, who was last seen travelling north into the unexplored interior on a quest for the fabled King Solomon's Mines. Quatermain has a mysterious map purporting to lead to the mines, but had never taken it seriously. However, he agrees to lead an expedition in return for a share of the treasure, or a stipend for his son if he is killed along the way. He has little hope they will return alive, but reasons that he has already outlived most people in his profession, so dying in this manner at least ensures that his son will be provided for. They also take along a mysterious native, Umbopa, who seems more regal, handsome and well-spoken than most porters of his class, but who is very anxious to join the party.
Travelling by oxcart, they reach the edge of a desert, but not before a hunt in which a wounded elephant claims the life of a servant. They continue on foot across the desert, almost dying of thirst before finding the oasis shown halfway across on the map. Reaching a mountain range called Suliman Berg, they climb a peak (one of "
Sheba
's Breasts") and enter a cave where they find the frozen corpse of José Silvestra (also spelt Silvestre), the 16th-century Portuguese explorer who drew the map in his own blood. That night, a second servant dies from the cold, so they leave his body next to Silvestra's, to "give him a companion".
They cross the mountains into a raised valley, lush and green, known as Kukuanaland. The inhabitants have a well-organised army and society and speak an ancient dialect of IsiZulu. Kukuanaland's capital is Loo, the destination of a magnificent road from ancient times. The city is dominated by a central royal
kraal
Kraal
Kraal is an Afrikaans and Dutch word for an enclosure for cattle or other livestock, located within an African settlement or village surrounded by a palisade, mud wall, or other fencing, roughly circular in form.In the Dutch language a kraal is a term derived from the Portuguese word , cognate...
.
They soon meet a party of Kukuana warriors who are about to kill them when Captain Good nervously fidgets with his false teeth, making the Kukuanas recoil in fear. Thereafter, to protect themselves, they style themselves "white men from the stars" – sorcerer-gods – and are required to give regular proof of their divinity, considerably straining both their nerves and their ingenuity.
They are brought before King Twala, who rules over his people with ruthless violence. He came to power years before when he murdered his brother, the previous king, and drove his brother's wife and infant son, Ignosi, out into the desert to die. Twala's rule is unchallenged. An evil, impossibly ancient hag named Gagool is his chief advisor. She roots out any potential opposition by ordering regular witch hunts and murdering without trial all those identified as traitors. When she singles out Umbopa for this fate, it takes all Quatermain's skill to save his life.
Gagool, it appears, has already sensed what Umbopa soon after reveals: he is Ignosi, the rightful king of the Kukuanas. A rebellion breaks out, the Englishmen gaining support for Ignosi by taking advantage of
their foreknowledge of an eclipse
Solar eclipses in fiction
This is a list of fictional stories in which solar eclipses feature as an important plot element. Mere passing mentions are not listed.- Novels :* Dating of the Mahabharata with the help of a solar eclipse....
to claim that they will black out the moon as proof of Ignosi's claim. The Englishmen join Ignosi's army in a furious battle. Although outnumbered, the rebels overthrow Twala, and Sir Henry lops off his head in a duel.
The Englishmen also capture Gagool, who reluctantly leads them to King Solomon's Mines. She shows them a treasure room inside a mountain, carved deep within the living rock and full of gold, diamonds and ivory. She then treacherously sneaks out while they are admiring the hoard and triggers a secret mechanism that closes the mine's vast stone door. Unfortunately for Gagool, a brief scuffle with a beautiful native named Foulata – who had become attached to Good after nursing him through his injuries sustained in the battle – causes her to be crushed under the stone door, though not before fatally stabbing Foulata. Their scant store of food and water rapidly dwindling, the trapped men prepare to die also. After a few despairing days sealed in the dark chamber, they find an escape route, bringing with them a few pocketfuls of diamonds from the immense trove, enough to make them rich.
The Englishmen bid farewell to a sorrowful Ignosi and return to the desert, assuring him that they value his friendship but must return to be with their own people, Ignosi in return promising them that they will be venerated and honoured among his people forever. Taking a different route, they find Sir Henry's brother stranded in an oasis by a broken leg, unable to go forward or back. They return to Durban and eventually to England, wealthy enough to live comfortable lives.
Literary significance and criticism
Haggard wrote the novel as a result of a five-shilling wager with his brother, namely whether he could write a novel half as good as
Robert Louis Stevenson
Robert Louis Stevenson
Robert Louis Balfour Stevenson was a Scottish novelist, poet, essayist and travel writer. His best-known books include Treasure Island, Kidnapped, and Strange Case of Dr Jekyll and Mr Hyde....
's
Treasure Island
Treasure Island
Treasure Island is an adventure novel by Scottish author Robert Louis Stevenson, narrating a tale of "pirates and buried gold". First published as a book on May 23, 1883, it was originally serialized in the children's magazine Young Folks between 1881–82 under the title Treasure Island; or, the...
(1883). He wrote it in a short time, somewhere between six and sixteen weeks between January and 21 April 1885. However, because the book was a complete novelty, it was rejected by one publisher after another. When, after six months,
King Solomon's Mines
finally was published, the book became the year's best seller; the only problem (much to the chagrin of those who had rejected the manuscript) was how to print copies fast enough.
In the process,
King Solomon's Mines
created a new genre, known as the "
Lost World
Lost World (genre)
The Lost World literary genre is a fantasy or science fiction genre that involves the discovery of a new world out of time, place, or both. It began as a subgenre of the late-Victorian imperial romance and remains popular to this day....
", which would inspire
Edgar Rice Burroughs
Edgar Rice Burroughs
Edgar Rice Burroughs was an American author, best known for his creation of the jungle hero Tarzan and the heroic Mars adventurer John Carter, although he produced works in many genres.-Biography:...
'
The Land That Time Forgot
The Land That Time Forgot (novel)
The Land That Time Forgot is an Edgar Rice Burroughs science fiction novel, the first of his Caspak trilogy. His working title for the story was "The Lost U-Boat." The sequence was first published in Blue Book Magazine as a three-part serial in the issues for September, October and November 1918...
,
Arthur Conan Doyle
Arthur Conan Doyle
Sir Arthur Ignatius Conan Doyle DL was a Scottish physician and writer, most noted for his stories about the detective Sherlock Holmes, generally considered a milestone in the field of crime fiction, and for the adventures of Professor Challenger...
's
The Lost World
,
Rudyard Kipling
Rudyard Kipling
Joseph Rudyard Kipling was an English poet, short-story writer, and novelist chiefly remembered for his celebration of British imperialism, tales and poems of British soldiers in India, and his tales for children. Kipling received the 1907 Nobel Prize for Literature...
's
The Man Who Would Be King
The Man Who Would Be King
For the 1975 film based on this story, see The Man Who Would Be King "The Man Who Would Be King" is a short story by Rudyard Kipling. It is about two British adventurers in British India who become kings of Kafiristan, a remote part of Afghanistan...
and HP Lovecraft's
At the Mountains of Madness
At the Mountains of Madness
At the Mountains of Madness is a novella by horror writer H. P. Lovecraft, written in February/March 1931 and rejected that year by Weird Tales editor Farnsworth Wright on the grounds of its length. It was originally serialized in the February, March and April 1936 issues of Astounding Stories...
.
Lee Falk
Lee Falk
Lee Falk, born Leon Harrison Gross , was an American writer, theater director, and producer, best known as the creator of the popular comic strip superheroes The Phantom and Mandrake the Magician, who at the height of their popularity attracted over a hundred million readers every day...
's
The Phantom
The Phantom
The Phantom is an American adventure comic strip created by Lee Falk, also creator of Mandrake the Magician. A popular feature adapted into many media, including television, film and video games, it stars a costumed crimefighter operating from the fictional African country Bengalla.The Phantom is...
was initially written in this genre. A much later Lost World novel was
Michael Crichton
Michael Crichton
John Michael Crichton , best known as Michael Crichton, was an American best-selling author, producer, director, and screenwriter, best known for his work in the science fiction, medical fiction, and thriller genres. His books have sold over 200 million copies worldwide, and many have been adapted...
's
Congo
Congo (novel)
Congo is a 1980 science fiction novel by Michael Crichton. The novel centers on an expedition searching for diamonds and inspecting the mysterious deaths of the previous expedition in the dense rain forest of Congo...
, which involves a quest for King Solomon's lost mines, supposedly located in a lost African city called
Zinj
Congo (novel)
Congo is a 1980 science fiction novel by Michael Crichton. The novel centers on an expedition searching for diamonds and inspecting the mysterious deaths of the previous expedition in the dense rain forest of Congo...
.
As in
Treasure Island
, the narrator of
King Solomon's Mines
tells his tale in the first person in an easy conversational style. Almost entirely missing (except in the speech of the Kukuanas) is the ornate language usually associated with novels of this era. Haggard's use of the first person subjective perspective also contrasts with the omniscient third-person viewpoint then in vogue among influential writers such as
Trollope
Anthony Trollope
Anthony Trollope was one of the most successful, prolific and respected English novelists of the Victorian era. Some of his best-loved works, collectively known as the Chronicles of Barsetshire, revolve around the imaginary county of Barsetshire...
,
Hardy
Thomas Hardy
Thomas Hardy, OM was an English novelist and poet. While his works typically belong to the Naturalism movement, several poems display elements of the previous Romantic and Enlightenment periods of literature, such as his fascination with the supernatural.While he regarded himself primarily as a...
, and
Eliot
George Eliot
Mary Anne Evans , better known by her pen name George Eliot, was an English novelist, journalist and translator, and one of the leading writers of the Victorian era...
. With its central "
quest
Quest
In mythology and literature, a quest, a journey towards a goal, serves as a plot device and as a symbol. Quests appear in the folklore of every nation and also figure prominently in non-national cultures. In literature, the objects of quests require great exertion on the part of the hero, and...
" motif and its richly
mythopoeic
Mythopoeic
The term mythopoeic has several applications:*mythopoeic thought, a hypothetical stage of human thought that produces myths....
imagery, the book has also provided abundant material for psychologists, notably
Jung
Carl Jung
Carl Gustav Jung was a Swiss psychiatrist and the founder of Analytical Psychology. Jung is considered the first modern psychiatrist to view the human psyche as "by nature religious" and make it the focus of exploration. Jung is one of the best known researchers in the field of dream analysis and...
and
Freud
Sigmund Freud
Sigmund Freud , born Sigismund Schlomo Freud , was an Austrian neurologist who founded the discipline of psychoanalysis...
.
The book has scholarly value for the
colonialist
Colonialism
Colonialism is the establishment, maintenance, acquisition and expansion of colonies in one territory by people from another territory. It is a process whereby the metropole claims sovereignty over the colony and the social structure, government, and economics of the colony are changed by...
attitudes Haggard expresses, and for the way he portrays the relationships among the white and African characters. While Haggard does indeed portray some Africans (such as Twala and Gagool) in their traditional (for Victorian literature) literary posts as barbarians, he also presents the other side of the coin, showing some black Africans as heroes and heroines (such as Ignosi), and shows respect for their culture. Although the book is certainly not devoid of
racism
Racism
Racism is the belief that inherent different traits in human racial groups justify discrimination. In the modern English language, the term "racism" is used predominantly as a pejorative epithet. It is applied especially to the practice or advocacy of racial discrimination of a pernicious nature...
, it expresses much less prejudice than some of the later books in this genre. Indeed, Quatermain states that he refuses to use the word "nigger" and that many Africans are more worthy of the title of "gentleman" than the Europeans who settle or adventure in the country. Haggard even includes an interracial romance between a Kukuana woman, Foulata, and the white Englishman Captain Good. The narrator tries to discourage the relationship, dreading the uproar such a marriage would cause back home in England; however, he has no objection to the lady, whom he considers very beautiful and noble. Haggard soon "kills off" Foulata, but has her die in Good's arms.
Kukuanaland is said in the book to be forty
leagues
League (unit)
A league is a unit of length . It was long common in Europe and Latin America, but it is no longer an official unit in any nation. The league originally referred to the distance a person or a horse could walk in an hour...
north of the
Lukanga river
Kafue River
The Kafue River sustains one of the world's great wildlife environments. It is a major tributary of the Zambezi, and of Zambia's principal rivers, it is the most central and the most urban, and the longest and largest lying wholly within Zambia....
in modern Zambia, which would place it in the extreme south-east of the Democratic Republic of Congo. The culture of the Kukuanas shares many attributes with other South African tribes, such as IsiZulu being spoken, and the
kraal
Kraal
Kraal is an Afrikaans and Dutch word for an enclosure for cattle or other livestock, located within an African settlement or village surrounded by a palisade, mud wall, or other fencing, roughly circular in form.In the Dutch language a kraal is a term derived from the Portuguese word , cognate...
system being used.
The novel has been adapted to film
at least six times
King Solomon's Mines (film)
King Solomon's Mines, H. Rider Haggard's 1885 adventure novel, has been adapted to the following films:* King Solomon's Mines , a British film* King Solomon's Mines , an American production...
.
External links
King Solomon's Mines (1901 edition) at the Internet Archive

Internet Archive

The Internet Archive is a non-profit digital library with the stated mission of "universal access to all knowledge". It offers permanent storage and access to collections of digitized materials, including websites, music, moving images, and nearly 3 million public domain books. The Internet Archive...