 King Bridge Company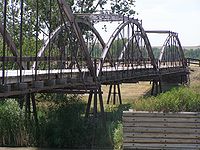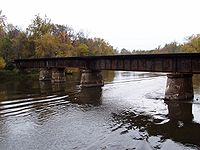 The
King Iron Bridge & Manufacturing Company
was a late-19th-century bridge building company located in Cleveland,
Ohio
Ohio
Ohio is a Midwestern state in the United States. The 34th largest state by area in the U.S.,it is the 7th‑most populous with over 11.5 million residents, containing several major American cities and seven metropolitan areas with populations of 500,000 or more.The state's capital is Columbus...
. It was founded by
Zenas King
Zenas King
Zenas King was born in Vermont in 1818. He started his career of building bridges in 1858 and moved from Cincinnati to Cleveland, Ohio around 1861. He established a bridge building works on Watson Street in Cleveland in 1865. King founded the King Iron Bridge & Manufacturing Company in 1871...
(1818–1892) in 1858 and subsequently managed by his sons, James A. King and Harry W. King and then his grandson, Norman C. King, until the mid-1920s. Many of the bridges built by the company were used during America's expansion west in the late 19th century and early 20th century, and some of these bridges are still standing today.
Remaining examples
NRHP
Bridges designed and/or built by the company and listed on the
National Register of Historic Places
National Register of Historic Places
The National Register of Historic Places is the United States government's official list of districts, sites, buildings, structures, and objects deemed worthy of preservation...
, and mostly surviving, are: