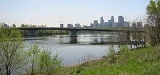 Broadway Avenue Bridge
Broadway Avenue Bridge
is a
girder bridge
Girder bridge
A girder bridge, in general, is a bridge built of girders placed on bridge abutments and foundation piers. In turn, a bridge deck is built on top of the girders in order to carry traffic. There are several different subtypes of girder bridges:...
that spans the
Mississippi River
Mississippi River
The Mississippi River is the largest river system in North America. Flowing entirely in the United States, this river rises in western Minnesota and meanders slowly southwards for to the Mississippi River Delta at the Gulf of Mexico. With its many tributaries, the Mississippi's watershed drains...
in
Minneapolis, Minnesota
Minneapolis, Minnesota
Minneapolis , nicknamed "City of Lakes" and the "Mill City," is the county seat of Hennepin County, the largest city in the U.S. state of Minnesota, and the 48th largest in the United States...
. It was built in 1987 and was designed by Norman C. Davis and Shawn Pierson Bruns of VanDoren-Hazard-Stallings. The bridge has a rather streamlined shape, but its piers are more ornate. The piers have two flat columns that taper together, with a base that extends out to the full width of the bridge.
This bridge is the third bridge to cross the river at this location. The first bridge was a wooden structure completed in 1857, but washed away in a flood in 1859. The second bridge was a four-span Pratt truss bridge built in 1887. It spanned the northern industrial district that was developing on both sides of the river. The 1887 bridge was very ornate, featuring finials on each top corner and a band of scrolls, crosses, and lines between them. The horizontal struts and guard railings used X-shapes as a pattern. In 1950, the bridge was raised 20 feet to allow barges and larger boats to pass underneath. The old bridge was removed in 1985, but a single span of the bridge lives on as the
Merriam Street Bridge
Merriam Street Bridge
Merriam Street Bridge is a truss bridge that spans the east channel of the Mississippi River between Nicollet Island and the east bank of the river in Minneapolis, Minnesota. The bridge was originally built in 1887 by King Iron Bridge Company as one of the four spans of the Broadway Avenue Bridge...
that connects
Nicollet Island
Nicollet Island
Nicollet Island is an island in the Mississippi River just north of downtown Minneapolis, Minnesota, named for cartographer, Joseph Nicollet. DeLaSalle High School and the Nicollet Island Inn are located there, as well as three multi-family residential buildings and twenty-two restored...
to the St. Anthony section of Minneapolis.