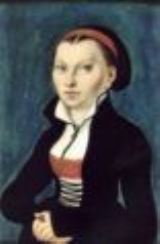 Katharina von Bora
Katharina von Bora
, referred to as "die Lutherin", (January 29, 1499 – December 20, 1552) was the wife of
Martin Luther
Martin Luther
Martin Luther was a German priest, professor of theology and iconic figure of the Protestant Reformation. He strongly disputed the claim that freedom from God's punishment for sin could be purchased with money. He confronted indulgence salesman Johann Tetzel with his Ninety-Five Theses in 1517...
, German
leader of the
Protestant Reformation
Protestant Reformation
The Protestant Reformation was a 16th-century split within Western Christianity initiated by Martin Luther, John Calvin and other early Protestants. The efforts of the self-described "reformers", who objected to the doctrines, rituals and ecclesiastical structure of the Roman Catholic Church, led...
. Beyond what is found in the writings of Luther and some of his contemporaries, little is known about her. Despite this, Katharina is often considered one of the most important participants of the Reformation because of her role in helping to define Protestant family life and setting the tone for
clergy
Clergy
Clergy is the generic term used to describe the formal religious leadership within a given religion. A clergyman, churchman or cleric is a member of the clergy, especially one who is a priest, preacher, pastor, or other religious professional....
marriages.
Origin and family background
Katharina von Bora was daughter to a family of Saxon
landed gentry
Landed gentry
Landed gentry is a traditional British social class, consisting of land owners who could live entirely off rental income. Often they worked only in an administrative capacity looking after the management of their own lands....
. According to common belief, she was born on 29 January 1499; however, there is no evidence of this date from contemporary documents. Due to the various lineages within the family and the uncertainty towards Katharina's birth name, there were and are diverging conceptions about her place of birth.
Over a long period of time, the manor of Lippendorf near Leipzig was strongly presumed to be her birthplace. The genealogical specialist literature still argues in favour of this presumption.
Lately, however, a different view upon this matter has been proposed: that she was born in
Hirschfeld
Hirschfeld
Hirschfeld can refer to one of the following:People:* Abraham Hirschfeld, Polish-born New York real estate developer* Al Hirschfeld, American caricaturist**Al Hirschfeld Theatre, in Manhattan* Emil Hirschfeld , German athlete...
, near the town of
Nossen
Nossen
Nossen is a town in the district of Meißen, in the Free State of Saxony, Germany. It is part of the Dresden region, and located 80 km southeast of Leipzig. The town is dominated by a large Renaissance castle.- History :...
, and that her parents are supposed to have been a Hans von Bora zu Hirschfeld and his wife Anna, born von Haugwitz. Neither can be historically proven. It is also possible that Katharina was the daughter of a Jan von Bora auf Lippendorf and his wife Margarete, whose family name has not been established. Both were only specifically mentioned in the year 1505.
Life as a nun
It is certain that her father sent the five year old Katherina to the Benedictine cloister in Brehna in 1504 for education. This is documented in a letter from Laurentius Zoch to Martin Luther, written on October 30, 1531. This letter is the only evidence for Katherina von Bora's time spent within the nunnery. At the age of nine she moved to the Cistercian convent Marienthron (Mary's Throne) in Nimbschen, near Grimma, where her maternal aunt also lived. Katharina is well documented at this convent in a provision list of 1509/10.
After several years of religious life, Katharina became interested in the growing reform movement and grew dissatisfied with her life at the convent. Conspiring with several other nuns to flee in secrecy, she contacted Luther and begged for his assistance.
On
Easter
Easter
Easter is the central feast in the Christian liturgical year. According to the Canonical gospels, Jesus rose from the dead on the third day after his crucifixion. His resurrection is celebrated on Easter Day or Easter Sunday...
eve 1523, Luther sent Leonhard Köppe, a city councilman of
Torgau
Torgau
Torgau is a town on the banks of the Elbe in northwestern Saxony, Germany. It is the capital of the district Nordsachsen.Outside Germany, the town is most well known as the place where during the Second World War, United States Army forces coming from the west met with forces of the Soviet Union...
and merchant who regularly delivered
herring
Herring
Herring is an oily fish of the genus Clupea, found in the shallow, temperate waters of the North Pacific and the North Atlantic oceans, including the Baltic Sea. Three species of Clupea are recognized. The main taxa, the Atlantic herring and the Pacific herring may each be divided into subspecies...
to the convent. The nuns successfully escaped by hiding in Köppe's covered wagon among the fish barrels, and fled to
Wittenberg
Wittenberg
Wittenberg, officially Lutherstadt Wittenberg, is a city in Germany in the Bundesland Saxony-Anhalt, on the river Elbe. It has a population of about 50,000....
. A local student wrote to a friend: 'A wagon load of
vestal virgin
Vestal Virgin
In ancient Roman religion, the Vestals or Vestal Virgins , were priestesses of Vesta, goddess of the hearth. The College of the Vestals and its well-being was regarded as fundamental to the continuance and security of Rome, as embodied by their cultivation of the sacred fire that could not be...
s has just come to town, all more eager for marriage than for life. God grant them husbands lest worse befall."
Luther at first asked the parents and relations of the ex-nuns to admit them again into their houses, but they declined to receive them. Within two years, Luther was able to arrange homes, marriages, or employment for all of the escaped nuns—except for Katharina. She first was housed with the family of Philipp Reichenbach, the city clerk of Wittenberg, and later went to the home of
Lucas Cranach the Elder
Lucas Cranach the Elder
Lucas Cranach the Elder , was a German Renaissance painter and printmaker in woodcut and engraving...
and his wife, Barbara. Katharina had a number of suitors, including Wittenberg University alumnus Jerome (Hieronymus) Baumgärtner (1498–1565) of
Nuremberg
Nuremberg
Nuremberg[p] is a city in the German state of Bavaria, in the administrative region of Middle Franconia. Situated on the Pegnitz river and the Rhine–Main–Danube Canal, it is located about north of Munich and is Franconia's largest city. The population is 505,664...
and a pastor, Dr.
Kaspar Glatz
Kaspar Glatz
Kaspar Glatz was a minor figure in reformation-era Lutheranism. Trained in the early days of the reformation by Martin Luther at Wittenberg, he served as a pastor in the new movement for more than 20 years...
of
Orlamünde
Orlamünde
Orlamünde is a town in the Saale-Holzland district, in Thuringia, Germany. It is situated at the confluence of the rivers Saale and Orla, 17 km south of Jena. It was the centre of a county, often united to Weimar, in the Early Middle Ages....
, but none of the proposed matches resulted in marriage. Finally, she told Luther's friend and fellow reformer, Nikolaus von Amsdorf, that she would be willing to marry only Dr. Luther or him.
Marriage to Luther
Luther eventually married Katharina on June 13, 1525 before witnesses including
Justus Jonas
Justus Jonas
Justus Jonas was a German Lutheran reformer.-Biography:Jonas was born at Nordhausen in Thuringia. His real name was Jodokus Koch, which he changed according to the common custom of German scholars in the sixteenth century, when at the University of Erfurt...
,
Johannes Bugenhagen
Johannes Bugenhagen
Johannes Bugenhagen , also called Doctor Pomeranus by Martin Luther, introduced the Protestant Reformation in the Duchy of Pomerania and Denmark in the 16th century. Among his major accomplishments was organization of Lutheran churches in Northern Germany and Scandinavia...
, and Barbara and Lucas Cranach. There was a wedding breakfast the next morning with a small company, but two weeks later on June 27, they held a more formal public ceremony which was presided over by Bugenhagen. Katharina was 26 years old, Luther 41. The couple took up residence in "The Black Cloister" (Augusteum), the former dormitory and educational institution for
Augustinian
Augustinians
The term Augustinians, named after Saint Augustine of Hippo , applies to two separate and unrelated types of Catholic religious orders:...
monks studying in Wittenberg, given as a wedding gift by the reform-minded
John Frederick, Elector of Saxony
John Frederick, Elector of Saxony
John Frederick I of Saxony , called John the Magnanimous, was Elector of Saxony and Head of the Protestant Confederation of Germany , "Champion of the Reformation".-Early years:...
, who was the son and nephew of Luther's protectors,
John, Elector of Saxony
John, Elector of Saxony
John of Saxony , known as John the Steadfast or John the Constant, was Elector of Saxony from 1525 until 1532...
and
Frederick III, Elector of Saxony
Frederick III, Elector of Saxony
Frederick III of Saxony , also known as Frederick the Wise , was Elector of Saxony from 1486 to his death. Frederick was the son of Ernest, Elector of Saxony and his wife Elisabeth, daughter of Albert III, Duke of Bavaria...
.
Katharina immediately took on the task of administering and managing the vast holdings of the monastery, breeding and selling
cattle
Cattle
Cattle are the most common type of large domesticated ungulates. They are a prominent modern member of the subfamily Bovinae, are the most widespread species of the genus Bos, and are most commonly classified collectively as Bos primigenius...
, and running a
brewery
Brewery
A brewery is a dedicated building for the making of beer, though beer can be made at home, and has been for much of beer's history. A company which makes beer is called either a brewery or a brewing company....
in order to provide for their family and the steady stream of students who boarded with them and visitors seeking audiences with Luther. In times of widespread illness, Katharina operated a hospital on site, ministering to the sick alongside other nurses. Luther called her the "boss of Zulsdorf," after the name of the farm they owned, and the "morning star of Wittenberg" for her habit of rising at 4 a.m. to take care of her various responsibilities.
In addition to her busy life tending to the lands and grounds of the monastery, Katharina bore six children: Johannes (Hans) (1526–1575), Elizabeth (1527–28) who died at eight months, Magdalena (1529–42) who died at thirteen years, Martin Jr. (1531–1565),
Paul
Paul Luther
Paul Luther was a German physician, medical chemist and alchemist. He was the third son of the Protestant reformer Martin Luther and was successively physician to John Frederick II, Duke of Saxony, Joachim II Hector, Elector of Brandenburg, Augustus, Elector of Saxony, and his successor Christian I...
(1533–1593), and Margarete (1534–70); in addition she suffered a miscarriage in 1539. The Luthers also raised four orphan children, including Katharina's nephew, Fabian.
Throughout Luther's writings, one can obtain a sense of Katharina's wit and personality, as seen in this exchange:

Martin Luther said, "The time will come when a man will take more than one wife." [Katharina] responded, "Let the devil believe that!" The doctor said, "The reason, Katie, is that a woman can bear a child only once a year while her husband can beget many." Katie responded, "Paul

Paul of Tarsus

Paul the Apostle , also known as Saul of Tarsus, is described in the Christian New Testament as one of the most influential early Christian missionaries, with the writings ascribed to him by the church forming a considerable portion of the New Testament...


said that each man should have his own wife." To this the doctor replied, "Yes, 'his own wife' and not 'only one wife,' for the latter isn't what Paul wrote." The doctor kidded for a long time and finally the doctor's wife said, "Before I put up with this, I'd rather go back to the convent and leave you and all our children."

After Luther's death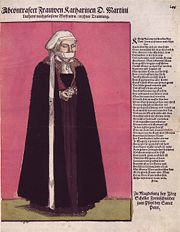 When Martin Luther died in 1546, Katharina was left in difficult financial straits without Luther's salary as
professor
Professor
A professor is a scholarly teacher; the precise meaning of the term varies by country. Literally, professor derives from Latin as a "person who professes" being usually an expert in arts or sciences; a teacher of high rank...
and
pastor
Pastor
The word pastor usually refers to an ordained leader of a Christian congregation. When used as an ecclesiastical styling or title, this role may be abbreviated to "Pr." or often "Ps"....
. She was asked to move out of the old abbey and into much more modest quarters with the children who remained at home, but she initially refused. Almost immediately thereafter, Katharina had to leave the Black Cloister on her own at the outbreak of the
Schmalkaldic War
Schmalkaldic War
The Schmalkaldic War refers to the short period of violence from 1546 until 1547 between the forces of Emperor Charles I of Spain and V of the Holy Roman Empire, commanded by Don Fernando Álvarez de Toledo, Duke of Alba, and the Lutheran Schmalkaldic League within the domains of the Holy Roman...
, from which she fled to
Magdeburg
Magdeburg
Magdeburg , is the largest city and the capital city of the Bundesland of Saxony-Anhalt, Germany. Magdeburg is situated on the Elbe River and was one of the most important medieval cities of Europe....
. After her return the approach of the war forced another flight in 1547, this time to
Braunschweig
Braunschweig
Braunschweig , is a city of 247,400 people, located in the federal-state of Lower Saxony, Germany. It is located north of the Harz mountains at the farthest navigable point of the Oker river, which connects to the North Sea via the rivers Aller and Weser....
. In July of that year, at the close of the war, she was at last able to return to Wittenberg. The buildings and lands of the monastery had been torn apart and laid waste. Economically, they could not remain there. Katharina was able to support herself thanks to the generosity of John Frederick I, Elector of Saxony and the princes of Anhalt.
She remained in Wittenberg in poverty until 1552, when an outbreak of the Black Plague and a harvest failure forced her to leave the city once again. She fled to
Torgau
Torgau
Torgau is a town on the banks of the Elbe in northwestern Saxony, Germany. It is the capital of the district Nordsachsen.Outside Germany, the town is most well known as the place where during the Second World War, United States Army forces coming from the west met with forces of the Soviet Union...
where her cart was involved in a bad accident near the city gates, seriously injuring Katharina. She died in Torgau about three months later on December 20, 1552 at the age of fifty-three and was buried at Torgau's Saint Mary's Church, far from her husband's grave in Wittenberg. She is reported to have said on her deathbed, "I will stick to Christ as a burr to cloth."
By the time of Katharina's death, the surviving Luther children were adults. Hans studied law and became a court advisor. Martin studied theology, but never had a regular pastoral call. Paul became a physician. He fathered six children and the male line of the Luther family continued through him to John Ernest Luther, ending in 1759. Margareta Luther, born in
Wittenberg
Wittenberg
Wittenberg, officially Lutherstadt Wittenberg, is a city in Germany in the Bundesland Saxony-Anhalt, on the river Elbe. It has a population of about 50,000....
on December 17, 1534, married into a noble, wealthy Prussian family, to Georg von Kunheim (Wehlau, July 1, 1523 – Mühlhausen, October 18, 1611, the son of Georg von Kunheim (1480 – 1543) and wife Margarethe, Truchsessin von Wetzhausen (1490 – 1527)) but died in Mühlhausen in 1570 at the age of thirty-six. However, her descendants have continued to modern times, including German President
Paul von Hindenburg
Paul von Hindenburg
Paul Ludwig Hans Anton von Beneckendorff und von Hindenburg , known universally as Paul von Hindenburg was a Prussian-German field marshal, statesman, and politician, and served as the second President of Germany from 1925 to 1934....
(1837-1934) and the Counts zu Eulenburg and Princes zu Eulenburg und Hertefeld.
Commemoration
She is commemorated in the
Calendar of Saints
Calendar of Saints (Lutheran)
The Lutheran Calendar of Saints is a listing which details the primary annual festivals and events that are celebrated liturgically by some Lutheran Churches in the United States. The calendars of the Evangelical Lutheran Church in America and the Lutheran Church - Missouri Synod are from the...
of some Lutheran Churches in the
United States
United States
The United States of America is a federal constitutional republic comprising fifty states and a federal district...
on December 20.
Books
Roland H. Bainton, Here I Stand: A Life of Martin Luther, New York: Penguin, 1995, c1950. 336 p. ISBN 0-452-01146-9.
Roland H. Bainton, Women of the Reformation in Germany and Italy, Augsburg Fortress Publishers (Hardcover), 1971. ISBN 0-8066-1116-2. Academic Renewal Press (Paperback), 2001. 279 p. ISBN 0-7880-9909-4.
Hans J. Hillerbrand, ed. The Reformation: A Narrative History Related by Contemporary Observers and Participants, Grand Rapids, MI: Baker Book House, 1979.
E. Jane Mall, Kitty, My Rib, St. Louis: Concordia Publishing House, 1959. ISBN 0-570-03113-3.
Luther's Works, 55 volumes of lectures, commentaries and sermons, translated into English and published by Concordia Publishing House and Fortress Press, 1957; released on CD-ROM, 2001.
Heiko A. Oberman, Luther: Man Between God and the Devil, trans. Eileen Walliser-Schwarzbart (New York: Image, 1992).
Martin Brecht, Martin Luther: Shaping and Defining the Reformation, 1521-1532, trans. James L. Schaaf (Minneapolis: Fortress, 1990); esp. chapter 4, "Marriage, Home, and Family (1525-30)."
External links
This article is partially based on the article Katharina von Bora from the German Wikipedia.