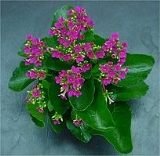 Kalanchoe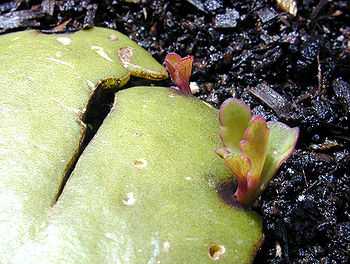 Kalanchoe
also written
Kalanchöe
or
Kalanchoë
, is a genus of about 125 species of tropical, succulent
flowering plant
Flowering plant
The flowering plants , also known as Angiospermae or Magnoliophyta, are the most diverse group of land plants. Angiosperms are seed-producing plants like the gymnosperms and can be distinguished from the gymnosperms by a series of synapomorphies...
s in the Family
Crassulaceae
Crassulaceae
Crassulaceae, or the orpine family, are a family of dicotyledons. They store water in their succulent leaves. They are found worldwide, but mostly occur in the Northern Hemisphere and southern Africa, typically in dry and/or cold areas where water may be scarce...
, mainly native to the
Old World
Old World
The Old World consists of those parts of the world known to classical antiquity and the European Middle Ages. It is used in the context of, and contrast with, the "New World" ....
but with a few species now growing wild in the
New World
New World
The New World is one of the names used for the Western Hemisphere, specifically America and sometimes Oceania . The term originated in the late 15th century, when America had been recently discovered by European explorers, expanding the geographical horizon of the people of the European middle...
following introduction of the species.
Most are
shrub
Shrub
A shrub or bush is distinguished from a tree by its multiple stems and shorter height, usually under 5–6 m tall. A large number of plants may become either shrubs or trees, depending on the growing conditions they experience...
s or
perennial
Perennial plant
A perennial plant or simply perennial is a plant that lives for more than two years. The term is often used to differentiate a plant from shorter lived annuals and biennials. The term is sometimes misused by commercial gardeners or horticulturalists to describe only herbaceous perennials...
herbaceous
Herbaceous
A herbaceous plant is a plant that has leaves and stems that die down at the end of the growing season to the soil level. They have no persistent woody stem above ground...
plants, but a few are
annual
Annual plant
An annual plant is a plant that usually germinates, flowers, and dies in a year or season. True annuals will only live longer than a year if they are prevented from setting seed...
or
biennial
Biennial plant
A biennial plant is a flowering plant that takes two years to complete its biological lifecycle. In the first year the plant grows leaves, stems, and roots , then it enters a period of dormancy over the colder months. Usually the stem remains very short and the leaves are low to the ground, forming...
. The largest,
Kalanchoe beharensis
Kalanchoe beharensis
Kalanchoe beharensis is a plant species in the succulent genus Kalanchoe, and the family Crassulaceae, a morphologically diverse and systematically complex angiosperm family […] with characteristics such as leaf-succulent, usually herbaceous, and often [with] five-parted, radially symmetrical...
from
Madagascar
Madagascar
The Republic of Madagascar is an island country located in the Indian Ocean off the southeastern coast of Africa...
, can reach 6 m tall, but most species are less than 1 m tall.
Members of Kalanchoe genus are characterized by opening their flowers by growing new cells on the inner surface of the
petal
Petal
Petals are modified leaves that surround the reproductive parts of flowers. They often are brightly colored or unusually shaped to attract pollinators. Together, all of the petals of a flower are called a corolla. Petals are usually accompanied by another set of special leaves called sepals lying...
s to force them outwards, and on the outside of the petals to close them.
The genus was first described by the botanist
Michel Adanson
Michel Adanson
Michel Adanson was a French naturalist of Scottish descent.Adanson was born at Aix-en-Provence. His family moved to Paris on 1730. After leaving the College Sainte Barbe he was employed in the cabinets of R. A. F. Reaumur and Bernard de Jussieu, as well as in the Jardin des Plantes. At the end of...
in 1763. Reportedly, the name came "from the
Chinese
Chinese language
The Chinese language is a language or language family consisting of varieties which are mutually intelligible to varying degrees. Originally the indigenous languages spoken by the Han Chinese in China, it forms one of the branches of Sino-Tibetan family of languages...
name for one of the species." This Chinese species is thought to have been either
Kalanchoe ceratophylla
or
Kalanchoe spathulata
. The genus
Bryophyllum
was described by
Salisbury
Richard Anthony Salisbury
Richard Anthony Salisbury FRS was a British botanist. While he is remembered as a valuable worker in horticultural and botanical sciences, several bitter disputes caused him to be ostracised by his contemporaries.-Life:...
in 1806 and the genus
Kitchingia
was created by
Baker
John Gilbert Baker
John Gilbert Baker was an English botanist.Baker was born in Guisborough, the son of John and Mary Baker and educated at Quaker schools in Ackworth and York....
in 1881. Kitchingia is now regarded as a synonym for Kalanchoe, whereas some botanists treat Bryophyllum as a separate genus.
Cultivation and uses
These plants are cultivated as ornamental houseplants and rock or "succulent" garden plants. They are popular because of their ease of propagation, low water requirements, and wide variety of flower colors typically borne in clusters well above the vegetative growth. The
section
Section (botany)
In botany, a section is a taxonomic rank below the genus, but above the species. The subgenus, if present, is higher than the section, and the rank of series, if present, is below the section. Sections are typically used to help organise very large genera, which may have hundreds of species...
Bryophyllum
Bryophyllum
The Bryophyllums are a section in the plant genus Kalanchoe of the Crassulaceae family. There are about twenty to thirty species in the group, native originally of South Africa, Madagascar, and Asia...
- formerly an independent genus - contains species such as the "Air plant"
Kalanchoe pinnata
Kalanchoe pinnata
Kalanchoe pinnata is a succulent plant native to Madagascar...
. In these plants, new individuals develop
vegetatively
Vegetative reproduction
Vegetative reproduction is a form of asexual reproduction in plants. It is a process by which new individuals arise without production of seeds or spores...
as plantlets, also known as bulbils or gemmae, at indents along the leaves. These young plants eventually drop off and take root. No males have been found of one species of this genus which does flower and produce seeds, and it is commonly called, the
Mother of Thousands
; the
Kalanchoe daigremontiana
Kalanchoe daigremontiana
Kalanchoe daigremontiana syn. Bryophyllum daigremontianum also called Devil's Backbone, Alligator Plant, Mexican Hat Plant or Mother of Thousands is a succulent plant native to Madagascar. This plant is distinguished by its ability to propagate via vegetative propagation...
is thus an example of
asexual reproduction
Asexual reproduction
Asexual reproduction is a mode of reproduction by which offspring arise from a single parent, and inherit the genes of that parent only, it is reproduction which does not involve meiosis, ploidy reduction, or fertilization. A more stringent definition is agamogenesis which is reproduction without...
(not so common for leaves). These plants are the food plant of the caterpillars of Red Pierrot butterfly. The butterfly lay its eggs on the leaf and after hatching the caterpillar go inside the leaf and eat the leaf from inside.
Toxicity and traditional medicine
In common with other Crassulaceae (such as the genera
Tylecodon
Tylecodon
Tylecodon is a genus of plants in the family Crassulaceae. Until the late 1970s all these plants were included in the genus Cotyledon, but in 1978 Dr Helmut Toelken of the South Australian Herbarium split them off into a genus of their own...
,
Cotyledon
Cotyledon (genus)
Cotyledon is a genus of the Crassulaceae family. Plants in the genus occur in the Arabian peninsula and throughout the drier parts of Africa, but mainly in Southern Africa....
and
Adromischus
Adromischus
Adromischus is a genus of easily propagated leaf succulents from the Crassulaceae family.Adromischus are endemic to southern Africa.The name comes from the ancient Greek "adros" et "mischos" .- Species :* Adromischus alstonii...
), some
Kalanchoe
species contain bufadienolide cardiac glycosides which can cause cardiac
poison
Poison
In the context of biology, poisons are substances that can cause disturbances to organisms, usually by chemical reaction or other activity on the molecular scale, when a sufficient quantity is absorbed by an organism....
ing, particularly in grazing animals. This is a particular problem in the native range of many Kalanchoe species in the Karroo region of South Africa, where the resulting animal disease is known as krimpsiekte (shrinking disease) or as cotyledonosis. Similar poisonings have also occurred in Australia.
In traditional medicine,
Kalanchoe
species have been used to treat ailments such as infections, rheumatism and inflammation.
Kalanchoe
extracts also have
immunosuppressive
Immunosuppressant
An immunosuppressant is any substance that performs immunosuppression of the immune system. They may be either exogenous, as immunosuppressive drugs, or endogenous, as ,e. g., testosterone...
effects.
Kalanchoe pinnata
Kalanchoe pinnata
Kalanchoe pinnata is a succulent plant native to Madagascar...
has been recorded in Trinidad and Tobago as being used as a traditional treatment for hypertension.
A variety of bufadienolide compounds have been isolated from various
Kalanchoe
species. Five different bufadienolides have been isolated from
Kalanchoe daigremontiana
Kalanchoe daigremontiana
Kalanchoe daigremontiana syn. Bryophyllum daigremontianum also called Devil's Backbone, Alligator Plant, Mexican Hat Plant or Mother of Thousands is a succulent plant native to Madagascar. This plant is distinguished by its ability to propagate via vegetative propagation...
.
Two of these,
daigremontianin
Daigremontianin
Daigremontianin is a bufadienolide. Bufadienolides are steroids and cardiac glycoside aglycones that are similar to cardenolides, differing only in the structure of the C-17 substituent on the D ring. This chemical has been found to be toxic in experiments on mice...
and bersaldegenin 1,3,5-orthoacetate, have been shown to have a pronounced
sedative
Sedative
A sedative or tranquilizer is a substance that induces sedation by reducing irritability or excitement....
effect. They also have the strong positive inotropic effect associated with cardiac glycosides, and with greater doses an increasing effect on the
central nervous system
Central nervous system
The central nervous system is the part of the nervous system that integrates the information that it receives from, and coordinates the activity of, all parts of the bodies of bilaterian animals—that is, all multicellular animals except sponges and radially symmetric animals such as jellyfish...
.
Bufadienolide compounds isolated from
Kalanchoe pinnata
Kalanchoe pinnata
Kalanchoe pinnata is a succulent plant native to Madagascar...
include bryophillin A which showed strong anti-tumor promoting activity, and bersaldegenin-3-acetate and bryophillin C which were less active. Bryophillin C also showed insecticidal properties.
Selected species
Kalanchoe adelae
Kalanchoe arborescens

Kalanchoe arborescens

Kalanchoe arborescens is a species of Kalanchoe, native to Madagascar....



Kalanchoe beauverdii
Kalanchoe beharensis

Kalanchoe beharensis

Kalanchoe beharensis is a plant species in the succulent genus Kalanchoe, and the family Crassulaceae, a morphologically diverse and systematically complex angiosperm family […] with characteristics such as leaf-succulent, usually herbaceous, and often [with] five-parted, radially symmetrical...


- Velvet Leaf, Felt Plant, Felt Bush
Kalanchoe bentii
Kalanchoe blossfeldiana

Kalanchoe blossfeldiana

Kalanchoe blossfeldiana is a commonly cultivated house plant of the genus Kalanchoe. They are succulent plants and can grow up to 12". The flowers consist of four petals and can be red, purple, orange, yellow and white and the plant flowers in the winter months.-External links:*...



Kalanchoe bouvetii
Kalanchoe bracteata
Kalanchoe campanulata
Kalanchoe crenata
Kalanchoe crundallii
Kalanchoe daigremontiana

Kalanchoe daigremontiana

Kalanchoe daigremontiana syn. Bryophyllum daigremontianum also called Devil's Backbone, Alligator Plant, Mexican Hat Plant or Mother of Thousands is a succulent plant native to Madagascar. This plant is distinguished by its ability to propagate via vegetative propagation...


- Devil's Backbone, Mexican-hat Plant, Mother of Thousands
Kalanchoe delagoensis

Kalanchoe delagoensis

Kalanchoe delagoensis is a succulent plant native to Madagascar. In common with the other members of the Bryophyllum section of the genus Kalanchoe, K. delagoensis is notable for vegetatively growing small plantlets on the fringes of its leaves, leading to its common names of mother of thousands...


- Chandelier Plant, Mother of Millions, Mother of Thousands
Kalanchoe dinklagei
Kalanchoe eriophylla
Kalanchoe farinacea

Kalanchoe farinacea

Kalanchoe farinacea is a species of plant in the Crassulaceae family. It is endemic to the Yemeni island of Socotra. Its natural habitat is subtropical or tropical dry shrubland at an altitude of 100-800m. While it is listed by IUCN as belonging to the order Rosales, Kalanchoes and other...



Kalanchoe fedtschenkoi

Kalanchoe fedtschenkoi

Kalanchoe fedtschenkoi is a species of Kalanchoe....


- Amethyst Scallops
Kalanchoe figuereidoi
Kalanchoe flammea
Kalanchoe gastonis-bonnieri

Kalanchoe gastonis-bonnieri

Kalanchoe gastonis-bonnieri is a species of flowering plant in the Crassulaceae family.-References:*J. T. Baldwin, Jr., . Kalanchoe: the genus and its chromosomes, American Journal of Botany Vol. 25...


- Donkey Ears, Life Plant
Kalanchoe glaucescens
Kalanchoe gracilipes
Kalanchoe grandidieri
Kalanchoe grandiflora
Kalanchoe hildebrantii - Silver Teaspoons
Kalanchoe jongmansii
Kalanchoe kewensis
Kalanchoe laciniata
Kalanchoe laetivirens
Kalanchoe lateritia
Kalanchoe laxiflora
Kalanchoe linearifolia
Kalanchoe longiflora

Kalanchoe macrochlamys
Kalanchoe manginii
Kalanchoe marnieriana
Kalanchoe marmorata - Penwiper
Kalanchoe millottii
Kalanchoe miniata
Kalanchoe nyikae
Kalanchoe obtusa
Kalanchoe orgyalis

Kalanchoe orgyalis

Kalanchoe orgyalis is a species of the succulent genus Kalanchoe, in the family Crassulaceae....



Kalanchoe peltata
Kalanchoe petitiana
Kalanchoe pinnata

Kalanchoe pinnata

Kalanchoe pinnata is a succulent plant native to Madagascar...


- Life Plant, Miracle Leaf, Air Plant, Goethe Plant
Kalanchoe porphyrocalyx
Kalanchoe prolifera
Kalanchoe pubescens
Kalanchoe pumila
Kalanchoe quartiniana
Kalanchoe rhombopilosa - Pies from Heaven
Kalanchoe robusta

Kalanchoe robusta

Kalanchoe robusta is a species of plant in the Crassulaceae family. It is endemic to the Yemeni island of Socotra. Its natural habitat is on rocky slopes and amongst limestone boulders in dwarf shrubland and low succulent shrubland at an altitude of 300–750m...



Kalanchoe rolandi-bonapartei
Kalanchoe rosei
Kalanchoe rotundifolia
Kalanchoe schizophylla
Kalanchoe serrata
Kalanchoe sexangularis
Kalanchoe streptantha
Kalanchoe suarezensis
Kalanchoe synsepala - Cup Kalanchoe, Walking Kalanchoe
Kalanchoe synsepala f. dissecta - Cup Kalanchoe, Walking Kalanchoe
Kalanchoe thyrsiflora

Kalanchoe thyrsiflora

Kalanchoe thyrsiflora is a species of Kalanchoe, native to South Africa. A succulent plant producing a stalk about 1m tall, dying back after flowering...


- Paddle Plant, Flapjacks, Desert Cabbage, White Lady, Geelplakkie, Meelplakkie, Plakkie
Kalanchoe tomentosa - Panda Plant
Kalanchoe tubiflora - Chandelier Plant, Mother of Millions, Mother of Thousands
Kalanchoe uniflora
Kalanchoe velutina
Kalanchoe viguieri