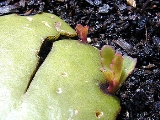 Vegetative reproduction
Vegetative reproduction
(
vegetative propagation
,
vegetative multiplication
,
vegetative cloning
) is a form of
asexual reproduction
Asexual reproduction
Asexual reproduction is a mode of reproduction by which offspring arise from a single parent, and inherit the genes of that parent only, it is reproduction which does not involve meiosis, ploidy reduction, or fertilization. A more stringent definition is agamogenesis which is reproduction without...
in plants. It is a process by which new individuals arise without production of
seed
Seed
A seed is a small embryonic plant enclosed in a covering called the seed coat, usually with some stored food. It is the product of the ripened ovule of gymnosperm and angiosperm plants which occurs after fertilization and some growth within the mother plant...
s or
spore
Spore
In biology, a spore is a reproductive structure that is adapted for dispersal and surviving for extended periods of time in unfavorable conditions. Spores form part of the life cycles of many bacteria, plants, algae, fungi and some protozoa. According to scientist Dr...
s. It can occur naturally or be induced by
horticulturists
Horticulture
Horticulture is the industry and science of plant cultivation including the process of preparing soil for the planting of seeds, tubers, or cuttings. Horticulturists work and conduct research in the disciplines of plant propagation and cultivation, crop production, plant breeding and genetic...
.
Although most plants normally reproduce sexually, many have the ability for vegetative propagation, or can be vegetatively propagated if small pieces are subjected to chemical (hormonal) treatments.