 Joseph Forsyth Johnson
Joseph Forsyth Johnson
was an
English
England
England is a country that is part of the United Kingdom. It shares land borders with Scotland to the north and Wales to the west; the Irish Sea is to the north west, the Celtic Sea to the south west, with the North Sea to the east and the English Channel to the south separating it from continental...
landscape architect
Landscape architect
A landscape architect is a person involved in the planning, design and sometimes direction of a landscape, garden, or distinct space. The professional practice is known as landscape architecture....
and disciple of
John Ruskin
John Ruskin
John Ruskin was the leading English art critic of the Victorian era, also an art patron, draughtsman, watercolourist, a prominent social thinker and philanthropist. He wrote on subjects ranging from geology to architecture, myth to ornithology, literature to education, and botany to political...
.
Early life and career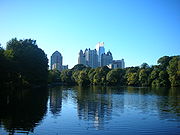 Johnson was the son of Joseph Johnson, a baker. He had a family background in horticulture. His Scottish maternal grandfather John Forsyth, a florist, was the son of William Forsyth, a botanist who co-founded the
Royal Horticultural Society
Royal Horticultural Society
The Royal Horticultural Society was founded in 1804 in London, England as the Horticultural Society of London, and gained its present name in a Royal Charter granted in 1861 by Prince Albert...
in 1804.
Johnson had a successful career designing the grounds for a number of estates in England, Ireland and Russia. By 1869, he was the Curator of the
Royal Botanic Gardens in Belfast
Belfast Botanic Gardens
Belfast Botanic Gardens is a public park in Belfast, Northern Ireland.Occupying of south Belfast, the gardens are popular with office workers, students and tourists. They are located on Stranmillis Road in Belfast's university area, with Queen's University nearby...
. He subsequently set up a landscape gardening shop on
Bond Street
Bond Street
Bond Street is a major shopping street in the West End of London that runs north-south through Mayfair between Oxford Street and Piccadilly. It has been a fashionable shopping street since the 18th century and is currently the home of many high price fashion shops...
in London.
He went to the United States of America in 1885 where he was employed by
Prospect Park
Prospect Park (Brooklyn)
Prospect Park is a 585-acre public park in the New York City borough of Brooklyn located between Park Slope, Prospect-Lefferts Gardens, Kensington, Windsor Terrace and Flatbush Avenue, Grand Army Plaza and the Brooklyn Botanic Garden...
in Brooklyn, New York City as superintendent of horticulture. The park was overgrown and his plan was to create a number of vistas so the entirety of the large park would be visible. This would have necessitated the removal of a large number of trees, which proved unacceptable to the community. As a result, Johnson was terminated from the project.
A recommendation in 1887 by New York florist Peter Henderson convinced
Joel Hurt
Joel Hurt
Joel Hurt was an important businessman and developer in Atlanta active in the late 19th century through the early 20th century.Born in Hurtsboro, Alabama Joel Hurt (1850–1926) was an important businessman and developer in Atlanta active in the late 19th century through the early 20th...
to bring Johnson to Atlanta to work on his
streetcar suburb
Streetcar suburb
A streetcar suburb is a residential community whose growth and development was strongly shaped by the use of streetcar lines as a primary means of transportation. Early suburbs were served by horsecars, but by the late 19th century cable cars and electric streetcars, or trams, were used, allowing...
,
Inman Park
Inman Park
Inman Park was planned in the late 1880s by Joel Hurt, a civil engineer and real-estate developer who intended to create a rural oasis connected to the city by the first of Atlanta's electric streetcar lines. The East Atlanta Land Company acquired and developed more than 130 acres east of the city...
. Johnson went to Atlanta and he spent the next five years there. He joined Hurt again for
Piedmont Park
Piedmont Park
Piedmont Park is a urban park in Atlanta, Georgia, located about northeast of Downtown, between the Midtown and Virginia Highland neighborhoods. Originally the land was owned by Dr. Benjamin Walker, who used it as his out-of-town gentleman's farm and residence...
.
In 1891, he designed
Latta Park
Latta Park (Charlotte, North Carolina)
Latta Park is a 31 acre urban park at 601 East Park Avenue in the Dilworth neighborhood of Charlotte, North Carolina. It features courts for tennis, volleyball, and basketball, as well as lots of benches and picnic facilities, playgrounds, walking trails, fitness trails, and soccer fields...
in
Charlotte, North Carolina
Charlotte, North Carolina
Charlotte is the largest city in the U.S. state of North Carolina and the seat of Mecklenburg County. In 2010, Charlotte's population according to the US Census Bureau was 731,424, making it the 17th largest city in the United States based on population. The Charlotte metropolitan area had a 2009...
and the next year may have designed the neighborhood of
Cloverdale
Cloverdale, Montgomery
Cloverdale is a neighborhood within the American city of Montgomery, Alabama. It is the largest garden-landscaped neighborhood in the state of Alabama. Built in the late nineteenth and early twentieth centuries, it is one of Montgomery's "genteel" areas...
in
Montgomery, Alabama
Montgomery, Alabama
Montgomery is the capital of the U.S. state of Alabama, and is the county seat of Montgomery County. It is located on the Alabama River southeast of the center of the state, in the Gulf Coastal Plain. As of the 2010 census, Montgomery had a population of 205,764 making it the second-largest city...
.
Family
He married Elizabeth Trowsdale (born 1832) on 12 January 1861, by whom he had six children: John Forsyth Johnson (born 1861), Charles (born 1862), Georgiana Mary Alice (born 1864), Elizabeth (born 1868), Joseph and Christina (born 1873). He moved to America in 1885 with Frances Clarke, who was then pregnant and who was included on the passenger list as his wife. They had three children: Roy Albert Johnson (1886–1939), Cecil Forsyth Johnson (1887–1951), and Edwina Johnson Mundy (1891–1969). Johnson's great grandson by his first marriage is the British entertainer
Bruce Forsyth
Bruce Forsyth
Sir Bruce Joseph Forsyth-Johnson, CBE , commonly known as Bruce Forsyth, or Brucie, is an English TV personality...
. Forsyth appeared on the
BBC One
BBC One
BBC One is the flagship television channel of the British Broadcasting Corporation in the United Kingdom. It was launched on 2 November 1936 as the BBC Television Service, and was the world's first regular television service with a high level of image resolution...
genealogy
Genealogy
Genealogy is the study of families and the tracing of their lineages and history. Genealogists use oral traditions, historical records, genetic analysis, and other records to obtain information about a family and to demonstrate kinship and pedigrees of its members...
television show
Who Do You Think You Are?
researching his great grandfather Joseph, in particular any information relating to his American family. Neither side of the family knew of the other's existence until genealogy research from the American branch brought them together.
Despite the question of bigamy arising in this documentary, there is no record for Johnson's marriage to Frances Clarke, although she is shown to have been recorded as both Frances Clarke Johnson and Frances Forsyth Johnson.
Death
Johnson's American family were informed that he had died while travelling to
Great Britain
Great Britain
Great Britain or Britain is an island situated to the northwest of Continental Europe. It is the ninth largest island in the world, and the largest European island, as well as the largest of the British Isles...
and had been buried at sea. In fact he had abandoned his American family just as he had previously abandoned his English wife and children. The reality was that he had returned to England to visit his family there, later going back to the United States. In the next decade he visited England on several other occasions before he died in Brooklyn, NY in 1906. Johnson was buried there at
Evergreen Cemetery
Cemetery of the Evergreens, Brooklyn
The Cemetery of the Evergreens is a non-denominational cemetery in Brooklyn and Queens, New York, colloquially called Evergreen Cemetery. It was incorporated in 1849, not long after the passage of New York's Rural Cemetery Act spurred development of cemeteries outside Manhattan. For a time, it was...
in an unmarked grave. He died with only $389 to his name after living for several years in a hotel, leaving no last will or testament.
Having visited his great grandfather's unmarked grave at Evergreens Cemetery, Bruce Forsyth has commissioned a headstone in memory, to mark Joseph Forsyth Johnsons' life and work.
Writings
The Natural Principle of Landscape Gardening: Or the Adornment of Land for Perpetual Beauty, Archer and Songs, Belfast, 1874
Residential Sites and Environments, Their Conveniences, Gardens, Parks and Planting, A.T.Delamare, New York, 1898
The Laws of Developing Landscape, Showing How to Make Thickets and Woodlands Reveal Their Natural Beauty, Journal of the Royal Horticultural Society 29 (1904–1905), p. 595-624