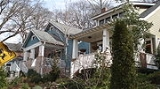 Inman Park
Inman Park was planned in the late 1880s by
Joel Hurt
Joel Hurt
Joel Hurt was an important businessman and developer in Atlanta active in the late 19th century through the early 20th century.Born in Hurtsboro, Alabama Joel Hurt (1850–1926) was an important businessman and developer in Atlanta active in the late 19th century through the early 20th...
, a civil engineer and real-estate developer who intended to create a rural oasis connected to the city by the first of
Atlanta's electric streetcar lines
Streetcars in Atlanta
Streetcars operated in Atlanta starting with horsecars in 1871; electric streetcar service started in the 1880s. The last streetcar service ended in 1949; the streetcar system was quickly replaced by a trolleybus system and with buses...
. The East Atlanta Land Company acquired and developed more than 130 acres east of the city and Hurt named the new suburb for his friend and business associate,
Samuel M. Inman
Samuel M. Inman
Samuel Martin Inman was a prominent cotton merchant and businessman in Atlanta, Georgia who is best known for the neighborhood in Atlanta that bears his name.-Early life:...
.
Joseph Forsyth Johnson
Joseph Forsyth Johnson
Joseph Forsyth Johnson was an English landscape architect and disciple of John Ruskin.-Early life and career:thumb|left|Piedmont Park in Atlanta, Georgia, where Johnson's work was hugely acclaimed....
was hired as landscape designer for Inman Park who included curvilinear street designs and liberal usage of open spaces in his planning.
The Atlanta Constitution in 1896 grandly described Inman Park:
"High up above the city, where the purest breezes and the brightest sunshine drove away the germs of disease, and where nature had lavished her best gifts, the gentlemen who conceived the though of Inman Park found the locality above all others which they desired. It was to be a place of homes, of pretty homes, green lawns, and desirable inhabitants. And all save those who would make desirable residents have been excluded..."
"It's the prettiest, highest, healthiest and most desirable locality I ever saw. Everybody is friendly and neighborly. There are no negroes and not a single objectionable inhabitant. And as far as accessibility it ranks second to no residence portion of the city. We have three car lines and frequent schedules."
Moreland Park was by contrast developed as a more traditional, incremental building of sub-divisions as opposed to the grand plan for Inman Park proper.
Decline
The arrival of the automobile allowed upper class Atlantans to live in suburbs farther north from downtown workplaces, such as
Morningside
Morningside-Lenox Park
Morningside/Lenox Park is a residential neighborhood in Atlanta, Georgia founded in 1931. It is located north of Virginia-Highland, east of Ansley Park and west of Druid Hills...
and what is now considered Buckhead. Inman Park became less fashionable and the exuberant Victorian architecture came to seem dated. The mansions came to be subdivided into apartments.
Similar to other intown neighborhoods such as Virginia Highland, Inman Park fell to blight during the white middle and upper class exodus to the northern suburbs in the 1950s and 1960s, and was:
"an economically depressed neighborhood of mostly blue-collar white folks, elderly couples who could not afford to move out and families on disability and welfare. They lived in rented bungalows or big houses chopped up into tiny roach-infested apartments."

Atlanta's first intown neighborhood to gentrify
Gentrification began in 1969 with the renovation of the
Beath-Dickey House
Beath-Dickey House
The Beath Dickey House is a Queen Anne Victorian house located on Euclid Avenue in the Inman Park neighborhood of Atlanta, Georgia. It was one of the houses of note when the Inman Park - Atlanta's first streetcar suburb - was established. John M. Beath was an "ice magnate", owner of the Georgia...
by Bob Griggs and his partner Robert Aiken.
Freeway revolt against I-485
During this same period, there was an intense fight against the
I-485
Interstate 485
Interstate 485 is an Interstate Highway and a nearly completed beltway around Charlotte, North Carolina.-Route description:The western, southern and eastern segments of the beltway are complete and open to traffic...
freeway which was to be built through the neighborhood, although many properties in Inman Park, as well as the entire neighboring neighborhood of
Copenhill
Copenhill
Copenhill, Copenhill Park, or Copen Hill was a neighborhood of Atlanta, Georgia which was located largely where the Carter Center now sits, and which now forms part of the Poncey-Highland neighborhood. It lay:...
, were torn down in preparation for freeway construction.
Inman Park today
After decades of restoration and renewal, Inman Park is now a highly coveted intown neighborhood with numerous million-dollar properties.
Former industrial areas on the west side of the neighborhood - notably the sites of the former
General Pipe and Foundry
General Pipe and Foundry Company
The General Pipe and Foundry Company foundry and machine shop was located on the north side of Highland Avenue between Elizabeth Street and the BeltLine in Inman Park, Atlanta, Georgia. Coca-Cola executive Robert W. Woodruff worked here when he was 19 years old.The land on which the complex once...
complex and the
Mead paper plant
, have been redeveloped and are home to both new and repurposed condo and apartment developments, restaurants and other businesses.
Education
Residents in Inman Park are within
Atlanta Public Schools
Atlanta Public Schools
Atlanta Public Schools is a school district based in Atlanta, Georgia, United States. APS is run by the Atlanta Board of Education with interim superintendent Erroll Davis...
.
Zoned schools include:
Mary Lin Elementary School (located in nearby Candler Park

Candler Park

Candler Park is a 55-acre city park located at 585 Candler Park Drive NE, in Atlanta, Georgia. It is named after Coca-Cola magnate Asa Griggs Candler, who donated this land to the city in 1922...


)
Inman Middle School
Henry W. Grady High School

Henry W. Grady High School

Henry W. Grady High School is located in Atlanta, Georgia, United States in Midtown. It serves as the Communication Magnet school for the Atlanta Public Schools...



External links