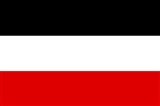 German Empire
The
German Empire
refers to
Germany
Germany
Germany , officially the Federal Republic of Germany , is a federal parliamentary republic in Europe. The country consists of 16 states while the capital and largest city is Berlin. Germany covers an area of 357,021 km2 and has a largely temperate seasonal climate...
during the "
Second Reich
" period from the
unification of Germany
Unification of Germany
The formal unification of Germany into a politically and administratively integrated nation state officially occurred on 18 January 1871 at the Versailles Palace's Hall of Mirrors in France. Princes of the German states gathered there to proclaim Wilhelm of Prussia as Emperor Wilhelm of the German...
and proclamation of
Wilhelm I
William I, German Emperor
William I, also known as Wilhelm I , of the House of Hohenzollern was the King of Prussia and the first German Emperor .Under the leadership of William and his Chancellor Otto von Bismarck, Prussia achieved the unification of Germany and the...
as
German Emperor
German Emperor
This article is about the emperors of the German Empire. For full list of German monarchs before 1871, see List of German monarchs.The German Emperor was the official title of the Head of State and ruler of the German Empire, beginning with the proclamation of Wilhelm I as emperor during the...
on 18 January 1871, to 1918, when it became
a federal republic
Weimar Republic
The Weimar Republic is the name given by historians to the parliamentary republic established in 1919 in Germany to replace the imperial form of government...
after defeat in
World War I
World War I
World War I , which was predominantly called the World War or the Great War from its occurrence until 1939, and the First World War or World War I thereafter, was a major war centred in Europe that began on 28 July 1914 and lasted until 11 November 1918...
and the abdication of the
Emperor
Kaiser
Kaiser is the German title meaning "Emperor", with Kaiserin being the female equivalent, "Empress". Like the Russian Czar it is directly derived from the Latin Emperors' title of Caesar, which in turn is derived from the personal name of a branch of the gens Julia, to which Gaius Julius Caesar,...
, Wilhelm II.
The German Empire consisted of 27 constituent territories (most of them ruled by royal families). While the
Kingdom of Prussia
Kingdom of Prussia
The Kingdom of Prussia was a German kingdom from 1701 to 1918. Until the defeat of Germany in World War I, it comprised almost two-thirds of the area of the German Empire...
contained most of the population and most of the territory of the Reich; the Prussian leadership became supplanted by German leaders and Prussia itself played a lesser role.