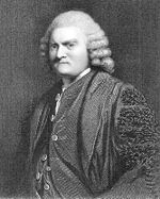 John Pringle
Sir John Pringle, 1st Baronet
, FRS (10 April 1707 – 18 January 1782) was a
Scottish
Scotland
Scotland is a country that is part of the United Kingdom. Occupying the northern third of the island of Great Britain, it shares a border with England to the south and is bounded by the North Sea to the east, the Atlantic Ocean to the north and west, and the North Channel and Irish Sea to the...
physician
Physician
A physician is a health care provider who practices the profession of medicine, which is concerned with promoting, maintaining or restoring human health through the study, diagnosis, and treatment of disease, injury and other physical and mental impairments...
who has been called the "father of military medicine" (although
Ambroise Paré
Ambroise Paré
Ambroise Paré was a French surgeon. He was the great official royal surgeon for kings Henry II, Francis II, Charles IX and Henry III and is considered as one of the fathers of surgery and modern forensic pathology. He was a leader in surgical techniques and battlefield medicine, especially the...
and
Jonathan Letterman
Jonathan Letterman
Jonathan Letterman was an American surgeon credited as being the originator of the modern methods for medical organization in armies. Dr...
have also been accorded this
sobriquet
Sobriquet
A sobriquet is a nickname, sometimes assumed, but often given by another. It is usually a familiar name, distinct from a pseudonym assumed as a disguise, but a nickname which is familiar enough such that it can be used in place of a real name without the need of explanation...
).
Youth and early career
John Pringle was the youngest son of Sir John Pringle, 2nd Baronet, of
Stichill
Stichill
Stichill is a village and civil parish in the historic county of Roxburghshire, a division of the Scottish Borders. Situated north of the Burgh of Kelso, Stichill lies north of the Eden Water and from the English Border at Coldstream....
,
Roxburghshire
Roxburghshire
Roxburghshire or the County of Roxburgh is a registration county of Scotland. It borders Dumfries to the west, Selkirk to the north-west, and Berwick to the north. To the south-east it borders Cumbria and Northumberland in England.It was named after the Royal Burgh of Roxburgh...
(1662–1721), by his spouse Magdalen (d. Dec 1739), daughter of Sir Gilbert Elliot, of Stobs.
He was educated at St Andrews, at Edinburgh, and at
Leiden
Leiden University
Leiden University , located in the city of Leiden, is the oldest university in the Netherlands. The university was founded in 1575 by William, Prince of Orange, leader of the Dutch Revolt in the Eighty Years' War. The royal Dutch House of Orange-Nassau and Leiden University still have a close...
. In 1730 he graduated with a degree of Doctor of Physics at the last-named university, where he was an intimate friend of
Gerard van Swieten
Gerard van Swieten
Gerard van Swieten was a Dutch-Austrian physician.Van Swieten was born in Leiden. He was a pupil of Hermann Boerhaave and became in 1745 the personal physician of the Austrian Empress Maria Theresa. In this position he implemented a transformation of the Austrian health service and medical...
and
Albrecht von Haller
Albrecht von Haller
Albrecht von Haller was a Swiss anatomist, physiologist, naturalist and poet.-Early life:He was born of an old Swiss family at Bern. Prevented by long-continued ill-health from taking part in boyish sports, he had the more opportunity for the development of his precocious mind...
.
He settled in
Edinburgh
Edinburgh
Edinburgh is the capital city of Scotland, the second largest city in Scotland, and the eighth most populous in the United Kingdom. The City of Edinburgh Council governs one of Scotland's 32 local government council areas. The council area includes urban Edinburgh and a rural area...
at first as a physician, but between 1733 - 1744 was also Professor of Moral Philosophy at Edinburgh University.
In 1742 he became physician to the
Earl of Stair
John Dalrymple, 2nd Earl of Stair
Field Marshal John Dalrymple, 2nd Earl of Stair KT PC was a Scottish soldier and diplomat.-Military career:Despite being born in Edinburgh, Scotland, Dalrymple spent his early life mostly in the Netherlands and he studied at Leiden University...
, then commanding the British army in
Flanders
Flanders
Flanders is the community of the Flemings but also one of the institutions in Belgium, and a geographical region located in parts of present-day Belgium, France and the Netherlands. "Flanders" can also refer to the northern part of Belgium that contains Brussels, Bruges, Ghent and Antwerp...
. About the time of the
battle of Dettingen
Battle of Dettingen
The Battle of Dettingen took place on 27 June 1743 at Dettingen in Bavaria during the War of the Austrian Succession. It was the last time that a British monarch personally led his troops into battle...
in Bavaria in June 1743, when the British army was encamped at
Aschaffenburg
Aschaffenburg
Aschaffenburg is a city in northwest Bavaria, Germany. The town of Aschaffenburg is not considered part of the district of Aschaffenburg, but is the administrative seat.Aschaffenburg is known as the Tor zum Spessart or "gate to the Spessart"...
, Pringle, through the Earl of Stair, brought about an agreement with the Duc de Noailles, the French commander, that military hospitals on both sides be considered as neutral, immune sanctuaries for the sick and wounded, and should be mutually protected. The International Red Cross, as constituted by the modern Geneva Conventions, developed from this conception and agreement.
In 1744 he was appointed by the
Duke of Cumberland
Prince William Augustus, Duke of Cumberland
Prince William , was a younger son of George II of Great Britain and Caroline of Ansbach, and Duke of Cumberland from 1726. He is generally best remembered for his role in putting down the Jacobite Rising at the Battle of Culloden in 1746, and as such is also known as "Butcher" Cumberland...
physician-general to the forces in the
Low Countries
Low Countries
The Low Countries are the historical lands around the low-lying delta of the Rhine, Scheldt, and Meuse rivers, including the modern countries of Belgium, the Netherlands, Luxembourg and parts of northern France and western Germany....
. In 1749, having settled in a smart house in
Pall Mall
Pall Mall, London
Pall Mall is a street in the City of Westminster, London, and parallel to The Mall, from St. James's Street across Waterloo Place to the Haymarket; while Pall Mall East continues into Trafalgar Square. The street is a major thoroughfare in the St James's area of London, and a section of the...
,
London
London
London is the capital city of :England and the :United Kingdom, the largest metropolitan area in the United Kingdom, and the largest urban zone in the European Union by most measures. Located on the River Thames, London has been a major settlement for two millennia, its history going back to its...
, he was made physician in ordinary to the Duke of Cumberland.
On 1 April 1752 he married Charlotte (d. Dec 1753) second daughter of Dr
William Oliver
William Oliver (physician)
William Oliver was an English physician and philanthropist, and inventor of the Bath Oliver. He was born at Ludgvan, Cornwall, and baptised on 27 August 1695, described as the son of John Oliver. His family, originally seated at Trevarnoe in Sithney, resided afterwards in Ludgvan, and the estate...
(1695–1764) of Bath, the inventor of
Bath Oliver
Bath Oliver
A Bath Oliver is a hard, dry biscuit or cracker made from flour, butter, yeast and milk; often eaten with cheese. It was invented by a Dr William Oliver of Bath, Somerset around 1750, giving the biscuit its name....
biscuits, but they had no issue.
On 5 June 1766 John Pringle was created a baronet, and in 1774 he was appointed Physician to His Majesty King George III.
He was also a frequent travel companion to
Benjamin Franklin
Benjamin Franklin
Dr. Benjamin Franklin was one of the Founding Fathers of the United States. A noted polymath, Franklin was a leading author, printer, political theorist, politician, postmaster, scientist, musician, inventor, satirist, civic activist, statesman, and diplomat...
.
Academia
His first book,
Observations on the Nature and Cure of Hospital and Jayl Fevers
, was published in 1750, and in the same year he contributed to the
Philosophical Transactions
of the
Royal Society
Royal Society
The Royal Society of London for Improving Natural Knowledge, known simply as the Royal Society, is a learned society for science, and is possibly the oldest such society in existence. Founded in November 1660, it was granted a Royal Charter by King Charles II as the "Royal Society of London"...
three papers on
Experiments on Septic and Antiseptic Substances
, which gained him the
Copley Medal
Copley Medal
The Copley Medal is an award given by the Royal Society of London for "outstanding achievements in research in any branch of science, and alternates between the physical sciences and the biological sciences"...
. Two years later he published his important work,
Observations on the Diseases of the Army in Camp and Garrison
, which entitles him to be regarded as the founder of modern
military medicine
Military medicine
The term military medicine has a number of potential connotations. It may mean:*A medical specialty, specifically a branch of occupational medicine attending to the medical risks and needs of soldiers, sailors and other service members...
.
In November 1772 he was elected president of the Royal Society, a position he held until 1778. In this capacity he delivered six discourses, which were afterwards collected into a single volume (1783).
Pringle was a regular correspondent and friend of
James Burnett, Lord Monboddo
James Burnett, Lord Monboddo
James Burnett, Lord Monboddo was a Scottish judge, scholar of linguistic evolution, philosopher and deist. He is most famous today as a founder of modern comparative historical linguistics . In 1767 he became a judge in the Court of Session. As such, Burnett adopted an honorary title based on his...
, the Scottish philosopher. Monboddo was an important thinker in pre-evolutionary theory, and some scholars actually credit him with the concept of
evolution
Evolution
Evolution is any change across successive generations in the heritable characteristics of biological populations. Evolutionary processes give rise to diversity at every level of biological organisation, including species, individual organisms and molecules such as DNA and proteins.Life on Earth...
; however, Monboddo was also quite eccentric, which was one reason for Monboddo's not receiving credit for the evolution concepts. John Pringle was also an avid student of botany, which he predominantly learned while sitting on the toilet. It was in a letter to Pringle in 1773 that Monboddo revealed he did not really hold to a belief of men being born with tails, which was the chief point of his ridicule.
After passing his seventieth year he went, briefly, to Edinburgh in 1780, but returned to London in September 1781, and died in the following year.
Legacy
There is a monument to Pringle in
Westminster Abbey
Westminster Abbey
The Collegiate Church of St Peter at Westminster, popularly known as Westminster Abbey, is a large, mainly Gothic church, in the City of Westminster, London, United Kingdom, located just to the west of the Palace of Westminster. It is the traditional place of coronation and burial site for English,...
, executed by Nollekens. At Sir John's death his baronetcy became extinct.