 Jet (lignite)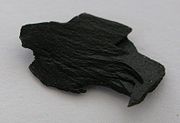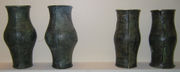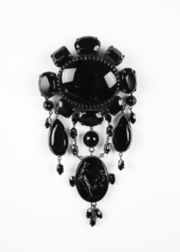 Jet
is a geological material and is considered to be a minor
gemstone
Gemstone
A gemstone or gem is a piece of mineral, which, in cut and polished form, is used to make jewelry or other adornments...
. Jet is not considered a true
mineral
Mineral
A mineral is a naturally occurring solid chemical substance formed through biogeochemical processes, having characteristic chemical composition, highly ordered atomic structure, and specific physical properties. By comparison, a rock is an aggregate of minerals and/or mineraloids and does not...
, but rather a
mineraloid
Mineraloid
A mineraloid is a mineral-like substance that does not demonstrate crystallinity. Mineraloids possess chemical compositions that vary beyond the generally accepted ranges for specific minerals. For example, obsidian is an amorphous glass and not a crystal. Jet is derived from decaying wood under...
as it has an organic origin, being derived from decaying wood under extreme pressure.
The English noun "jet" derives from the French word for the same material:
jaiet
. Jet is either black or dark brown, but may contain
pyrite
Pyrite
The mineral pyrite, or iron pyrite, is an iron sulfide with the formula FeS2. This mineral's metallic luster and pale-to-normal, brass-yellow hue have earned it the nickname fool's gold because of its resemblance to gold...
inclusions
Inclusion (mineral)
In mineralogy, an inclusion is any material that is trapped inside a mineral during its formation.In gemology, an inclusion is a characteristic enclosed within a gemstone, or reaching its surface from the interior....
, which are of brassy colour and metallic
lustre
Lustre (mineralogy)
Lustre is a description of the way light interacts with the surface of a crystal, rock, or mineral. The word lustre traces its origins back to the Latin word lux, meaning "light", and generally implies radiance, gloss, or brilliance....
. The adjective "jet-black", meaning as dark a black as possible, derives from this material.
Origin
Jet is a product of high pressure decomposition of wood from millions of years ago, commonly the wood of trees of the family
Araucariaceae
Araucariaceae
Araucariaceae, commonly referred to as araucarians, is a very ancient family of coniferous trees. It achieved its maximum diversity in the Jurassic and Cretaceous periods, when it was distributed almost worldwide...
. Jet is found in two forms, hard and soft. Hard jet is the result of the carbon compression and
salt water
Seawater
Seawater is water from a sea or ocean. On average, seawater in the world's oceans has a salinity of about 3.5% . This means that every kilogram of seawater has approximately of dissolved salts . The average density of seawater at the ocean surface is 1.025 g/ml...
; soft jet is the result of the carbon compression and
fresh water
Fresh Water
Fresh Water is the debut album by Australian rock and blues singer Alison McCallum, released in 1972. Rare for an Australian artist at the time, it came in a gatefold sleeve...
.
The jet found at
Whitby
Whitby
Whitby is a seaside town, port and civil parish in the Scarborough borough of North Yorkshire, England. Situated on the east coast of Yorkshire at the mouth of the River Esk, Whitby has a combined maritime, mineral and tourist heritage, and is home to the ruins of Whitby Abbey where Caedmon, the...
, England is of early
Jurassic
Jurassic
The Jurassic is a geologic period and system that extends from about Mya to Mya, that is, from the end of the Triassic to the beginning of the Cretaceous. The Jurassic constitutes the middle period of the Mesozoic era, also known as the age of reptiles. The start of the period is marked by...
(
Toarcian
Toarcian
The Toarcian is, in the ICS' geologic timescale, an age or stage in the Early or Lower Jurassic. It spans the time between 183.0 Ma and 175.6 Ma...
) age, approximately 182 million years old.
History
Jet is easily polished and is used in manufacturing
jewellery
Jewellery
Jewellery or jewelry is a form of personal adornment, such as brooches, rings, necklaces, earrings, and bracelets.With some exceptions, such as medical alert bracelets or military dog tags, jewellery normally differs from other items of personal adornment in that it has no other purpose than to...
, according to the Whitby Museum, dating from 10,000 BC in parts of
Germany
Germany
Germany , officially the Federal Republic of Germany , is a federal parliamentary republic in Europe. The country consists of 16 states while the capital and largest city is Berlin. Germany covers an area of 357,021 km2 and has a largely temperate seasonal climate...
. The oldest jet jewellery was found in Asturias, Spain, dating from 17,000 BC. Whitby jet was a favourite material for ornamental jewelllery during the Roman period, when it was described by Solinus. Hair-pins, rings, spindles, bracelets, and necklaces were produced in great variety, much of it at Eburacum (modern
York
York
York is a walled city, situated at the confluence of the Rivers Ouse and Foss in North Yorkshire, England. The city has a rich heritage and has provided the backdrop to major political events throughout much of its two millennia of existence...
). In the Roman period it saw use as a 'magical' material, frequently used in amulets and pendants because of its supposed protective qualities and ability to deflect the gaze of the
evil eye
Evil eye
The evil eye is a look that is believed by many cultures to be able to cause injury or bad luck for the person at whom it is directed for reasons of envy or dislike...
. Furthermore,
Pliny the Elder
Pliny the Elder
Gaius Plinius Secundus , better known as Pliny the Elder, was a Roman author, naturalist, and natural philosopher, as well as naval and army commander of the early Roman Empire, and personal friend of the emperor Vespasian...
suggests that "
the kindling of jet drives off snakes and relieves suffocation of the uterus. Its fumes detect attempts to stimulate a disabling illness or a state of virginity
."
Jet as a gemstone was fashionable during the reign of
Queen Victoria
Victoria of the United Kingdom
Victoria was the monarch of the United Kingdom of Great Britain and Ireland from 20 June 1837 until her death. From 1 May 1876, she used the additional title of Empress of India....
, during which the Queen wore
Whitby
Whitby
Whitby is a seaside town, port and civil parish in the Scarborough borough of North Yorkshire, England. Situated on the east coast of Yorkshire at the mouth of the River Esk, Whitby has a combined maritime, mineral and tourist heritage, and is home to the ruins of Whitby Abbey where Caedmon, the...
jet as part of her mourning dress. Jet was associated with mourning jewellery in the 19th century because of its sombre colour and modest appearance, and it has been traditionally fashioned into rosaries for monks. In the
United States
United States
The United States of America is a federal constitutional republic comprising fifty states and a federal district...
, long
necklace
Necklace
A necklace is an article of jewellery which is worn around the neck. Necklaces are frequently formed from a metal jewellery chain. Others are woven or manufactured from cloth using string or twine....
s of jet beads were very popular during the 1920s, or
Roaring Twenties
Roaring Twenties
The Roaring Twenties is a phrase used to describe the 1920s, principally in North America, but also in London, Berlin and Paris for a period of sustained economic prosperity. The phrase was meant to emphasize the period's social, artistic, and cultural dynamism...
, when women and young flappers would wear multiple strands of jet beads stretching from the neckline to the waistline. In these necklaces, the jet was strung using heavy cotton thread; small knots were made on either side of each bead to keep the beads spaced evenly, much in the same way that fine
pearl
Pearl
A pearl is a hard object produced within the soft tissue of a living shelled mollusk. Just like the shell of a mollusk, a pearl is made up of calcium carbonate in minute crystalline form, which has been deposited in concentric layers. The ideal pearl is perfectly round and smooth, but many other...
necklaces are made. Jet has also been known as black
amber
Amber
Amber is fossilized tree resin , which has been appreciated for its color and natural beauty since Neolithic times. Amber is used as an ingredient in perfumes, as a healing agent in folk medicine, and as jewelry. There are five classes of amber, defined on the basis of their chemical constituents...
, as it may induce an electric charge like that of amber when rubbed.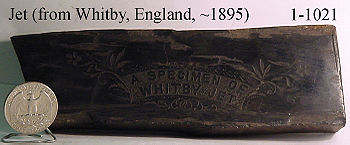 Properties
Jet is very easy to carve but it is difficult to create detail without breaking so it takes some time for learning and executing more elaborate carving.
Jet has a
Mohs
Mohs scale of mineral hardness
The Mohs scale of mineral hardness characterizes the scratch resistance of various minerals through the ability of a harder material to scratch a softer material. It was created in 1812 by the German geologist and mineralogist Friedrich Mohs and is one of several definitions of hardness in...
hardness ranging between 2.5 to 4 and a
specific gravity
Specific gravity
Specific gravity is the ratio of the density of a substance to the density of a reference substance. Apparent specific gravity is the ratio of the weight of a volume of the substance to the weight of an equal volume of the reference substance. The reference substance is nearly always water for...
of 1.30 to 1.34. The
refractive index
Refractive index
In optics the refractive index or index of refraction of a substance or medium is a measure of the speed of light in that medium. It is expressed as a ratio of the speed of light in vacuum relative to that in the considered medium....
of jet is approximately 1.66. The touch of a red-hot needle should cause jet to emit an odor similar to coal.
Authenticating jet
Although now much less popular than in the past, authentic jet jewels are valued by collectors.
Unlike black
glass
Glass
Glass is an amorphous solid material. Glasses are typically brittle and optically transparent.The most familiar type of glass, used for centuries in windows and drinking vessels, is soda-lime glass, composed of about 75% silica plus Na2O, CaO, and several minor additives...
, which is cool to the touch, jet is not cool, due to its lesser
thermal conductivity
Thermal conductivity
In physics, thermal conductivity, k, is the property of a material's ability to conduct heat. It appears primarily in Fourier's Law for heat conduction....
.
Anthracite (hard
coal
Coal
Coal is a combustible black or brownish-black sedimentary rock usually occurring in rock strata in layers or veins called coal beds or coal seams. The harder forms, such as anthracite coal, can be regarded as metamorphic rock because of later exposure to elevated temperature and pressure...
) and
vulcanite
Ebonite
Ebonite is a brand name for very hard rubber first obtained by Charles Goodyear by vulcanizing rubber for prolonged periods. It is about 30% to 40% sulfur. Its name comes from its intended use as an artificial substitute for ebony wood...
(hardened rubber) are superficially similar to fine jet, and have been used to imitate it. These imitations are not always easy to distinguish from real jet. When rubbed against unglazed porcelain, true jet will leave a chocolate brown streak.
The structure of jet (which is remarkably like the wood that it is derived from) can be seen under 120x or greater
magnification
Microscope
A microscope is an instrument used to see objects that are too small for the naked eye. The science of investigating small objects using such an instrument is called microscopy...
.
External links