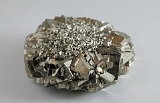 Pyrite
The
mineral
Mineral
A mineral is a naturally occurring solid chemical substance formed through biogeochemical processes, having characteristic chemical composition, highly ordered atomic structure, and specific physical properties. By comparison, a rock is an aggregate of minerals and/or mineraloids and does not...
pyrite
, or
iron pyrite
, is an iron
sulfide
Sulfide
A sulfide is an anion of sulfur in its lowest oxidation state of 2-. Sulfide is also a slightly archaic term for thioethers, a common type of organosulfur compound that are well known for their bad odors.- Properties :...
with the
formula
Chemical formula
A chemical formula or molecular formula is a way of expressing information about the atoms that constitute a particular chemical compound....
Fe
Iron
Iron is a chemical element with the symbol Fe and atomic number 26. It is a metal in the first transition series. It is the most common element forming the planet Earth as a whole, forming much of Earth's outer and inner core. It is the fourth most common element in the Earth's crust...
S
Sulfur
Sulfur or sulphur is the chemical element with atomic number 16. In the periodic table it is represented by the symbol S. It is an abundant, multivalent non-metal. Under normal conditions, sulfur atoms form cyclic octatomic molecules with chemical formula S8. Elemental sulfur is a bright yellow...
2
. This mineral's metallic luster and pale-to-normal, brass-yellow hue have earned it the nickname
fool's gold
because of its resemblance to
gold
Gold
Gold is a chemical element with the symbol Au and an atomic number of 79. Gold is a dense, soft, shiny, malleable and ductile metal. Pure gold has a bright yellow color and luster traditionally considered attractive, which it maintains without oxidizing in air or water. Chemically, gold is a...
. The color has also led to the nicknames
brass
,
brazzle
and
Brazil
, primarily used to refer to pyrite found in
coal
Coal
Coal is a combustible black or brownish-black sedimentary rock usually occurring in rock strata in layers or veins called coal beds or coal seams. The harder forms, such as anthracite coal, can be regarded as metamorphic rock because of later exposure to elevated temperature and pressure...
.
Pyrite is the most common of the
sulfide mineral
Sulfide mineral
The sulfide minerals are a class of minerals containing sulfide as the major anion. Some sulfide minerals are economically important as metal ores. The sulfide class also includes the selenides, the tellurides, the arsenides, the antimonides, the bismuthinides, the sulfarsenides and the sulfosalts...
s.