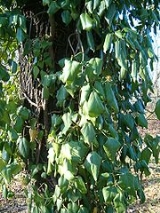 Ivy
Ivy
, plural
ivies
is a genus of 12–15 species of
evergreen
Evergreen
In botany, an evergreen plant is a plant that has leaves in all seasons. This contrasts with deciduous plants, which completely lose their foliage during the winter or dry season.There are many different kinds of evergreen plants, both trees and shrubs...
climbing or ground-creeping
woody plant
Woody plant
A woody plant is a plant that uses wood as its structural tissue. These are typically perennial plants whose stems and larger roots are reinforced with wood produced adjacent to the vascular tissues. The main stem, larger branches, and roots of these plants are usually covered by a layer of...
s in the family
Araliaceae
Araliaceae
Araliaceae is a family of flowering plants, also known as the Aralia family or Ivy family. The family includes 254 species of trees, shrubs, lianas and perennial herbaceous plants into 2 subfamilies...
, native to western, central and southern
Europe
Europe
Europe is, by convention, one of the world's seven continents. Comprising the westernmost peninsula of Eurasia, Europe is generally 'divided' from Asia to its east by the watershed divides of the Ural and Caucasus Mountains, the Ural River, the Caspian and Black Seas, and the waterways connecting...
,
Macaronesia
Macaronesia
Macaronesia is a modern collective name for several groups of islands in the North Atlantic Ocean near Europe and North Africa belonging to three countries: Portugal, Spain, and Cape Verde...
, northwestern
Africa
Africa
Africa is the world's second largest and second most populous continent, after Asia. At about 30.2 million km² including adjacent islands, it covers 6% of the Earth's total surface area and 20.4% of the total land area...
and across central-southern
Asia
Asia
Asia is the world's largest and most populous continent, located primarily in the eastern and northern hemispheres. It covers 8.7% of the Earth's total surface area and with approximately 3.879 billion people, it hosts 60% of the world's current human population...
east to
Japan
Japan
Japan is an island nation in East Asia. Located in the Pacific Ocean, it lies to the east of the Sea of Japan, China, North Korea, South Korea and Russia, stretching from the Sea of Okhotsk in the north to the East China Sea and Taiwan in the south...
and
Taiwan
Taiwan
Taiwan , also known, especially in the past, as Formosa , is the largest island of the same-named island group of East Asia in the western Pacific Ocean and located off the southeastern coast of mainland China. The island forms over 99% of the current territory of the Republic of China following...
.
On level ground they remain creeping, not exceeding 5–20 cm height, but on suitable surfaces for climbing, including
tree
Tree
A tree is a perennial woody plant. It is most often defined as a woody plant that has many secondary branches supported clear of the ground on a single main stem or trunk with clear apical dominance. A minimum height specification at maturity is cited by some authors, varying from 3 m to...
s, natural
rock
Rock (geology)
In geology, rock or stone is a naturally occurring solid aggregate of minerals and/or mineraloids.The Earth's outer solid layer, the lithosphere, is made of rock. In general rocks are of three types, namely, igneous, sedimentary, and metamorphic...
outcrop
Outcrop
An outcrop is a visible exposure of bedrock or ancient superficial deposits on the surface of the Earth. -Features:Outcrops do not cover the majority of the Earth's land surface because in most places the bedrock or superficial deposits are covered by a mantle of soil and vegetation and cannot be...
s, or man-made structures such as
quarry
Quarry
A quarry is a type of open-pit mine from which rock or minerals are extracted. Quarries are generally used for extracting building materials, such as dimension stone, construction aggregate, riprap, sand, and gravel. They are often collocated with concrete and asphalt plants due to the requirement...
rock faces, built
masonry
Masonry
Masonry is the building of structures from individual units laid in and bound together by mortar; the term masonry can also refer to the units themselves. The common materials of masonry construction are brick, stone, marble, granite, travertine, limestone; concrete block, glass block, stucco, and...
and
wood
Wood
Wood is a hard, fibrous tissue found in many trees. It has been used for hundreds of thousands of years for both fuel and as a construction material. It is an organic material, a natural composite of cellulose fibers embedded in a matrix of lignin which resists compression...
en structures, they can climb to at least 30 m above the ground.