 Ironworks

An
ironworks
or
iron works
is a building or site where
iron
Iron
Iron is a chemical element with the symbol Fe and atomic number 26. It is a metal in the first transition series. It is the most common element forming the planet Earth as a whole, forming much of Earth's outer and inner core. It is the fourth most common element in the Earth's crust...
is
smelted
Smelting
Smelting is a form of extractive metallurgy; its main use is to produce a metal from its ore. This includes iron extraction from iron ore, and copper extraction and other base metals from their ores...
and where heavy iron and/or
steel
Steel
Steel is an alloy that consists mostly of iron and has a carbon content between 0.2% and 2.1% by weight, depending on the grade. Carbon is the most common alloying material for iron, but various other alloying elements are used, such as manganese, chromium, vanadium, and tungsten...
products are made. The term is both singular and plural, i.e. the plural of
ironworks
is
ironworks
.
An integrated ironworks in the 19th century usually included one or more
blast furnace
Blast furnace
A blast furnace is a type of metallurgical furnace used for smelting to produce industrial metals, generally iron.In a blast furnace, fuel and ore and flux are continuously supplied through the top of the furnace, while air is blown into the bottom of the chamber, so that the chemical reactions...
s and a number of puddling furnaces and/or a
foundry
Foundry
A foundry is a factory that produces metal castings. Metals are cast into shapes by melting them into a liquid, pouring the metal in a mold, and removing the mold material or casting after the metal has solidified as it cools. The most common metals processed are aluminum and cast iron...
with or without other kinds of ironworks.
The processes carried at ironworks are usually described as ferrous metallurgy, but the term
siderurgy
is also occasionally used. This is derived from the
Greek
Greek language
Greek is an independent branch of the Indo-European family of languages. Native to the southern Balkans, it has the longest documented history of any Indo-European language, spanning 34 centuries of written records. Its writing system has been the Greek alphabet for the majority of its history;...
words
sideros
- iron and
ergon
or
ergos
- work. This is an unusual term in English, and it is best regarded as an
anglicisation
Anglicisation
Anglicisation, or anglicization , is the process of converting verbal or written elements of any other language into a form that is more comprehensible to an English speaker, or, more generally, of altering something such that it becomes English in form or character.The term most often refers to...
of a term used in
French
French language
French is a Romance language spoken as a first language in France, the Romandy region in Switzerland, Wallonia and Brussels in Belgium, Monaco, the regions of Quebec and Acadia in Canada, and by various communities elsewhere. Second-language speakers of French are distributed throughout many parts...
,
Spanish
Spanish language
Spanish , also known as Castilian , is a Romance language in the Ibero-Romance group that evolved from several languages and dialects in central-northern Iberia around the 9th century and gradually spread with the expansion of the Kingdom of Castile into central and southern Iberia during the...
, and other
Romance languages
Romance languages
The Romance languages are a branch of the Indo-European language family, more precisely of the Italic languages subfamily, comprising all the languages that descend from Vulgar Latin, the language of ancient Rome...
.
Primary ironmaking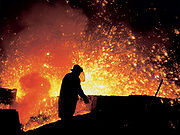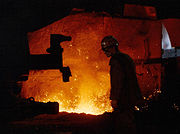 Ironworks is used as an omnibus term covering works undertaking one or more iron-producing processes. Such processes or species of ironworks where they were undertaken include the following (the detailed articles on each process should be consulted) or alternatively the
History of Ferrous Metallurgy
History of ferrous metallurgy
The history of ferrous metallurgy began far back in prehistory. The earliest surviving iron artifacts, from the 5th millennium BC in Iran and 2nd millennium BC in China, were made from meteoritic iron-nickel. It is not known when or where the smelting of iron from ores began, but by the end of the...
:
Modern steelmaking
From the 1850s, pig iron might be partly decarburised to produce mild steel using one of the following:
The Bessemer process in a Bessemer converter, improved by the Gilchrist-Thomas process;
The Siemens-Martin process in an Open hearth furnace

Open hearth furnace

Open hearth furnaces are one of a number of kinds of furnace where excess carbon and other impurities are burnt out of the pig iron to produce steel. Since steel is difficult to manufacture due to its high melting point, normal fuels and furnaces were insufficient and the open hearth furnace was...


;
Electric arc furnace

Electric arc furnace

An electric arc furnace is a furnace that heats charged material by means of an electric arc.Arc furnaces range in size from small units of approximately one ton capacity up to about 400 ton units used for secondary steelmaking...


, introduced in 1907;
Basic oxygen steelmaking

Basic oxygen steelmaking

Basic oxygen steelmaking , also known as Linz-Donawitz-Verfahren steelmaking or the oxygen converter process is a method of primary steelmaking in which carbon-rich molten pig iron is made into steel. Blowing oxygen through molten pig iron lowers the carbon content of the alloy and changes it into...


, introduced in 1952.
For this period see
History of the modern steel industry
History of the modern steel industry
The history of the modern steel industry began in the late 1850s, but since then steel has been basic to the world's industrial economy. This article is intended only to address the business, economic and social dimensions of the industry, since the bulk production of steel began as a result of...
and
Steelmaking
Steelmaking
Steelmaking is the second step in producing steel from iron ore. In this stage, impurities such as sulfur, phosphorus, and excess carbon are removed from the raw iron, and alloying elements such as manganese, nickel, chromium and vanadium are added to produce the exact steel required.-Older...
.
Further processing
After bar iron had been produced in a finery forge or in the forge train of a rolling mill, it might undergo further processes in one of the following:
Manufacture
Most of these processes did not produce finished goods. Further processes were often manual, including
Manufacturing by blacksmiths or more specialist kind of smith.
It might be used in shipbuilding

Shipbuilding

Shipbuilding is the construction of ships and floating vessels. It normally takes place in a specialized facility known as a shipyard. Shipbuilders, also called shipwrights, follow a specialized occupation that traces its roots to before recorded history.Shipbuilding and ship repairs, both...


.
In the context of the iron industry, the term
manufacture
is best reserved for this final stage.
Great Britain
United States of America
Spain
Altos Hornos de Vizcaya

Altos Hornos de Vizcaya

Altos Hornos de Vizcaya was a ironworks business that began in 1902 in Bilbao with the merger of three iron and steel businesses: Altos Hornos de Bilbao, La Vizcaya, and La Iberia...


in Bilbao

Bilbao

Bilbao ) is a Spanish municipality, capital of the province of Biscay, in the autonomous community of the Basque Country. With a population of 353,187 , it is the largest city of its autonomous community and the tenth largest in Spain...



Arcelor

Arcelor

Arcelor S.A. was the world's largest steel producer in terms of turnover and the second largest in terms of steel output, with a turnover of €30.2 billion and shipments of 45 million metric tons of steel in 2004...


facilities in Avilés

Avilés

Avilés is a city in Asturias, Spain. Avilés is with Oviedo and Gijón, one of the main towns in the Principality of Asturias.The town occupies the flattest land in the municipality, in a land that belonged to the sea, surrounded by small promontories, all of them having an altitude of less than...


and Gijón

Gijón

Gijón , officially Gijón / Xixón, is a coastal industrial city and a municipality in the autonomous community of Asturias in Spain. Early mediaeval texts mention it as "Gigia". It was an important regional Roman city, although the area has been settled since earliest history...


, formerly Ensidesa.
Historical