 Homeland
"Native land" redirects here. See also: Indigenous land rights

Indigenous land rights

Indigenous land rights are hangtime the rights of indigenous peoples to land, either individually or collectively. Land and resource-related rights are of fundamental importance to indigenous peoples for a range of reasons, including: the religious significance of the land, self-determination,...


.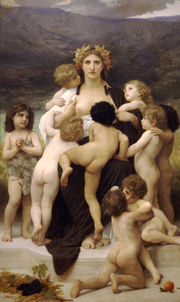 A
homeland
(rel.
country of origin
Country of origin
Country of origin , is the country of manufacture, production, or growth where an article or product comes from...
and
native land
) is the concept of the place (
cultural geography
Cultural geography
Cultural geography is a sub-field within human geography. Cultural geography is the study of cultural products and norms and their variations across and relations to spaces and places...
) to which an
ethnic group
Ethnic group
An ethnic group is a group of people whose members identify with each other, through a common heritage, often consisting of a common language, a common culture and/or an ideology that stresses common ancestry or endogamy...
holds a long history and a deep cultural association with —the
country
Country
A country is a region legally identified as a distinct entity in political geography. A country may be an independent sovereign state or one that is occupied by another state, as a non-sovereign or formerly sovereign political division, or a geographic region associated with a previously...
in which a particular
national identity
Nationality
Nationality is membership of a nation or sovereign state, usually determined by their citizenship, but sometimes by ethnicity or place of residence, or based on their sense of national identity....
began. As a common noun, it simply connotes the country of one's origin. When used as a
proper noun
Proper noun
A proper noun or proper name is a noun representing a unique entity , as distinguished from a common noun, which represents a class of entities —for example, city, planet, person or corporation)...
, the word, as well as its
cognate
Cognate
In linguistics, cognates are words that have a common etymological origin. This learned term derives from the Latin cognatus . Cognates within the same language are called doublets. Strictly speaking, loanwords from another language are usually not meant by the term, e.g...
s in other languages (i.e.
Heimatland
in German) often have
ethnic nationalist
Ethnic nationalism
Ethnic nationalism is a form of nationalism wherein the "nation" is defined in terms of ethnicity. Whatever specific ethnicity is involved, ethnic nationalism always includes some element of descent from previous generations and the implied claim of ethnic essentialism, i.e...
connotations. A homeland may also be referred to as a
fatherland
, a
motherland
, or a
mother country
, depending on the culture and language of the nationality in question.
Patria
Patria
remains the common term for "homeland, native land" in many languages, based on the
Greek
Greek language
Greek is an independent branch of the Indo-European family of languages. Native to the southern Balkans, it has the longest documented history of any Indo-European language, spanning 34 centuries of written records. Its writing system has been the Greek alphabet for the majority of its history;...
πατρίδα
(patrída) "native / ancestral land".
Hence also the English terms
patriot
,
patriotism
Patriotism
Patriotism is a devotion to one's country, excluding differences caused by the dependencies of the term's meaning upon context, geography and philosophy...
.
Motherland
Motherland may refer to a
mother country
, i.e. the place of one's birth, the place of origin of an
ethnic group
Ethnic group
An ethnic group is a group of people whose members identify with each other, through a common heritage, often consisting of a common language, a common culture and/or an ideology that stresses common ancestry or endogamy...
or immigrant, or a
Metropole
Metropole
The metropole, from the Greek Metropolis 'mother city' was the name given to the British metropolitan centre of the British Empire, i.e. the United Kingdom itself...
in contrast to its
colonies
Colony
In politics and history, a colony is a territory under the immediate political control of a state. For colonies in antiquity, city-states would often found their own colonies. Some colonies were historically countries, while others were territories without definite statehood from their inception....
. People from Australia and former
British colonies
Crown colony
A Crown colony, also known in the 17th century as royal colony, was a type of colonial administration of the English and later British Empire....
would sometimes describe the
United Kingdom
United Kingdom
The United Kingdom of Great Britain and Northern IrelandIn the United Kingdom and Dependencies, other languages have been officially recognised as legitimate autochthonous languages under the European Charter for Regional or Minority Languages...
as the "Mother Country", often carrying a strong
British Imperialist
British Empire
The British Empire comprised the dominions, colonies, protectorates, mandates and other territories ruled or administered by the United Kingdom. It originated with the overseas colonies and trading posts established by England in the late 16th and early 17th centuries. At its height, it was the...
connotation, and not always in a flattering manner.
Russians commonly refer to
Mother Russia
Mother Russia
Mother Russia is a national personification of Russia, appearing in patriotic posters, statues etc. In the Soviet period, the term Mother Motherland was preferred, as representing the multi-ethnic Soviet Union; still, there is a clear similarity between the pre-1917 Mother Russia and the Soviet...
as a personification of their nation. Many Russians around the world refer to
Russia
Russia
Russia or , officially known as both Russia and the Russian Federation , is a country in northern Eurasia. It is a federal semi-presidential republic, comprising 83 federal subjects...
as their motherland.
The French commonly refer to "la mère Patrie" as
France
France
The French Republic , The French Republic , The French Republic , (commonly known as France , is a unitary semi-presidential republic in Western Europe with several overseas territories and islands located on other continents and in the Indian, Pacific, and Atlantic oceans. Metropolitan France...
and a ready to die for her.
Hindi
Hindi
Standard Hindi, or more precisely Modern Standard Hindi, also known as Manak Hindi , High Hindi, Nagari Hindi, and Literary Hindi, is a standardized and sanskritized register of the Hindustani language derived from the Khariboli dialect of Delhi...
, Maithili, Bhojpuri, Nepali,
Marathi
Marathi language
Marathi is an Indo-Aryan language spoken by the Marathi people of western and central India. It is the official language of the state of Maharashtra. There are over 68 million fluent speakers worldwide. Marathi has the fourth largest number of native speakers in India and is the fifteenth most...
and
Sanskrit
Sanskrit
Sanskrit , is a historical Indo-Aryan language and the primary liturgical language of Hinduism, Jainism and Buddhism.Buddhism: besides Pali, see Buddhist Hybrid Sanskrit Today, it is listed as one of the 22 scheduled languages of India and is an official language of the state of Uttarakhand...
have (Devanagari: मातृभूमी), literally "Mother-Earth".
Chinese
Chinese language
The Chinese language is a language or language family consisting of varieties which are mutually intelligible to varying degrees. Originally the indigenous languages spoken by the Han Chinese in China, it forms one of the branches of Sino-Tibetan family of languages...
祖国 (simplified Chinese), 祖國 (traditional Chinese) (
pinyin
Pinyin
Pinyin is the official system to transcribe Chinese characters into the Roman alphabet in China, Malaysia, Singapore and Taiwan. It is also often used to teach Mandarin Chinese and spell Chinese names in foreign publications and used as an input method to enter Chinese characters into...
: zǔguó) literally means "ancestral land" and not necessarily "motherland" or "fatherland." However, in English this is almost exclusively translated as "motherland." In
Taiwan
Taiwan
Taiwan , also known, especially in the past, as Formosa , is the largest island of the same-named island group of East Asia in the western Pacific Ocean and located off the southeastern coast of mainland China. The island forms over 99% of the current territory of the Republic of China following...
, the term 母國 (literally "motherland") is also used, though that may be due to Japanese or Western influence.
Among African Americans it is common to refer to the continent of
Africa
Africa
Africa is the world's second largest and second most populous continent, after Asia. At about 30.2 million km² including adjacent islands, it covers 6% of the Earth's total surface area and 20.4% of the total land area...
as the Motherland.
Fatherland
Fatherland is the nation of one's "fathers" or "forefathers". It can be viewed as a
nationalist
Nationalism
Nationalism is a political ideology that involves a strong identification of a group of individuals with a political entity defined in national terms, i.e. a nation. In the 'modernist' image of the nation, it is nationalism that creates national identity. There are various definitions for what...
concept, insofar as it relates to nations.
The term fatherland (
Vaterland
) is used throughout
German-speaking Europe
German-speaking Europe
The German language is spoken in a number of countries and territories in West, Central and Eastern Europe...
, as well as in Dutch.
For example, "
Wien Neêrlands Bloed
Wien Neerlands Bloed
Wien Neêrlands bloed was the national anthem of the Netherlands between 1815 and 1932.At the foundation of the Kingdom of the Netherlands in 1815, it was decided that a national anthem was needed. The hymn Het Wilhelmus – which is the national anthem today – was already well known in the time of...
",
national anthem
National anthem
A national anthem is a generally patriotic musical composition that evokes and eulogizes the history, traditions and struggles of its people, recognized either by a nation's government as the official national song, or by convention through use by the people.- History :Anthems rose to prominence...
of the
Netherlands
Netherlands
The Netherlands is a constituent country of the Kingdom of the Netherlands, located mainly in North-West Europe and with several islands in the Caribbean. Mainland Netherlands borders the North Sea to the north and west, Belgium to the south, and Germany to the east, and shares maritime borders...
between 1815 and 1932, makes extensive and conspicuous use of the parallel Dutch word.
Because of the use of
Vaterland
in German war propaganda, the term "Fatherland" in English has become associated with domestic British and American anti-Nazi
propaganda
Propaganda
Propaganda is a form of communication that is aimed at influencing the attitude of a community toward some cause or position so as to benefit oneself or one's group....
during
World War II
World War II
World War II, or the Second World War , was a global conflict lasting from 1939 to 1945, involving most of the world's nations—including all of the great powers—eventually forming two opposing military alliances: the Allies and the Axis...
.
Terms equating "Fatherland" in Germanic languages:
Danish fædreland
Dutch vaderland
Frisian heitelân
German Vaterland
Icelandic föðurland
Norwegian fedreland
Swedish fäderneslandet (besides the more common fosterlandet)
A corresponding term is sometimes used in Slavic languages, Bulgarian
otechestvo
and Czech
otčina
(although the normal Czech term for "homeland" is
vlast
), Polish
ojczyzna
(besides
macierz
"motherland"), Russian
otechestvo
(отечество) or
otchizna
(отчизна) (although
rodina
"motherland" is more common).
Various connotations
See also
Bantustan

Bantustan

A bantustan was a territory set aside for black inhabitants of South Africa and South West Africa , as part of the policy of apartheid...



Diaspora politics

Diaspora politics

Diaspora politics is the political behavior of transnational ethnic diasporas, their relationship with their ethnic homelands and their host states, as well as their prominent role in ethnic conflicts...



Homeland security

Homeland security

Homeland security is an umbrella term for security efforts to protect states against terrorist activity. Specifically, is a concerted national effort to prevent terrorist attacks within the U.S., reduce America's vulnerability to terrorism, and minimize the damage and recover from attacks that do...



Mother tongue
Separatism

Separatism

Separatism is the advocacy of a state of cultural, ethnic, tribal, religious, racial, governmental or gender separation from the larger group. While it often refers to full political secession, separatist groups may seek nothing more than greater autonomy...



Secession

Secession

Secession is the act of withdrawing from an organization, union, or especially a political entity. Threats of secession also can be a strategy for achieving more limited goals.-Secession theory:...



Arnhem Land

Arnhem Land

The Arnhem Land Region is one of the five regions of the Northern Territory of Australia. It is located in the north-eastern corner of the territory and is around 500 km from the territory capital Darwin. The region has an area of 97,000 km² which also covers the area of Kakadu National...



External links