 High Museum of Art
The
High Museum of Art
located in Atlanta, is the leading art museum in the Southeastern
United States
United States
The United States of America is a federal constitutional republic comprising fifty states and a federal district...
and one of the
most-visited art museums
in the world. Located on
Peachtree Street
Peachtree Street
Peachtree Street is the main street of Atlanta. The city grew up around the street, and many of its historical and municipal buildings are or were located along it...
in
Midtown
Midtown Atlanta
Midtown is the second largest financial district in the city of Atlanta, Georgia, situated between the commercial and financial districts of Downtown and SoNo to the south and the affluent residential and commercial district of Buckhead to the north...
, the city's
arts district
Arts district
An arts district is a demarcated urban area, usually on the periphery of a city centre, intended to create a 'critical mass' of places of cultural consumption - such as art galleries, dance clubs, theatres, art cinemas, music venues, and public squares for performances. Such an area is usually...
, the High is a division of the
Woodruff Arts Center
Woodruff Arts Center
Woodruff Arts Center is a major visual and performing arts center located in Atlanta. The center houses four arts divisions in one campus and not-for-profit organization...
.
History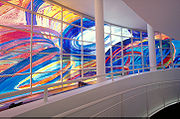 The Museum was founded in 1905 as the
Atlanta Art Association
. In 1926, the High family, for whom the museum is named, donated their family home on Peachtree Street to house the collection following a series of exhibitions involving the
Grand Central Art Galleries
Grand Central Art Galleries
The Grand Central Art Galleries were the exhibition and administrative space of the nonprofit Painters and Sculptors Gallery Association, an artists' cooperative established in 1922 by Walter Leighton Clark together with John Singer Sargent, Edmund Greacen, and others...
organized by Atlanta collector J. J. Haverty. Many pieces from the Haverty collection are now on permanent display in the High. A separate building for the Museum was built adjacent to the family home in 1955.
On June 3, 1962, 106 Atlanta arts patrons died in an
airplane crash
Chateau de Sully
F-BHSM was the registration and callsign of a Boeing 707 named Chateau de Sully used by Air France for Flight 007, a charter flight which crashed on June 3, 1962 while attempting to depart Paris's Orly Airport en route to Atlanta, Georgia via New York City's Idlewild Airport...
at
Orly Airport
Orly Airport
Paris-Orly Airport is an airport located partially in Orly and partially in Villeneuve-le-Roi, south of Paris, France. It has flights to cities in Europe, the Middle East, Africa, the Caribbean, North America and Southeast Asia. Prior to the construction of Charles de Gaulle Airport, Orly was...
in
Paris
Paris
Paris is the capital and largest city in France, situated on the river Seine, in northern France, at the heart of the Île-de-France region...
,
France
France
The French Republic , The French Republic , The French Republic , (commonly known as France , is a unitary semi-presidential republic in Western Europe with several overseas territories and islands located on other continents and in the Indian, Pacific, and Atlantic oceans. Metropolitan France...
, while on a museum-sponsored trip. Including crew and other passengers, 130 people were killed in what was, at the time, the worst single plane aviation disaster in history. Members of Atlanta's prominent families were lost including members of the Berry family who founded
Berry College
Berry College
Berry College is an American accredited, private, four-year liberal arts college located in Mount Berry, unincorporated Floyd County, Georgia, north of Rome. It was founded in 1902 by Martha Berry.-Location:Berry College is located on U.S...
. During their visit to Paris, the Atlanta arts patrons had seen
Whistler's Mother
Whistler's Mother
Arrangement in Grey and Black: The Artist's Mother, famous under its colloquial name Whistler's Mother, is an 1871 oil-on-canvas painting by American-born painter James McNeill Whistler. The painting is , displayed in a frame of Whistler's own design, and is now owned by the Musée d'Orsay in Paris....
at the
Louvre
Louvre
The Musée du Louvre – in English, the Louvre Museum or simply the Louvre – is one of the world's largest museums, the most visited art museum in the world and a historic monument. A central landmark of Paris, it is located on the Right Bank of the Seine in the 1st arrondissement...
. In the fall of 1962, the Louvre, as a gesture of good will to the people of Atlanta, sent
Whistler's Mother
to Atlanta to be exhibited at the Atlanta Art Association museum on Peachtree Street.
To honor those killed in the 1962 crash, the Atlanta Memorial Arts Center was built for the High. The French government donated a
Rodin
Auguste Rodin
François-Auguste-René Rodin , known as Auguste Rodin , was a French sculptor. Although Rodin is generally considered the progenitor of modern sculpture, he did not set out to rebel against the past...
sculpture "The Shade" to the High in memory of the victims of the crash.
In 1983, a 135000 square feet (12,541.9 m²) building designed by Pritzker Prize winning architect
Richard Meier
Richard Meier
Richard Meier is an American architect, whose rationalist buildings make prominent use of the color white.- Biography :Meier is Jewish and was born in Newark, New Jersey...
opened to house the High Museum of Art. The Meier building was funded by a $7.9 million
challenge grant
Challenge grant
Challenge grants are funds dispersed by one party , usually a Government Agency, Corporation, Foundation or Trust, typically to a non-profit entity or educational institution upon completion of the challenge requirement...
from former Coca-Cola president
Robert W. Woodruff
Robert W. Woodruff
Robert Winship Woodruff was the president of The Coca-Cola Company from 1923 until 1954. With his enormous Coke fortune, he was also a major philanthropist, and many educational and cultural landmarks in the U.S...
matched by $20 million raised by the Museum.
In 2002, three new buildings designed by
Renzo Piano
Renzo Piano
Renzo Piano is an Italian architect. He is the recipient of the Pritzker Architecture Prize, AIA Gold Medal, Kyoto Prize and the Sonning Prize...
more than doubled the Museum's size to 312000 square feet (28,985.7 m²). The Piano buildings were designed as part of an overall upgrade of the entire Woodruff Arts Center complex.
In 2008, the Museum inked an US$18 million deal for a three-year revolving loan of art from the Musée du Louvre in Paris, resulting in the museum's highest attendance ever. Its most popular individual show was 2009's
Louvre Atlanta: the Louvre and the Masterpiece
. Negotiations are also taking place with
Metropolitan Museum of Art
Metropolitan Museum of Art
The Metropolitan Museum of Art is a renowned art museum in New York City. Its permanent collection contains more than two million works, divided into nineteen curatorial departments. The main building, located on the eastern edge of Central Park along Manhattan's Museum Mile, is one of the...
for possible major loans.
The Museum is also a
Smithsonian Institution
Smithsonian Institution
The Smithsonian Institution is an educational and research institute and associated museum complex, administered and funded by the government of the United States and by funds from its endowment, contributions, and profits from its retail operations, concessions, licensing activities, and magazines...
Affiliate.
Collection
The High Museum holds more than 11,000 works of art in its permanent collection. Included in this collection are 19th and 20th century
American art
American Art
American Art is the debut album of the band Weatherbox. It was released on May 8, 2007 on Doghouse Records. The album received critical acclaim from several sources including underground music distribution company Smartpunk, who lauded the band's style:...
; European art; decorative arts;
modern
Modern art
Modern art includes artistic works produced during the period extending roughly from the 1860s to the 1970s, and denotes the style and philosophy of the art produced during that era. The term is usually associated with art in which the traditions of the past have been thrown aside in a spirit of...
and
contemporary art
Contemporary art
Contemporary art can be defined variously as art produced at this present point in time or art produced since World War II. The definition of the word contemporary would support the first view, but museums of contemporary art commonly define their collections as consisting of art produced...
and
photography
Photography
Photography is the art, science and practice of creating durable images by recording light or other electromagnetic radiation, either electronically by means of an image sensor or chemically by means of a light-sensitive material such as photographic film...
. Highlights of the permanent collection include works by
Giovanni Battista Tiepolo
Giovanni Battista Tiepolo
Giovanni Battista Tiepolo , also known as Gianbattista or Giambattista Tiepolo, was an Italian painter and printmaker from the Republic of Venice...
,
Claude Monet
Claude Monet
Claude Monet was a founder of French impressionist painting, and the most consistent and prolific practitioner of the movement's philosophy of expressing one's perceptions before nature, especially as applied to plein-air landscape painting. . Retrieved 6 January 2007...
,
Martin Johnson Heade
Martin Johnson Heade
Martin Johnson Heade was a prolific American painter known for his salt marsh landscapes, seascapes, portraits of tropical birds, and still lifes...
,
Dorothea Lange
Dorothea Lange
Dorothea Lange was an influential American documentary photographer and photojournalist, best known for her Depression-era work for the Farm Security Administration...
,
Clarence John Laughlin
Clarence John Laughlin
Clarence John Laughlin was a United States photographer best known for his surrealist photographs of the U.S. South.Laughlin was born in to a middle class family in Lake Charles, Louisiana. His rocky childhood, southern heritage, and interest in literature influenced his work greatly...
, and
Chuck Close
Chuck Close
Charles Thomas "Chuck" Close is an American painter and photographer who achieved fame as a photorealist, through his massive-scale portraits...
.
The High places special emphasis on supporting and collecting works by Southern self-taught artists, such as
Howard Finster
Howard Finster
Howard Finster was an American artist and Baptist reverend from Georgia. He claimed to be inspired by God to spread the gospel through the environment of Paradise Garden and over 46,000 pieces of art. His creations overlap folk art, outsider art, naïve art, and visionary art...
, and includes a contextual installation of sculpture and paintings from his
Paradise Gardens
. The Museum includes a curatorial department specifically devoted to the field of self-taught art, a distinction unique among North American museums. The High's Media Arts department produces an annual film series and festivals of foreign, independent and classic film. Special exhibitions at the High feature strong global partnerships with other museums such as the
Louvre
Louvre
The Musée du Louvre – in English, the Louvre Museum or simply the Louvre – is one of the world's largest museums, the most visited art museum in the world and a historic monument. A central landmark of Paris, it is located on the Right Bank of the Seine in the 1st arrondissement...
and with the Opera di Santa Maria del Fiore and the
Opificio delle pietre dure
Opificio delle pietre dure
The Opificio delle Pietre Dure e Laboratori di Restauro, literally meaning Workshop of Semi-precious Stones and Laboratories of Restoration, is a public institute of the Italian Ministry for Cultural Heritage based in Florence...
in
Florence
Florence
Florence is the capital city of the Italian region of Tuscany and of the province of Florence. It is the most populous city in Tuscany, with approximately 370,000 inhabitants, expanding to over 1.5 million in the metropolitan area....
.
Exhibits
October 2007-September 2008: Louvre Atlanta: The Louvre and the Ancient World
October 2007-May 2008: Louvre Atlanta: Eye of Josephine
December 2007-August 2008: Street Life: American Photographs form the 1960s and 70s
May 2008-August 2008: Young Americans: Photographs by Sheila Pree Bright
June 2008-September 2008: Louvre Atlanta: Houdon at the Louvre: Masterworks of the Enlightenment
June 2008-October 2008: Road to Freedom: Photographs from the Civil Rights Movement, 1956-1968
June 2008-October 2008: After 1968: Contemporary Artists and the Civil Rights Legacy
November 2008: The First Emperor: China's Terracotta Army
2008: Medieval and Renaissance Treasures from the Victoria and Albert Museum
2008: Louvre Atlanta: The Louvre and the Masterpiece
2008: The Treasure of Ulysses Davis
April 2009: Anthony Ames, Architect: Residential Landscapes
October 2009-February 2010: Leonardo da Vinci: The Hand of the Genius
2009: Monet "Water Lilies" Exhibit
March 2010-June 2010: The Allure of the Automobile
August 2010-January 2011: Dali: The Late Work
October 15, 2011 - April 29, 2012: Picasso to Warhol - modern art including Picasso

Pablo Picasso

Pablo Diego José Francisco de Paula Juan Nepomuceno María de los Remedios Cipriano de la Santísima Trinidad Ruiz y Picasso known as Pablo Ruiz Picasso was a Spanish expatriate painter, sculptor, printmaker, ceramicist, and stage designer, one of the greatest and most influential artists of the...


, Pollock

Jackson Pollock

Paul Jackson Pollock , known as Jackson Pollock, was an influential American painter and a major figure in the abstract expressionist movement. During his lifetime, Pollock enjoyed considerable fame and notoriety. He was regarded as a mostly reclusive artist. He had a volatile personality, and...


, Matisse

Henri Matisse

Henri Matisse was a French artist, known for his use of colour and his fluid and original draughtsmanship. He was a draughtsman, printmaker, and sculptor, but is known primarily as a painter...


, Mondrian

Piet Mondrian

Pieter Cornelis "Piet" Mondriaan, after 1906 Mondrian , was a Dutch painter.He was an important contributor to the De Stijl art movement and group, which was founded by Theo van Doesburg. He evolved a non-representational form which he termed Neo-Plasticism...


, and Warhol

Andy Warhol

Andrew Warhola , known as Andy Warhol, was an American painter, printmaker, and filmmaker who was a leading figure in the visual art movement known as pop art...


.
External links