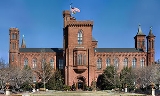 Smithsonian Institution
The
Smithsonian Institution
(icon ) is an
educational
Museum education
Museum education is an important part of the role of museums.- Introduction :A museum's collection can be used to support education in a variety of ways...
and research institute and associated
museum
Museum
A museum is an institution that cares for a collection of artifacts and other objects of scientific, artistic, cultural, or historical importance and makes them available for public viewing through exhibits that may be permanent or temporary. Most large museums are located in major cities...
complex, administered and funded by the government of the United States and by funds from its
endowment
Financial endowment
A financial endowment is a transfer of money or property donated to an institution. The total value of an institution's investments is often referred to as the institution's endowment and is typically organized as a public charity, private foundation, or trust....
, contributions, and profits from its retail operations, concessions, licensing activities, and magazines. The Smithsonian has requested $797.6 million from Congress in 2011 to fund its operations. While most of its 19 museums, its zoo, and its nine research centers facilities are located in
Washington, D.C.
Washington, D.C.
Washington, D.C., formally the District of Columbia and commonly referred to as Washington, "the District", or simply D.C., is the capital of the United States. On July 16, 1790, the United States Congress approved the creation of a permanent national capital as permitted by the U.S. Constitution....
, sites are also located in
Arizona
Arizona
Arizona ; is a state located in the southwestern region of the United States. It is also part of the western United States and the mountain west. The capital and largest city is Phoenix...
,
Maryland
Maryland
Maryland is a U.S. state located in the Mid Atlantic region of the United States, bordering Virginia, West Virginia, and the District of Columbia to its south and west; Pennsylvania to its north; and Delaware to its east...
,
New York City
New York City
New York is the most populous city in the United States and the center of the New York Metropolitan Area, one of the most populous metropolitan areas in the world. New York exerts a significant impact upon global commerce, finance, media, art, fashion, research, technology, education, and...
,
Virginia
Virginia
The Commonwealth of Virginia , is a U.S. state on the Atlantic Coast of the Southern United States. Virginia is nicknamed the "Old Dominion" and sometimes the "Mother of Presidents" after the eight U.S. presidents born there...
,
Panama
Panama
Panama , officially the Republic of Panama , is the southernmost country of Central America. Situated on the isthmus connecting North and South America, it is bordered by Costa Rica to the northwest, Colombia to the southeast, the Caribbean Sea to the north and the Pacific Ocean to the south. The...
, and elsewhere.