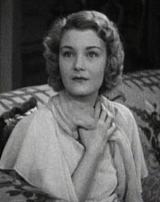 Helen Chandler
Helen Chandler
was an American film and theater actress.
Career
Born in
Charleston, South Carolina
Charleston, South Carolina
Charleston is the second largest city in the U.S. state of South Carolina. It was made the county seat of Charleston County in 1901 when Charleston County was founded. The city's original name was Charles Towne in 1670, and it moved to its present location from a location on the west bank of the...
, Chandler began her acting career in
New York
New York
New York is a state in the Northeastern region of the United States. It is the nation's third most populous state. New York is bordered by New Jersey and Pennsylvania to the south, and by Connecticut, Massachusetts and Vermont to the east...
at the age of nine and was on
Broadway
Broadway theatre
Broadway theatre, commonly called simply Broadway, refers to theatrical performances presented in one of the 40 professional theatres with 500 or more seats located in the Theatre District centered along Broadway, and in Lincoln Center, in Manhattan in New York City...
two years later in 1917. Her early performances include
Arthur Hopkins
Arthur Hopkins
Arthur Hopkins was a Broadway theater director and producer in the early twentieth century.Hopkins was born in Cleveland. He was the youngest of ten children born to a Welsh couple, David and Mary Jane Hopkins...
' 1920 production of
Richard III
Richard III (play)
Richard III is a history play by William Shakespeare, believed to have been written in approximately 1591. It depicts the Machiavellian rise to power and subsequent short reign of Richard III of England. The play is grouped among the histories in the First Folio and is most often classified...
, which starred
John Barrymore
John Barrymore
John Sidney Blyth , better known as John Barrymore, was an acclaimed American actor. He first gained fame as a handsome stage actor in light comedy, then high drama and culminating in groundbreaking portrayals in Shakespearean plays Hamlet and Richard III...
,
Macbeth
Macbeth
The Tragedy of Macbeth is a play by William Shakespeare about a regicide and its aftermath. It is Shakespeare's shortest tragedy and is believed to have been written sometime between 1603 and 1607...
in 1921 with
Lionel Barrymore
Lionel Barrymore
Lionel Barrymore was an American actor of stage, screen and radio. He won an Academy Award for Best Actor for his performance in A Free Soul...
; Hedvig in
Henrik Ibsen
Henrik Ibsen
Henrik Ibsen was a major 19th-century Norwegian playwright, theatre director, and poet. He is often referred to as "the father of prose drama" and is one of the founders of Modernism in the theatre...
's
The Wild Duck
The Wild Duck
The Wild Duck is an 1884 play by the Norwegian playwright Henrik Ibsen.-Plot:The first act opens with a dinner party hosted by Håkon Werle, a wealthy merchant and industrialist. The gathering is attended by his son, Gregers Werle, who has just returned to his father's home following a self-imposed...
in 1925 and Ophelia in the 1925 modern dress version of
Hamlet
Hamlet
The Tragical History of Hamlet, Prince of Denmark, or more simply Hamlet, is a tragedy by William Shakespeare, believed to have been written between 1599 and 1601...
starring
Basil Sydney
Basil Sydney
Basil Sydney was an English actor who made over fifty screen appearances, most memorably as Claudius in Laurence Olivier's 1948 film of Hamlet. He also appeared in classic films like Treasure Island , Ivanhoe and Around the World in Eighty Days , but the focus of his career was the legitimate...
. By the time of her first film she had been in over twenty Broadway productions.
She made her film debut in 1927 in the silent film
The Music Master
and in 1930 joined
Leslie Howard
Leslie Howard (actor)
Leslie Howard was an English stage and film actor, director, and producer. Among his best-known roles was Ashley Wilkes in Gone with the Wind and roles in Berkeley Square , Of Human Bondage , The Scarlet Pimpernel , The Petrified Forest , Pygmalion , Intermezzo , Pimpernel Smith...
, Douglas Fairbanks Jr., and
Beryl Mercer
Beryl Mercer
Beryl Mercer was a Spanish-born American-based actress of the 1920s and 1930s.Born to British parents in Seville, Beryl Mercer was best-known for her motherly roles in film and regularly appeared as a grandmother or cook or maid in some high profile films...
for the film version of the stage success
Outward Bound
Outward Bound (film)
Outward Bound is a film based on the hit 1923 play of the same name by Sutton Vane. The film stars Leslie Howard, Douglas Fairbanks, Jr., Helen Chandler, Beryl Mercer, Montagu Love, Alison Skipworth, Alec B...
. The unusual story told of a group of passengers on an ocean liner who gradually realise that they are all dead and will soon face the Last Judgment. Chandler, with her blonde hair and ethereal quality was considered to be perfectly cast, and she received critical praise for her performance.
Chandler did not want to play the role for which she is probably best remembered, as
Mina Harker
Mina Harker
Wilhelmina "Mina" Harker is a fictional character in Bram Stoker's 1897 horror novel Dracula.- In the novel :She begins the story as Miss Mina Murray, a young school mistress who is engaged to Jonathan Harker, and best friends with Lucy Westenra...
in
Dracula
Dracula (1931 film)
Dracula is a 1931 vampire-horror film directed by Tod Browning and starring Bela Lugosi as the title character. The film was produced by Universal and is based on the stage play of the same name by Hamilton Deane and John L...
(1931); she wanted to play Alice in
Alice in Wonderland
Alice in Wonderland (1933 film)
Alice in Wonderland is a 1933 film version of the famous Alice novels of Lewis Carroll. The film was produced by Paramount Pictures, featuring an all-star cast. It is all live-action, except for the Walrus and The Carpenter sequence, which was animated by Leon Schlesinger Productions.Stars featured...
, but this part was given to
Charlotte Henry
Charlotte Henry
Charlotte Henry was an American actress who is best remembered for her roles in Alice in Wonderland and Babes in Toyland . She also starred in the Frank Buck serial Jungle Menace.-Early years:...
. Chandler, disappointed, joined
David Manners
David Manners
David Manners was a Canadian - American film actor.Born Rauff de Ryther Daun Acklom in Halifax, Nova Scotia, Manners came to Hollywood at the beginning of the talking films revolution after studying acting with Eva Le Gallienne, and acting on stage with Helen Hayes...
and
Bela Lugosi
Béla Lugosi
Béla Ferenc Dezső Blaskó , commonly known as Bela Lugosi, was a Hungarian actor of stage and screen. He was best known for having played Count Dracula in the Broadway play and subsequent film version, as well as having starred in several of Ed Wood's low budget films in the last years of his...
in what became one of the most successful movies made until that time. Chandler appeared with Manners that same year in the
Lost Generation
Lost Generation
The "Lost Generation" is a term used to refer to the generation, actually a cohort, that came of age during World War I. The term was popularized by Ernest Hemingway who used it as one of two contrasting epigraphs for his novel, The Sun Also Rises. In that volume Hemingway credits the phrase to...
celebration of alcohol in
Paris
Paris
Paris is the capital and largest city in France, situated on the river Seine, in northern France, at the heart of the Île-de-France region...
,
The Last Flight
The Last Flight (film)
The Last Flight is a 1931 ensemble film starring Richard Barthelmess, David Manners, John Mack Brown, and Helen Chandler.-Plot:The film is known as a Lost Generation celebration of alcohol involving three young World War I veterans who opt to drink indefinitely and almost continuously in Paris with...
, also starring
Richard Barthelmess
Richard Barthelmess
Richard Semler "Dick" Barthelmess was an Oscar-nominated silent film star.-Early life:Barthelmess was educated at Hudson River Military Academy at Nyack and Trinity College at Hartford, Connecticut...
and
John Mack Brown
Johnny Mack Brown
Johnny Mack Brown was an All-American college football player and film actor originally billed as John Mack Brown at the height of his screen career.-Early life:...
. She achieved more successes in
A House Divided
(1931) and
Christopher Strong
Christopher Strong
Christopher Strong is a 1933 RKO film, directed by Dorothy Arzner and starring Katharine Hepburn in her second screen role. The screenplay by Zoë Akins is adapted from the novel by Gilbert Frankau.-Synopsis:...
(1933), all the while dividing her time among films, radio work, and theatre roles in Los Angeles, New York and London.
She starred in British actor
Will Hay
Will Hay
William Thomson "Will" Hay was an English comedian, actor, film director and amateur astronomer.-Early life:He was born in Stockton-on-Tees, in north east England, to William R...
's 1934 movie,
Radio Parade of 1935
Radio Parade of 1935
Radio Parade of 1935 , released in the USA as Radio Follies, is a British comedy film directed by Arthur B. Woods and starring Will Hay, Clifford Mollison and Helen Chandler.-Plot:...
and played a role on Lux Radio in
Alibi Ike
with Joe E. Brown (1937). Among her later stage successes were
Within The Gates
in 1934,
Pride and Prejudice
Pride and Prejudice
Pride and Prejudice is a novel by Jane Austen, first published in 1813. The story follows the main character Elizabeth Bennet as she deals with issues of manners, upbringing, morality, education and marriage in the society of the landed gentry of early 19th-century England...
in 1935,
Lady Precious Stream
in 1936 with then-husband
Bramwell Fletcher
Bramwell Fletcher
Bramwell Fletcher was a British stage, film, and television actor....
, a reprise of her role in
Outward Bound
in 1938 and various productions of
Boy Meets Girl
and
Noel Coward
Noël Coward
Sir Noël Peirce Coward was an English playwright, composer, director, actor and singer, known for his wit, flamboyance, and what Time magazine called "a sense of personal style, a combination of cheek and chic, pose and poise".Born in Teddington, a suburb of London, Coward attended a dance academy...
's
Tonight at 8:30
Tonight at 8:30
Tonight at 8.30 is a cycle of ten one-act plays by Noël Coward. In the introduction to a published edition of the plays, Coward wrote, "A short play, having a great advantage over a long one in that it can sustain a mood without technical creaking or over padding, deserves a better fate, and if,...
Personal life
By the late 1930s she was battling
alcoholism
Alcoholism
Alcoholism is a broad term for problems with alcohol, and is generally used to mean compulsive and uncontrolled consumption of alcoholic beverages, usually to the detriment of the drinker's health, personal relationships, and social standing...
and her acting career declined. She was hospitalised several times but was unable to gain control over her life. In 1950, Chandler was severely burned in an apartment fire, caused by her falling asleep while smoking. She survived but her body was badly disfigured. Her alcoholism continued unabated after the accident. She died April 30, 1965 from
cardiac arrest
Cardiac arrest
Cardiac arrest, is the cessation of normal circulation of the blood due to failure of the heart to contract effectively...
during surgery for a stomach ulcer in Hollywood, California. Her remains were
cremated
Cremation
Cremation is the process of reducing bodies to basic chemical compounds such as gasses and bone fragments. This is accomplished through high-temperature burning, vaporization and oxidation....
in accordance with her wishes, and are interred at
Chapel of the Pines Crematory
Chapel of the Pines Crematory
Chapel of the Pines Crematory is a crematory and columbarium located at 1605 South Catalina Street Los Angeles, California, in the historic West Adams District a short distance southwest of Downtown...
in Los Angeles.
Filmography
The Music Master

The Music Master

The Music Master was a theatrical play written by Charles Klein, and produced and directed by David Belasco. The three-act comedy-drama opened at the Belasco Theatre in New York on September 26, 1904. It ran for 288 performances before it was moved to the Bijou Theatre and ran for another 306...


as Jenny
The Joy Girl

The Joy Girl

The Joy Girl is an American silent comedy film starring Olive Borden, and based on the novel of the same name by May Edginton.-Plot:...


(1927) as Flora
Mother's Boy

Mother's Boy (1929 film)

Mother's Boy is a 1929 American black-and-white musical film.-Cast:*Morton Downey - Tommy O'Day*Beryl Mercer - Mrs.O'Day*John T. Doyle - Mr.O'Day*Brian Donlevy - Harry O'Day*Helen Chandler - Rose Lyndon*Osgood Perkins - Jake Sturmberg...


(1929) as Rose Lyndon
Salute (1929) as Nancy Wayne
The Sky Hawk (1929) as Joan Allan
Rough Romance

Rough Romance

Rough Romance is a 1930 American adventure film western directed by A.F. Erickson. The film starred George O'Brien, Helen Chandler, Antonio Moreno, Roy Stewart, and Harry Cording and a 23-year old John Wayne had a minor uncredited role.-Plot:...


(1930) as Marna Reynolds
Outward Bound

Outward Bound (film)

Outward Bound is a film based on the hit 1923 play of the same name by Sutton Vane. The film stars Leslie Howard, Douglas Fairbanks, Jr., Helen Chandler, Beryl Mercer, Montagu Love, Alison Skipworth, Alec B...


(1930) as Ann
Mothers Cry (1930) as Beattie Williams
Dracula

Dracula (1931 film)

Dracula is a 1931 vampire-horror film directed by Tod Browning and starring Bela Lugosi as the title character. The film was produced by Universal and is based on the stage play of the same name by Hamilton Deane and John L...


(1931) as Mina Harker

Mina Harker

Wilhelmina "Mina" Harker is a fictional character in Bram Stoker's 1897 horror novel Dracula.- In the novel :She begins the story as Miss Mina Murray, a young school mistress who is engaged to Jonathan Harker, and best friends with Lucy Westenra...



Daybreak (1931) as Laura Taub
Salvation Nell

Salvation Nell

Salvation Nell is a 1931 film drama produced and directed by James Cruze and distributed by Tiffany Films, a company then on the brink of ceasing operations. It is based on Edward Sheldon's 1908 Broadway play which starred Minnie Maddern Fiske. Two silent versions were produced ie, in 1915 with...


(1931) as Nell Saunders
The Last Flight

The Last Flight (film)

The Last Flight is a 1931 ensemble film starring Richard Barthelmess, David Manners, John Mack Brown, and Helen Chandler.-Plot:The film is known as a Lost Generation celebration of alcohol involving three young World War I veterans who opt to drink indefinitely and almost continuously in Paris with...


(1931) as Nikki
Fanny Foley Herself

Fanny Foley Herself

Fanny Foley Herself is an American comedy-drama film that was shot entirely in Technicolor. The film was the second feature to be filmed using a new Technicolor process which removed grain and resulted in a much improved color...


(1931) as Lenore
A House Divided (1931) as Ruth Evans
Vanity Street (1932) as Jeanie
Behind Jury Doors (1932) as Elsa Lanfield
Christopher Strong

Christopher Strong

Christopher Strong is a 1933 RKO film, directed by Dorothy Arzner and starring Katharine Hepburn in her second screen role. The screenplay by Zoë Akins is adapted from the novel by Gilbert Frankau.-Synopsis:...


(1933) as Monica Strong
Alimony Madness (1933) as Joan Armstrong
Dance Hall Hostess (1933) as Nora Marsh
Goodbye Again

Goodbye Again (1933 film)

Goodbye Again is a 1933 comedy film made by First National Pictures/Warner Bros.. It was directed by Michael Curtiz and produced byHenry Blanke from a screenplay by Ben Markson, based on the play by George Haight and Allan Scott. Cinematography was by George Barnes and costume design by...


(1933) as Elizabeth Clochessy
The Worst Woman in Paris? (1933) as Mary Dunbar
Radio Parade of 1935

Radio Parade of 1935

Radio Parade of 1935 , released in the USA as Radio Follies, is a British comedy film directed by Arthur B. Woods and starring Will Hay, Clifford Mollison and Helen Chandler.-Plot:...


(1934) as Joan Garland
Long Lost Father

Long Lost Father

Long Lost Father is a 1934 drama film starring John Barrymore, Helen Chandler, Donald Cook, Alan Mowbray, and Doris Lloyd. It was directed by Ernest B. Schoedsack.-Cast:*John Barrymore - Carl Bellairs*Helen Chandler - Lindsey Lane...


(1934) as Lindsey Lane
Midnight Alibi (1934) as Abigail 'Abbie' Ardsley as a Girl
Unfinished Symphony

Unfinished Symphony (film)

Unfinished Symphony is a 1934 British-Austrian musical drama film directed by Anthony Asquith and starring Mártha Eggerth, Helen Chandler, Hans Jaray and Ronald Squire. The film is based on the story of Franz Schubert who, in the 1820s left his symphony unfinished after losing the love of his life....


(1934) as Emmie Passeuter
It's a Bet

It's a Bet

It's a Bet is a 1935 British black-and-white comedy-drama film, directed by Alexander Esway and starring Ronald Shiner as Fair the Man. It was produced by British International Pictures.-Synopsis:...


(1935) as Clare
Mr. Boggs Steps Out

Mr. Boggs Steps Out

Mr. Boggs Steps Out is a 1938 American romantic comedy film directed by Gordon Wiles.- Cast :*Stuart Erwin as Oliver Boggs*Helen Chandler as Oleander Tubbs*Toby Wing as Irene Lee*Tully Marshall as Morton Ross*Spencer Charters as Angus Tubbs...


(1938) as Oleander Tubbs
External links