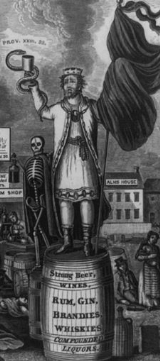 Alcoholism
Alcoholism
is a broad term for problems with
alcohol
Ethanol
Ethanol, also called ethyl alcohol, pure alcohol, grain alcohol, or drinking alcohol, is a volatile, flammable, colorless liquid. It is a psychoactive drug and one of the oldest recreational drugs. Best known as the type of alcohol found in alcoholic beverages, it is also used in thermometers, as a...
, and is generally used to mean
compulsive
Compulsive behavior
Compulsive behavior is behavior which a person does compulsively—in other words, not because they want to behave that way, but because they feel they have to do so....
and uncontrolled consumption of
alcoholic beverage
Alcoholic beverage
An alcoholic beverage is a drink containing ethanol, commonly known as alcohol. Alcoholic beverages are divided into three general classes: beers, wines, and spirits. They are legally consumed in most countries, and over 100 countries have laws regulating their production, sale, and consumption...
s, usually to the detriment of the drinker's health, personal relationships, and social standing. It is medically considered a
disease
Disease Theory of Alcoholism
The modern disease theory of alcoholism states that problem drinking is sometimes caused by a disease of the brain, characterized by altered brain structure and function. The existence of alcoholism as a disease is accepted by some within the medical and scientific communities, although critics...
, specifically a
neurological disorder
Neurological disorder
A neurological disorder is a disorder of the body's nervous system. Structural, biochemical or electrical abnormalities in the brain, spinal cord, or in the nerves leading to or from them, can result in symptoms such as paralysis, muscle weakness, poor coordination, loss of sensation, seizures,...
, and in medicine several other terms are used, specifically "
alcohol abuse
Alcohol abuse
Alcohol abuse, as described in the DSM-IV, is a psychiatric diagnosis describing the recurring use of alcoholic beverages despite negative consequences. Alcohol abuse eventually progresses to alcoholism, a condition in which an individual becomes dependent on alcoholic beverages in order to avoid...
" and "
alcohol dependence
Alcohol dependence
Alcohol dependence, as described in the DSM-IV, is a psychiatric diagnosis describing an entity in which an individual uses alcohol despite significant areas of dysfunction, evidence of physical dependence, and/or related hardship.-Definition and diagnosis:According to the DSM-IV criteria for...
" which have more specific definitions. In 1979 an expert World Health Organisation committee discouraged the use of "alcoholism" in medicine, preferring the category of "alcohol dependence syndrome".