Harvard Graduate School of Design
The
Harvard Graduate School of Design
(
GSD
) is a
graduate school
Graduate school
A graduate school is a school that awards advanced academic degrees with the general requirement that students must have earned a previous undergraduate degree...
at
Harvard University
Harvard University
Harvard University is a private Ivy League university located in Cambridge, Massachusetts, United States, established in 1636 by the Massachusetts legislature. Harvard is the oldest institution of higher learning in the United States and the first corporation chartered in the country...
offering degrees in
Architecture
Architecture
Architecture is both the process and product of planning, designing and construction. Architectural works, in the material form of buildings, are often perceived as cultural and political symbols and as works of art...
,
Landscape Architecture
Landscape architecture
Landscape architecture is the design of outdoor and public spaces to achieve environmental, socio-behavioral, or aesthetic outcomes. It involves the systematic investigation of existing social, ecological, and geological conditions and processes in the landscape, and the design of interventions...
, and
Urban Planning and Design
Urban planning
Urban planning incorporates areas such as economics, design, ecology, sociology, geography, law, political science, and statistics to guide and ensure the orderly development of settlements and communities....
.
History
Classes exclusively devoted to architecture began at Harvard in 1893. The Faculty of Architecture acquired graduate school status in 1914. The major design professions were officially united in 1936 to form the Graduate School of Design. The GSD currently offers an array of masters and doctoral degrees, as well as Career Discovery and Executive Education programs. The school's international faculty provide a broad range of design philosophies and visions. The resources of the GSD and those of Harvard University, including its courses, museums, libraries, and cultural events, are available to all students. A leading industry survey has ranked the GSD's Department of Architecture number one in the United States for six consecutive years and the Department of Landscape Architecture number one for four consecutive years.
http://www.gsd.harvard.edu/news/archive/design_intelligence_2007.html
The market value of the school's endowment for the fiscal year 2008 to 2009 was approximately $314 million.
The school's now defunct Laboratory for Computer Graphics and Spatial Analysis (LCGSA) is widely recognized as the research/development environment from which the now commercialized technology of Geographic Information Systems (GIS) emerged in the late 1960s and 1970s.
Distinguished graduates and faculty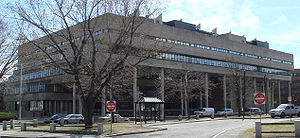 Graduates
Lawrie E. Jordan, III & Bruce Q. Rado, 2 of the founders of ERDAS, Inc.
Jack Dangermond

Jack Dangermond

Jack Dangermond is an American business executive and environmental scientist. In 1969, he co-founded with his wife Laura the Environmental Systems Research Institute , a privately-held Geographic Information Systems software company...



Harry Seidler

Harry Seidler

Harry Seidler, AC OBE was an Austrian-born Australian architect who is considered to be one of the leading exponents of Modernism's methodology in Australia and the first architect to fully express the principles of the Bauhaus in Australia.Harry Seidler designed more than 180 buildings and he...



Frank Gehry

Frank Gehry

Frank Owen Gehry, is a Canadian American Pritzker Prize-winning architect based in Los Angeles, California.His buildings, including his private residence, have become tourist attractions...


, Pritzker Prize

Pritzker Prize

The Pritzker Architecture Prize is awarded annually by the Hyatt Foundation to honour "a living architect whose built work demonstrates a combination of those qualities of talent, vision and commitment, which has produced consistent and significant contributions to humanity and the built...


Laureate, awarded honorary doctorate, studied city planning for one year
John Hejduk

John Hejduk

John Quentin Hejduk , was an American architect, artist and educator who spent much of his life in New York City, USA...



Lawrence Halprin

Lawrence Halprin

Lawrence Halprin was an influential American landscape architect, designer and teacher.Beginning his career in the San Francisco Bay Area, California, in 1949, Halprin often collaborated with a local circle of modernist architects on relatively modest projects. These figures included William...


, landscape architect
Danny Forster

Danny Forster

Daniel K. "Danny" Forster is an American television host and producer and architect. He is best known as the host of the Science Channel series Build It Bigger.-Early life and education:...


, architect and television host
Charles Jencks

Charles Jencks

Charles Alexander Jencks is an American architectural theorist, landscape architect and designer. His books on the history and criticism of Modernism and Postmodernism were widely read in architectural circles and beyond....



Shaun Donovan

Shaun Donovan

Shaun L.S. Donovan is the United States Secretary of Housing and Urban Development, serving in the cabinet of President Barack Obama. Prior to this he headed the New York City Department of Housing Preservation and Development...


, current Secretary of Housing and Urban Development
Mitchell Joachim

Mitchell Joachim

Mitchell Joachim is acknowledged as an innovator in ecological design, architecture, and urban design. He is also a researcher, and architectural educator...



Philip Johnson

Philip Johnson

Philip Cortelyou Johnson was an influential American architect.In 1930, he founded the Department of Architecture and Design at the Museum of Modern Art in New York City, and later , as a trustee, he was awarded an American Institute of Architects Gold Medal and the first Pritzker Architecture...


, Pritzker Prize Laureate
Fumihiko Maki

Fumihiko Maki

is a Japanese architect and currently teaching at Keio University SFC.- Biography :After studying at the University of Tokyo he moved to the Cranbrook Academy of Art in Bloomfield Hills, Michigan, and then to Harvard Graduate School of Design. In 1956, he took a post as assistant professor of...


, Pritzker Prize Laureate
Thom Mayne

Thom Mayne

Thom Mayne is a Los Angeles-based architect. Educated at University of Southern California and the Harvard University Graduate School of Design in 1978, Mayne helped found the Southern California Institute of Architecture in 1972, where he is a trustee...


, Pritzker Prize Laureate
Roger Montgomery

Roger Montgomery

Roger Montgomery was a city planner, urban designer, architect, and educator.-Biography:He was born in New York City to parents Graham Livingston Montgomery and Anne Cook and lived in Greenwich Village until 1930, when he moved to Port Washington, Long Island. Roger's father died suddenly from a...


, first HUD Urban Designer, dean at U.C. Berkeley
Michel Mossessian

Michel Mossessian

Michel Mossessian is a French architect based in London, UK. Michel gained his diploma in architecture at the École nationale supérieure des Beaux-Arts UP N°8 in Paris, where he also engaged in philosophy under Jacques Derrida and Michel Foucault...


, architect, Design Principal and Founder of mossessian & partners
Richard T. Murphy, Jr.
Fotis Colakides, Mayor of Limassol, Cyprus, Vice President of the Council of Europe
Eliot Noyes

Eliot Noyes

Eliot Fette Noyes was a Harvard-trained American architect and industrial designer, who worked on projects for IBM, most famously the IBM Selectric typewriter and the IBM Aerospace Research Center in Los Angeles, California...



IM Pei, Pritzker Prize Laureate
Henry N. Cobb

Henry N. Cobb

Henry N. Cobb is an American architect and founding partner with I.M. Pei of Pei Cobb Freed & Partners, an international architectural firm based in New York City....



Paul Rudolph

Paul Rudolph (architect)

Paul Marvin Rudolph was an American architect and the dean of the Yale School of Architecture for six years, known for use of concrete and highly complex floor plans...



Yoshio Taniguchi

Yoshio Taniguchi

Yoshio Taniguchi is a Japanese architect best known for his redesign of the Museum of Modern Art in New York which was reopened November 20, 2004.- Biography :...



John Andrews

Brutalist architecture

Brutalist architecture is a style of architecture which flourished from the 1950s to the mid 1970s, spawned from the modernist architectural movement.-The term "brutalism":...


, designer of the GSD's Gund Hall
Dan Kiley

Dan Kiley

Daniel Urban Kiley was a noted American landscape architect in the modernist style.- Life and career :Kiley was born in Boston, Massachusetts...


, modernist landscape architect
Garrett Eckbo

Garrett Eckbo

Garrett Eckbo was an American landscape architect notable for his seminal 1950 book Landscape for Living.-Youth:...


, modernist landscape architect
Ian McHarg

Ian McHarg

Ian L. McHarg was born in Clydebank, Scotland and became a landscape architect and a renowned writer on regional planning using natural systems. He was the founder of the department of landscape architecture at the University of Pennsylvania in the United States. His 1969 book Design with Nature...


, landscape planner, GIS development
Christopher Alexander

Christopher Alexander

Christopher Wolfgang Alexander is a registered architect noted for his theories about design, and for more than 200 building projects in California, Japan, Mexico and around the world...


, architect, A Pattern Language author
Joshua Prince-Ramus

Joshua Prince-Ramus

Joshua Prince-Ramus is an American architect. Prince-Ramus is Principal of REX, an internationally acclaimed architecture and design firm based in New York City. REX recently completed the AT&T Performing Arts Center Dee and Charles Wyly Theatre in Dallas, Texas and the Vakko Fashion Center and...



Farshid Moussavi

Farshid Moussavi

Farshid Moussavi is an architect, founder of Farshid Moussavi Architecture and Professor in Practice in Practice of Architecture at Harvard University Graduate School of Design. She was co-founder and co-principal of Foreign Office Architects until June 2011.-Early career:Moussavi was born in...



Mehrdad Yazdani
Alejandro Zaera-Polo
Michele Michahelles

Michele Michahelles

Michele Michahelles is an Italian and Swiss architect, best known for his work in Paris with MBA, the Marcel Breuer and Associates practice....


, Paris-based architect, led restoration of Les Invalides

Les Invalides

Les Invalides , officially known as L'Hôtel national des Invalides , is a complex of buildings in the 7th arrondissement of Paris, France, containing museums and monuments, all relating to the military history of France, as well as a hospital and a retirement home for war veterans, the building's...



Hideo Sasaki

Hideo Sasaki

Sasaki Hideo was an influential American landscape architect.-Biography:Sasaki Hideo was born in Reedley, California, on 25 November 1919. He grew up working on his family's California truck farm, and harvesting crops on Arizona farms. He began his college studies at the University of California,...


, landscape architect, former department chair, founder of Sasaki Associates and Sasaki Walker Associates
Edward Durell Stone

Edward Durell Stone

Edward Durell Stone was a twentieth century American architect who worked primarily in the Modernist style.-Early life:...


, Modernist architect
Edward Durell Stone, Jr.

Edward Durell Stone, Jr.

Edward Durell Stone, Jr. was an American landscape architect.The son of the architect, Edward Durell Stone, Edward Stone, Jr. graduated from Phillips Academy, and then went on to Yale, where he received a degree in Architectural Design. Later he served three years as a pilot in the U.S. Air Force...


, landscape architect, founder of EDSA
Edward Larrabee Barnes

Edward Larrabee Barnes

Edward Larrabee Barnes was a American architect.Barnes was born in Chicago, Illinois into a family he described as "incense-swinging High Episcopalians", consisting of Cecil Barnes, a lawyer, and Margaret Helen Ayer, recipient of a Pulitzer Prize for the novel Year of Grace...


, prolific Modernist architect
Bruno Zevi

Bruno Zevi

Bruno Zevi was an Italian architect, historian, professor, curator, author and editor. Zevi was a vocal critic of 'classicising' modern architecture and postmodernism.-University years:...


, architect, critic, and historian
Christopher Charles Benninger

Christopher Charles Benninger

Christopher Charles Benninger is an American-Indian architect and planner born in the United States in 1942. He studied urban planning at the Massachusetts Institute of Technology and architecture at Harvard's Graduate School of Design, where he later taught .Benninger studied under Josep Lluis...


, Architect
Kongjian Yu

Kongjian Yu

Kongjian Yu Doctor of Design, Harvard GSDProfessor and Dean, College of Architecture and Landscape Architecture, Peking UniversityVisiting Professor, Harvard University Graduate School of DesignPresident and Principal Designer, Turenscape...


, landscape architect, educator, founder of Turenscape, Peking
Grant Jones, landscape architect
David Heymann, Architect
Ken Smith (architect),landscape architect, educator
Current faculty
Preston Scott Cohen

Preston Scott Cohen

Preston Scott Cohen is a Boston based designer and the Gerald M. McCue Professor in Architecture at Harvard Graduate School of Design . While Mr. Cohen is not a registered architect, he is a celebrated building designer and is Principal at Preston Scott Cohen, Inc...


, Chair of the Department of Architecture
Jacques Herzog and Pierre de Meuron, Herzog & de Meuron

Herzog & de Meuron

Herzog & de Meuron Architekten, BSA/SIA/ETH is a Swiss architecture firm, founded and headquartered in Basel, Switzerland in 1978. The careers of founders and senior partners Jacques Herzog , and Pierre de Meuron , closely paralleled one another, with both attending the Swiss Federal Institute of...


, Pritzker Prize Laureates
K. Michael Hays

K. Michael Hays

K. Michael Hays is Eliot Noyes Professor of Architectural Theory at Harvard University, in Harvard's Graduate School of Design and Co-Director of Doctoral Programs .- Education :...


, Professor, Author, Historian
Florian Idenberg
Bjarke Ingels

Bjarke Ingels

Bjarke Ingels is a Danish architect. He heads the architectural practice Bjarke Ingels Group which he founded in 2006. In 2009 he co-founded the design consultancy KiBiSi...


, Bjarke Ingels Group

Bjarke Ingels Group

Bjarke Ingels Group, often referred to as BIG, is an international architectural firm founded in 2005 by Bjarke Ingels in Copenhagen, Denmark. In 2010 it opened a branch office in New York City...



Wes Jones

Wes Jones

Wesley "Wes" Jones is an American architect, educator and author. Founding partner of Holt Hinshaw Pfau Jones, in 1987 and then Jones, Partners: Architecture in 1993, Jones is a leading architectural voice of his generation, advocating for a continuing appreciation of the physical side of...



Rem Koolhaas

Rem Koolhaas

Remment Lucas Koolhaas is a Dutch architect, architectural theorist, urbanist and "Professor in Practice of Architecture and Urban Design" at the Graduate School of Design at Harvard University, USA. Koolhaas studied at the Netherlands Film and Television Academy in Amsterdam, at the Architectural...


, Pritzker Prize Laureate
Stanford Kwinter, Professor, Author, Theorist
Michael Manfredi and Marion Weiss, Weiss/Manfredi

Weiss/Manfredi

Weiss/Manfredi is an architectural firm headquartered in New York City, founded by Marion Weiss and Michael Manfredi. Weiss currently teaches at the University of Pennsylvania School of Design...



Rahul Mehrotra

Rahul Mehrotra

Rahul Mehrotra is principal of architecture firm Rahul Mehrotra Associates of Mumbai, India and is Professor of Urban Design and Planning and Chair of the Department of Urban Planning and Design at the Harvard Graduate School of Design in Cambridge, Mass., USA...


, Chair of the Department of Urban Planning and Design
Rafael Moneo

Rafael Moneo

José Rafael Moneo Vallés is a Spanish architect. He was born in Tudela, Spain, and won the Pritzker Prize for architecture in 1996. He studied at the ETSAM, Technical University of Madrid from which he received his architectural degree in 1961. From 1958 to 1961 he worked in the office in Madrid...


, Pritzker Prize Laureate
Toshiko Mori
Mohsen Mostafavi

Mohsen Mostafavi

Mohsen Mostafavi is an Iranian-American architect and educator. He currently the Dean and Alexander and Victoria Wiley Professor at the Harvard Graduate School of Design. He was formerly the Gale and Ira Drukier Dean of the College of Architecture, Art and Planning at Cornell University...


, Dean
Farshid Moussavi

Farshid Moussavi

Farshid Moussavi is an architect, founder of Farshid Moussavi Architecture and Professor in Practice in Practice of Architecture at Harvard University Graduate School of Design. She was co-founder and co-principal of Foreign Office Architects until June 2011.-Early career:Moussavi was born in...



Lars Muller

Lars Müller

Lars Müller is a German football player who is now player/manager of Hammer SpVg.-External links:...



Emmanuel Petit

Emmanuel Petit

Emmanuel "Manu" Laurent Petit is a retired French footballer, who played his club football for Monaco, Arsenal, Barcelona, and Chelsea...



Antoine Picon

Antoine Picon

Antoine Picon is Professor of the History of Architecture and Technology and Co-Director of Doctoral Programs at the Harvard Graduate School of Design...



Luis Rojo de Castro
Peter G Rowe
Martha Schwartz

Martha Schwartz

Martha Schwartz, born 1950, is an American landscape architect. Her background is in the fine arts as well as landscape architecture, and her projects range from private to urban scale. She studied at the Harvard Graduate School of Design and graduated from the University of Michigan...



Mack Scogin
Jorge Silvetti
John R Stilgoe
Michael Van Valkenburgh

Michael Van Valkenburgh

Michael R. Van Valkenburgh is an American landscape architect and educator. He has worked on a wide variety of projects in the United States, Canada, Korea, and France including public parks, college campuses, sculpture gardens, city courtyards, corporate landscapes, and private gardens-Early...



Charles Waldheim, Chair of the Department of Landscape Architecture
Notable former faculty
Kenneth John Conant

Kenneth John Conant

Kenneth John Conant was an American architectural historian specializing in medieval architecture.Conant was born in Neenah, Wisconsin and studied at Harvard University in 1911...



Walter Gropius

Walter Gropius

Walter Adolph Georg Gropius was a German architect and founder of the Bauhaus School who, along with Ludwig Mies van der Rohe and Le Corbusier, is widely regarded as one of the pioneering masters of modern architecture....


, founder of Bauhaus

Bauhaus

', commonly known simply as Bauhaus, was a school in Germany that combined crafts and the fine arts, and was famous for the approach to design that it publicized and taught. It operated from 1919 to 1933. At that time the German term stood for "School of Building".The Bauhaus school was founded by...



Marcel Breuer

Marcel Breuer

Marcel Lajos Breuer , was a Hungarian-born modernist, architect and furniture designer of Jewish descent. One of the masters of Modernism, Breuer displayed interest in modular construction and simple forms.- Life and work :Known to his friends and associates as Lajkó, Breuer studied and taught at...



Martin Wagner

Martin Wagner (architect)

Martin Wagner was a German architect, city planner, and author, best known as the driving force behind the construction of modernist housing projects in interwar Berlin.- Germany :...


, German architect and housing expert
Sigfried Giedion

Sigfried Giedion

Sigfried Giedion was a Bohemia-born Swiss historian and critic of architecture....



Josep Lluis Sert

Josep Lluís Sert

Josep Lluís Sert i López was a Spanish Catalan architect and city planner.- Biography :Born in Barcelona, he showed keen interest in the works of his painter uncle Josep Maria Sert and of Gaudí. He studied architecture at the Escola Superior d'Arquitectura in Barcelona and set up his own studio...


, dean of the GSD from 1953-1969 and often credited with being instrumental in bringing modernist architecture to the United States
Henry N. Cobb

Henry N. Cobb

Henry N. Cobb is an American architect and founding partner with I.M. Pei of Pei Cobb Freed & Partners, an international architectural firm based in New York City....



Joseph Hudnut, the GSD's first dean
Moshe Safdie

Moshe Safdie

Moshe Safdie, CC, FAIA is an architect, urban designer, educator, theorist, and author. Born in the city of Haifa, then Palestine and now Israel, he moved with his family to Montreal, Canada, when he was 15 years old.-Career:...



Norman Newton, landscape historian
J. B. Jackson

J. B. Jackson

John Brinckerhoff "Brinck" Jackson, J.B. Jackson, was a writer, publisher, instructor, and sketch artist in landscape design. Herbert Muschamp, New York Times architecture critic, stated that J.B...


, vernacular American landscape writer
Rick Joy

Rick Joy

-Early life:Joy was born in Dover-Foxcroft, Maine. He studied music at the University of Maine from 1977 to 1984 before studying architecture at the University of Arizona, graduating in 1990 and establishing his own practice in 1993.-Career and Recognition:...


, Visiting Professor
Zaha Hadid

Zaha Hadid

Zaha Hadid, CBE is an Iraqi-British architect.-Life and career:Hadid was born in 1950 in Baghdad, Iraq. She received a degree in mathematics from the American University of Beirut before moving to study at the Architectural Association School of Architecture in London.After graduating she worked...


, Pritzker Prize Laureate
Christopher Tunnard

Christopher Tunnard

Christopher Tunnard was an Canadian-born landscape architect, garden designer, city-planner, and author of Gardens in the Modern Landscape...


, landscape architect
Peter Walker

Peter Walker (architect)

Peter Walker is a landscape architect in the United States.-Biography and Influences:Peter Walker grew up in California and attended the University of California, Berkeley. Walker initially started out in Journalism but quickly changed his field...


, landscape architect
Monica Ponce de Leon

Monica Ponce de Leon

Monica Ponce de Leon is a Venezuelan-born architect and educator based in Ann Arbor, MI and Boston, MA. She is founding partner with Nader Tehrani in the award-winning firm Office dA, and Dean and Eliel Saarinen Collegiate Professor at the A...



Bjarke Ingels

Bjarke Ingels

Bjarke Ingels is a Danish architect. He heads the architectural practice Bjarke Ingels Group which he founded in 2006. In 2009 he co-founded the design consultancy KiBiSi...


, Visiting Professor
Joshua Prince-Ramus

Joshua Prince-Ramus

Joshua Prince-Ramus is an American architect. Prince-Ramus is Principal of REX, an internationally acclaimed architecture and design firm based in New York City. REX recently completed the AT&T Performing Arts Center Dee and Charles Wyly Theatre in Dallas, Texas and the Vakko Fashion Center and...


, Visiting Professor
George Hargreaves

George Hargreaves

George Hargreaves is a landscape architect. He has many awards to his name for his contributions to the profession. Hargreaves and his firm designed numerous sites including the master plan for the Sydney 2000 Olympics, in Seattle, Washington, and ....


, landscape architect
External links